Who doesn't love the sight of flowers blooming on a summer's day? What about being able to pick your own ripe red tomatoes? But you say you only have a small porch or terrace? Well, that's all you need to grow a fabulous flower or vegetable container garden that will make you famous in your neighborhood.
Start with a Plan for your Container Garden
It's a good idea to plan your terrace garden before you start planting, a good winter project. There are so many possibilities that it might seem overwhelming at first.
Try to notice how much sun each section of your space gets so that you can plan and plant accordingly. Then try to choose flowering plants that will bloom for most of the summer; you don't want to waste space on plants that will only give you a week or two of blooms. Some of the sun-loving flowering plants that do well in containers include petunias, begonias, geraniums, salvia, nasturtiums, lobelia, marigolds, and lilies. Popular shade plants are impatiens, coleus, and hostas.
This hydroponic indoor garden from AeroGarden is my favorite way to have fresh herbs growing year-round. It sits on my kitchen counter, taking up very little space, and even reminds me when I need to add water or plant food. I have basil, dill, chives and mint growing at all times.
Pots, Planters and Soil
Once you know what you want to plant, start with plastic pots and containers. They're cheaper, lighter, and water doesn't evaporate from them as fast as ceramic containers, unless they're glazed. Use a combination of long planters and various sizes of pots for variety.
Wooden boxes and barrels add interest, but are prone to rot. Make sure that you use untreated wood so that you don't have chemicals leaching into the soil If you have an overhang, use hanging baskets. You can even get creative and have a vertical garden, growing things up instead of out.
Don't go cheap with the potting soil. You want the best, so get a soil like Miracle-Gro Moisture Control. It's specially formulated for container gardening, holds 30% more water, and will feed your plants throughout the summer.
Arrange and Plant your Container Garden
Now that you know generally what to plant and where to plant them, set out your pots and containers in the areas best suited for them. Fill your containers with soil and start planting. Start slowly by purchasing no more than you can plant at a time. This will give you a chance to rearrange your garden if you notice that one plant looks better next to another, something your plan may not have considered.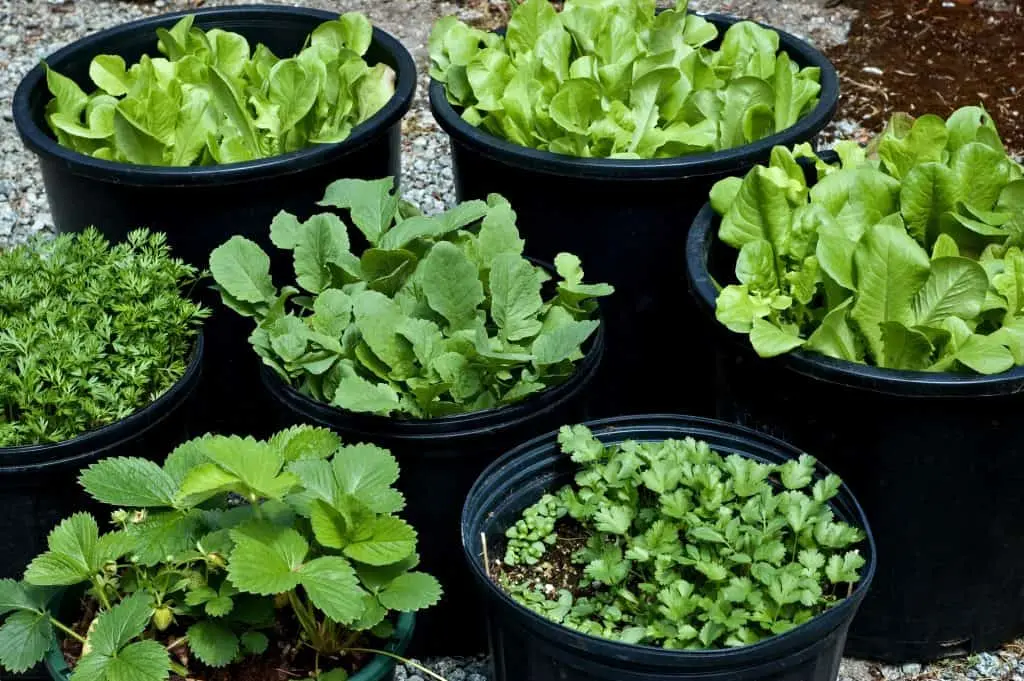 Place taller plants next to shorter growing varieties for interest, using lilies or tall spikey grasses. You might even want to place a small goldfish pond in a shady place between some flowers. Don't forget to experiment each year with a new and different flower or vegetable. Now that you've planted, all you have to do is keep aware of the watering requirements of your garden and soon your neighbors will be looking up and admiring your blooming creativity.
Tips for Getting Started
Start small with just a few plants until you get the hang of how much space they require or how often you need to water them
Start your seeds inside in March so that they are strong enough to survive when you move them outside when it gets warmer
Make the most of your patio or space by using containers of different heights or place them on different levels of a stand
Research what plants grow best in your growing zone. Use this chart to find out what zone you live in
What to Grow in Your Container Garden
Herbs Ideal for Container Gardening
Photo Credit: savingdollarsandsense.com
Photo Credit: natashalh.com
Photo Credit: itsgardenthyme.com
DIY Container Garden Projects
DIY Container Gardening Projects
If you like this, you'll love…
By