Savings can feel impossible when you're living on a really tight budget. This 52 Week Savings Plan helps make savings feel more attainable.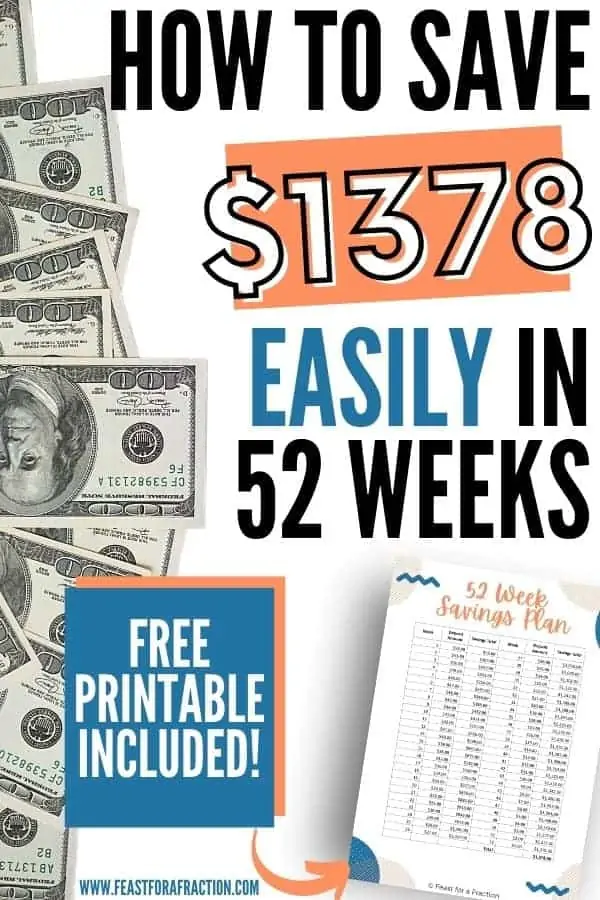 As an Amazon affiliate, I earn from qualifying purchases.
Whether you're trying to build an emergency fund or saving for a vacation, a Savings Plan is a useful tool for keeping you on track. I know it can feel impossible to save when you're living paycheck to paycheck, but it's important to plan for emergencies and I'll show you how to make the most with what you have or even make a little extra money on the side.
Why is a Saving Plan Important?
Having a plan for your money is so important to stay in control of your finances. If you aren't paying attention to where your money is going or how much you have set aside for emergencies, you can find yourself in a really tough spot at the worst possible time.
How much you plan to save is completely up to you. A great starting point is at least $1000. A major car repair or home appliance can cost a lot, so it puts you in a much better position to deal with that if you have $1000 set aside for such an emergency.
You can also use a savings plan to save for a vacation. Rather than charge on a credit card, set aside a little each week and you'll reach your goal realistically, without incurring interest charges.
What if I don't make enough to save each week?
If you are in a position where you are barely getting by with each paycheck, find ways to make a little extra money each week. You'd be surprised what you can make with just a little hustle.
I regularly go through my daughter's and my clothes, shoes and personal items to find what we don't need or wear anymore and sell them on Facebook Buy/Sell/Trade groups or even sites like Ebay or Mercari if they are name brand and in good condition.
Earn some extra money by performing tasks on Task Rabbit.
Register with DoorDash or InstaCart and make extra money delivering food or groceries.
Make extra money and get free meals and hotel stays by performing mystery shops.
In addition to finding ways to make money, use these tips for saving on your everyday purchases and monthly expenses:
Check out my Frugal Living page for even more ways to make AND save money. Rosemarie Groner's blog, The Busy Budgeter, is great for helping get your budget under control.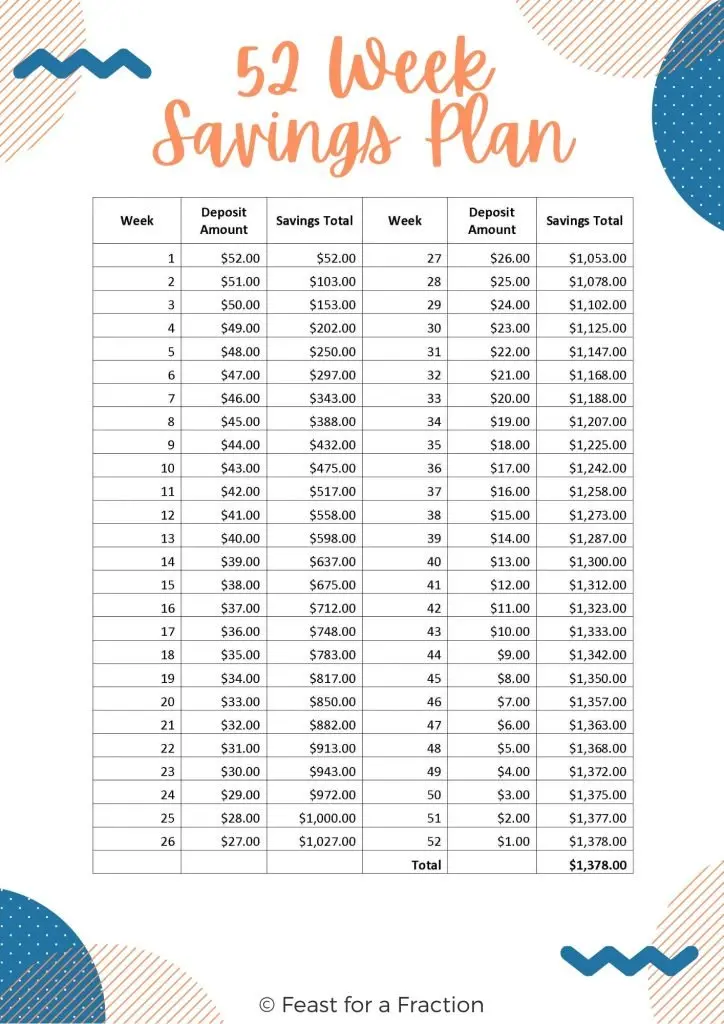 How does a Savings Plan Work?
Most yearly savings plans have you save $1 on Week 1 and work your way up to $52 on Week 52. This is definitely an option, but I find that I am pinching pennies even more than usual around Christmas.

I designed a 52 Week Savings Plan that has you do the reverse. You allocate $52 on Week 1 and work your way down to $1 on Week 52. You still save $1378 over the course of the year, but it takes the pressure off of saving so much in December.

Grab your free 52 Week Savings Plan printable below!

By