Whipped Shortbread Cookies melt in your mouth with rich buttery vanilla flavor. With just a few ingredients, this light dough comes together in minutes. Top with seasonal nonpareils for any occasion!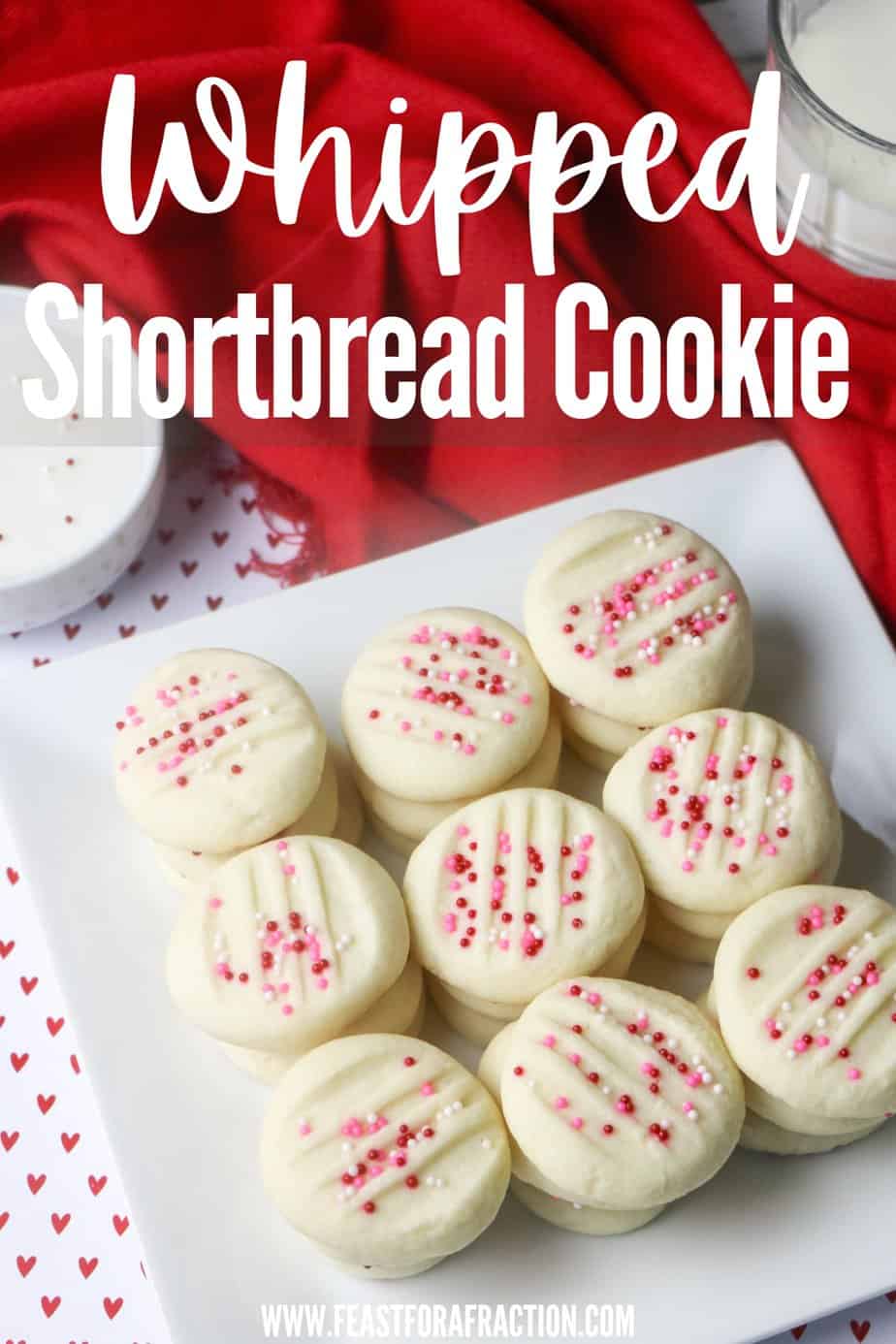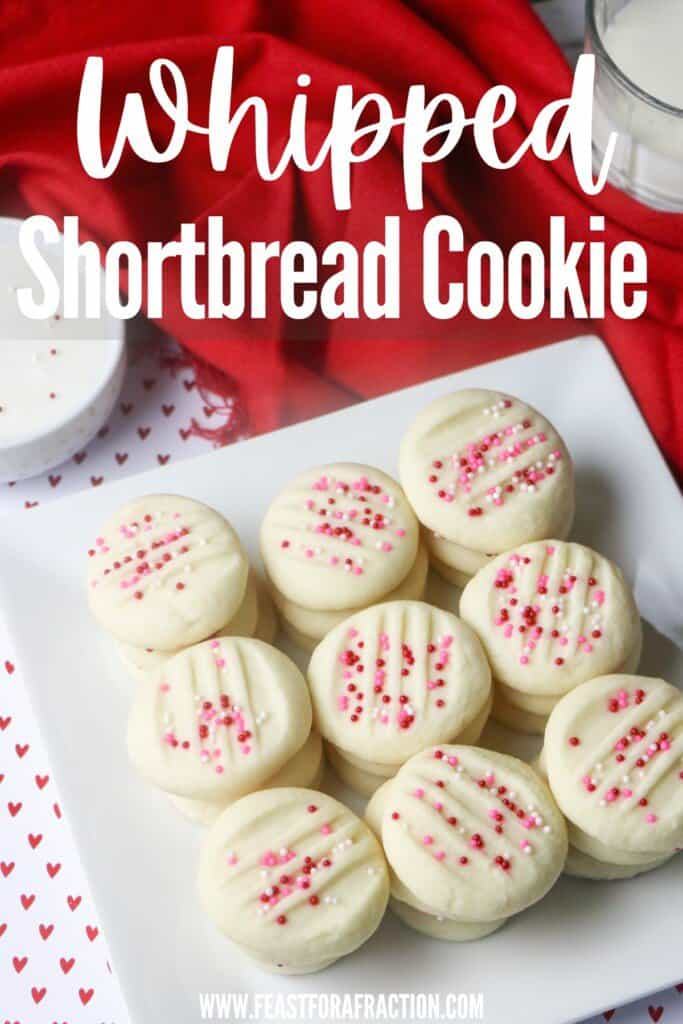 As an Amazon affiliate, I earn from qualifying purchases.
Whether you're baking cookies for a classroom holiday party or for a weekend treat, these whipped shortbread cookies are light and airy and literally melt in your mouth.
Compared to regular shortbread recipes, the butter and sugar in this recipe are whipped until extremely fluffy to create the airy texture. Using just a few simple ingredients, these cookies are delicious AND budget-friendly.
For another melt in your mouth cookie, try these Cranberry Orange Meltaway Cookies.
Ingredients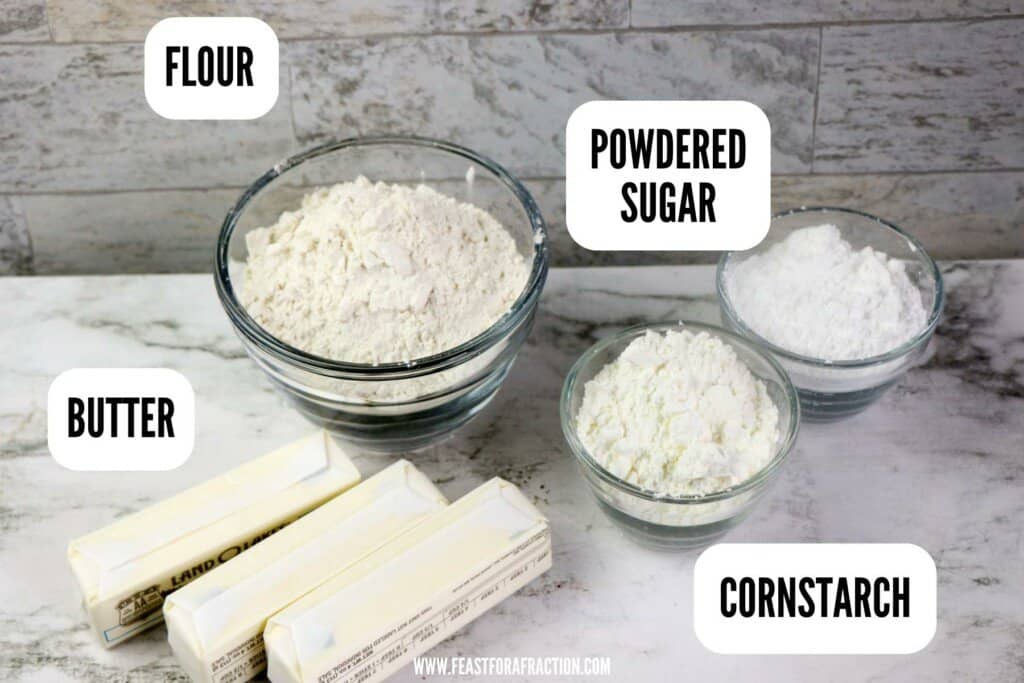 Butter: For baking, I recommend using unsalted butter. This allows you to control the amount of salt in the recipe. If you only have salted, omit the salt from this recipe
Your butter will need to be room temperature for this recipe. Allow the butter to sit on the counter for a couple of hours before mixing, but do not soften it in the microwave.
The best way to tell if your butter is soft enough is by pressing your finger into the top. If you can make an indentation but the butter holds its shape, you are good.
Flour: You will need regular all-purpose flour. I have not tested this recipe using a gluten-free baking mix, but if you have a brand that you feel works well as a straight substitution, like Cup4Cup, feel free to try it.
Powdered Sugar: Because this recipe has so few ingredients (doesn't even have eggs!), granulated sugar is a bit too course. Powdered sugar gives us the sweetness and fine texture for a perfectly, crumbly, melt-in-your-mouth cookie.
Cornstarch: A bit of cornstarch is used in place of some flour to help keep the cookies very light, delicate texture. Cornstarch can be found on the baking aisle of your grocery store.
Vanilla Extract: Vanilla and butter are the star of these cookies, so don't skimp on the extract. (I sometimes even "accidentally" add more than the recipe calls for.) I also love to make my own vanilla extract. Usually it's made with vodka, but I love the flavor of bourbon vanilla extract.
You can also use almond or orange extract for a different flavor.
Salt: For baking, I always use table salt. It is a much finer grain than kosher salt. If you only have kosher salt, double the amount to 1/2 teaspoon.
Equipment
Measuring Cups and Spoons
Mixing Bowl
Baking Sheet Pans
Parchment paper or Silicone Baking Mats
Fork
how to make whipped shortbread cookies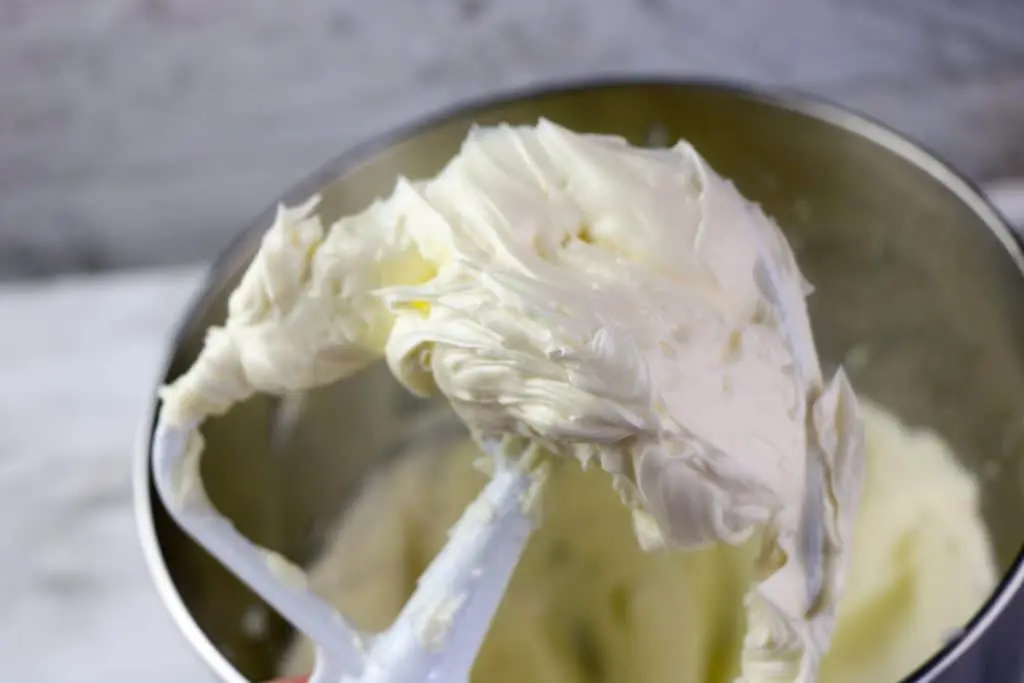 Preheat the oven to 300 degrees. Prepare two large cookie sheets with parchment paper.
In a large mixing bowl, cream together the butter and confectioners sugar until light and fluffy, about 5 minutes. This can be done with a stand mixer or hand mixer.
Whisk together the flour and cornstarch. Slowly add the flour mixture to the butter/sugar mixture, beating well after each addition.
With hands lightly dusted with the cornstarch, scoop the dough into 1-inch balls and roll until smooth. Place cookies 1-inch apart onto the cookie sheets. Press lightly with a fork dipped into cornstarch. Top with nonpareils.
Bake for 20 to 22 minutes. Cool on the baking sheets for 5 to 7 minutes before transferring to wire racks.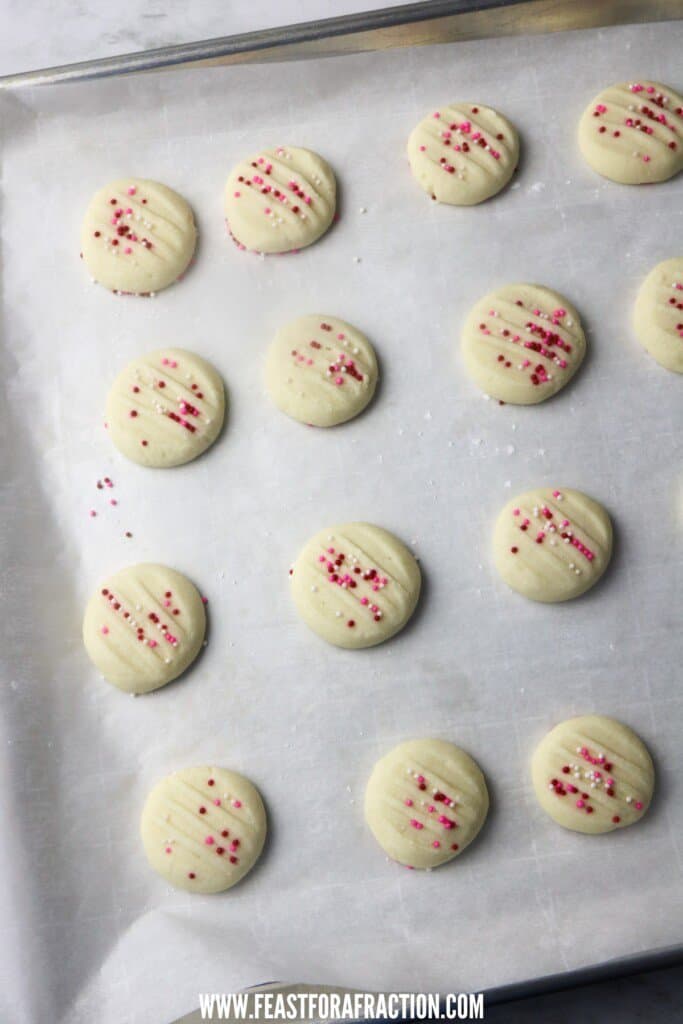 Frequently asked questions
Can shortbread cookies be frozen?
Yes, both the cookie dough and baked cookies can be frozen. For the cookie dough, shape into a log and double wrap in plastic wrap. For baked cookies, stack cooled cookies in an airtight container. Both will keep in the freezer for at least 3 months.
Can I use margarine instead of butter?
Because there are so few ingredients in this recipe, the butter really is the star. I recommend using real butter. For a vegan option, you can try vegan butter but I have not personally tested this substitution.
How can I tell when the cookies are done baking?
Your cookies are done when the edges are lightly browned. The tops of the cookies will still be light and pale in color.
How do I keep the dough from sticking to my hands when rolling?
Dust your hands with powdered sugar before rolling the dough into balls. If you find that they are still sticking, refrigerate your dough for 20 minutes. This will chill the butter and help the dough from being as sticky.
More Easy cookie recipes
whipped Shortbread cookies Recipe
Yield: 3 dozen
Whipped Shortbread Cookies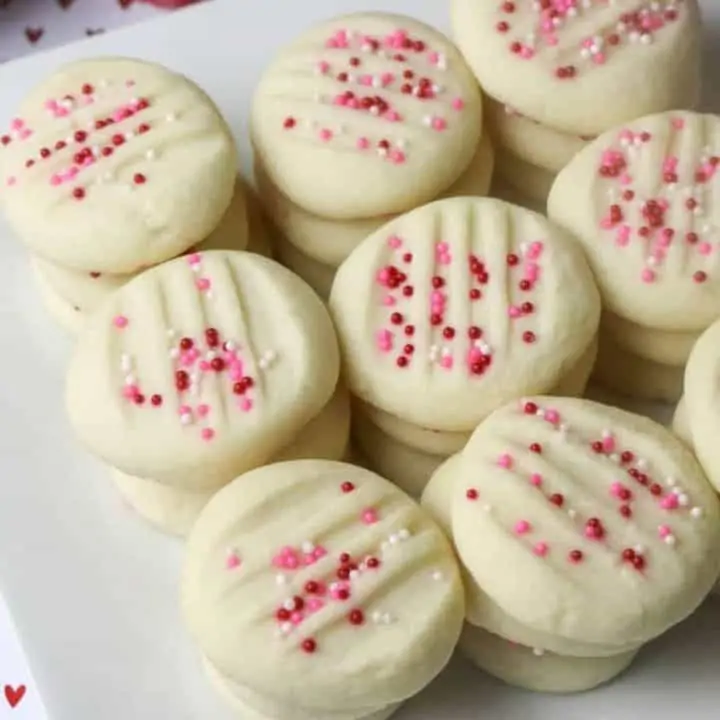 These whipped shortbread cookies are lighter in texture and crumb than usual shortbread. Super easy to make, you can top with color nonpareils for any occasion!
Additional Time
5 minutes
Ingredients
1 cup unsalted butter, softened (2 sticks)
1/2 cup powdered sugar
1 1/2 cups all-purpose flour
1/4 cup cornstarch
1 tsp vanilla extract
¼ tsp salt
Nonpareils (optional)
Instructions
Preheat the oven to 300 degrees Fahrenheit. Prepare two large cookie sheets with parchment paper or silicon baking mats.
In a large mixing bowl, cream together the butter and powdered sugar with a stand mixer or hand mixer until very fluffy, about 5 minutes. (There is no such thing as over-mixing in this step.)
Add vanilla extract and mix to combine.
In a separate bowl, sift together the flour, cornstarch and salt. Add the flour mixture to the creamed butter mixture in two batches, slowly mixing until the flour mixture is fully incorporated.
Using a small cookie scoop, portion into approximately 1 inch size balls. Lightly dust your hands with powdered sugar and roll each ball until smooth. Place on baking sheet, leaving 1 inch between each cookie.
Dip a fork into powdered sugar and lightly press the top of each ball to create lines. Top with nonpareils.
Bake for 20 to 22 minutes, until the bottom edges just start to brown. Rotate the trays halfway through the baking time. The tops of the cookies will still be fairly pale in color.
Cool on the baking sheets for 5 minutes before transferring to a wire rack.
Notes
Do not expect these cookies to brown like normal cookies. They will be pale, and this is normal.
Baked cookies can be stored in an airtight container for up to 7 days. Unbaked cookie dough can be stored in the freezer, wrapped in plastic wrap, for up to 3 months.
If your cookie dough is sticky and difficult to roll into balls, refrigerate the dough for 20 minutes before rolling into balls.
In place of vanilla extract, feel free to use almond extract. You may also add orange zest for a different flavor with no other changes to the recipe.
Recommended Products
As an Amazon Associate and member of other affiliate programs, I earn from qualifying purchases.
Nutrition Information:
Yield:
36
Serving Size:
1 Amount Per Serving:

Calories:

74

Total Fat:

5g

Saturated Fat:

3g

Trans Fat:

0g

Unsaturated Fat:

2g

Cholesterol:

14mg

Sodium:

17mg

Carbohydrates:

6g

Fiber:

0g

Sugar:

2g

Protein:

1g

STAY IN TOUCH ON SOCIAL MEDIA – @ INSTAGRAM, @ FACEBOOK, @ PINTEREST
And don't forget to tag @feastforafraction if you try this recipe!

By