By making Apple Butter in your Instant Pot, we cut the hours long process down to 45 minutes. Use the included canning instructions for long term storage and enjoy this rich, dreamy Instant Pot Apple Butter on toast, biscuits, served with Brie cheese or even spread on grilled cheese sandwiches.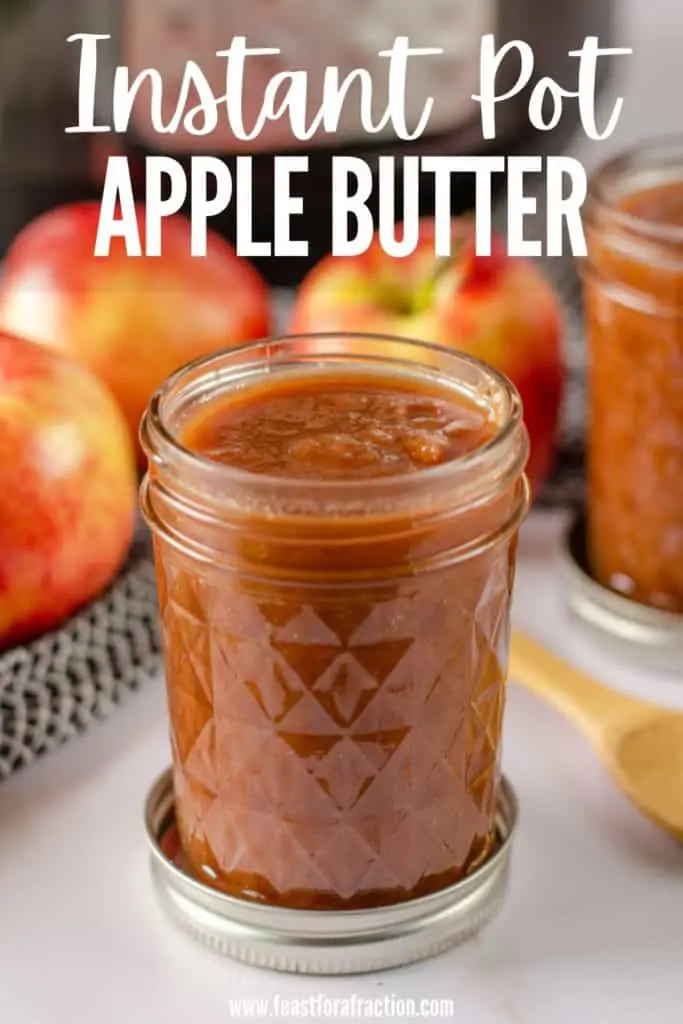 As an Amazon affiliate, I earn from qualifying purchases.
When I think of fall flavors, I immediately think of the rich apple cinnamon flavor of apple butter! It's the perfect thing to make if you go apple picking. Oddly enough, apple butter does not contain any actual butter and is vegan and gluten-free. It is really just spiced applesauce that is cooked down to the point that all of flavors basically caramelize into a perfectly sweet, flavorful spread.
The process to make apple butter is usually pretty time consuming if you make it on the stove or in the slow cooker. I've cut it down to a total time of 45 minutes by using the Instant Pot!
For more apple recipes, try my Applesauce Banana Bread, Apple Nachos or Apple Blondies.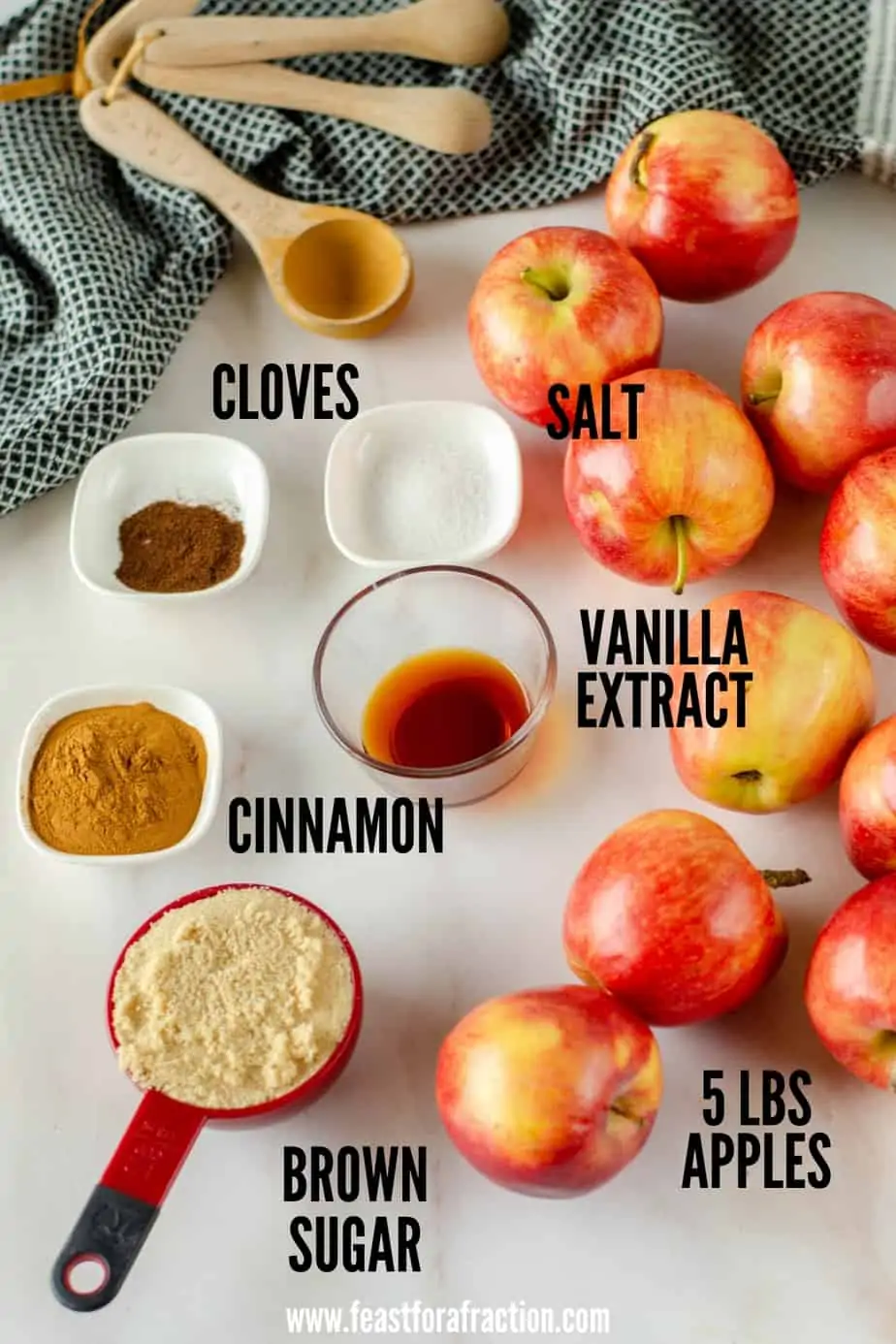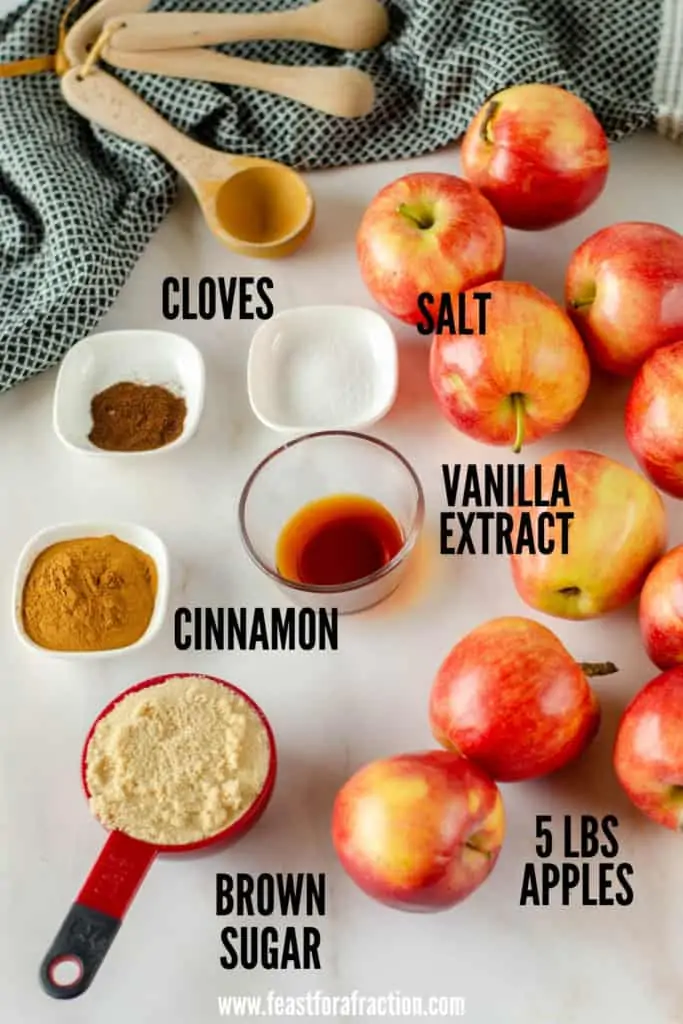 Ingredients
Apples: My favorite apple varieties to use are Fuji and Gala, but you can use your favorite or whatever happens to be on sale. You'll need 5 pounds total. Slice and remove the core and stem, and you can even leave on the skin.
Brown Sugar: Brown sugar adds a deeper flavor than granulated sugar and helps provide a richer color to the apple butter. When measuring, make sure to pack the brown sugar in the measuring cup.
Cinnamon, Cloves, Salt and Vanilla Extract: These ingredients really give us the spice and flavor to our apple butter. Cinnamon is a perfect pair with apples and the salt helps bring out all the flavors. Don't skip the salt. In a pinch, you can pumpkin pie spice.
Water or Apple Cider: Apple cider punches up the apple flavor, or you can use water. We need to add just enough liquid so that we don't get a burn warning on the Instant Pot.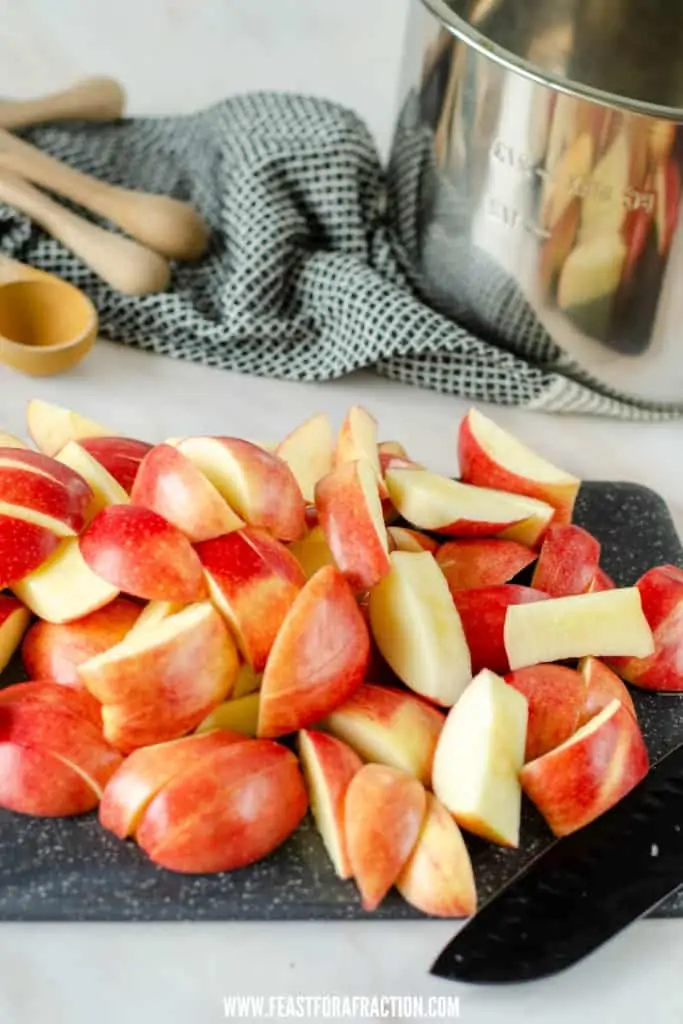 Equipment
Cutting Board and Knife or Apple Corer
Measuring Spoons and Measuring Cups
Rubber Scraper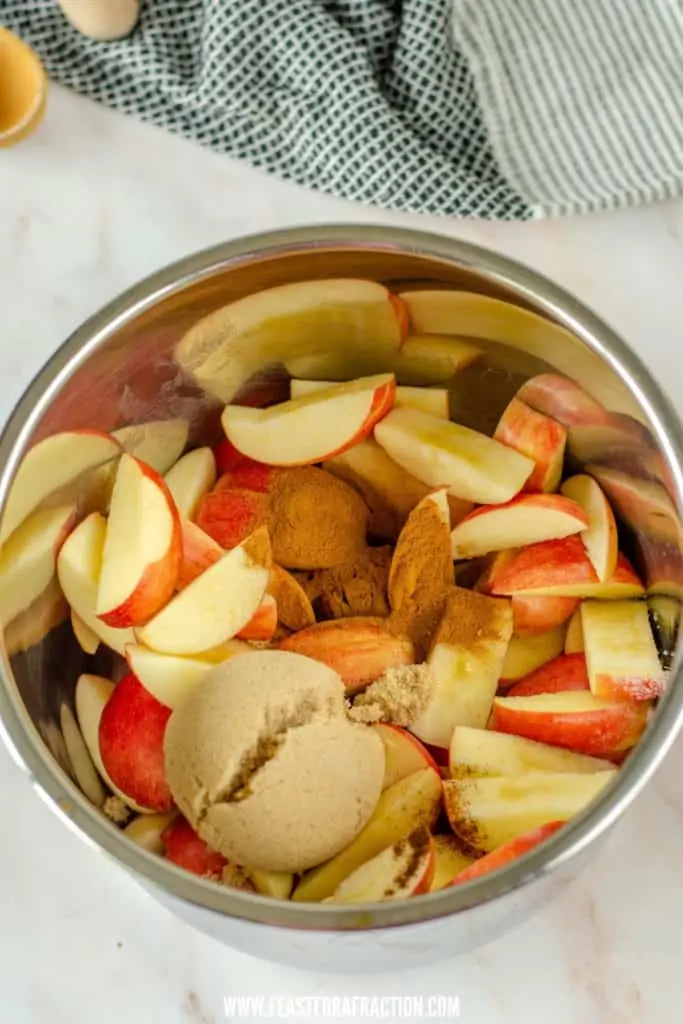 How to Make Apple Butter in the Instant Pot
To start, all you have to do is core and slice your apples. There is no need to peel them if you don't want. I really like leaving on the peels because it is added nutrition and it helps deepen the color of the apple butter.
From there, it couldn't be easier. Throw your apples and the rest of the ingredients: water or apple cider, brown sugar, cinnamon, cloves, salt and vanilla in the Instant Pot. Seal, and cook on high pressure for 15 minutes.
Allow the pressure to release naturally for 10-20 minutes, then release any remaining pressure. Next, you'll use your trusty immersion blender to blend the apple mixture until smooth. You can leave some chunks if you like, but I prefer a smooth apple butter.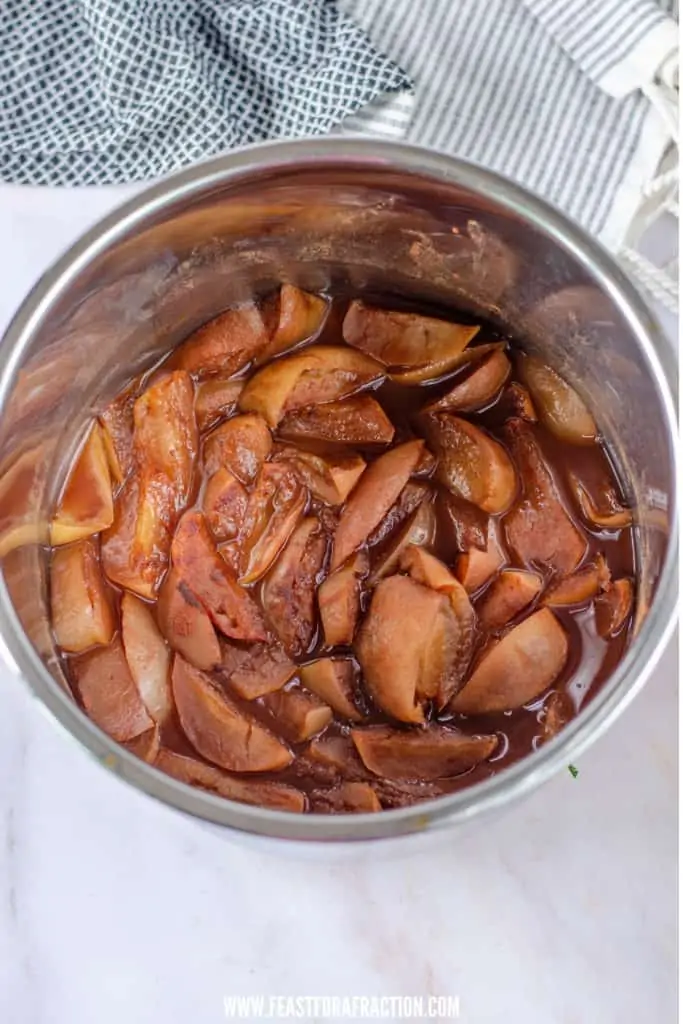 Finally, you can either set your Instant Pot to "Saute" and then press the Minus button to adjust to "Less." Leaving on high saute caused the apple mixture to boil and pop a lot, so I found it easier to control by switching to "Less." Saute, stirring occasionally, for 3-10 minutes until your desired thickness is achieved.
If you would prefer a more hands-off approach, you can transfer the apple mixture to a slow cooker. Prop open the lid with a wooden spoon to allow the extra moisture to escape and cook on low for 5-6 hours until the color has deepened and the mixture is thickened.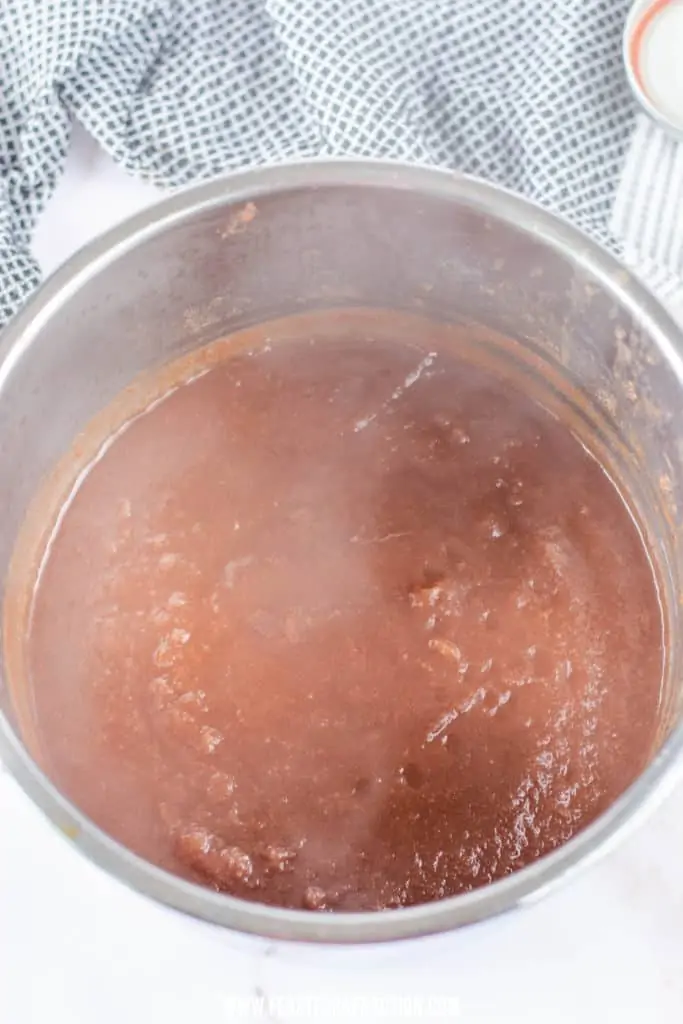 Tips and FAQs
Which apples make the best apple butter? You can also use whatever apple variety you prefer or have on hand. I tend to go for the crunchy and super juicy varieties like Gala and Fuji. Go with apples that you enjoy to eat raw and you can't go wrong.
What do I use apple butter for? Apple Butter is delicious spread on toast or these super easy to make homemade biscuits. I also love to serve it along side Brie cheese or spread on a grilled cheese sandwich. It also adds a great flavor to pork.
Is apple butter gluten-free? Yes, apple butter is naturally gluten-free, dairy-free and vegan.
Does apple butter need to be refrigerated? For storage, you can water-bath can your apple butter or freeze it. If canned, it will store at room temperature for up to a year. If frozen, it will keep for up to 3 months. Once opened, your apple butter does need to be kept refrigerated and it should keep for up to 2 weeks.
How can I tell when it is done cooking? You'll saute your apple butter until it is thick enough to fully coat the back of a spoon and leave a trail when you wipe your finger through it. It will deepen in color. Apple butter does thicken a bit more as it cools and you'll be left with a thick, velvety spread.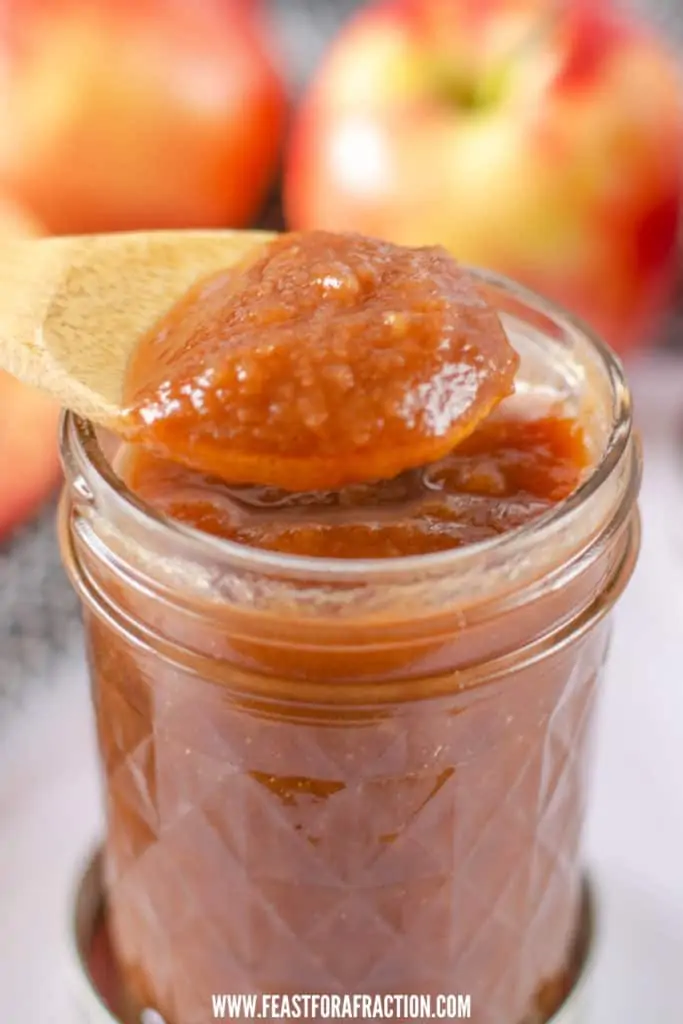 More Homemade Pantry Recipes
Yield: 6 (8 oz) Jars
Instant Pot Apple Butter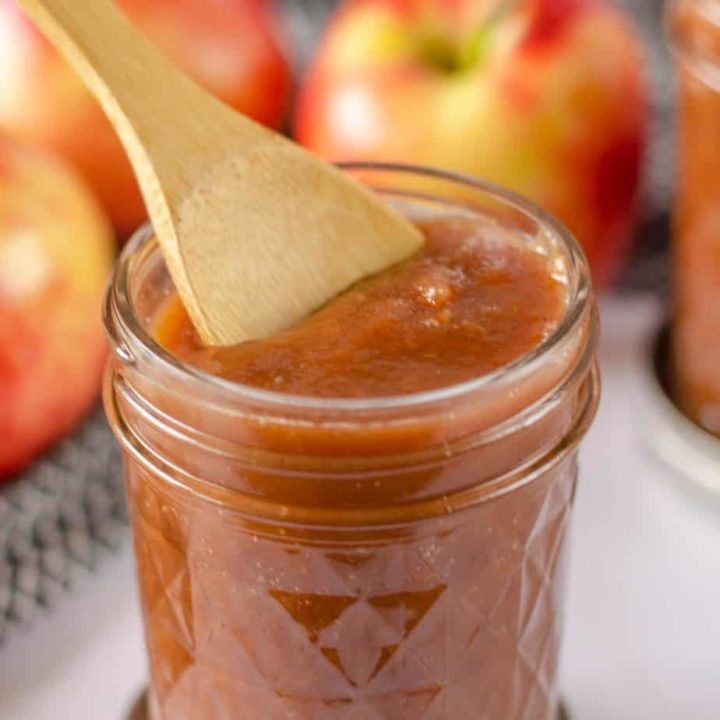 By making Apple Butter in your Instant Pot, we cut the hours long process down to 45 minutes. Use the included canning instructions for long term storage and enjoy this Instant Pot Apple Butter on toast, biscuits, served with Brie cheese or even spread on grilled cheese sandwiches.
Additional Time
20 minutes
Ingredients
5 lbs apples, any variety (I recommend Gala or Fuji)
1/2 cup brown sugar, packed
1 Tablespoon ground cinnamon
1 teaspoon ground cloves
1 teaspoon salt
2 Tablespoons vanilla extract
1/2 cup water or apple cider
Instructions
Core and slice each apple into 8 slices. You can peel the apples if you desire, but it is not necessary.
Add apples and remaining ingredients to the Instant Pot.
Put the lid on the Instant Pot, close vent and set on High Pressure for 15 minutes.
Once timer goes off, let Instant Pot naturally release pressure for 20 minutes, then release pressure.
Blend apple mixture in insert with immersion (stick) blender until smooth.
Set Instant Pot to Saute and press the minus (-) button to adjust to "Less." Saute, stirring regularly, until desired consistency is reached, usually 3-10 minutes.
Turn off Instant Pot and allow to cool. Store in jars in the fridge for up to 7 days or in the freezer for up to a year.
For Canning: Heat 8 oz jars in a stock pot filled with water to boiling for 10 minutes. Heat lids and rings in a saucepan to boiling for 10 minutes. Fill jars with Apple Butter leaving 1/2 inch headspace. Wipe rims of jars before applying lids and rings. Process in a water bath for 10 minutes. Remove jars and place on a kitchen towel. As the jars cool, you should hear the lids pop as they seal. Allow to sit for 24 hours. Remove rings for storage. Canned apple butter can be stored at room temperature for up to a year.
Notes
Slow Cooker Instructions: Place apples in slow cooker and cook on low for 6-8 hours. Blend apples with immersion blender. Add remaining ingredients (you do not need to add the liquid when cooking in slow cooker). Prop lid slightly open with a wooden spoon. Cook on low for 5-6 more hours until desired consistency.
Recommended Products
As an Amazon Associate and member of other affiliate programs, I earn from qualifying purchases.
Nutrition Information:
Yield:
48
Serving Size:
2 Tbsp
Amount Per Serving:
Calories:

36
Total Fat:

0g
Saturated Fat:

0g
Trans Fat:

0g
Unsaturated Fat:

0g
Cholesterol:

0mg
Sodium:

46mg
Carbohydrates:

9g
Fiber:

1g
Sugar:

7g
Protein:

0g
Free Printable Canning Labels
Home canned goods make the BEST gifts. You can feel good about giving a homemade gift to a friend, and they understand the time and love that went in to making that gift.
Make a batch or two of this Apple Butter. Process jars be using the water bath method described in the recipe card. Then, slap on these adorable "Apple Butter" labels I designed. They fit perfectly on the lid of a regular or wide-mouth canning jar. The free printable I designed is compatible with these 2 inch Round Labels from Avery. They can be found here.
By