Make homemade salsa in a pinch by using canned tomatoes and green chiles and blend it up in your food processor! No cooking or roasting required.
As an Amazon Affiliate, I earn from qualifying purchases.
While fresh produce is great, it can be expensive – especially when the produce is not in season. And that's where I find canned or frozen fruits and vegetables save the day. They are picked at the peak of freshness and then made available year-round.
Using canned tomatoes to make homemade salsa, we are able to use frugal, shelf-stable ingredients and can make and enjoy any time of year.
Ingredients
Canned Tomatoes: I suggest using fire-roasted canned tomatoes because they have a great flavor for salsa. You can absolutely use regular diced tomatoes if that is what you have. Also, you can use 1 (28 ounce) can diced tomatoes if you don't have 2 (15 ounce) cans.
Diced Green Chiles: You'll want to drain your (7 ounce) can of diced green chiles. If you don't have green chiles, feel free to add a can of Rotel or leave out entirely.
Lime Juice: You can use fresh or bottled here. If you have a whole lime, go ahead and use the zest and juice of the whole thing. The zest will add bright flavor to the salsa. If you don't have lime juice, any acid will work. You can substitute with apple cider vinegar or orange juice.
Jalapeno: This is where you can use your personal preference. If you like a more mild salsa, cut your jalapeno in half and remove the seeds and ribs. Make sure to wear gloves or wash your hand right after removing. If you prefer salsa with a little more heat, leave the seeds and ribs. You'll still want to cut the jalapeno in half to make it easier to blend in the food processor.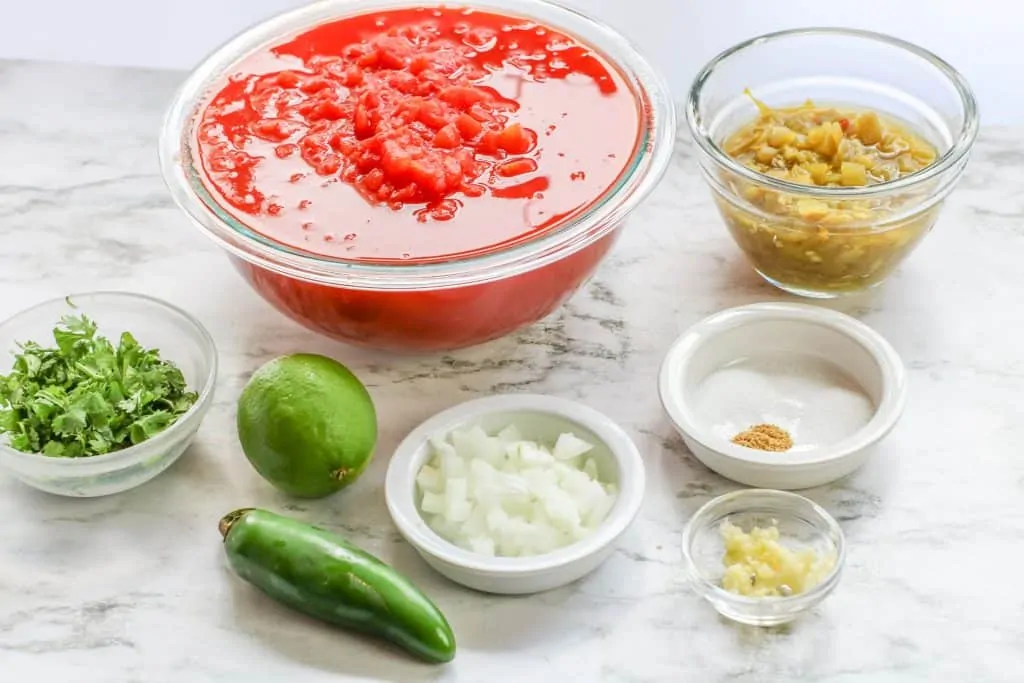 Equipment
Food Processor or Blender
Can Opener
Knife and Cutting Board
Measuring Cup
Measuring Spoons
Can I Use Fresh Tomatoes?
Yes, you can absolutely use fresh tomatoes. This recipe was designed to pantry ingredients in a pinch, but you can use 2 pounds of fresh tomatoes in place of the canned tomatoes.
If you have time, you can cut your tomatoes in half and roast them cut side down on a baking sheet for 20-25 minutes at 400 degrees. This will deepen the flavor of the tomatoes and add a bit of charring to the skin.
Otherwise, you can roughly chop your tomatoes and add them to the food processor raw. The salsa will take a little longer for all of the flavors to blend, but it will have a lovely fresh flavor. You may need to add additional salt as well.
How to Make Homemade Salsa with Canned Tomatoes
Using a food processor is a super easy way to combine everything and it allows you to control the texture of your salsa. My daughter is really picky and won't eat salsa that has chunks in it. Even when I buy store-bought salsa, I have to blend it in the food processor to get it smooth enough for her to eat.
If you don't have a food processor, you can use an immersion blender. You can blend it up right in your bowl until the salsa reaches your desired consistency.
Serve your homemade salsa for Taco Night, with your favorite tortilla chips, or even these Low Carb tortilla chips.
Can I Can this Homemade Salsa?
I have not tested the acidity level of this recipe. If you have pH strips at home, feel free to test it and make sure that has a pH level of 4.6 or lower. This means that it is acidic enough for water-bath canning.
Marisa from Food in Jars has a wonderful resource here for understanding acid and pH levels for water-bath canning. One trick for lowering the pH level of your salsa or any tomato recipe you're wanting to can is to add a Tablespoon of lemon juice to the jar before you spoon in the salsa.
More Homemade Pantry Recipes
Homemade Salsa with Canned Tomatoes Recipe
Yield: 4 cups
Homemade Salsa
This easy, delicious salsa is made with canned tomatoes in your food processor!
Total Time
1 hour
10 minutes
Ingredients
2 (15 ounce) cans diced Fire-Roasted Tomatoes, undrained
1 (7 ounce) can diced Green chiles, drained
1/2 cup Cilantro, stems removed
1/2 medium Onion, roughly chopped
1 clove Garlic, minced
1 Jalapeno, seeds and ribs removed
1 tsp Cumin
1 tsp Salt
1 tsp Honey
2 Tbsp Lime juice, fresh or bottled
Instructions
Place all ingredients in a food processor.
Attach lid and pulse until salsa reaches desired consistency.
Taste and adjust seasoning as desired.
Refrigerate for at least an hour to allow flavors to combine.
Notes
This recipe makes a mild salsa. For a spicier salsa, leave the seeds and ribs in the jalapeno. The salsa can be stored in a covered container in the fridge for up to 7 days.
Recommended Products
As an Amazon Associate and member of other affiliate programs, I earn from qualifying purchases.
Nutrition Information:
Yield:
8
Serving Size:
1 Amount Per Serving:

Calories:

15

Total Fat:

0g

Saturated Fat:

0g

Trans Fat:

0g

Unsaturated Fat:

0g

Cholesterol:

0mg

Sodium:

320mg

Carbohydrates:

3g

Fiber:

1g

Sugar:

2g

Protein:

1g

STAY IN TOUCH ON SOCIAL MEDIA – @ INSTAGRAM, @ FACEBOOK, @ PINTEREST
And don't forget to tag @feastforafraction if you try this recipe!

By