Easy homemade mayonnaise is a pantry staple that everyone should learn to make. It blends up easily in less than a minute and takes just a few ingredients that I'm sure you already have in your pantry.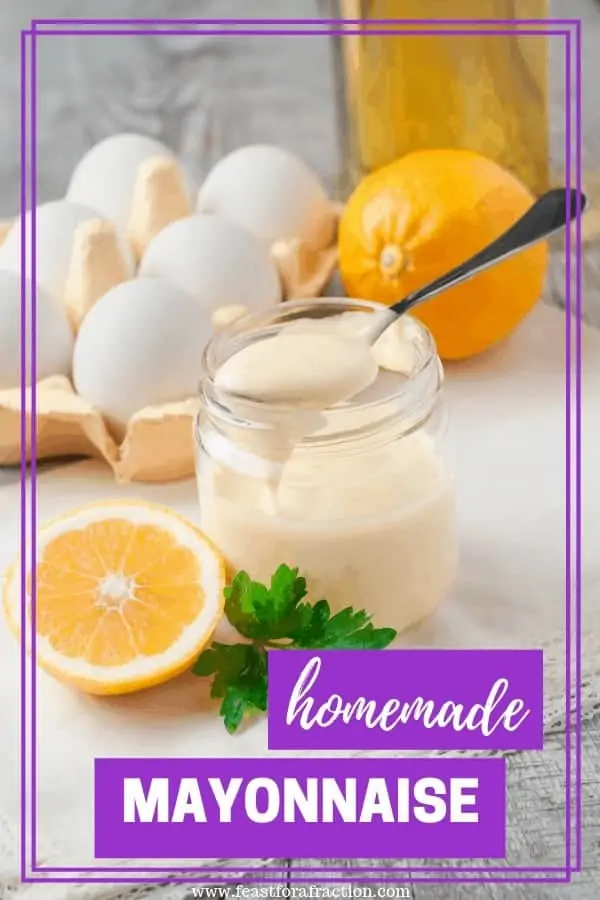 As an Amazon affiliate, I earn from qualifying purchases.
One of the best ways to build a frugal pantry is to learn to make condiments yourself. Homemade mayonnaise is no exception. The ingredients are items that we usually already have in our pantry, and the recipe comes together in less than two minutes. I'm also a huge fan of knowing exactly what is in my mayonnaise.
Most store-bought mayonnaise contains lots of extra ingredients that act as stabilizers and preservatives. This recipe contains a whopping six ingredients including salt and water! With that, this recipe will last in the fridge for a week. If you're anything like my family, that won't be a problem. We've always making sandwiches for lunches or a batch of pimento cheese spread.
Ingredients
Egg Yolk: You'll need one egg yolk. Don't waste that egg white, though, when separating. Save it to make meringues or cook up some scrambled egg whites. You can store egg whites in the freezer until you have enough for a whole recipe.
Dijon Mustard: This is a personal preference. You can use yellow mustard if it is all you have or leave it out completely. The Dijon adds a really nice flavor and it helps to create a good emulsion between the oil and egg yolk.
Lemon Juice: Lemon juice provides flavor for the mayonnaise, and it helps everything to emulsify. Fresh lemon juice is ideal, but you can use bottled too since it is such a small amount.
Oil: This is where you can have some creativity. Canola or vegetable oil is going to be the cheapest oil making your homemade mayonnaise way more cost-effective. Avocado oil is lovely and very nutrient-rich, but it is more expensive. I wouldn't recommend making your mayonnaise using Extra-Virgin Olive Oil as the fruity flavor of the high-quality oil will overpower your mayo.
Equipment
Mason Jar (or bowl if using whisk)
Measuring Spoons
Measuring Cup
Immersion Blender or Whisk
I really do recommend investing in an immersion blender. It not only makes really quick work of blending up mayonnaise, it is perfect for making homemade salsa and blending soup right in the pot.
You can absolutely blend with a whisk in a bowl. A helpful tip is to wrap a towel around the bottom of your bowl so that you don't have to hold it while you are whisking. This way, you have both hands free to stream in the oil slowly and whisk at the same time. This is how you get everything to emulsify, or blend completely without separating. If you do get some separation, this article explains how to fix it.
Ways to Flavor Your Homemade Mayonnaise
Once you've prepared your basic mayonnaise recipe, feel free to play with adding herbs and spices to fancy it up. I love adding pureed roasted red peppers to make Red Pepper Mayo or stir in a tablespoon on prepared horseradish to give it a little kick. The possibilities are endless. Use your homemade mayo to make the dressing for this delicious Jalapeno Popper salad!
Paprika
Garlic Powder
Sriracha
Wasabi Powder
Honey or Maple Syrup
Black Pepper
More Homemade Pantry Recipes
Homemade Mayonnaise Recipe
Yield: 1 cup
Homemade Mayonnaise
Making condiments at home allows you to control the ingredients and customize the flavor. This basic mayonnaise recipe is the perfect foundation.
Ingredients
1 large Egg Yolk
1 tsp Lemon Juice
1 tsp Dijon mustard
1 tsp Water
1/2 tsp Salt
3/4 cup Canola or Avocado Oil
Instructions
Place egg yolk, lemon juice, Dijon mustard, water and salt into a wide-mouth mason jar.
Using an immersion blender or milk frother, blend ingredients while slowly streaming in oil.
Blend for 30 seconds or until fully incorporated and creamy.
Store prepared mayonnaise in the fridge for up to one week.
Notes
This recipe comes together very quickly when using an immersion blender. If you don't have one, you can use a sturdy bowl and whisk. Be mindful to stream the oil in slowly when whisking by hand to ensure that the mixture emulsifies.
Recommended Products
As an Amazon Associate and member of other affiliate programs, I earn from qualifying purchases.
Nutrition Information:
Yield:
16
Serving Size:
1 Amount Per Serving:

Calories:

98

Total Fat:

11g

Saturated Fat:

1g

Trans Fat:

0g

Unsaturated Fat:

9g

Cholesterol:

23mg

Sodium:

86mg

Carbohydrates:

0g

Fiber:

0g

Sugar:

0g

Protein:

1g

By