This homemade cornbread mix recipe makes the equivalent of 5 boxes of Jiffy Corn Muffin mix. Keep some on hand for quick baking any time of day.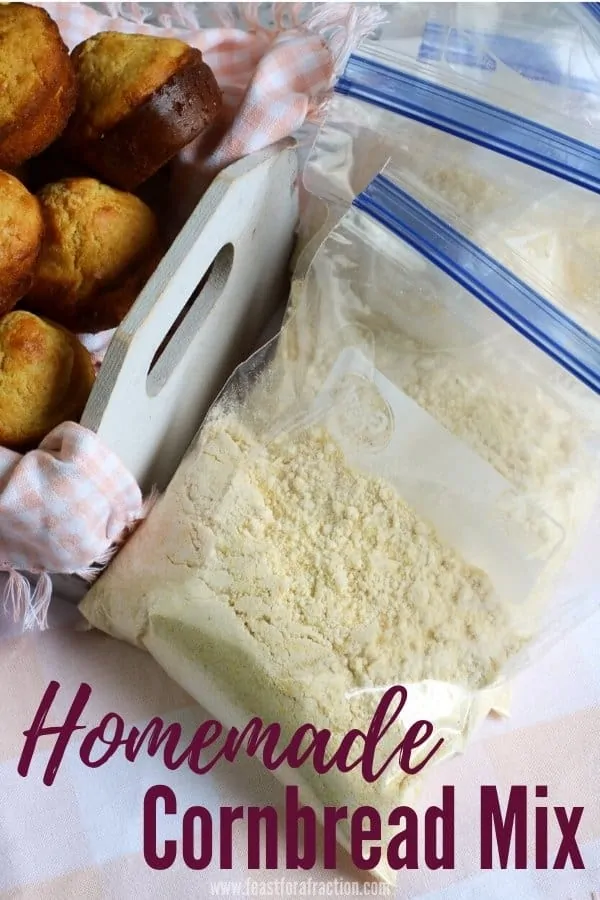 As an Amazon affiliate, I earn from qualifying purchases.
Cornbread is a quick and easy side dish or bread option to go alongside chili or served with honey for breakfast. Those boxes of Jiffy Corn Muffin mix make it so easy to dump and go, but what if you're out or are looking for a more cost-effective way to cook at home? This homemade cornbread mix is a delicious Jiffy copycat recipe and costs just pennies per batch.
Ingredients
All-Purpose Flour: You will want to use All-Purpose flour here, not Whole Wheat. However, if you are gluten-free, you can use an equal measurement of gluten-free flour as a substitute.
Cornmeal: For the cornmeal, you can use white or yellow. I recommend that you go for a small or medium grind on the cornmeal. If you use course-ground cornmeal it may be too gritty for your taste. The bag or container will state what kind of grind the cornmeal is.
Vegetable Shortening: I'm sure you're wondering why we are using vegetable shortening rather than butter or vegetable oil. The reason is that vegetable shortening is a vegetarian shelf-stable option that is really affordable. It also makes for a very tender crumb when baking the cornbread or corn muffins.
Granulated Sugar: Regular granulated sugar will work perfectly.
Baking Powder: Make sure that you are using baking powder, not baking soda. You'll find this in the baking aisle next to the flour.
Salt: Baking is one of the few times I really recommend using table salt. It is finer than sea salt and fully incorporates with the other dry ingredients.
Equipment
How to store your Cornbread Mix
This cornbread mix recipe is safe to keep in your pantry for up to two months. If your home is warmer, you can store the mix in your fridge or freezer.
I like to portion the mix into quart-size bags so that each bag is one recipe. You are also welcome to store it in a large air-tight container and scoop out what you need for your recipe.
How to use your Cornbread Mix
When ready to bake, you'll need one bag of your prepared cornbread mix, one large egg and one cup of whole milk or buttermilk. Mix the egg and milk until well combined. Pour over the cornbread mix in a large bowl, and stir until just combined. You will have some lumps and this is totally fine. Preheat your oven to 425 degrees Fahrenheit and grease a 8 x 8 inch baking pan or a cast iron skillet with butter or vegetable oil. Pour the batter into the baking dish and bake for 20-25 minutes until a toothpick inserted into the center comes out clean.
If you want to mix things up, you can reduce the milk to 1/2 cup and add 1/2 cup sour cream or creamed corn. You can also add shredded cheese to the batter for cheesy cornbread.
More Homemade Pantry Recipes
Yield: 5 batches
Homemade Cornbread Mix Recipe
Keep a batch of homemade cornbread mix in the pantry for quick cornbread or corn muffins with any meal. Save money and use pantry ingredients by making this mix at home.
Ingredients
To make cornbread:
1 Large egg
1 cup Milk or buttermilk
Instructions
In a large bowl, combine flour, cornmeal, sugar, baking powder and salt. Stir well to combine or sift ingredients together.
Add shortening to the bowl. Using a fork or pastry blender, cut in the shortening until it is completely incorporated with the flour mixture and looks like sand.
Divide the mix into quart-size plastic storage bags or reusable storage bags containing 2 1/3 cups mix in each bag.
To make cornbread: Preheat oven to 425 degrees Fahrenheit. Whisk together the egg and milk. Stir in 2 1/3 cups cornbread mix just until combined. You will have lumps and that is perfectly ok. Transfer batter to a greased square baking pan, muffin cups or oiled cast iron skillet. Bake at 425 degrees for 15 to 25 minutes, depending on the size of baking pan used.
Notes
The prepared mix will store in a cool, dry pantry for up to two months.
Recommended Products
As an Amazon Associate and member of other affiliate programs, I earn from qualifying purchases.
Nutrition Information:
Yield:
30
Serving Size:
1 Amount Per Serving:

Calories:

215

Total Fat:

8g

Saturated Fat:

3g

Trans Fat:

0g

Unsaturated Fat:

4g

Cholesterol:

11mg

Sodium:

364mg

Carbohydrates:

32g

Fiber:

2g

Sugar:

6g

Protein:

4g

By