Make hummus at home from frugal ingredients with help from your Instant Pot. There is no need to soak the chickpeas, and we're making this Instant Pot Hummus without tahini to make it even more budget-friendly!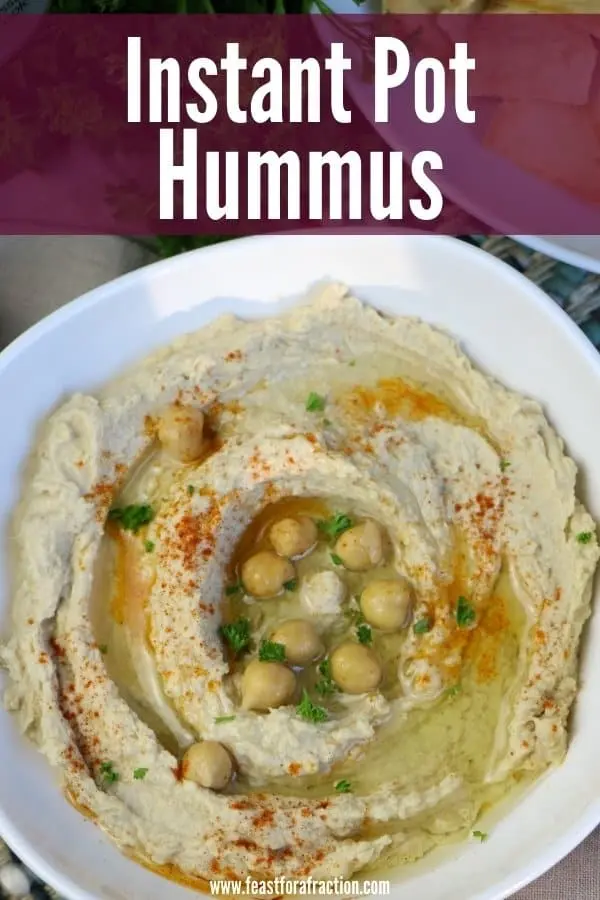 As a Amazon affiliate, I earn from qualifying purchases.
Hummus is a Mediterranean dip or spread made from chickpeas (garbanzo beans). It traditionally contains tahini paste (ground sesame seeds), but I find it to be very expensive and hard to find at my local grocery stores. I've made hummus both ways, and don't miss the tahini at all.
By cooking the chickpeas in the Instant Pot, we can skip soaking the beans overnight. From dried to fully cooked in 60 minutes, this Instant Pot hummus is insanely budget-friendly and I'll show you how to make the traditional recipe and a number of variations.
Ingredients for Hummus without Tahini
Dried Chickpeas (Garbanzo beans): We're using dried chickpeas in this recipe because they are so dang cheap and it gives us control of the salt! Yes, you can use canned chickpeas and you can skip the cooking steps entirely. Just make sure to drain and rinse them well.
Lemon Juice: If you have access to whole lemons, that is ideal. Go ahead and add some of the zest from the lemons, too. You'll need 2 whole lemons to get 1/4 cup lemon juice. Bottled lemon juice will work in a pinch.
Ground Cumin: Cumin can be found in the spice aisle of your grocery store and it is one of my favorite spices to have on hand. It isn't spicy at all, but it adds a wonderful smoky flavor to Mediterranean and Mexican dishes.
Olive Oil: Because hummus has so few ingredients, it is important to use the best quality to feel comfortable buying. If you only have vegetable oil, leave it out and just use more cooking liquid. If you have olive oil or extra-virgin olive oil, you're good to go.
Onion and Garlic: These are used as aromatics to flavor the chickpeas. If you don't have fresh at home, feel free to add a 1/2 teaspoon each of garlic powder and onion powder to the food processor before blending.
Bay Leaves: Dried bay leaves are another aromatic, and another item to always have in your spice cabinet. If you keep them sealed in a cool, dry place, they'll last forever. If you don't have dried bay leaves, you'll still get delicious hummus.
Equipment
Instant Pot or Electric Pressure Cooker
Measuring cup
Knife
Cutting Board
Rubber Scraper
Flavor Variations for Homemade Instant Pot Hummus
This recipe makes a classic flavor of hummus, and it is SO easy to add additional ingredients to make interesting flavors. Once you've cooked your chickpeas and blended them just a bit, add any of the following to mix things up:
1/2 cup chopped roasted red peppers
1/4 cup chopped olives with 2 Tablespoons olive brine
1/2 cup roasted beets
1/2 cup chopped cilantro and 1 small chopped jalapeño
Omit the garlic, onion and lemon juice and add 1/2 cup cocoa powder and 1/2 cup sugar for yummy brownie batter hummus
You can even add some crushed red pepper flakes to the original recipe to add a little kick.
How to Serve Hummus
Hummus is traditionally served alongside flatbread or pita bread (or even pita chips), but it's great served in so many ways!
Serve as the dip for a veggie tray. It's fantastic with carrots, celery, cherry tomatoes and even cucumber slices
Enjoy with this delicious homemade pita or Arayes (grilled stuffed pita sandwiches)
Spread on a sandwich instead of mayonnaise.
Use as a substitute for a cream sauce like alfredo sauce.
Spread on toast and top with scrambled eggs for an extra punch of protein.
Turn into delicious Hummus Salad Dressing.
More Homemade Pantry Recipes
Instant Pot Hummus Recipe
Yield: 3 cups
Instant Pot Hummus (without tahini)
With a handful of cheap ingredients, hummus is so easy to make at home with some help from your Instant Pot. Make the recipe as written for classic hummus, or add any of the recommended mix-ins.
Total Time
1 hour
5 minutes
Ingredients
6 cloves garlic, peeled and crushed
1 onion, quartered
2 teaspoons salt
2 bay leaves, dried
4 cups water
1 teaspoon ground cumin
1/4 cup lemon juice
1/4 cup olive oil
Instructions
Place rinsed chickpeas, water, salt, garlic, onion and bay leaves in the inner pot of your Instant Pot.
Close lid and seal vent. Cook on high pressure for 60 minutes. Allow pressure to release naturally for 20 minutes, then release remaining pressure.
Reserve 1/2 cup cooking liquid, remove bay leaves and drain cooked chickpeas, garlic and onion.
Place cooked chickpeas, garlic and onion in a food processor. Add lemon juice, ground cumin and olive oil and blend, scraping the bowl occasionally.
Add a little cooking liquid to thin hummus to your desired consistency.
Taste and add additional salt as desired.
Notes
Prepared hummus will store covered in the fridge for up to a week.
Flavor variations: Once the chickpeas are cooked and a bit blended, add any number of mix-ins to try different flavors. For roasted red pepper hummus, add 1/2 cup chopped roasted red peppers and an extra pinch of salt and blend until smooth. For olive hummus, mix in 1/4 cup of your favorite olives with 2 Tablespoons of olive brine and blend smooth. You can even roast beets or other vegetables and blend them in.
**For canned chickpeas, drain and rinse one can of chickpeas. Blend in food processor with 2 chopped garlic cloves, 1/4 cup lemon juice, 1 teaspoon salt, 1 teaspoon cumin and 1/4 cup olive oil. Blend until smooth, adding water as needed to reach desired consistency. No cooking necessary!
Recommended Products
As an Amazon Associate and member of other affiliate programs, I earn from qualifying purchases.
Nutrition Information:
Yield:
12
Serving Size:
1 Amount Per Serving:

Calories:

69

Total Fat:

5g

Saturated Fat:

1g

Trans Fat:

0g

Unsaturated Fat:

4g

Cholesterol:

0mg

Sodium:

359mg

Carbohydrates:

5g

Fiber:

1g

Sugar:

1g

Protein:

1g

STAY IN TOUCH ON SOCIAL MEDIA – @ INSTAGRAM, @ FACEBOOK, @ PINTEREST
And don't forget to tag @feastforafraction if you try this recipe!

By