Applesauce replaces butter or oil in this Applesauce Banana Bread recipe. It is the perfect, healthy substitution that still results in a delicious, moist loaf of bread. You can also bake in muffins for a tasty portable breakfast or snack.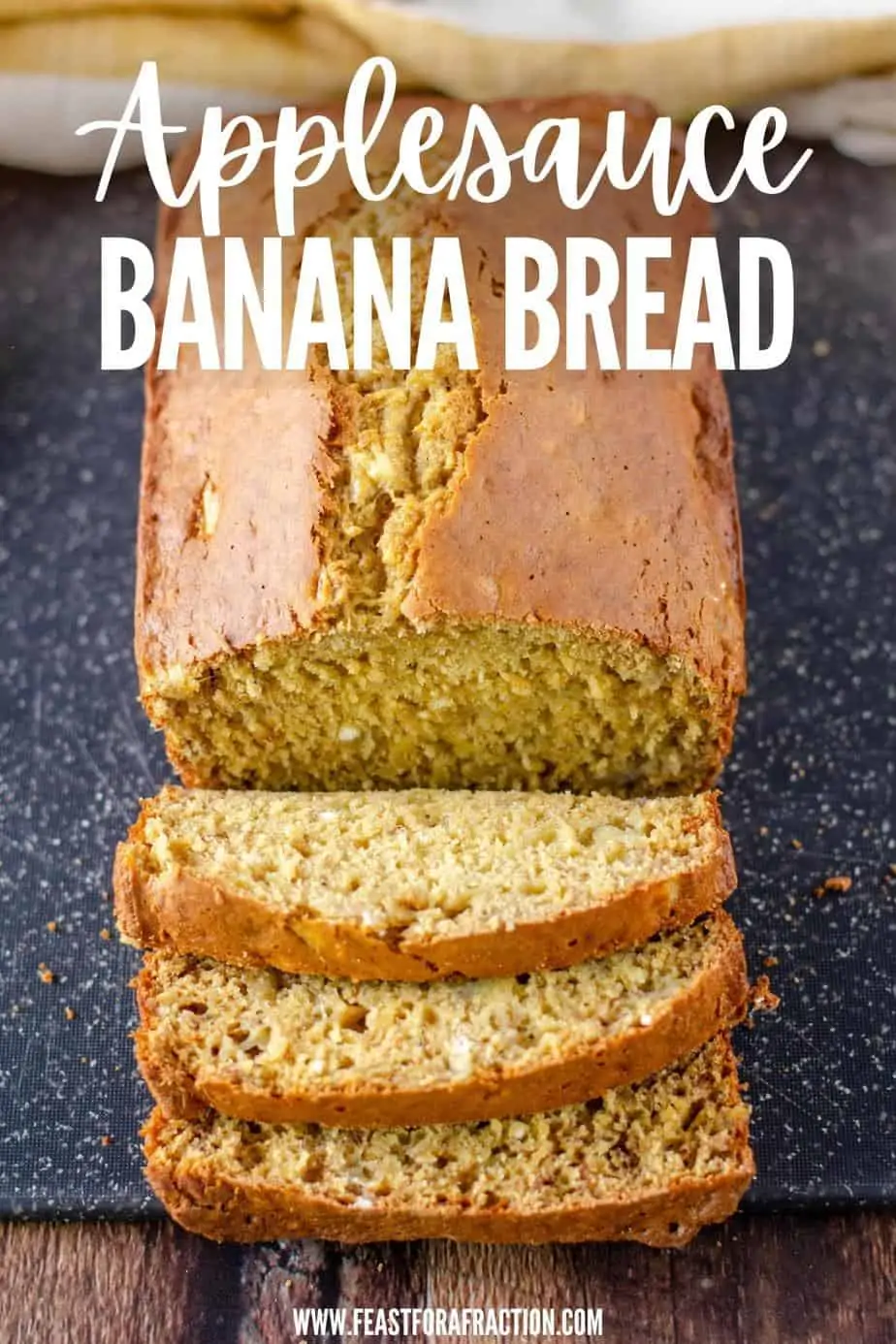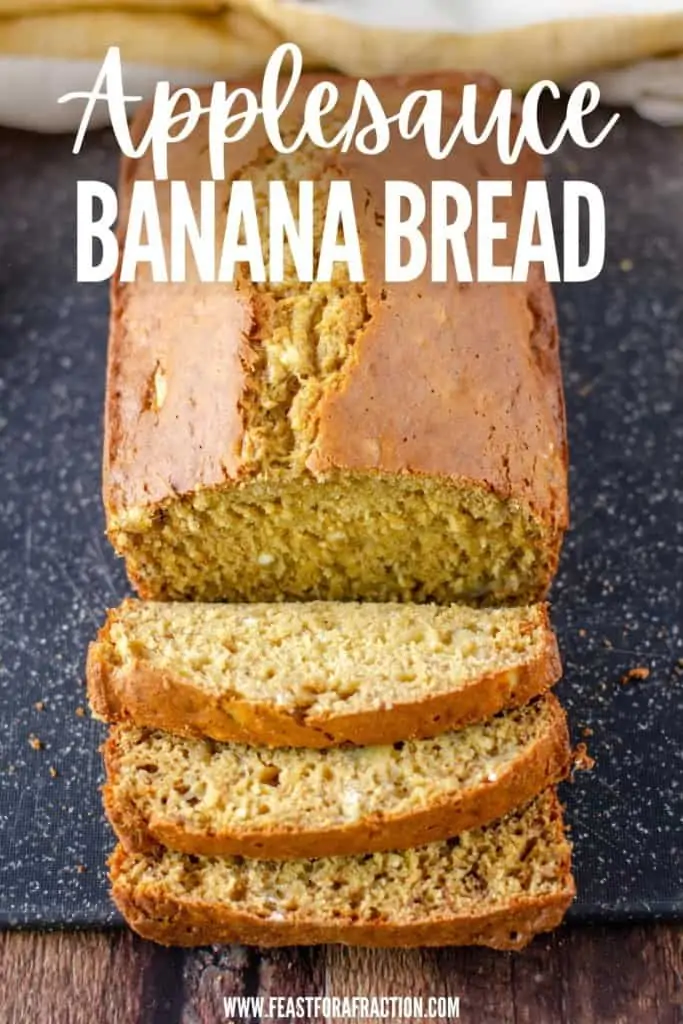 As an Amazon affiliate, I earn from qualifying purchases.
Making banana bread is my favorite way to use up too ripe bananas. I am notorious for buying a bunch of bananas, eating a couple and winding up with a few that get too spotty for me to enjoy eating fresh.
This Applesauce Banana Bread recipe uses 4 of those overly ripe or frozen bananas and uses applesauce in place of butter or oil for a healthier banana bread. It still packs that banana punch, with the perfect amount of sweetness and a moist, tender loaf. You can easily make banana muffins from this recipe, too!
You can also use those ripe bananas to make Dairy Free Chocolate Peanut Butter Ice Cream or Cherry Chia Banana Smoothies.
Ingredients
wet ingredients
Bananas: You'll need approximately 4 medium bananas for this recipe, or 1 cup mashed banana. Below I give tips for how to store your ripe bananas to save for baking. If your bananas are still a little under-ripe, you can put them in the microwave for 30 seconds to help break down the sugars and make them easier to mash.
Sugar: I used granulated sugar in the recipe because it is cheap and I always have some in the pantry. You can use brown sugar or coconut sugar if you like, but reduce the measurement to 1/2 cup. You can also use honey if you prefer a natural sugar. If using honey, you'll want to use 1/2 cup in place of the granulated sugar.
Eggs: In baking, I make a point to use large eggs so that there is consistency in their size. You'll need 2. If you are vegan, you can make a flax egg substitute by mixing 1 Tablespoon of flax seed meal with 2 1/2 Tablespoons of water per egg. Or try any one of these 12 other vegan egg substitutes.
Applesauce: The secret ingredient of this recipe, applesauce provides moisture to the bread without all the calories of oil or butter. Use unsweetened applesauce if you have it. If your applesauce is sweetened, you can reduce the sugar by 2 Tablespoons.
dry ingredients
Flour: We're using all-purpose flour in this recipe. If you are gluten-free, you can use Cup4Cup or another gluten-free flour that works as an equal measurement replacement. I have tested this recipe using all whole wheat flour and it is a bit dense. If you'd like to add some whole wheat to the recipe, I recommend using 1 cup AP and 1 cup whole wheat.
Vanilla, Baking Soda, Cinnamon and Salt: Vanilla extract, salt and cinnamon help enhance the flavor of our applesauce banana bread, and baking soda gives the rise to the bread. Please don't skimp on these ingredients.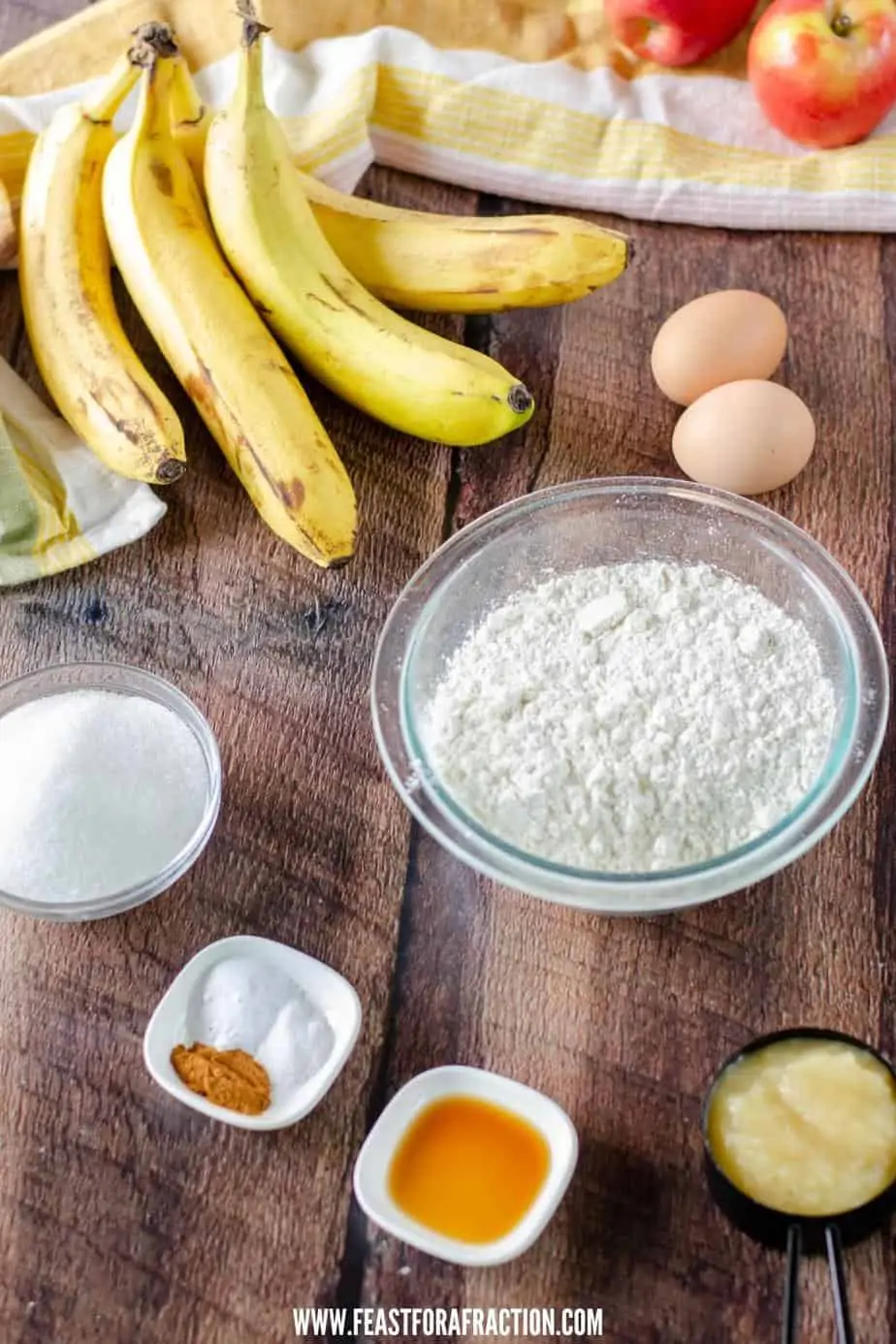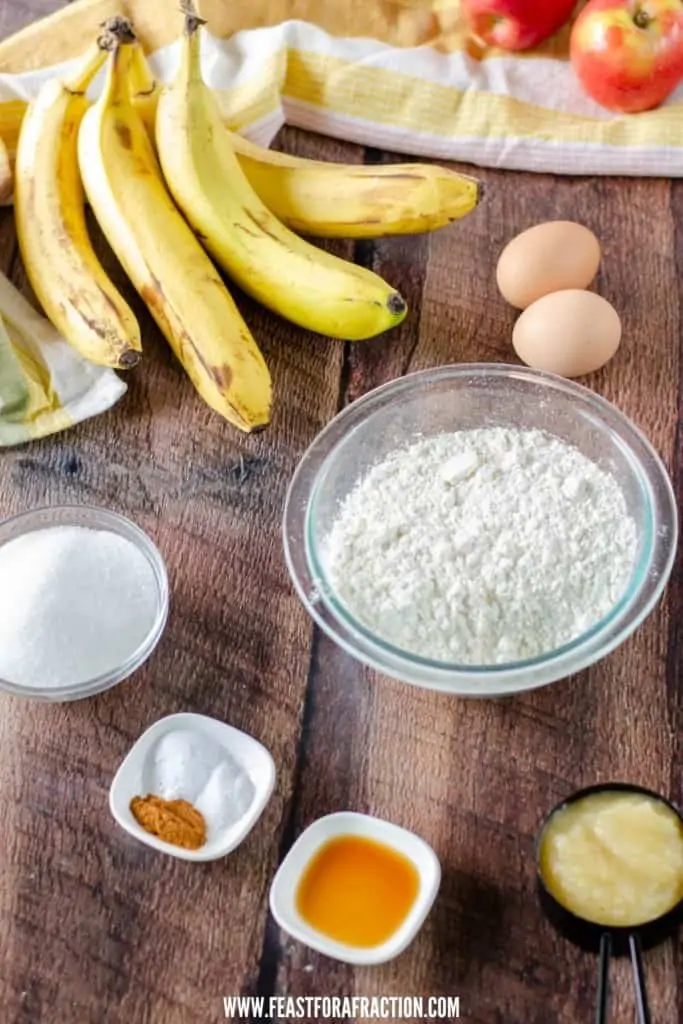 Equipment
2 Large Mixing Bowls
Measuring Cups
Measuring Spoons
Mixing Spoon or Hand Mixer
How to Make Applesauce Banana Bread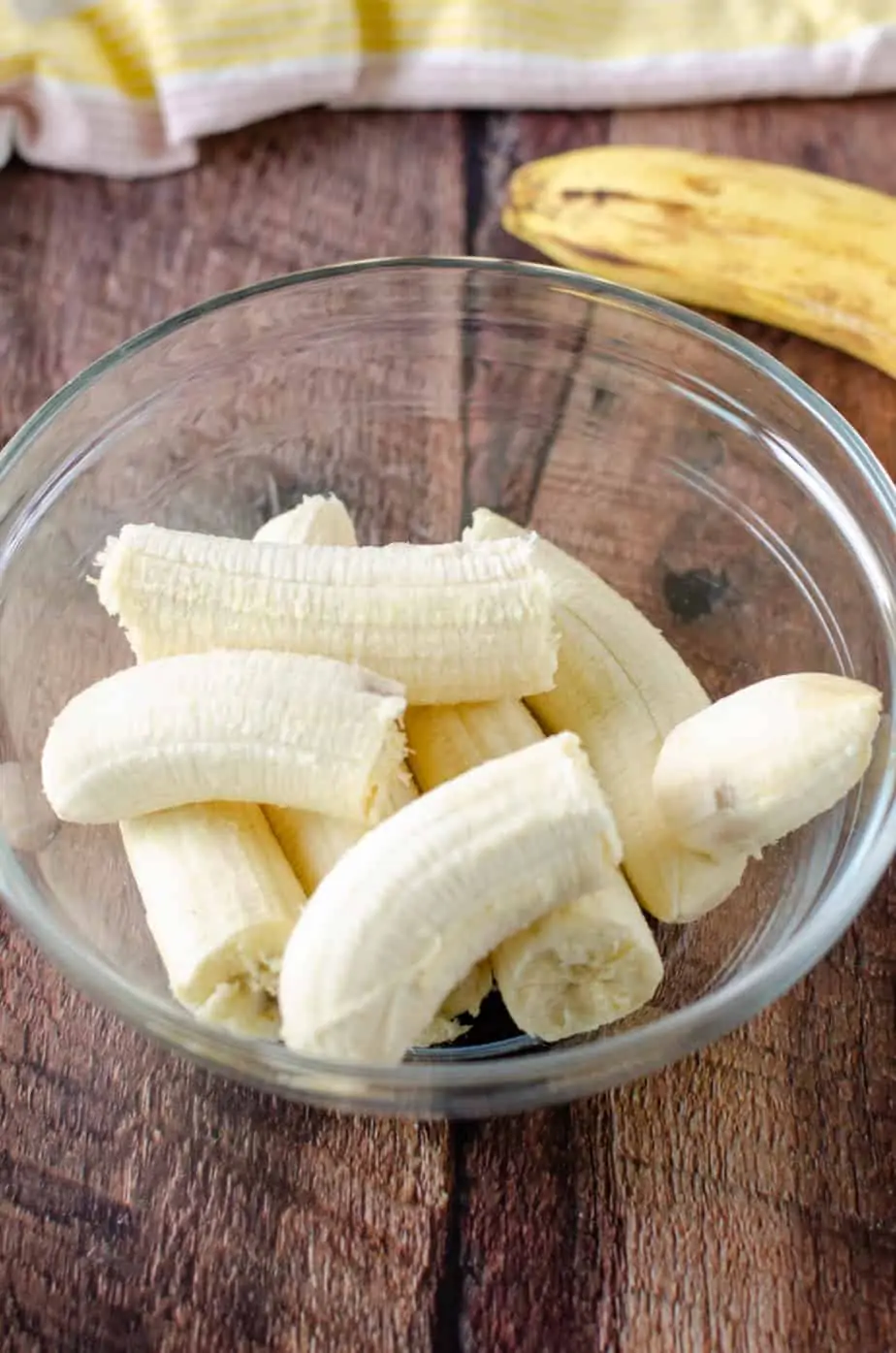 Applesauce Banana Bread is a quick bread meaning that it is as easy as combining all your wet ingredients in one bowl and your dry ingredients in another. Then, you gently mix them together. Pour in your baking pan and bake. Easy-peasy!
How to Store Ripe Bananas
Saving these ripe bananas from being thrown away is so easy. You have two options: put the whole banana in its peel in the freezer or peel the banana and place it in a freezer bag to store in the freezer. Either option works well. If I'm being perfectly honest, I lean more toward sticking the whole banana in the freezer just because it is convenient.
When it comes time to use the frozen bananas, place them in a bowl to thaw at room temperature. The skin of the banana will be black. This is normal and there is something wrong with the bananas. You will also find that the bananas are really mushy and basically fall out of the peel once thawed. Again, totally normal. They'll just be that much easier to mash up.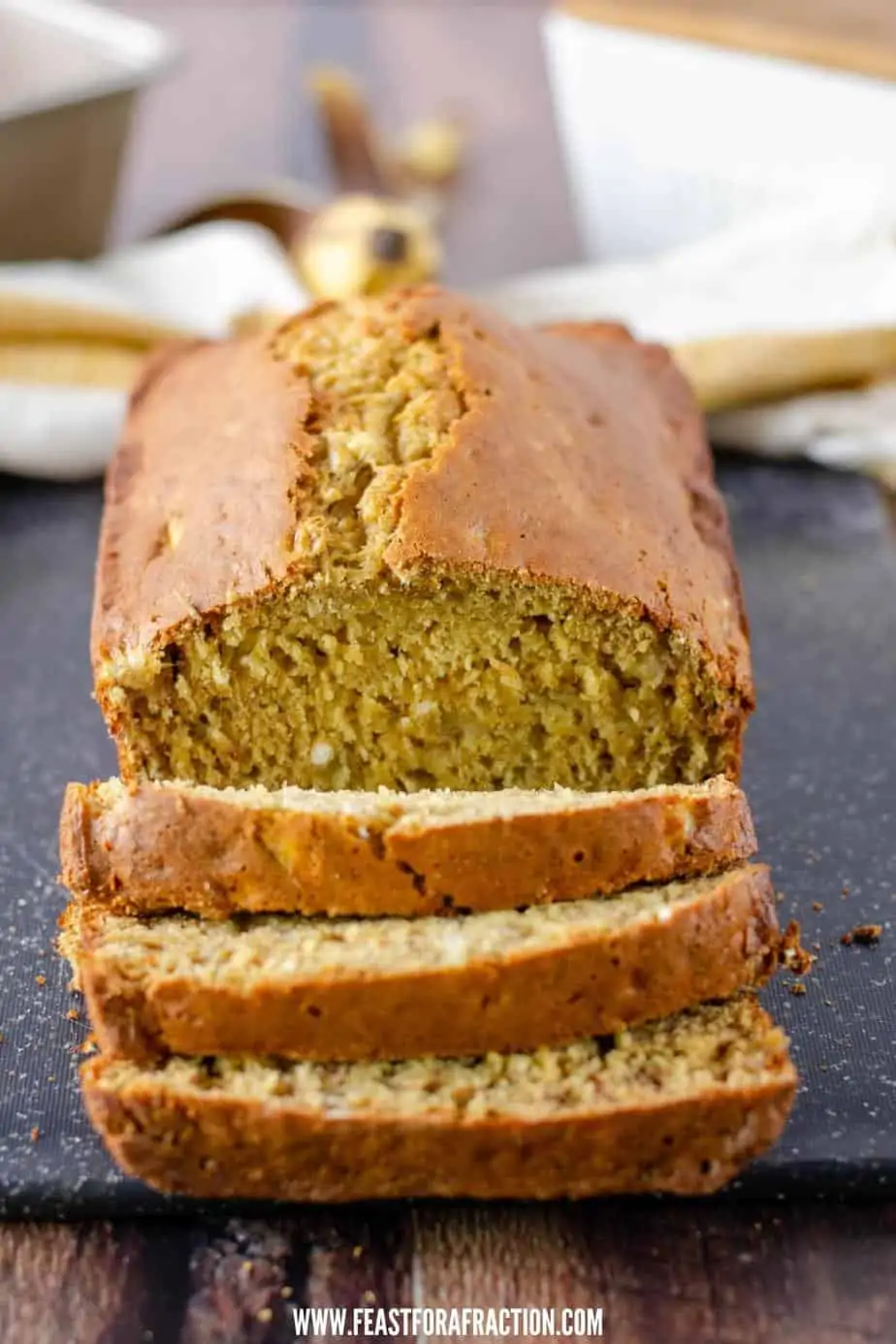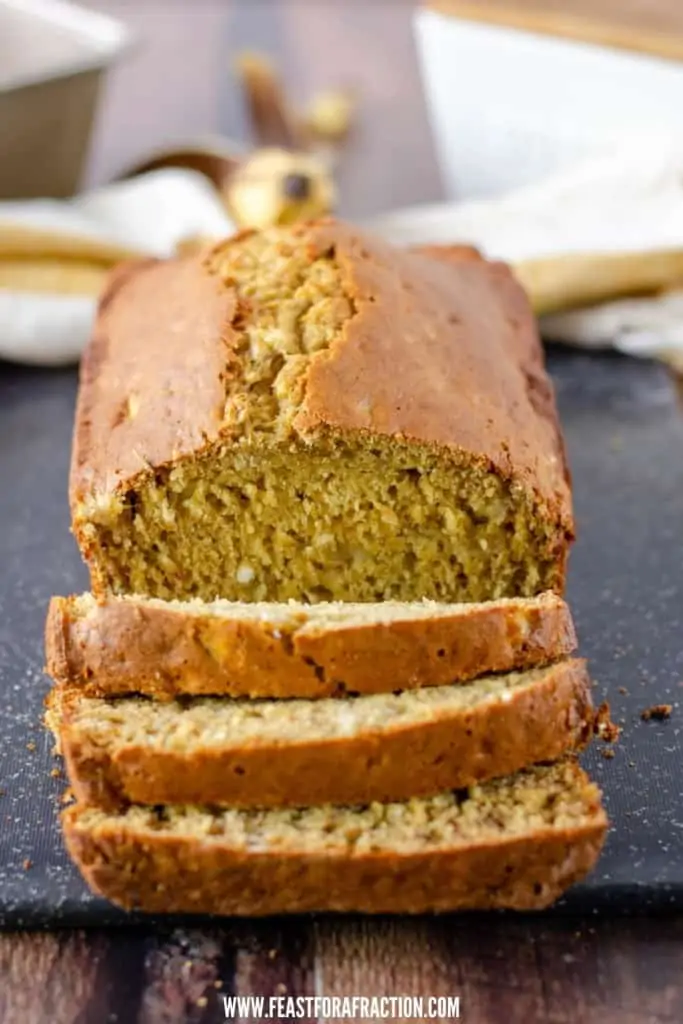 Frequently Asked Questions
Can you freeze banana bread?
Yes, you can! Once you cool the applesauce banana bread completely, you can wrap the whole loaf or any slices in two layers of plastic wrap before placing it in a gallon-size freezer bag. The plastic wrap keeps the bread from developing any ice crystals on the bread, and the bag provides an extra layer of protection from freezer burn. It will keep in the freezer for up to 2 months.

When you're ready to thaw and enjoy slices of your banana bread, remove the whole loaf or however many slices you want from the freezer. Wrap in a paper towel and allow to thaw at room temperature or warm in the microwave in 30 second increments until thawed. You can also toast the slices from frozen in the toaster oven. Either way, you can enjoy home-baked applesauce banana bread any time you like.
Can I bake this recipe in a muffin tin?
Yes, you can make banana bread muffins with this recipe. Portion about 1/3 cup batter into your greased muffin tin cups. Bake at 350 degrees Fahrenheit for 25-30 minutes until a toothpick inserted into the innermost muffin comes out clean. (12-14 minutes if you're using a mini muffin tin)
Can I make this recipe without sugar?
The recipe will not work if you simply leave out the sugar all together, but you can use a sugar substitute such as Swerve or Splenda if you're looking for a lower-carb option. You can also use 1/2 cup honey in place of the granulated sugar you're wanting to use a natural sugar.
How long will the Applesauce Banana bread stay fresh?
You can store your banana bread in an airtight container or a storage bag on your counter for up to 3 days or in the fridge for up to a week. You can also freeze your banana bread, wrapped in plastic wrap for up to 2 months.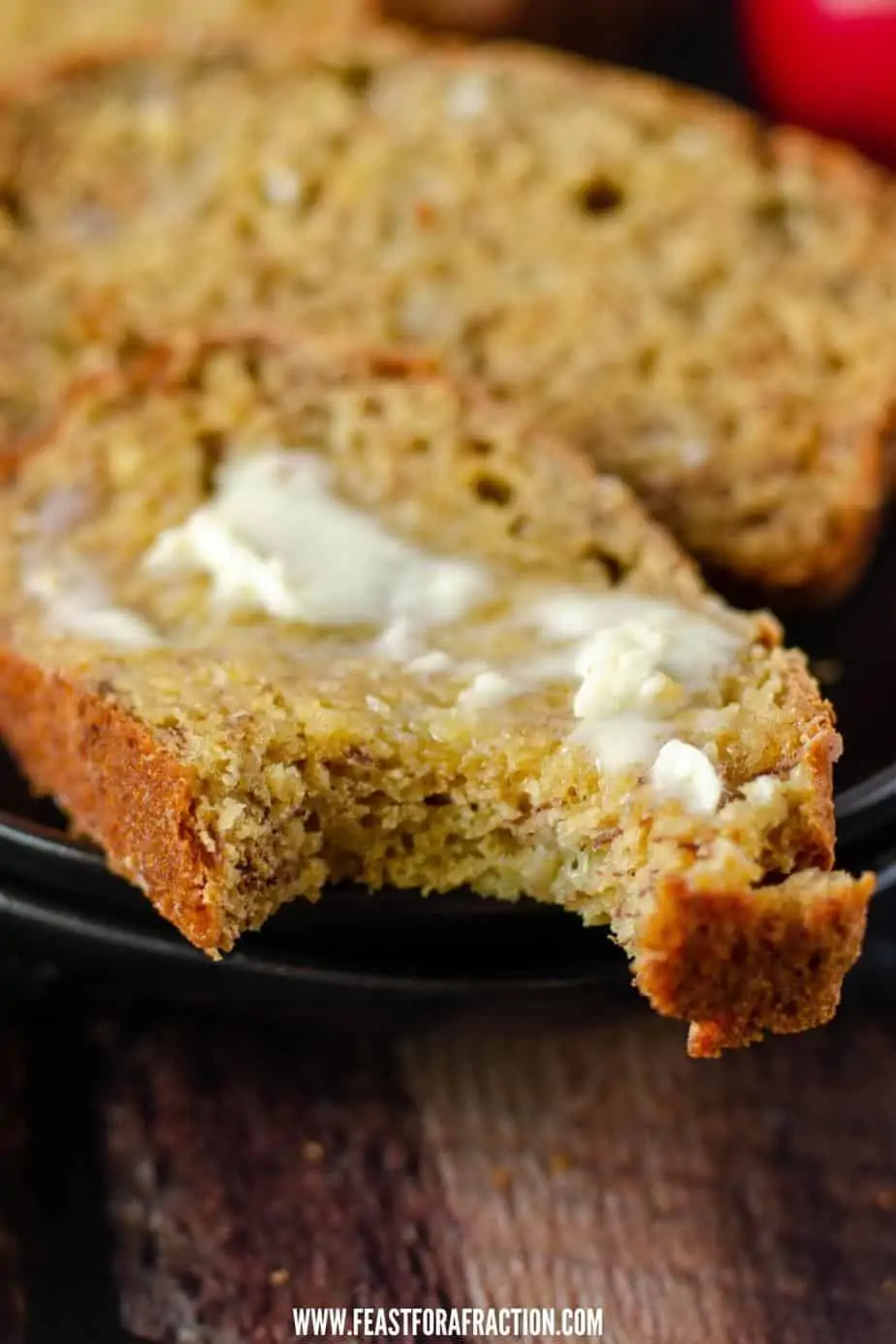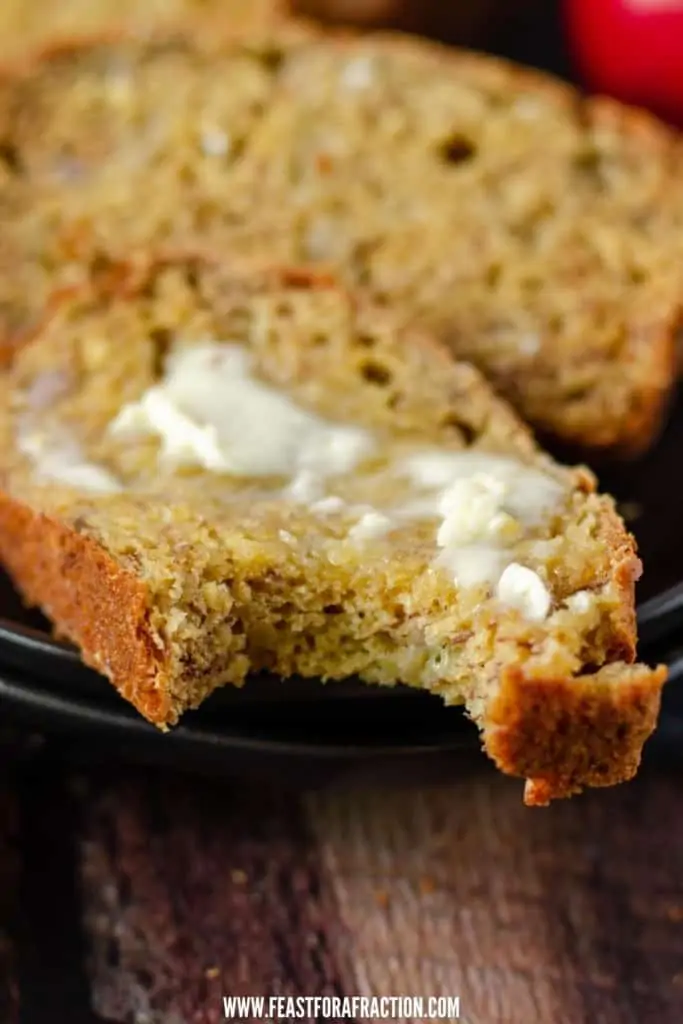 More Baked Goods Recipes
Healthy Applesauce Banana Bread Recipe
Yield: 12 slices
Applesauce Banana Bread
This dairy-free and oil-free Banana Bread uses applesauce in place of oil without sacrificing any flavor. You get a delicious, tender loaf without any of the guilt perfect for breakfast or dessert.
Additional Time
10 minutes
Total Time
1 hour
15 minutes
Ingredients
4 bananas, ripe or previously frozen (about 1 cup mashed)
3/4 cup granulated sugar
1/2 cup unsweetened applesauce
2 eggs
1 teaspoon vanilla
2 cups all-purpose flour
1 teaspoon baking soda
1/2 teaspoon ground cinnamon
1/2 teaspoon salt
Instructions
Preheat oven to 350 degrees Fahrenheit. Grease a 9" x 5" loaf pan with butter or cooking spray.
In a large bowl, mash bananas well with a fork or use a hand mixer.
Add sugar and beat until well combined.
Add applesauce, eggs and vanilla to wet mixture and mix to combine.
In a separate bowl, whisk together all-purpose flour, baking soda, cinnamon and salt.
Pour dry ingredients into wet ingredients and stir gently until just combined.
Pour into the greased loaf pan and bake for 50-55 minutes, until a toothpick inserted into the middle of the loaf comes out clean and free of batter or crumbs.
Let loaf cool in loaf pan for 10 minutes. Remove from loaf pan and transfer to a wire rack to cool completely.
Notes
This recipe is perfect to use up bananas that are too ripe for you to eat raw. You can peel the bananas and store them in a freezer bag. Add overly ripe bananas to the bag until you have enough to bake a recipe. You can also freeze the bananas whole in their peel and they will come right out of the peels once thawed.
Feel free to add up to 1/2 cup of chopped pecans or walnuts if you prefer a banana nut bread.
To bake muffins, portion 1/3 cup batter until greased or cupcake lined muffin tin and bake at 350 degrees Fahrenheit for 25-30 minutes, or unitl a toothpick inserted comes out clean. For mini muffins, bake for 12-14 minutes.
Recommended Products
As an Amazon Associate and member of other affiliate programs, I earn from qualifying purchases.
Nutrition Information:
Yield:
12
Serving Size:
1
Amount Per Serving:
Calories:

177
Total Fat:

1g
Saturated Fat:

0g
Trans Fat:

0g
Unsaturated Fat:

1g
Cholesterol:

31mg
Sodium:

206mg
Carbohydrates:

39g
Fiber:

2g
Sugar:

18g
Protein:

4g
Pin for Later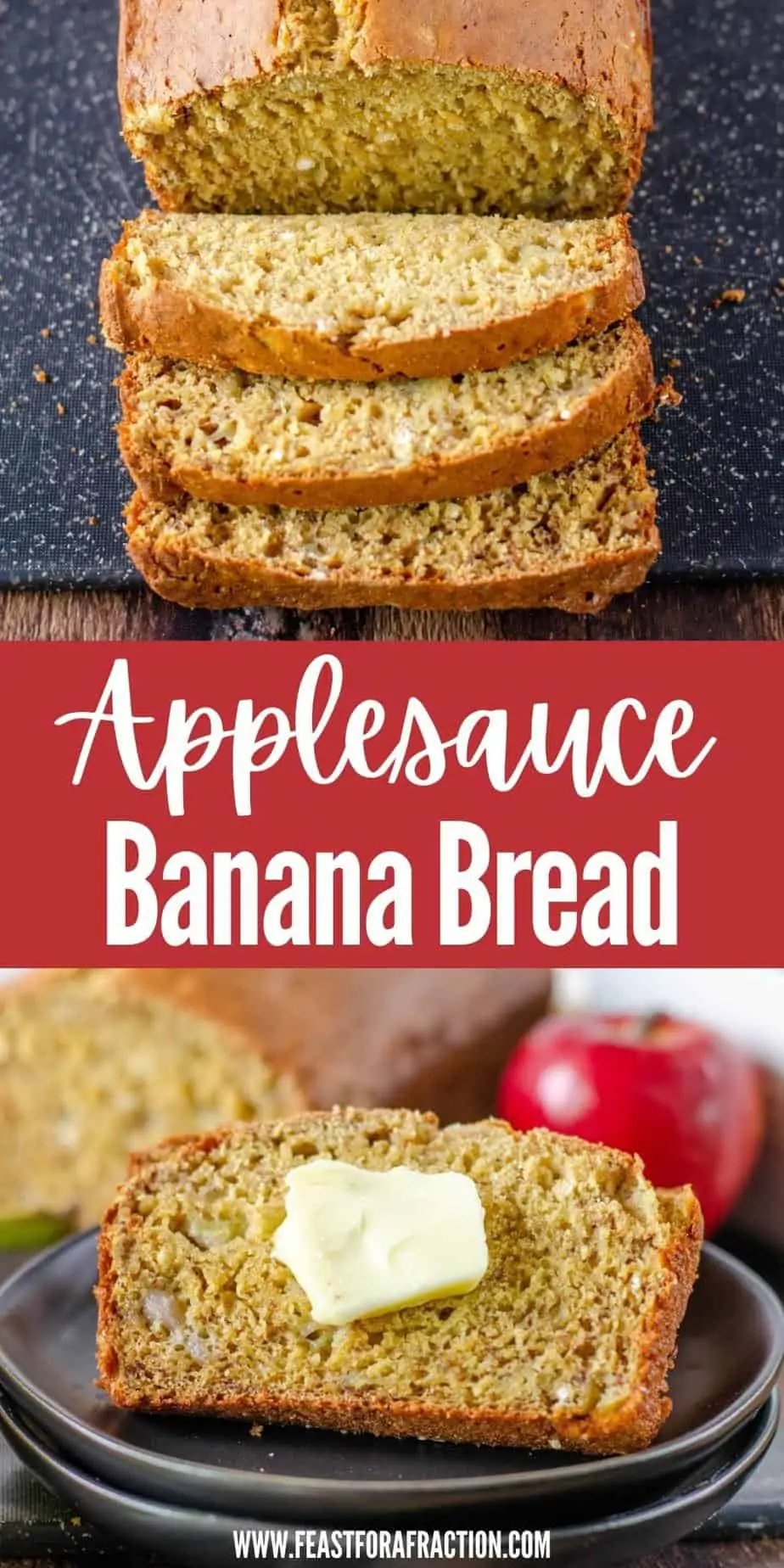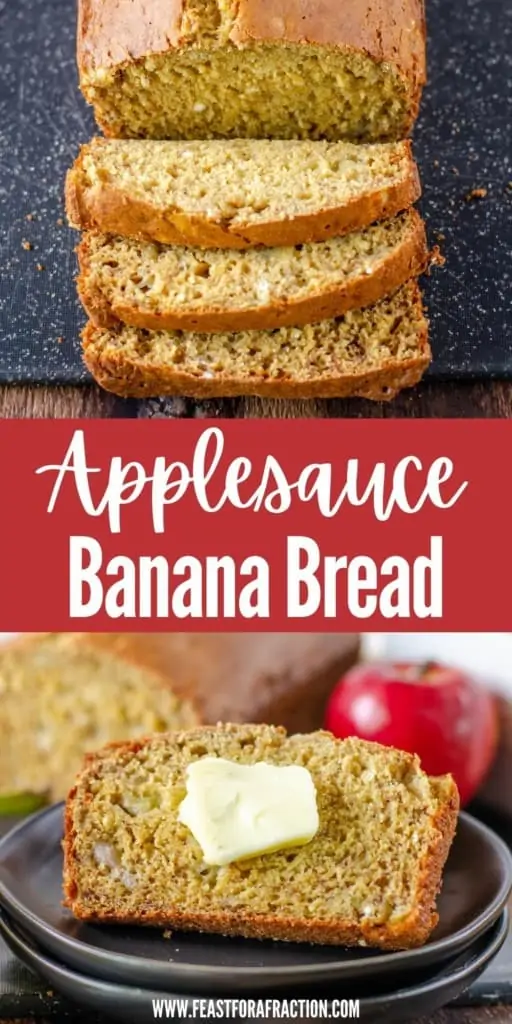 By