Applesauce replaces butter or oil in this Applesauce Banana Bread recipe. It is the perfect, healthy substitution that still results in a delicious, moist loaf of bread.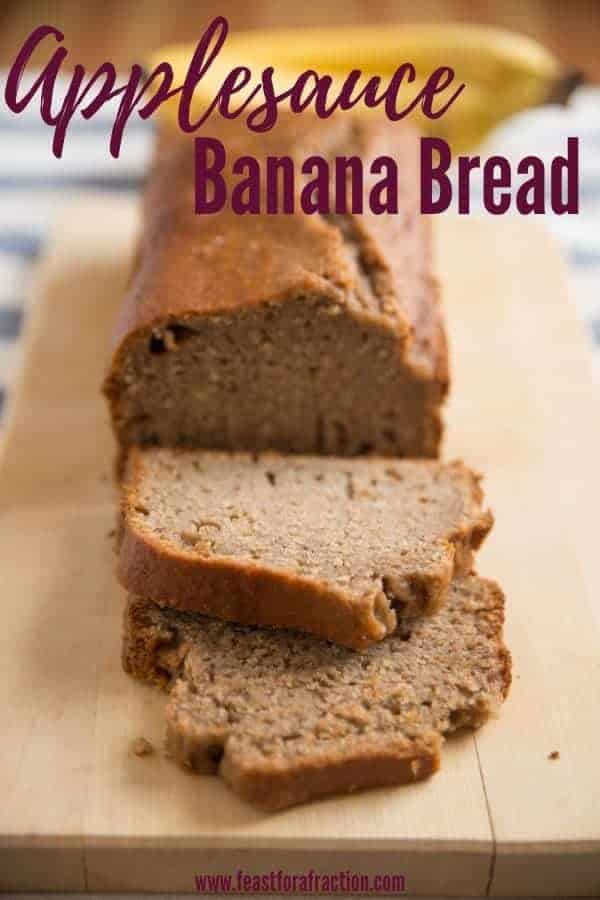 As an Amazon affiliate, I earn from qualifying purchases.
Making banana bread is my favorite way to use up too ripe bananas. I am notorious for buying a bunch of bananas, eating a couple and winding up with a few that get too spotty for me to eat them raw.
How to Store Ripe Bananas
Saving these ripe bananas from being thrown away is so easy. You have two options: put the whole banana in its peel in the freezer or peel the banana and place it in a freezer bag to store in the freezer. Either option works well. If I'm being perfectly honest, I lean more toward sticking the whole banana in the freezer just because it is convenient.
When it comes time to use the frozen bananas, place them in a bowl to thaw at room temperature. The skin of the banana will be black. This is normal and there is something wrong with the bananas. You will also find that the bananas are really mushy and basically fall out of the peel once thawed. Again, totally normal.
Ingredients
You'll need 4 medium, ripe or previously frozen bananas for this recipe. This should equal about a cup of mashed banana puree.
I chose not to include nuts in this recipe, but you can add up to 1/2 cup of chopped walnuts or pecans to this recipe if you like.
As mentioned in the recipe title, this banana bread recipe doesn't contain any butter or oil. The applesauce acts as the "fat" in this recipe. It provides all the moisture that usually comes from butter or oil.
Can you freeze Banana Bread?
Yes, you can! Once you cool the applesauce banana bread completely, you can wrap the whole loaf or any slices in two layers of plastic wrap before placing it in a gallon-size freezer bag. The plastic wrap keeps the bread from developing any ice crystals on the bread, and the bag provides an extra layer of protection from freezer burn.
When you're ready to thaw and enjoy slices of your banana bread, remove the whole loaf or however many slices you want from the freezer. Wrap in a paper towel and allow to thaw at room temperature or warm in the microwave in 30 second increments until thawed.
You can also toast the slices from frozen in the toaster oven. Either way, you can enjoy home-baked applesauce banana bread any time you like.
More Baked Goods Recipes
Applesauce Banana Bread Recipe
Yield: 12 slices
Applesauce Banana Bread
This dairy-free and oil-free Banana Bread uses applesauce in place of oil without sacrificing any flavor. You get a delicious, moist loaf without any of the guilt perfect for breakfast or dessert.
Additional Time
10 minutes
Total Time
1 hour
15 minutes
Ingredients
4 Bananas, ripe or previously frozen (about 1 cup mashed)
3/4 cup Granulated sugar
1/2 cup unsweetened Applesauce
2 eggs
1 teaspoon Vanilla
2 cups All-Purpose flour
1 teaspoon Baking soda
1/2 teaspoon ground Cinnamon
1/2 teaspoon Salt
Instructions
Preheat oven to 350 degrees Fahrenheit. Grease a 9" x 5" loaf pan with butter or cooking spray.
In a large bowl, mash bananas well with a fork or use a hand mixer.
Add sugar and beat until well combined.
Add applesauce, eggs and vanilla to wet mixture and mix to combine.
In a separate bowl, whisk together all-purpose flour, baking soda, cinnamon and salt.
Pour dry ingredients into wet ingredients and stir gently until just combined.
Pour into the greased loaf pan and bake for 50-55 minutes, until a toothpick inserted into the middle of the loaf comes out clean and free of batter or crumbs.
Let loaf cool in loaf pan for 10 minutes. Remove from loaf pan and transfer to a wire rack to cool completely.
Notes
This recipe is perfect to use up bananas that are too ripe for you to eat raw. You can peel the bananas and store them in a freezer bag. Add overly ripe bananas to the bag until you have enough to bake a recipe. You can also freeze the bananas whole in their peel and they will come right out of the peels once thawed.
Feel free to add up to 1/2 cup of chopped pecans or walnuts if you prefer a banana nut bread.
Recommended Products
As an Amazon Associate and member of other affiliate programs, I earn from qualifying purchases.
Nutrition Information:
Yield:
12
Serving Size:
1 Amount Per Serving:

Calories:

177

Total Fat:

1g

Saturated Fat:

0g

Trans Fat:

0g

Unsaturated Fat:

1g

Cholesterol:

31mg

Sodium:

206mg

Carbohydrates:

39g

Fiber:

2g

Sugar:

18g

Protein:

4g

By