These Apple-Carrot Muffins are my take on Morning Glory Muffins. A quick-bread batter, they mix up really quickly and you can add in any variety of shredded fruits and veggies, dried fruit, and chopped nuts that you want. Sweetened with honey, these muffins are the perfect on-the-go breakfast to keep you full all morning. They are also freezer friendly so perfect for meal prep and make-ahead snacks!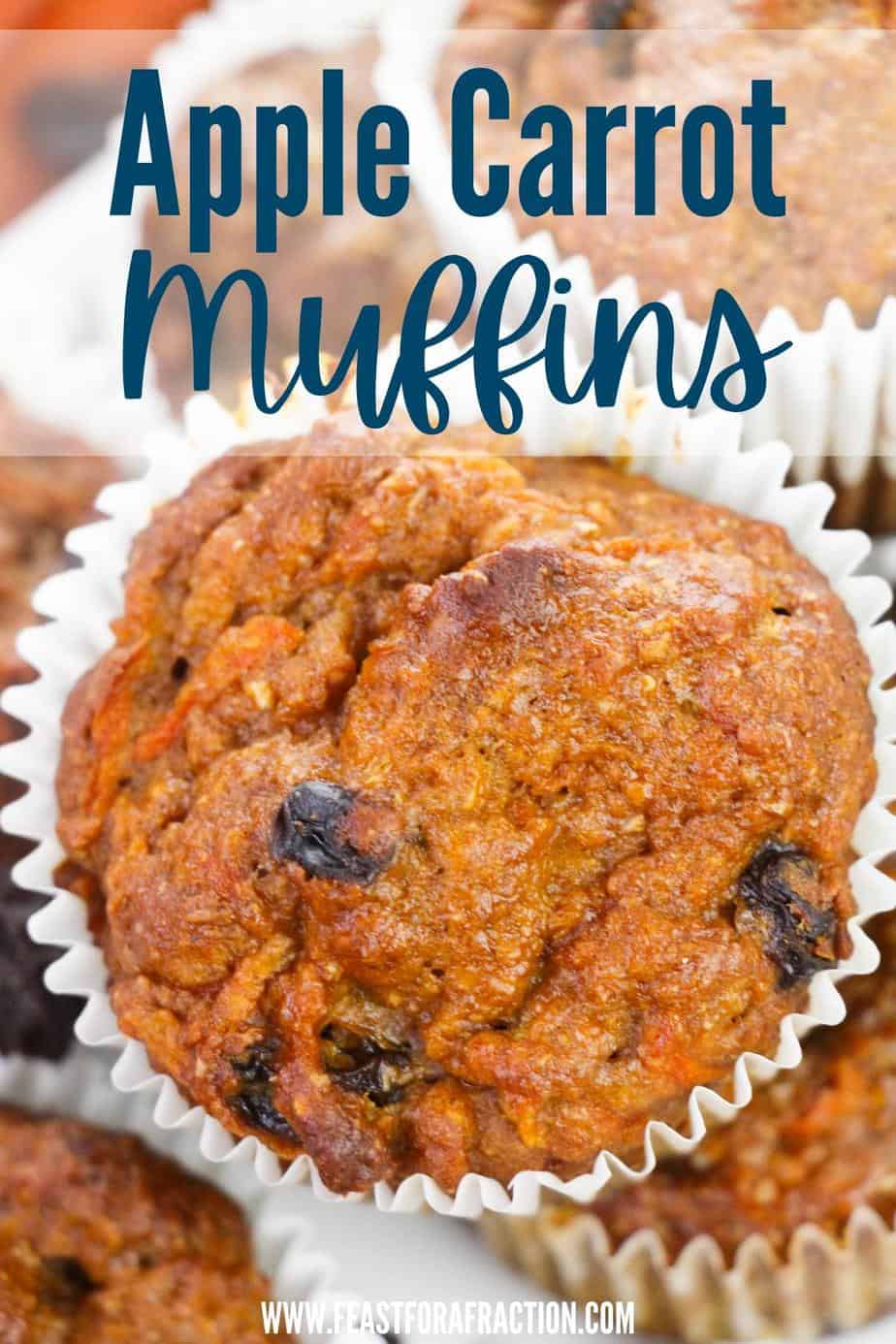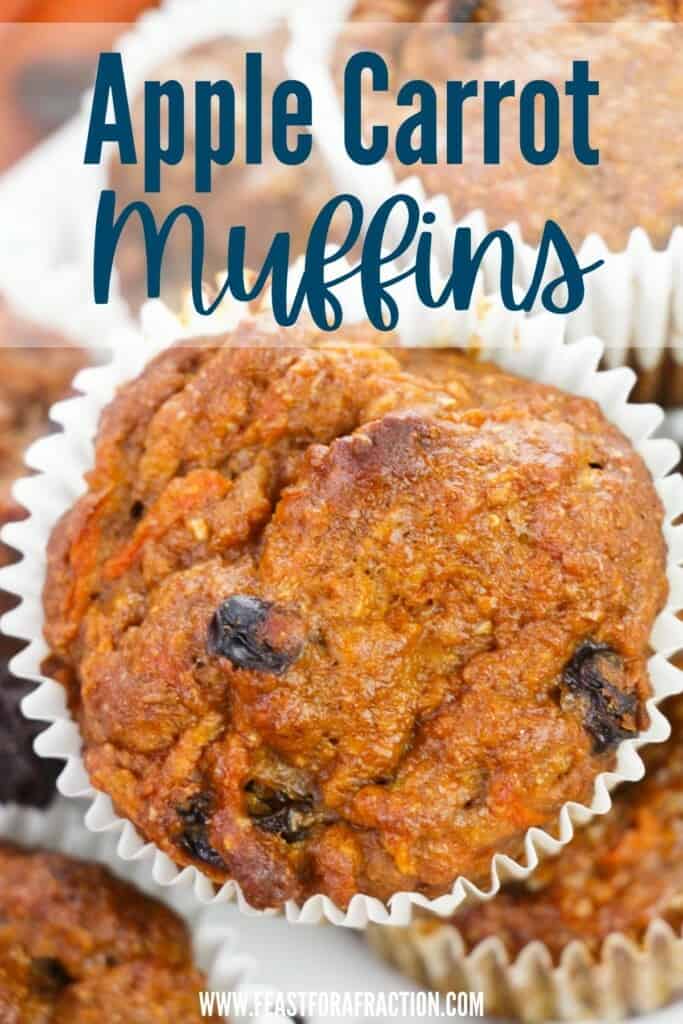 As an Amazon affiliate, I earn from qualifying purchases.
Traditional Morning Glory muffins, as described in the original recipe from 1978, call for carrots, apples, pineapple, raisins, coconut and walnuts. I have chosen to leave out the coconut (personal preference, ya know) and swapped walnuts for pecans. I also took the opportunity to make some health-conscious swaps in the form of whole wheat flour, honey and coconut oil. However, the beauty of this recipe is that you add, leave out, or swap practically all of the ingredients for what you have on hand or what you prefer.
Prefer crushed pineapple over grated apples? Go for it! Have dried cranberries on hand? Feel free to use them instead of raisins. You can even substitute melted butter or vegetable oil for the coconut oil.
Ingredients
Wet Ingredients
Applesauce
Egg
Honey
Coconut Oil
Vanilla Extract
Dry Ingredients
Whole Wheat Flour
Baking Soda
Salt (I use table salt in baking – if you only have kosher salt, use 3/4 teaspoon)
Ground Cinnamon
Mix-In Ingredients
This is where all the fun begins. Mix and match, substitute or leave out whatever you want:
Orange (zest and juice)
Grated Carrot
Chopped Pecans
Raisins
Grated Apple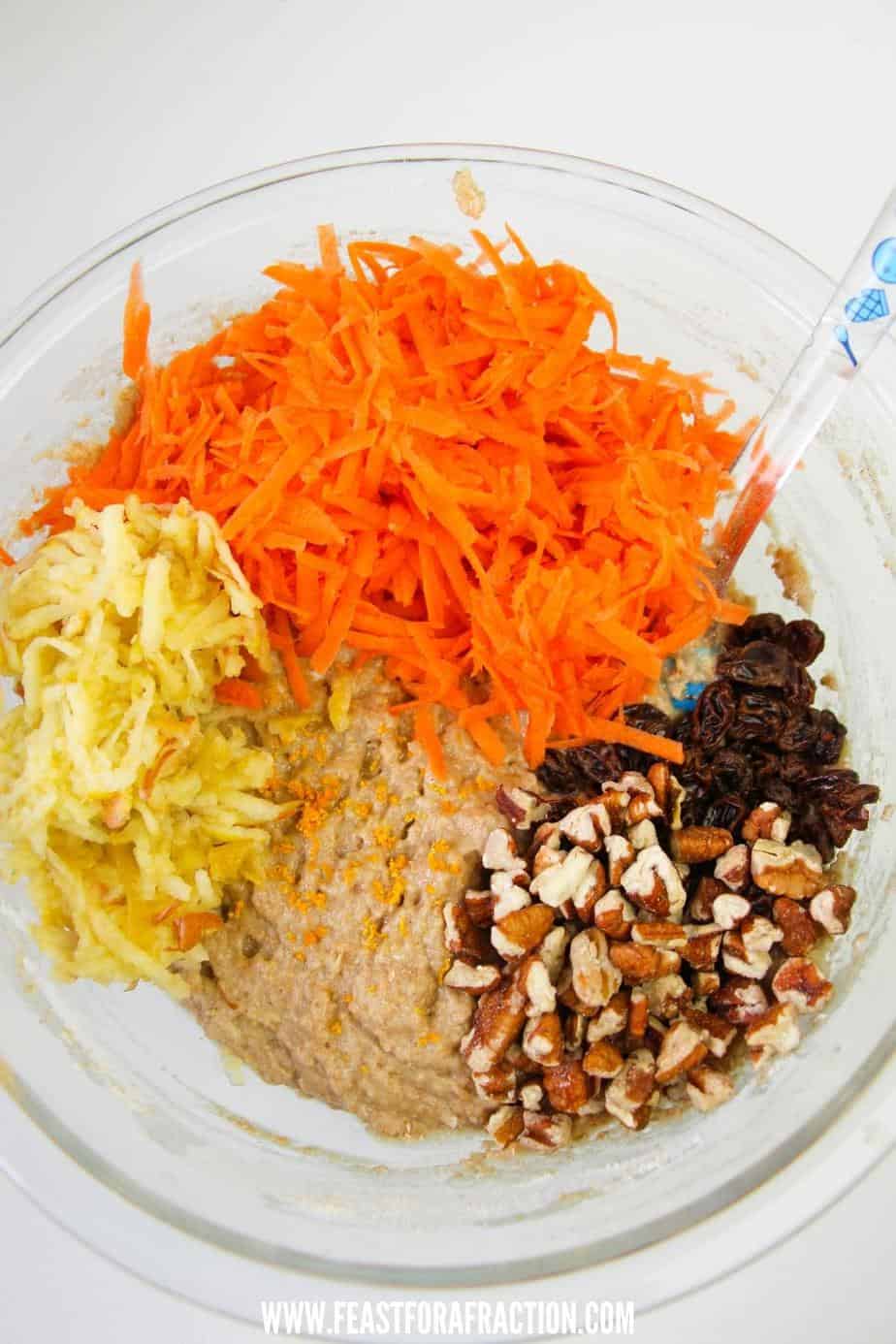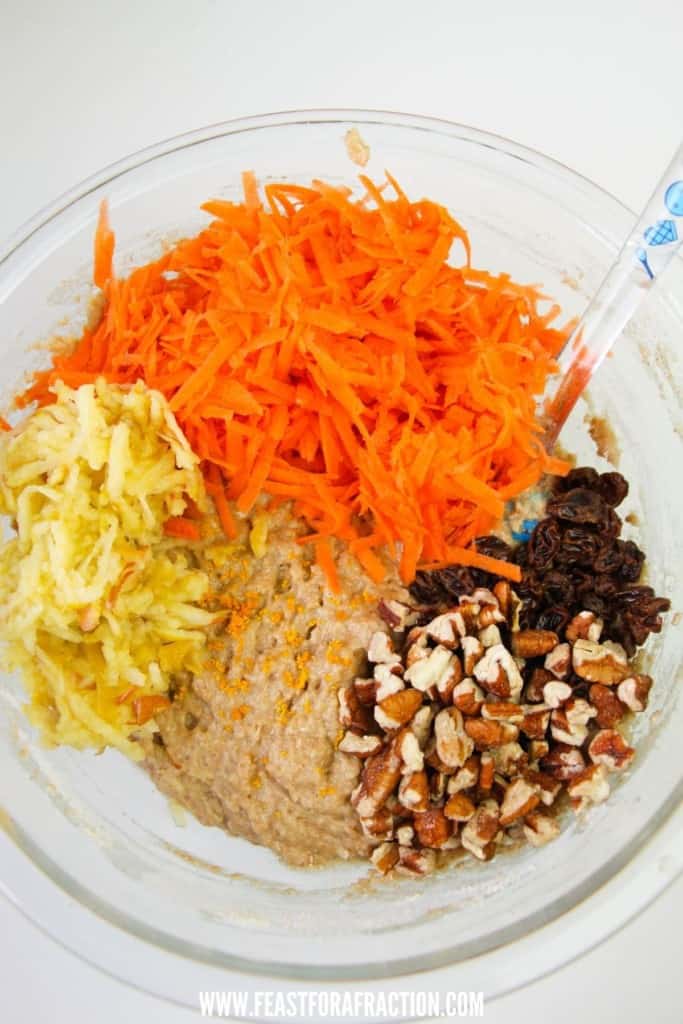 Equipment
Large Mixing Bowl
Small Mixing Bowl
Measuring Cup
Measuring Spoons
Knife and Cutting Board or Chopper
Box Grater or Foot Processor with Grater Blade
Muffin Pan
Cooking Spray or Muffin Liners
How to Make Apple Carrot Muffins
This muffin batter is a quick bread, so the wet ingredients (applesauce, egg, coconut oil, honey, and vanilla extract) go in one bowl. Given it a quick mix to break up the egg and combine.
The dry ingredients (flour, baking soda, salt and cinnamon) go in a separate bowl. Whisk the dry ingredients to combine.
Now, pour the dry ingredients into the wet and stir to combine. At this point, toss in all of your add-ins and stir just to incorporate. Lastly, add the orange juice.
The batter will be very dense because of the sheer volume of stuff mixed in. This is normal. The egg and baking soda will provide plenty of lift when baking to get a fluffy muffin and the applesauce, oil and orange juice keeps the muffins nice and moist.
Portion the muffins using a 2 ounce scoop into baking liners. Bake until a toothpick inserted into the center of the muffin comes out clean. This should take 22-25 minutes.
Allow the muffins to cool completely on a cooling rack. At this point, you can store the muffins in a sealed container for up to 5 days or wrap in parchment and freeze in a freezer bag for up to three months.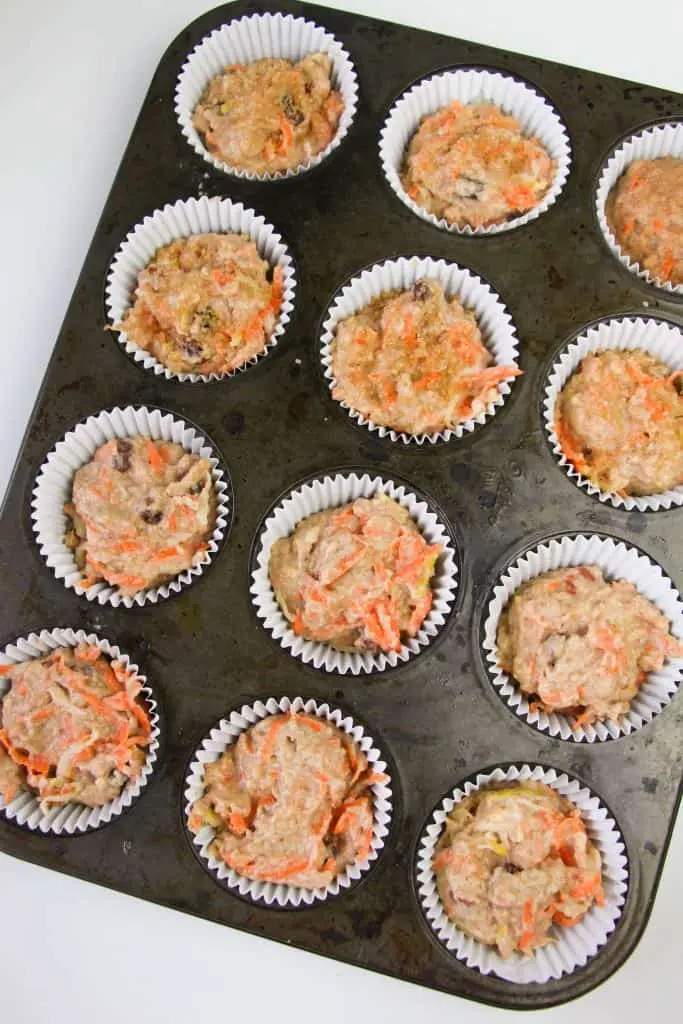 How to Freeze Apple Carrot Muffins for Make-Ahead Meal Prep
I make a double batch of this recipe at a time to have a good amount in the freezer at all times. My daughter and I can grab them straight from the freezer on our way out the door every morning.
To freeze muffins or any baked good, allow them to cool completely. I like to do what is called "Individually Quick Frozen (IQF)" method. To do this, I stick the whole muffin pan in the freezer and freeze the muffins in their muffin liners. Once frozen (this should take 2-4 hours), remove the muffins from the pan and wrap each muffin in a bit of parchment paper or wax paper and place all the muffins in a gallon-size freezer bag. Since the muffins are already frozen before being bagged together, they won't stick together. You can easily grab one or two muffins as needed.
When you're ready to eat your muffin, you can either allow it to thaw at room temperature for about 30 minutes or pop it in the microwave for 30 seconds.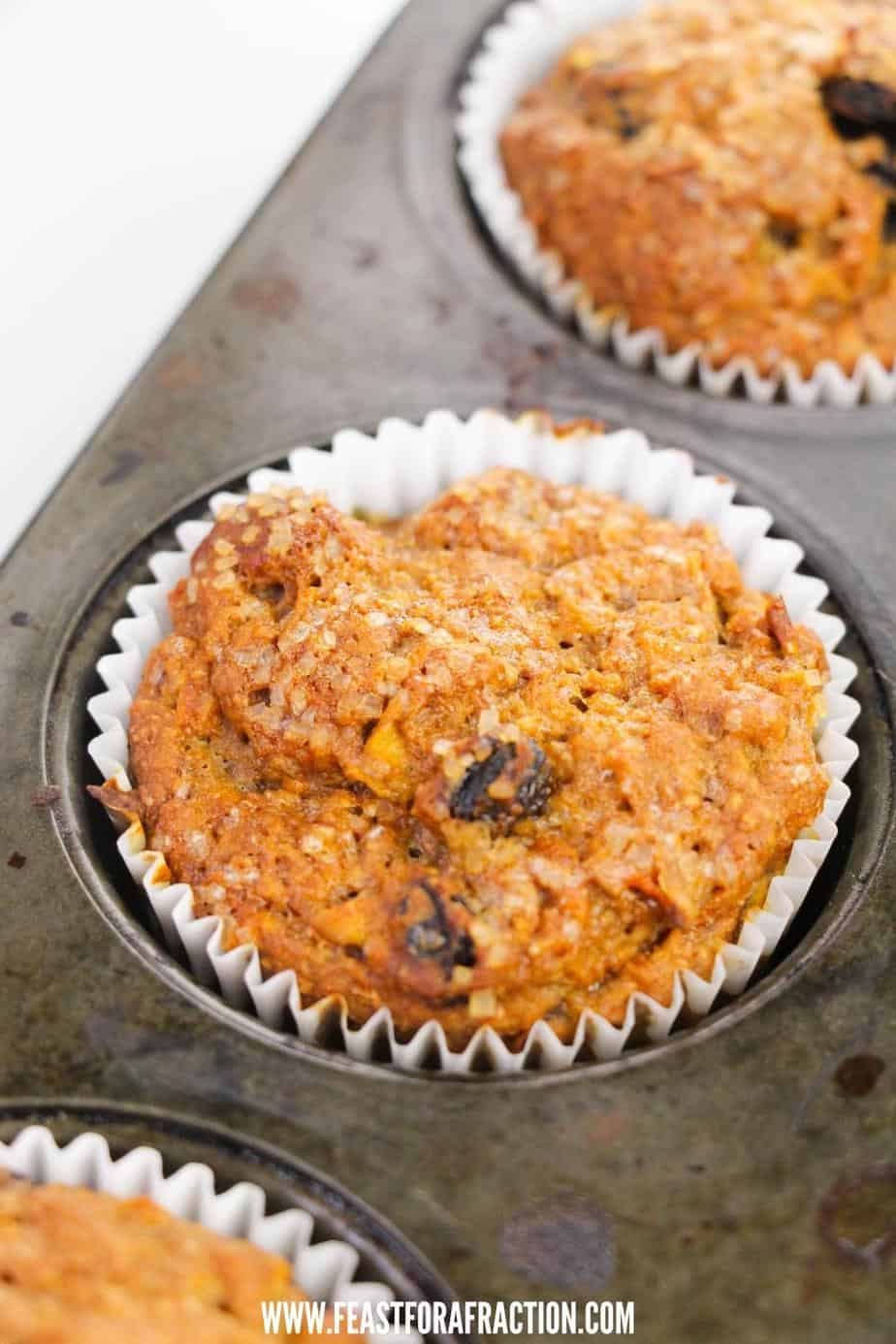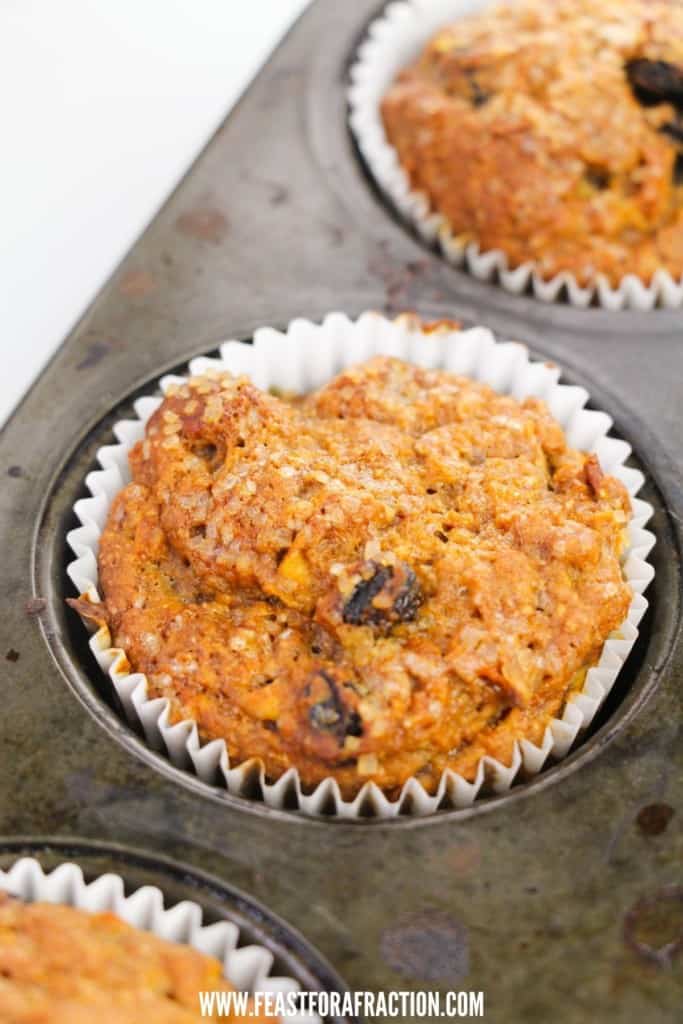 Variations
As I mentioned above, this recipe is perfectly customizable. Feel free to make any of the below substitutions with no change to the baking time. And I can attest that they are equally delicious!
In place of coconut oil, feel free to use vegetable oil or melted butter
Swap up to half the measurement of whole wheat flour for all-purpose flour
Instead of shredded carrot, try zucchini or even sweet potato
For grated apple, try grated pear or crushed pineapple
Swap pecans for your favorite nut and the raisins for any dried fruit
Frequently Asked Questions
How long will these muffins stay fresh?
These apple carrot muffins will keep in an airtight container in the fridge for up to 5 days or frozen for up to 3 months.
Are Morning Glory muffins healthy?
It depends on the ingredients used. I made a point to use more healthful ingredients in this recipe so that you can feel good about feeding them to your family and they will keep you full and satisfied longer. By using whole wheat flour, coconut oil and applesauce, we are able to eliminate all butter or vegetable oil and we are using honey instead of refined cane sugar. In a nutshell, I've tried to make these as healthy as possible without sacrificing flavor. 🙂
How can I tell when the muffins are done?
The easiest way to tell when baked good are baked through is to insert a toothpick into the middle muffin in the pan. If it comes out clean without any batter or crumbs, you're good to go!
More Freezer-Friendly Recipes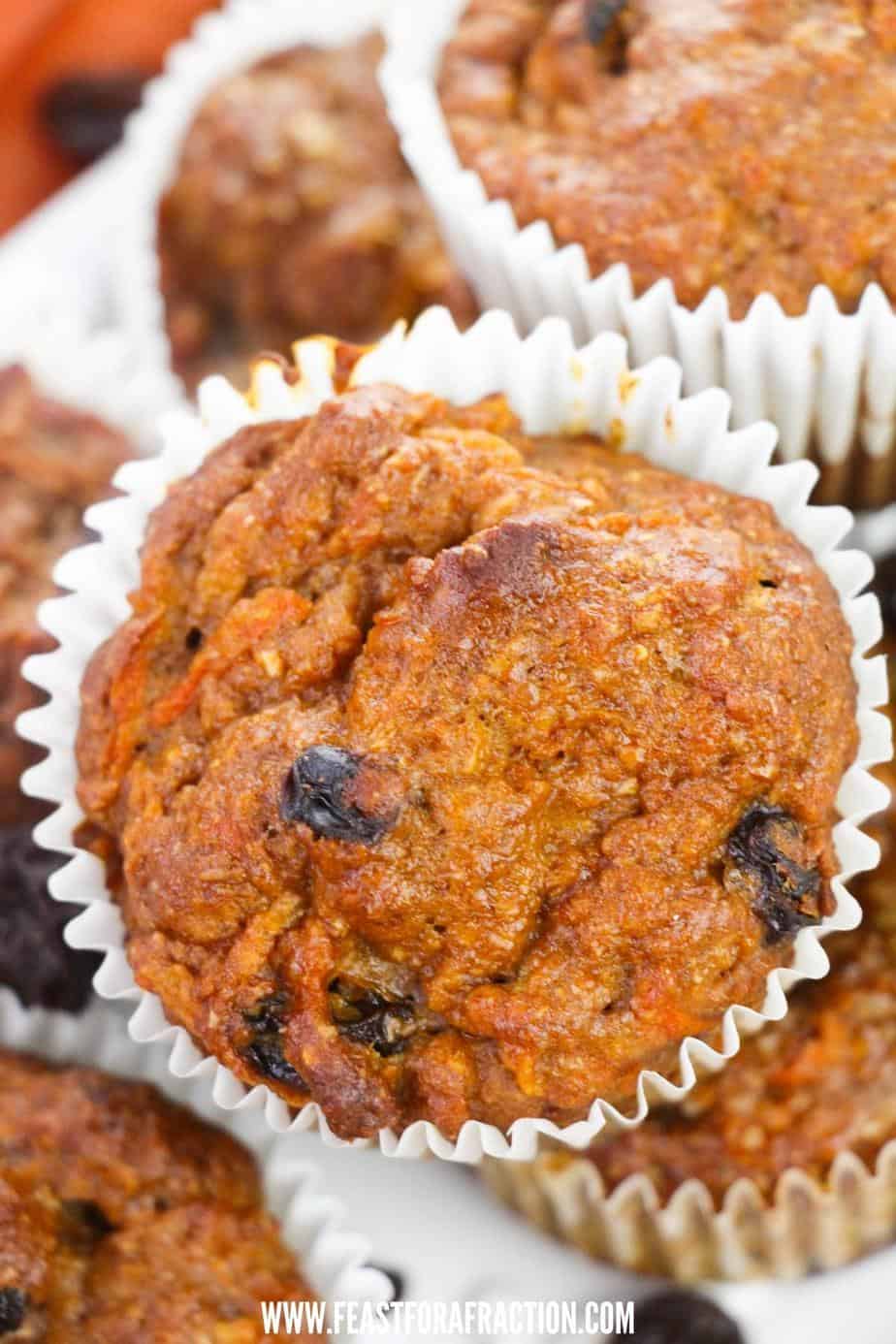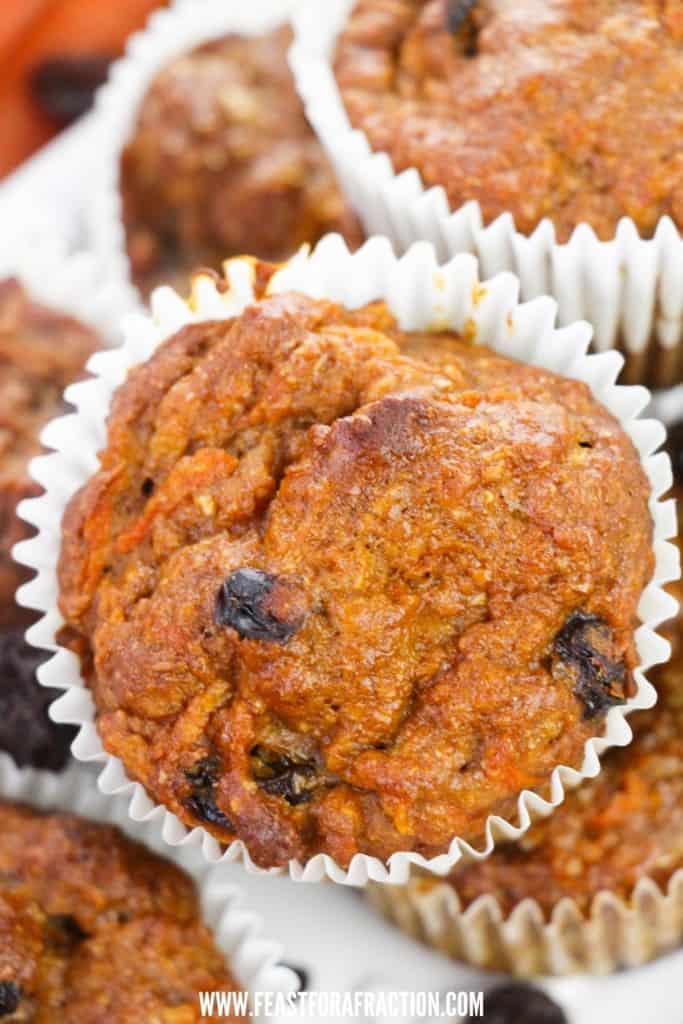 Apple Carrot Muffins Recipe (Healthy Morning Glory Muffins)
Yield: 18 muffins
Apple Carrot Muffins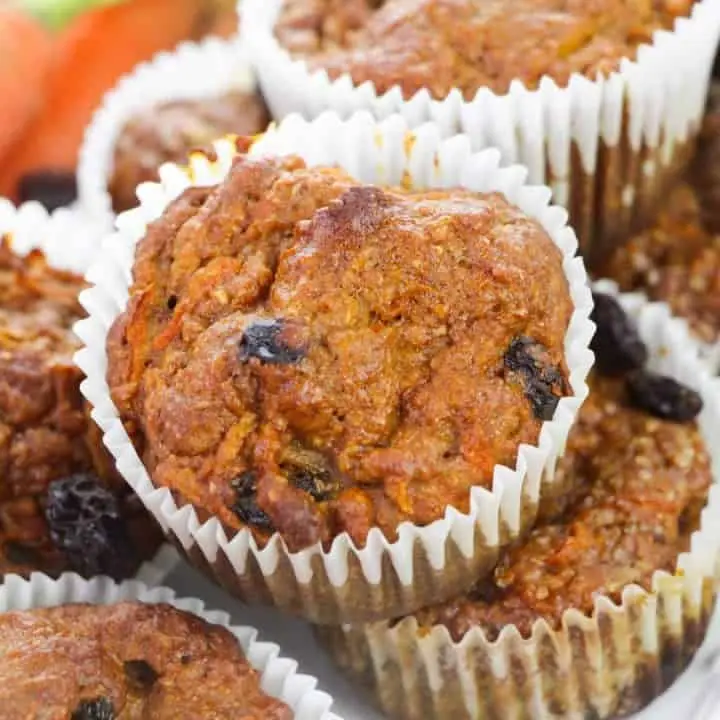 Morning Glory muffins are chock full of fruits, vegetables and nuts. They make the perfect portable, freezer-friendly breakfast. Keep a batch in the freezer for a quick, on-the-go snack or breakfast
Ingredients
1 cup applesauce
1 egg
1/2 cup honey
1/4 cup coconut oil
1 teaspoon vanilla extract
2 cups whole wheat flour
1 teaspoon baking soda
1/2 teaspoon salt
1 Tablespoon cinnamon
1 orange, zested and juiced
1 cup grated carrots (approximately 3 carrots)
1/2 cup pecans, chopped
1/4 cup raisins (soak in hot water for 10 minutes)
1 medium apple, grated
Instructions
Preheat oven to 350ºF.
In a large bowl, combine the egg, applesauce, honey, coconut oil and vanilla extract. Stir until fully combined. Set aside.
In a small bowl, combine the whole wheat flour, baking soda, salt, cinnamon and nutmeg.
Add the flour mixture to the wet ingredients and stir until just blended.
Add the orange zest, grated carrots, chopped pecans, raisins and grated apple to the batter and stir until well blended.
Add the orange juice and stir to incorporate fully.
Line a muffin pan with paper liners, and then portion 1/4 cup of batter into each liner.
Bake for 22-25 minutes, until a toothpick inserted in the center comes out clean. (If they brown too much on top, cover with aluminum foil to prevent burning.)
Let cool in the muffin pan for 2 minutes.
Notes
This muffin is kind of a "kitchen sink" recipe in that so many different ingredients are added. Feel free to swap out or omit any of the fruit, nut and vegetable additions. For example, you can substitute grated zucchini for the grated carrot, you can use crushed pineapple instead of grated apple, mashed banana in place of the applesauce, and you can use any variety of nut or dried fruit. You can even add dried coconut if you like.
Feel free to substitute the one egg in this recipe with a flax egg mixture (1 Tablespoon of ground Flaxseed mixed with 3 Tablespoons of water) and swap the honey for agave nectar if you need to make it vegan.
Recommended Products
As an Amazon Associate and member of other affiliate programs, I earn from qualifying purchases.
Nutrition Information:
Yield:
18
Serving Size:
1 Amount Per Serving:

Calories:

150

Total Fat:

6g

Saturated Fat:

3g

Trans Fat:

0g

Unsaturated Fat:

2g

Cholesterol:

10mg

Sodium:

138mg

Carbohydrates:

24g

Fiber:

3g

Sugar:

13g

Protein:

3g

By