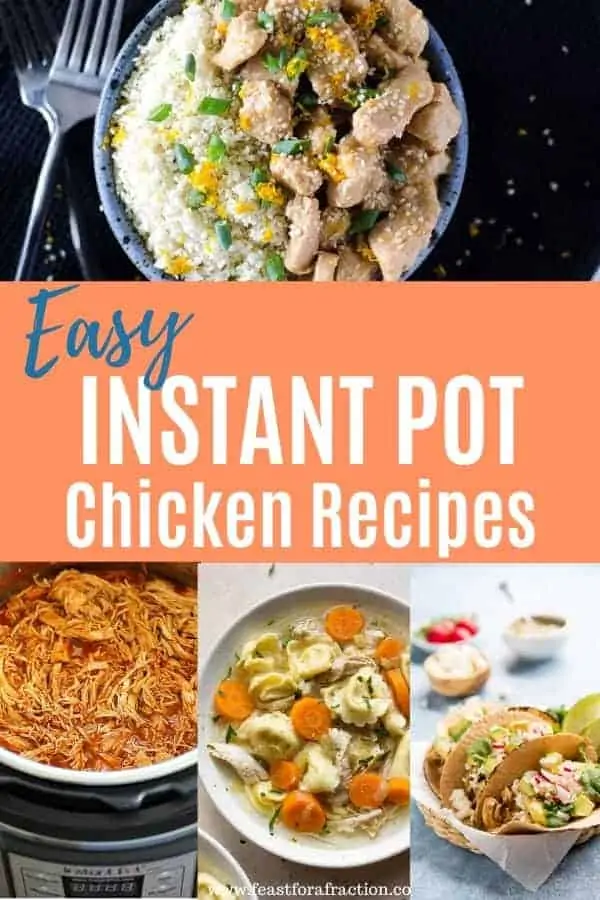 This post may contain affiliate links. As an Amazon affiliate, I earn from qualifying purchases.
Instant Pots, or electric pressure cookers, are the greatest kitchen appliance since the stand mixer. Yes, people have been pressure cooking for years, but the ease of use and safety features of an electric pressure cooker make it SO much easier to use and less scary than the traditional pressure cooker.
A dish that would have taken an hour in the oven to bake can now be cooked in 15 minutes in the Instant Pot. These Easy Instant Pot Chicken recipes will make it so easy for you to get dinner on the table quickly so that you don't have to spend all night in the kitchen.
Tips for Cooking Chicken in Instant Pot
Make sure to ALWAYS have the equivalent of at least one cup of liquid. This will keep you from getting the dreaded "Burn" screen.
Don't overfill your Instant Pot. Things like rice or beans will absorb all of the liquid and expand. Pay close attention to the "Max Fill" line on the inside of your Instant Pot insert.
Make sure to "Natural" pressure release for at least 5-10 minutes on all meat recipes. Releasing the pressure quickly will make the meat tougher. Giving the pot a chance to release the pressure naturally and slowly will allow the meat to remain tender.
Use the "Saute" button to reduce your cooking liquid for a delicious sauce. After you've cooked your meal and removed the meat and/or vegetables, press the "saute" button and bring the liquid to a boil. Make a corn starch slurry by mixing a tablespoon of cornstarch with a tablespoon of water and pour it into your liquid. Stir it and let the sauce boil for at least a minute for the cornstarch to thicken. You'll have a delicious sauce to go with your meal.
For more tips, check out this article.
Tips for Freezer Meal Prep
These Freezer Containers are my absolute favorite for Instant Pot freezer meal prep. They are the perfect size to fit right in the 6 qt pot insert, so you don't even have to thaw the freezer meal before cooking!
Help make your freezer meal prep go even faster by cutting up all of each item at one time. If you need diced chicken in multiple recipes, go ahead and dice up all the chicken you will need. This is the same for any vegetables, beans or grain needed, too.
Easy Instant Pot Chicken Recipes
If you are on the hunt for some delicious, easy Instant Pot chicken recipes that you and your family will enjoy these are some of the best recipes around.
If you like this, you'll love…
Perfect Instant Pot Brown Rice

Instant Pot Apple Butter (with free printable canning label!)

By