Cook brown rice perfectly every time and in a fraction of the time in your Instant Pot. With just two ingredients and 15 minutes, this Instant Pot Brown Rice recipe is perfect for beginners!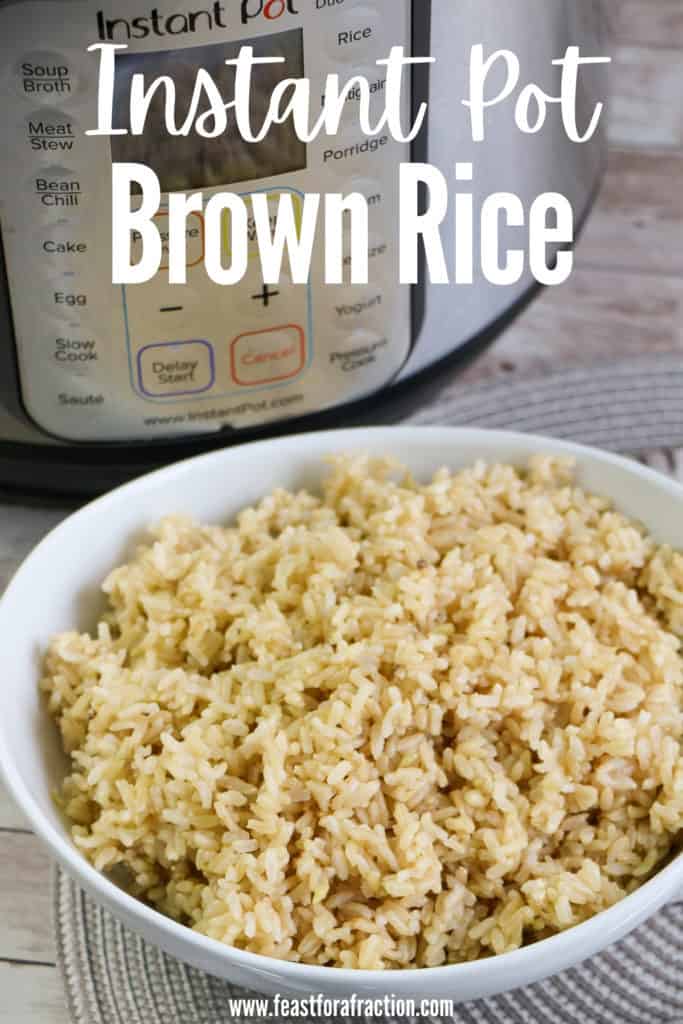 As an Amazon affiliate, I earn from qualifying purchases.
Cooking brown rice doesn't have to be a daunting, time-consuming task. Instant Pot Brown Rice takes one-third of the time compared to cooking on the stove, and it is completely hands off. You simply add the ingredients and let the pressure cooker do the work.
Make sure to also check out my Instant Pot Mexican Rice and Instant Pot Basmati Rice recipes or even more Instant Pot Rice Recipes!
Ingredients
Brown Rice: For this recipe, I use long-grain brown rice. It is the most budget-friendly variety. If you use a shorter grain rice or a par-cooked variety, your cooking time will be less.
Water: Using water gives us plain rice that can be seasoned anyway you like. If you want to impart more flavor while cooking, feel free to use vegetable stock or chicken stock.
Salt: Please, please, please do not forget the salt. It needs to be added to the brown rice and water before cooking so that it can actually be absorbed by the rice while it cooks.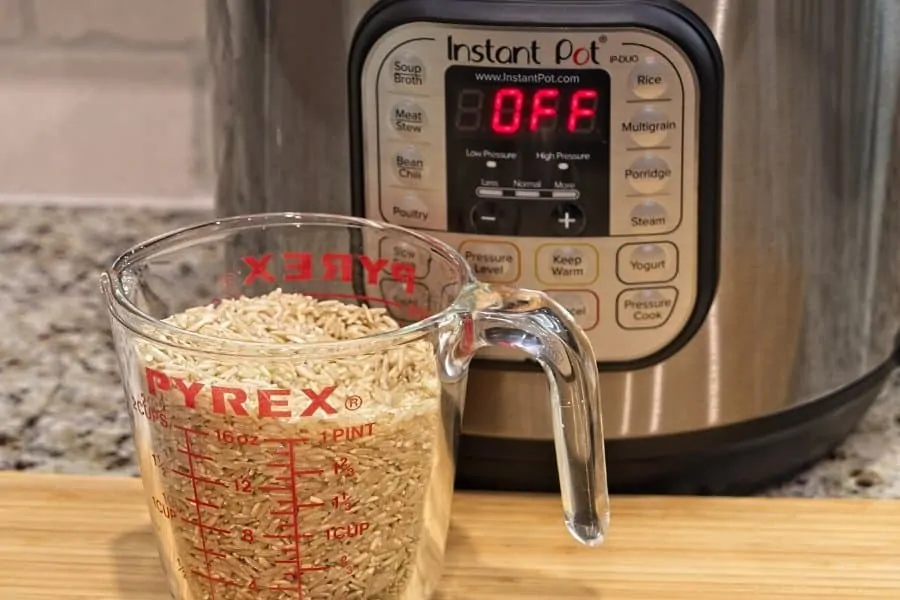 Equipment
Instant Pot or Electric Pressure Cooker
Rubber Spatula or Wooden Spoon
Measuring Cup
How to Cook Brown Rice in the Instant Pot
Add your brown rice, water and salt to the inner pot of your Instant pot or electric pressure cooker.
Close the lid and seal the vent.
Cook on high pressure for 15 minutes.
Once the cook time has finished, allow the pressure to release naturally for 5 minutes, then turn the vent to release any remaining pressure.
Remove the lid and give the rice a gentle stir, almost like you're folding the rice on top of itself. This is important to allow any remaining moisture in the rice to evaporate. This leaves you with perfectly cooked rice that isn't sticky.
The beauty of this recipe is that it is a ratio: 1 cup brown rice to 1 1/4 cup water to 1 teaspoon salt. You can double or triple this recipe with no change to the cooking time. This makes it perfect for meal prep or batch cooking. See below for instructions on how to freeze your cooked rice to save for future meals.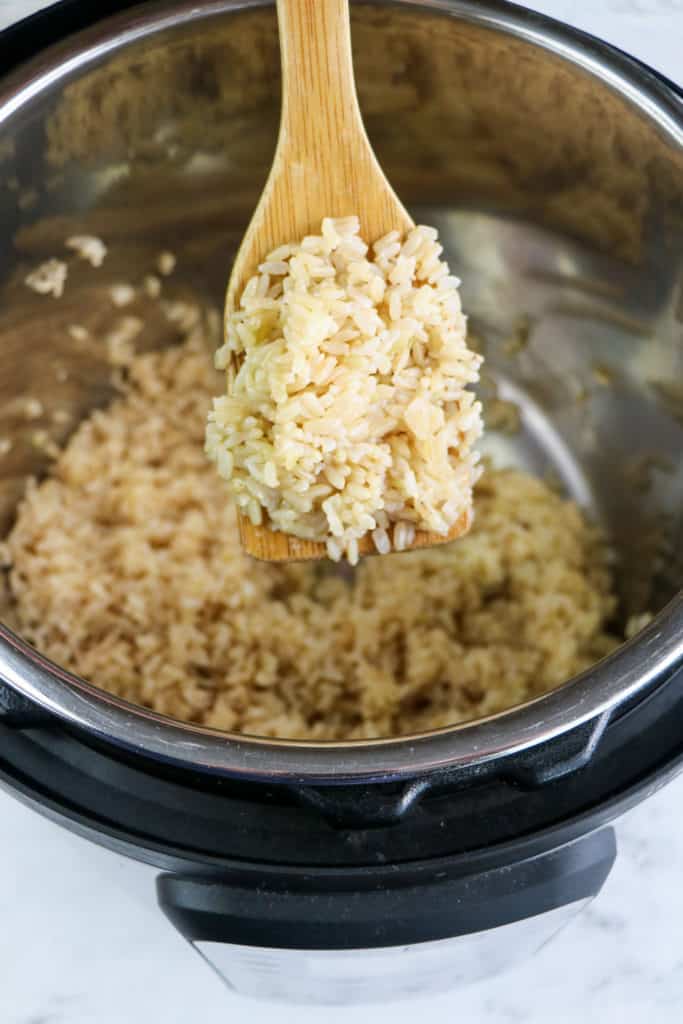 Variations
Brown rice is a great side dish on its own. This recipe, as written, gives you perfectly seasoned plain brown rice. You can jazz it up by adding different spices like cinnamon stick and cardamom pods or switch the cooking liquid to vegetable stock or chicken stock. I've even stirred in a cup a salsa before cooking to make a version of Instant Pot Mexican rice. Once cooked, you can mix in a bag of frozen peas for a delicious brown rice pilaf.
How to Serve Instant Pot Brown Rice
My favorite thing to do with cooked rice is make skillet meals by adding a protein, some vegetables and some seasonings to kick it up. To start, take two cups of cooked brown rice, add one cup of salsa and one drained and rinsed can of black beans. Sauté it so the flavors can come together and top with cooked taco meat for a delicious Taco Bowl, like this Ground Beef Enchilada Skillet recipe!
You can also serve it alongside these tasty Sweet Chili Wings or top with soy sauce and a fried egg for a super easy dinner.
How to Prep and Freeze Brown Rice
I like to cook a large batch of brown rice at a time. Each batch gets split up for several meals and can be stored in the fridge for up to 5 days or in the freezer for up to three months.
To freeze rice, let it cool completely after cooking. Then, spread it in a thin layer on a cookie sheet lined with parchment or a baking liner and freeze. Once frozen, you can transfer the rice to a freezer bag. Freezing in a thin layer prevents it from freezing in a solid block.
Cooking your rice in advance can save you major time when you're ready to cook dinner. You can reheat refrigerated or frozen rice in a non-stick skillet or microwave, or use the rice to bulk up your meals.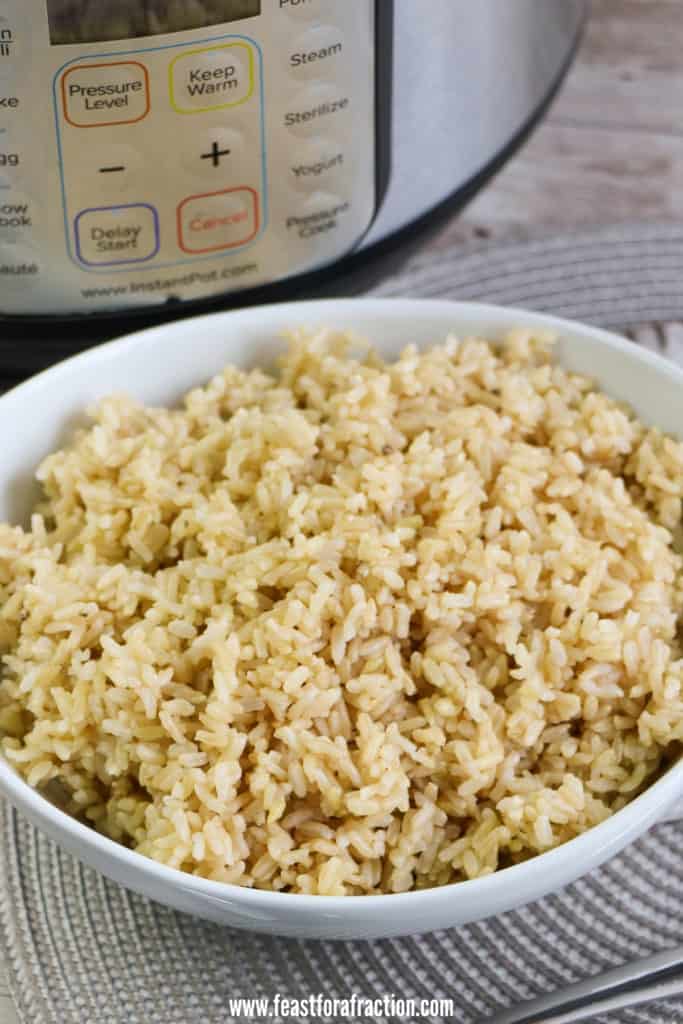 More Easy Instant Pot Dishes
Instant Pot Brown Rice Recipe
Yield: 2 cups cooked rice
Perfect Instant Pot Brown Rice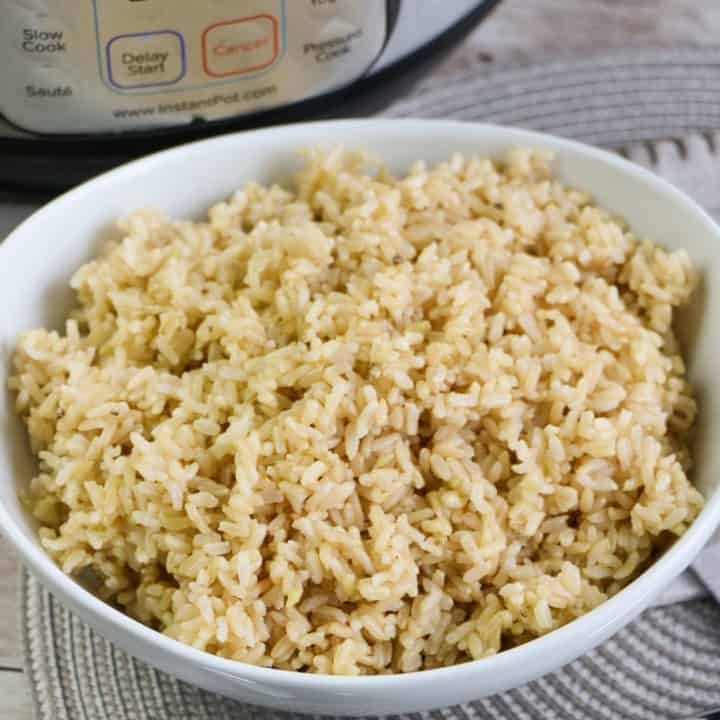 Cook brown rice perfectly every time and get it on the table in a fraction of the time by cooking it in the Instant Pot.
Ingredients
1 cup brown rice
1 1/4 cup water
1 tsp salt
Instructions
Place rice, water and salt in the Instant Pot. Stir to combine.
Close and seal lid. Cook on High Pressure for 15 minutes.
Let pressure release naturally for 5 minutes, then release pressure.
Lightly stir with a rubber spatula to allow remaining moisture to evaporate.
Notes
This basic recipe is a ratio. It can be doubled or tripled based on how much rice you need with the same cook time.
Variations: This is a basic recipe and can be flavored depending on how you plan to use the rice. Feel free to use vegetable stock or chicken stock in place of water. Add a cinnamon stick and two cardamom pods for an Indian flavor. Add a can of fire-roasted tomatoes for Spanish rice.
Storing and Freezing: Cooked rice can be stored in the fridge for up to 5 days. Brown rice can be frozen by spreading on a parchment-lined sheet pan and freezing in a single layer. Once frozen, transfer the rice into a freezer bag. It will keep in the freezer for 3 months. To reheat, warm in the microwave until heated through or heat in an oiled skillet over medium heat until heated through.
Recommended Products
As an Amazon Associate and member of other affiliate programs, I earn from qualifying purchases.
Nutrition Information:
Yield:
4
Serving Size:
1 Amount Per Serving:

Calories:

55

Total Fat:

0g

Saturated Fat:

0g

Trans Fat:

0g

Unsaturated Fat:

0g

Cholesterol:

0mg

Sodium:

585mg

Carbohydrates:

11g

Fiber:

1g

Sugar:

0g

Protein:

1g

By