Instant Pot Sloppy Joes are a super easy dinner that can be served on buns, spooned over baked potatoes or even mixed with pasta for a tasty sloppy joe casserole! Saute and cook in the Instant Pot for a fool-proof one pot meal.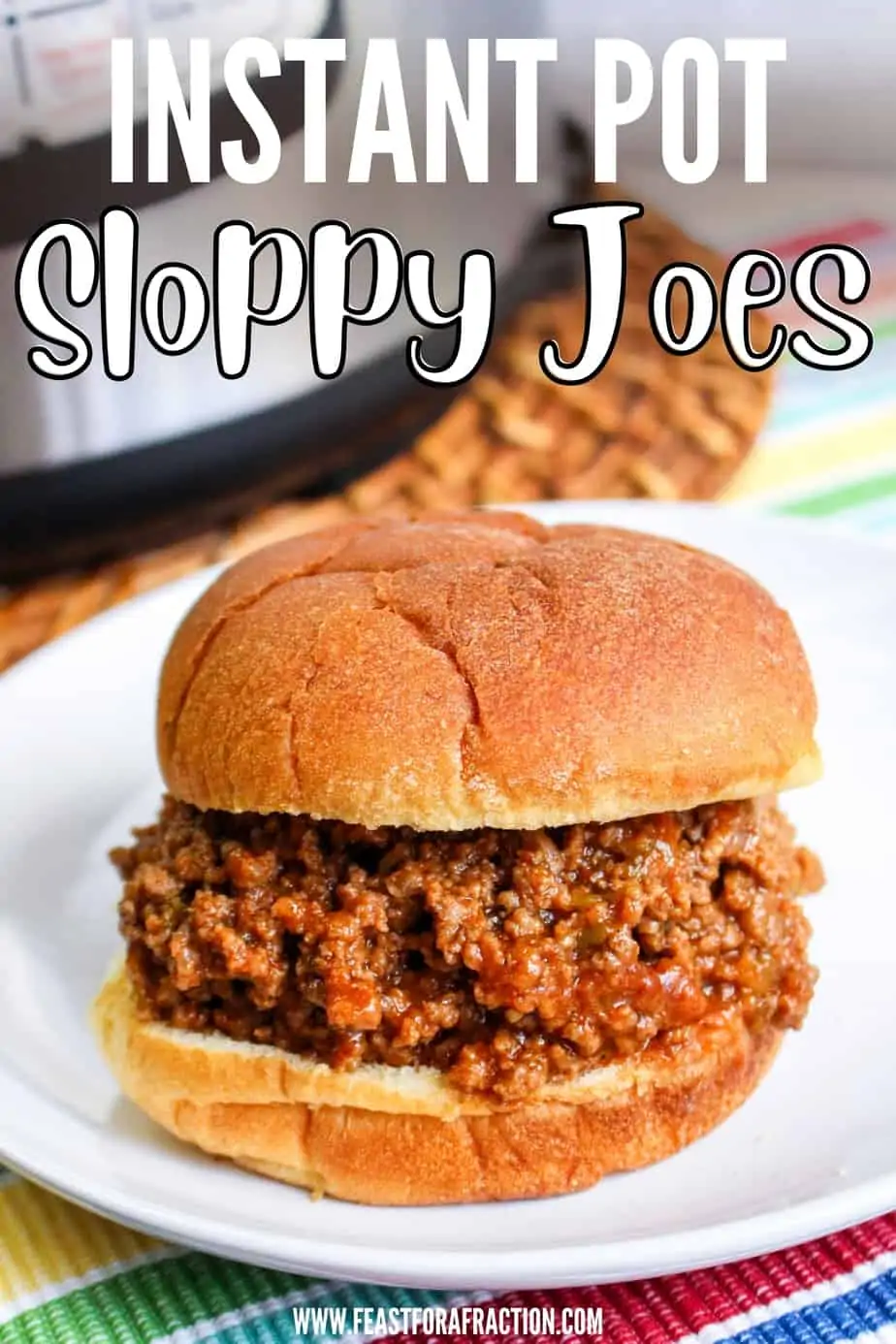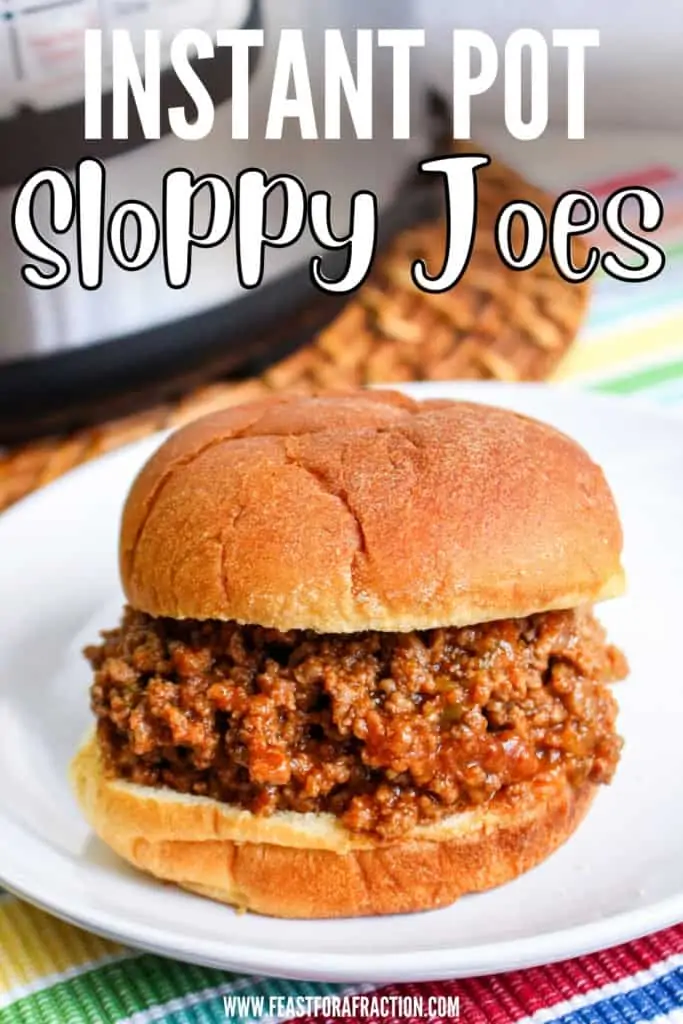 As an Amazon affiliate, I earn from qualifying purchases.
When I think of Sloppy Joes, I think of quintessential kid-friendly food. What's not to love? Loose meat burgers in a sweet and tangy sauce piled on a bun? Messy (or truly sloppy) and delicious! So lets take that well-known meal and kick the pre-made sauce to the curb and make it even faster and easier in our Instant Pot or electric pressure cooker.
Ingredients
Ground Beef: I try my best to buy ground beef when it is on sale, and I stick to 80%/20% lean. You can use even more lean beef if you like. Alternatively, you can absolutely make this recipe with ground turkey or ground chicken. I've even used Beyond Beef plant-based ground beef for a vegan option.
Onion and Green Pepper: You'll need a small, chopped onion and one diced green pepper. If you don't like peppers and onions, feel free to leave them out. You can also substitute one Tablespoon of ground onion in place of the chopped onion.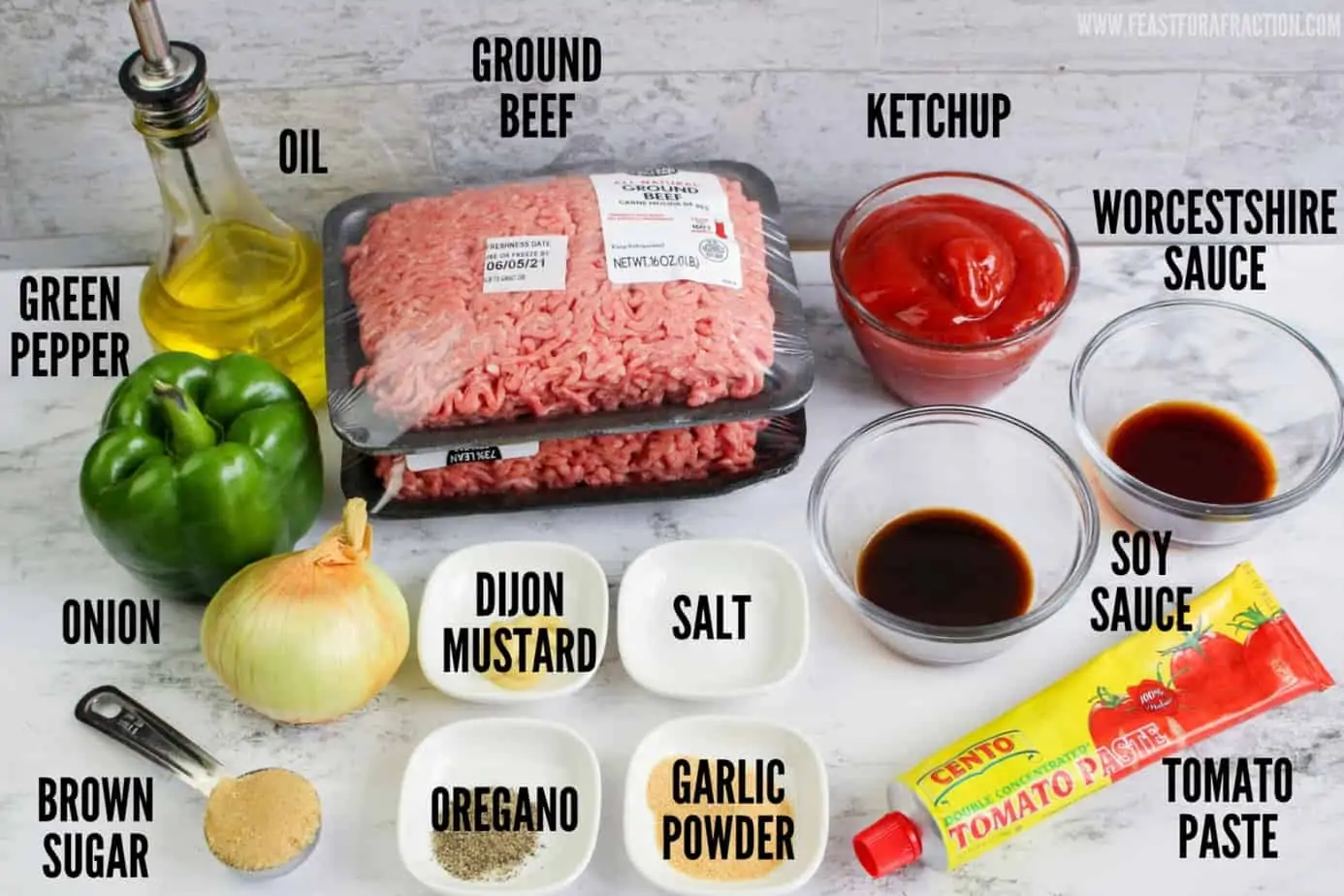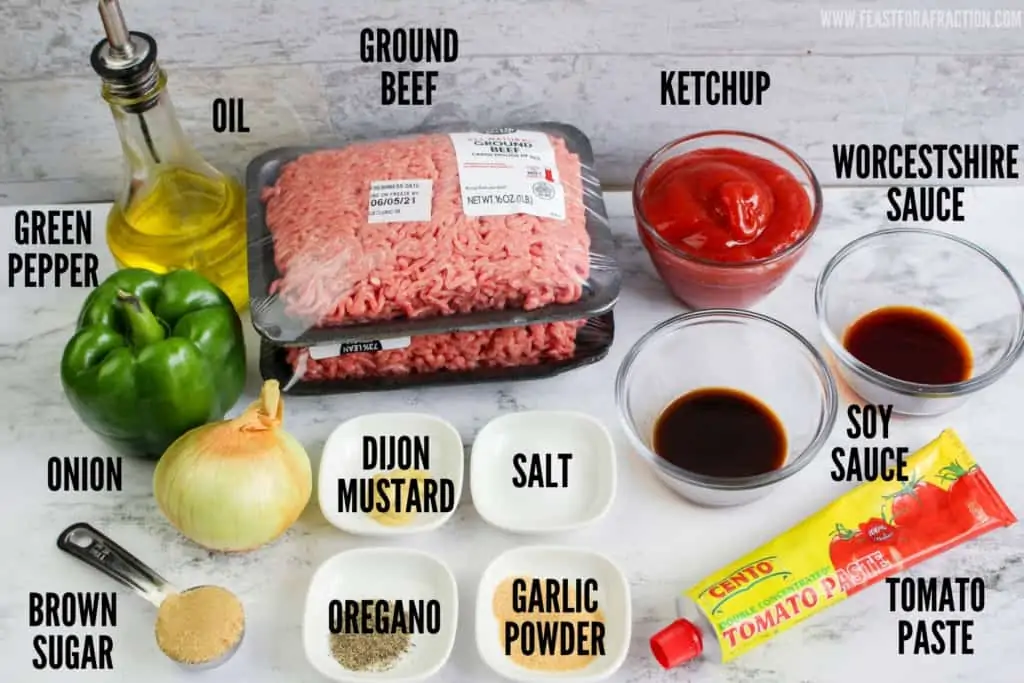 Homemade Sloppy Joe Sauce: We're going to make our own Sloppy Joe sauce. None of that canned stuff here, and it's actually really easy. You'll need:
water or beef stock
Worcestershire sauce
soy sauce (feel free to use coconut aminos for a gluten-free option)
brown sugar
ketchup
garlic powder
dijon mustard (feel free to use yellow mustard if that is all you have)
dried oregano
Equipment
Instant Pot or Electric Pressure Cooker
Measuring Cup
Measuring Spoons
Wooden spoon or Meat Chopper (seriously, this is my secret weapon when it comes to cooking ground meats)
Cutting Board and Knife
How to Make Sloppy Joes
To start, prep your ingredients because it will make it so much easier to just toss in each ingredient as needed. Next, you'll brown your ground beef. And you can do this right in the Instant Pot.
Once browned, you'll want to drain off any excess fat in the pot. Skipping this step will result in greasy sloppy joes, so please don't skip. I find using a strainer to be easiest. Simply drain and return the meat to the pot.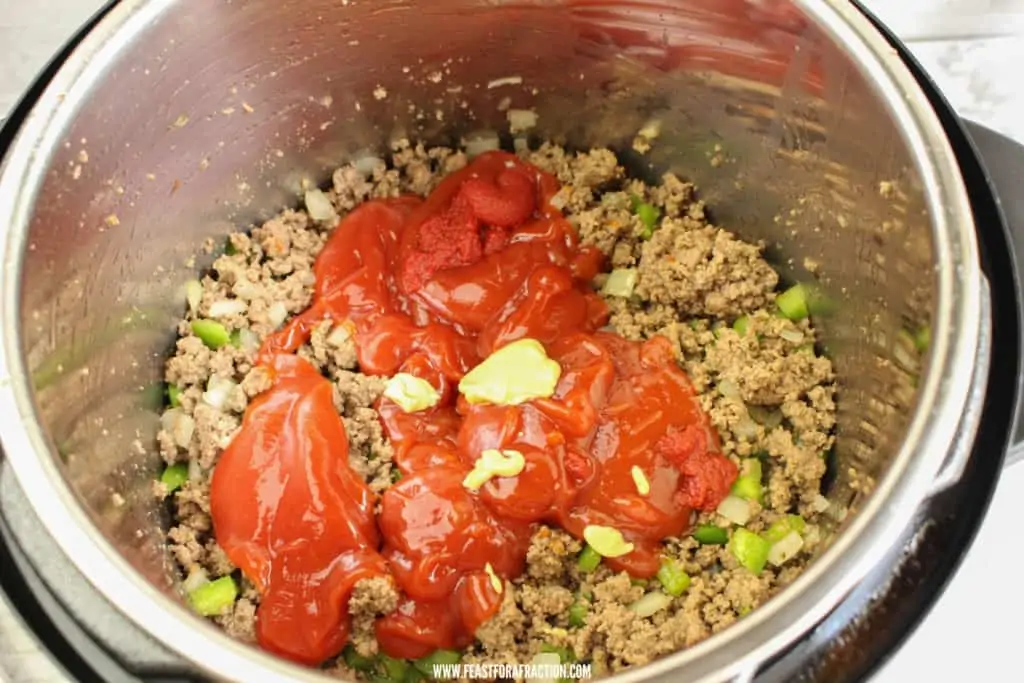 Next, we start layering in all our other ingredients. You'll stir in the Worcestershire and soy sauce, but do not stir in the ketchup, tomato paste and mustard. The goal is to keep the real liquid ingredients on the bottom and our more sticky ingredients on top so that we don't get the dreaded "burn" notice. If by chance you do get a burn notification, remove the lid and add 1/4 cup of water or beef broth to help loosen things up.
Then, you'll seal and cook. That's it!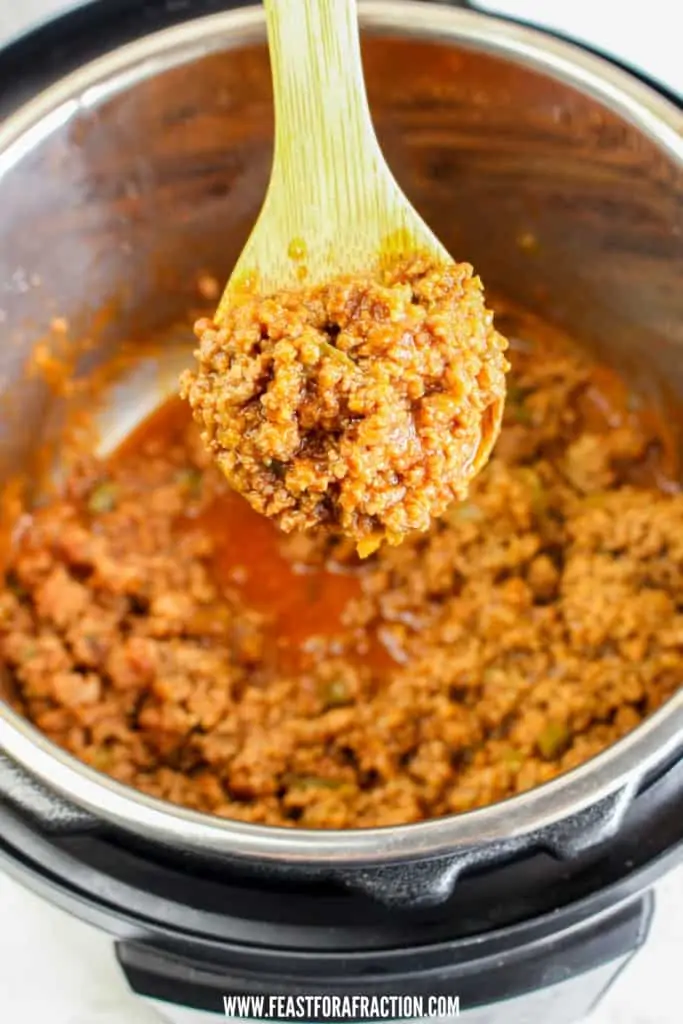 How to Serve Sloppy Joes
Traditionally, sloppy joes are served on hamburger buns for a fun, messy, kid-friendly dinner. And they're delicious. For a non-traditional twist, you can serve your sloppy joe meat on baked potatoes or baked sweet potatoes, you can serve over rice or even over pasta for a unique take on chili mac.
For storage, your sloppy joe mixture will last covered in the fridge for up to 3 days. You can also store in a container or freezer bag in the freezer for up to 2 months. I have been known to make a double batch of this recipe just to have a second meal in the freezer for busy nights.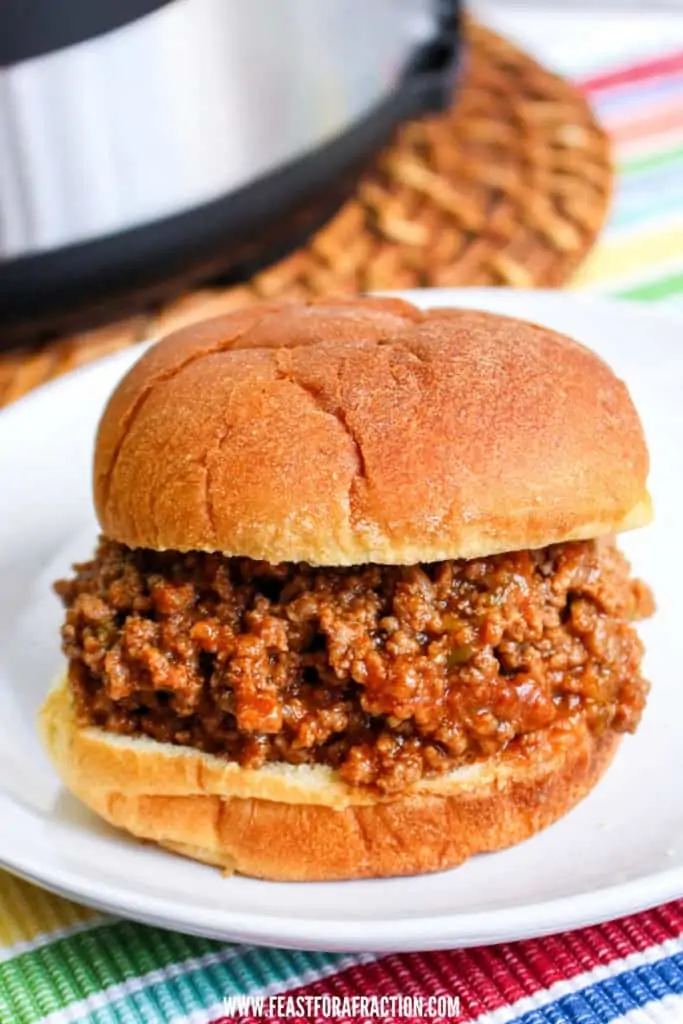 Tips and FAQs
I hate opening a can of tomato paste for one Tablespoon. What should I do?
I prefer to but resealable tubes of tomato paste. This allows you to use just what you need and store the rest sealed in the fridge or freezer. If you only have the small cans of tomato paste, get some parchment paper or wax paper and scoop the rest of your tomato paste out into 1 Tablespoon portions on the paper. Wrap each dollop up like a candy and store in the freezer. This way, you can pull out one or two for any given recipe.
Can I make Sloppy Joes using ground turkey?
Absolutely! I actually make it with ground turkey more often than beef because I usually get a better price on ground turkey. You can also use ground chicken or even a plant-based ground meat substitute like Impossible or Beyond Beef.
How can I use leftover Sloppy Joes?
You can store your leftover sloppy joe mixture in the fridge for up to 3 days or in the freezer for up to 2 months. You can reheat your leftovers and serve them over baked potatoes for an easy lunch or spoon it over spaghetti noodles and top with shredded cheddar cheese for a twist on chili mac.
More Instant Pot Recipes
Instant Pot Sloppy Joes Recipe
Yield: 8 servings
Instant Pot Sloppy Joes
Instant Pot Sloppy Joes are a super easy dinner that can be served on buns, spooned over baked potatoes or even mixed with pasta for a tasty sloppy joe casserole! An easy one-pot meal that's also great for meal prep!
Additional Time
5 minutes
Ingredients
2 pounds ground beef (80/20 or leaner)
1 small onion, diced
1 green bell pepper, seeded and diced
½ cup water or beef broth
1 teaspoon garlic powder
1 Tablespoon soy sauce
1 Tablespoon Worcestershire sauce
1 Tablespoon brown sugar
¾ cup ketchup
1 teaspoon dijon mustard
1 teaspoon dried oregano
Instructions
Push the "Saute" button on your Instant Pot or electric pressure cooker and allow to heat for 2-3 minutes.
Add the ground beef and cook, stirring occasionally white breaking up the meat until the meat is no longer pink, 5-6 minutes.
Add the chopped onions and diced green peppers. Stir and continue to saute for 2 minutes. Press cancel to turn off the "Saute" function. Drain any excess fat and return the ground beef to the pot.
Add the water or beef stock and stir, scraping the bottom of the pot to release and brown bits.
Add garlic powder, soy sauce, Worcestershire sauce, brown sugar and oregano. Stir to combine.
Over the beef, pour in ketchup, tomato paste and dijon mustard. Do not stir.
Place the lid on the pressure cooker and set the valve to sealing. Set on manual "Pressure Cook" for 5 minutes.
Once cooking is complete, allow the pressure cooker to naturally release pressure for 5 minutes, then carefully open the valve to release any remaining pressure. Remove the lid. Adjust salt and pepper to taste. Stir and serve.
Optional: If the sauce is too thin, you can set your pressure cooker back to "Saute" and cook, stirring frequently, until the sauce has thickened.
Notes
Sloppy Joe filling is very versatile. You can serve the traditional way, on hamburger buns, but you can also spoon it over baked potatoes or even baked sweet potatoes. It is also great over rice or noodles. Another fun twist is to mix with cooked pasta and top with shredded cheese for a Sloppy Joe casserole.
Once cooked, your sloppy joe meat will keep in the fridge for up to 3 days or in the freezer for up to 2 months.
For meal prep, cook and cool the recipe. Divide the mixture into containers or quart-size freezer bags. It's best to squeeze out any extra air and smooth the filling flat in the freezer bag. Once frozen, it can lay flat or stand up to take up less room in the freezer. To reheat, allow to thaw in the fridge overnight. Transfer to a microwave safe dish and microwave until heated through, about 2 minutes.
Recommended Products
As an Amazon Associate and member of other affiliate programs, I earn from qualifying purchases.
Nutrition Information:
Yield:
8
Serving Size:
1 Amount Per Serving:

Calories:

352

Total Fat:

20g

Saturated Fat:

7g

Trans Fat:

1g

Unsaturated Fat:

9g

Cholesterol:

101mg

Sodium:

569mg

Carbohydrates:

11g

Fiber:

1g

Sugar:

7g

Protein:

32g

By