Using your new Instant Pot can be a little intimidating. These Instant Pot Recipes for Beginners are just the ticket to get your comfortable with your Instant Pot.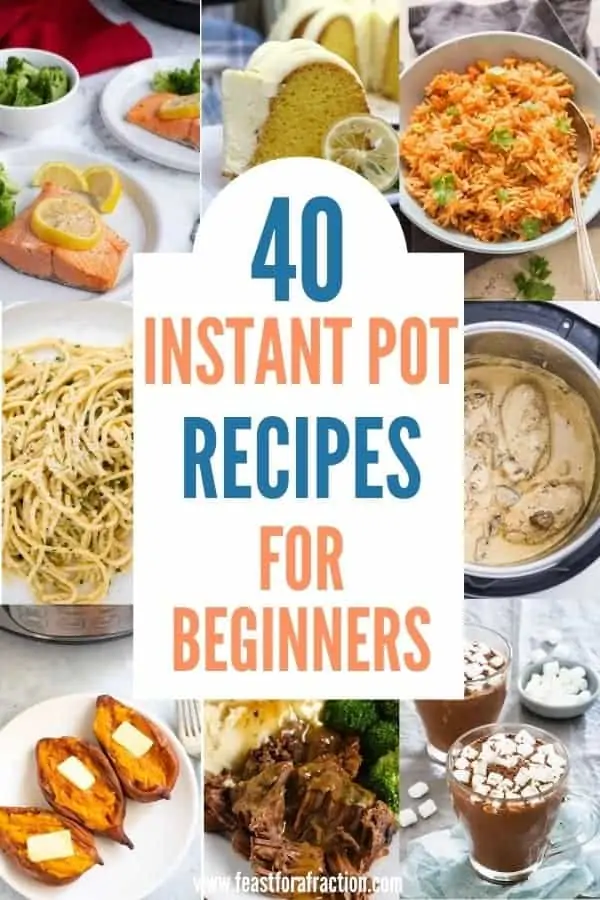 As an Amazon affiliate, I earn from qualifying purchases.
I totally get it. You've seen how easy an Instant Pot can be, so you bought one. Now, what do you do? So often I hear from people who purchase an electric pressure cooker, yet it sits in the box for months because they are afraid to use it.
Gone are the days of pressure cookers exploding on the stove. Electric pressure cookers, like the Instant Pot, take all the guesswork out of how much pressure is needed and they have safety features in place so it couldn't be easier (or safer) to use.
With a couple of tips and some practice, you'll be a pro in no time.
Where to Start with Your Instant Pot
Well, the first step is to take it out of the box. Read the User Manual and locate all of the important pieces: your inner pot, the silicone seal on the inside of the lid, and the steam release valve on the lid.
Practice removing the silicone seal and putting it back into place. This seal is vital for the lid to seal properly and be able to come to pressure. Over time, the seal will wear out or crack. This is normal and you can purchase replacement seals.
Once you're feeling familiar with all the pieces, it's time to do a water test. The instructions for how to do a water test are in the User Manual.
Once you have successfully completed a water test, you're good to try your first recipe. But where do you start?
What are good Instant Pot Beginner Recipes?
When first starting out, you might not want to jump in to a complicated recipes. I recommend practicing with some simple recipes just to get comfortable with the Instant Pot:
It should have just a few ingredients.
It shouldn't have a lot of steps. Ideally, you can throw everything in and just get it cook.
It shouldn't require any special accessories.
Below, I have categorized the recipes from easiest to more involved, but they are all super easy and great to give you a mix of all the different ways you can use your Instant Pot. From meal prep like hard-boiled eggs and side dishes to main dishes, desserts and even drinks, now you have an arsenal of recipes for any meal or occasion while you're getting comfortable with your electric pressure cooker.
More Instant Pot Recipes
Instant Pot Recipes for Beginners
The Instant Pot and other electric pressure cookers can seem intimidating, but they really are safe and so easy to use. Once you get the basics down, you'll find that the Instant Pot helps make cooking any meal that much quicker. I've separated the recipes below by super easy basics that everyone should know how to make, soups, main dishes and desserts.

By