Make breakfast in an instant with one of these 25 insanely delicious Instant Pot Breakfast recipes. Not only will it make mornings easier, you'll have healthy, satisfying breakfast the whole family will love.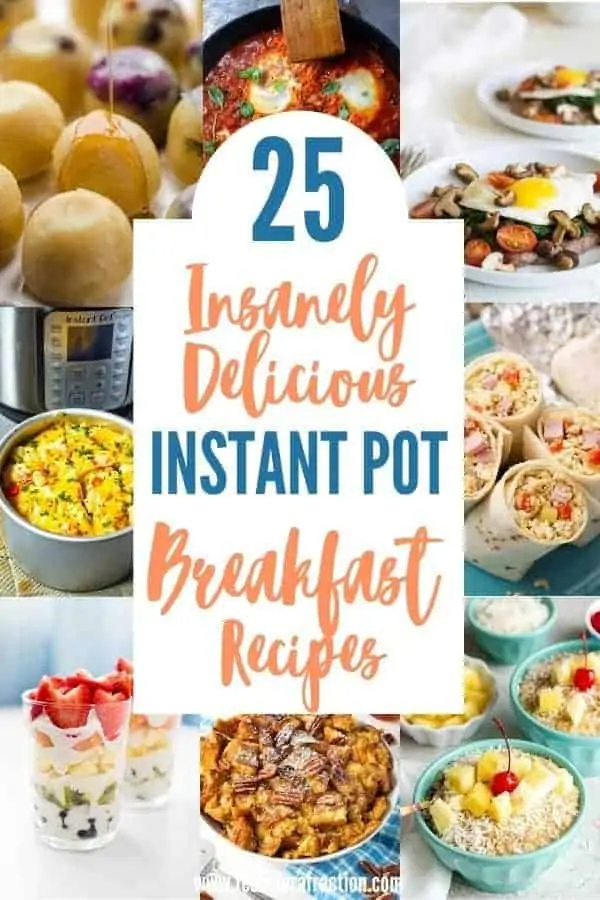 As an Amazon affiliate, I earn from qualifying purchases.
You know that old adage, "Breakfast is the most important meal of the day." I believe that, but it's also the most stressful time of the day. Between getting ready for work and making sure the kiddo is up, I don't have time to make a balanced, nutrition breakfast. Enter the Instant Pot!
By preparing breakfast in the Instant Pot, or electric pressure cooker, you can set it and go about getting ready. It's completely hands-off cooking. Better yet, you can even prepare breakfast in the Instant Pot the night before and portion into individual containers.
Yogurt is one of my absolute favorite things to make in the Instant Pot because it is so easy and so much cheaper than store-bought. I especially love to do the "cold start" method meaning that you don't even have to heat the milk before you start the culturing process. My friend, Relle, has a great recipe: Instant Pot Cold Start Yogurt.
Recommended Tools
These tools will help make preparing breakfast in your instant pot that much easier:
Steamer Rack or Trivet (I love this one because it has handles to easily remove the food)
Once you've prepared your Instant Pot breakfast recipes, you can either serve them right away or portion them into individual containers and store in the fridge or freezer for a really quick breakfast any morning.
I love this method because I can pack some servings and store them at work. There's no excuse for a delicious, nutritious breakfast then!
More Instant Pot Recipes
Easy Instant Pot Chicken Recipes
Perfect Instant Pot Brown Rice
Instant Pot Rosemary Garlic Mashed Potatoes
25 Insanely Delicious Instant Pot Breakfast Recipes
Breakfast should be easy and nutritious to give you a jump-start on the day. By making breakfast in the Instant Pot, or electric pressure cooker, it's done in minutes and completely hands-off. Add these Instant Pot Breakfast recipes to your morning routine!

By