Enjoy this Instant Pot 15 Bean Soup for a budget-friendly, flavorful, and comforting one-pot meal that everyone can enjoy. With simple, fresh ingredients and a little bit of your time, you can easily assemble a tasty meal that you can enjoy for the entire family.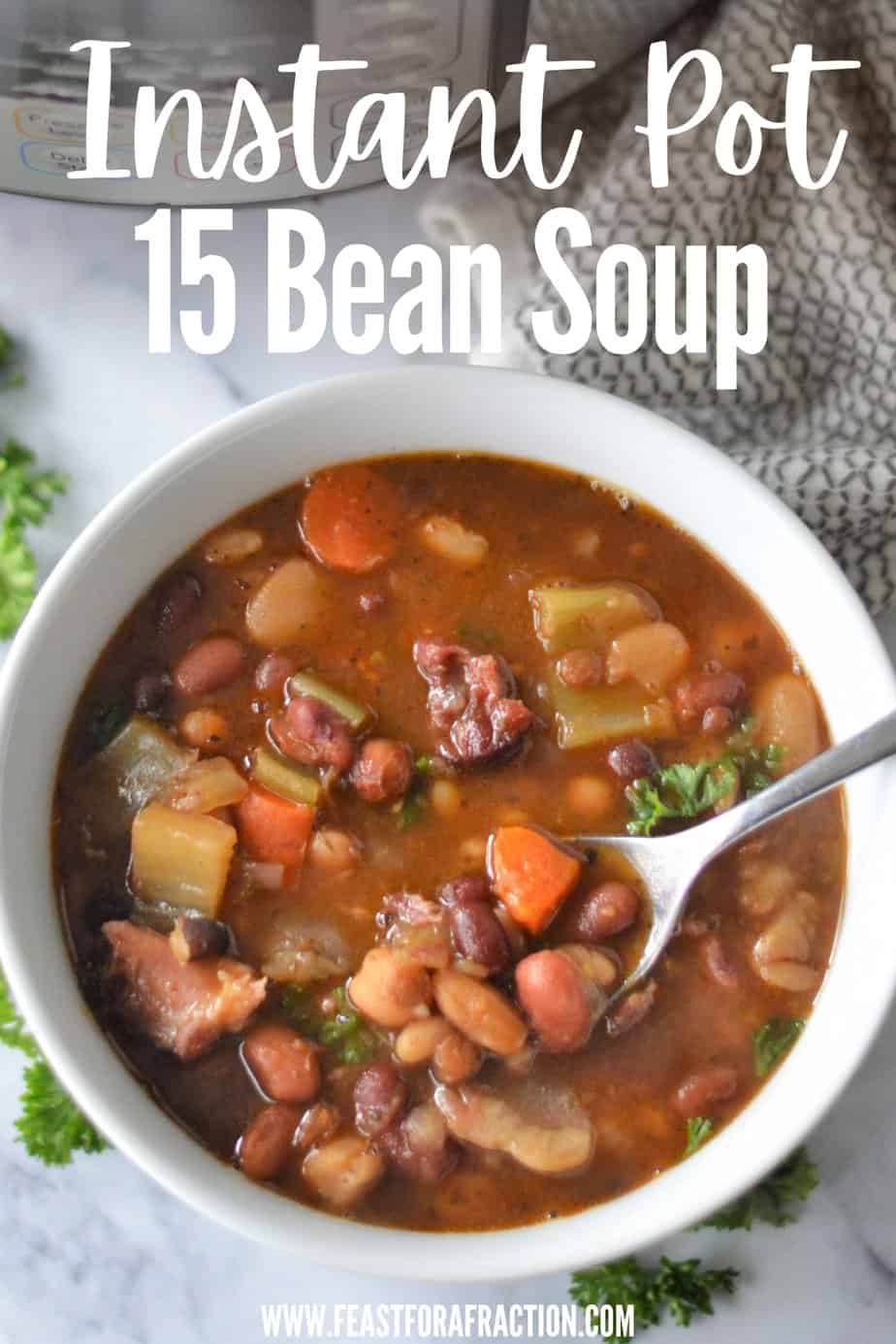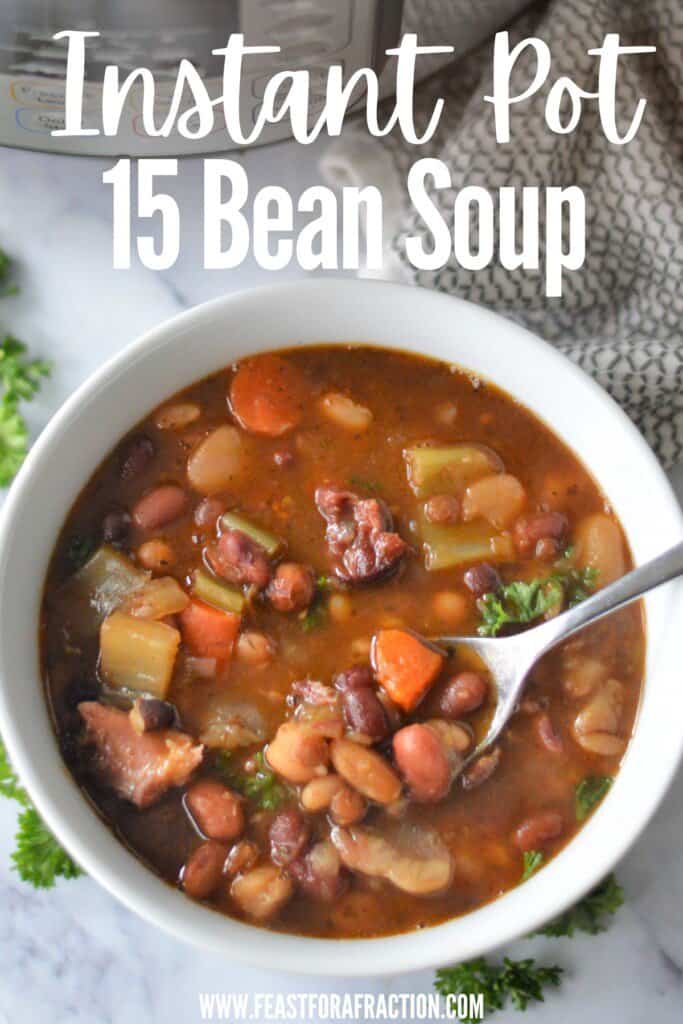 As an Amazon affiliate, I earn from qualifying purchases.
Making this recipe in an Instant Pot allows for a faster cooking time since it helps to soften the beans quickly without sacrificing any of the flavor.
This dish is a perfect blend of different types of beans, including kidney, navy, lima, lentil, and more, that give it a rich and complex flavor. Additionally, the Instant Pot allows the flavors to become more concentrated resulting in a more flavorful soup.
You also can't get much more budget-friendly than this! Beans are amazingly affordable and a great source of protein on a budget.
For more Instant Pot Soup recipes, make sure to try my Instant Pot Potato Soup or Instant Pot Lentil Soup!
Ingredients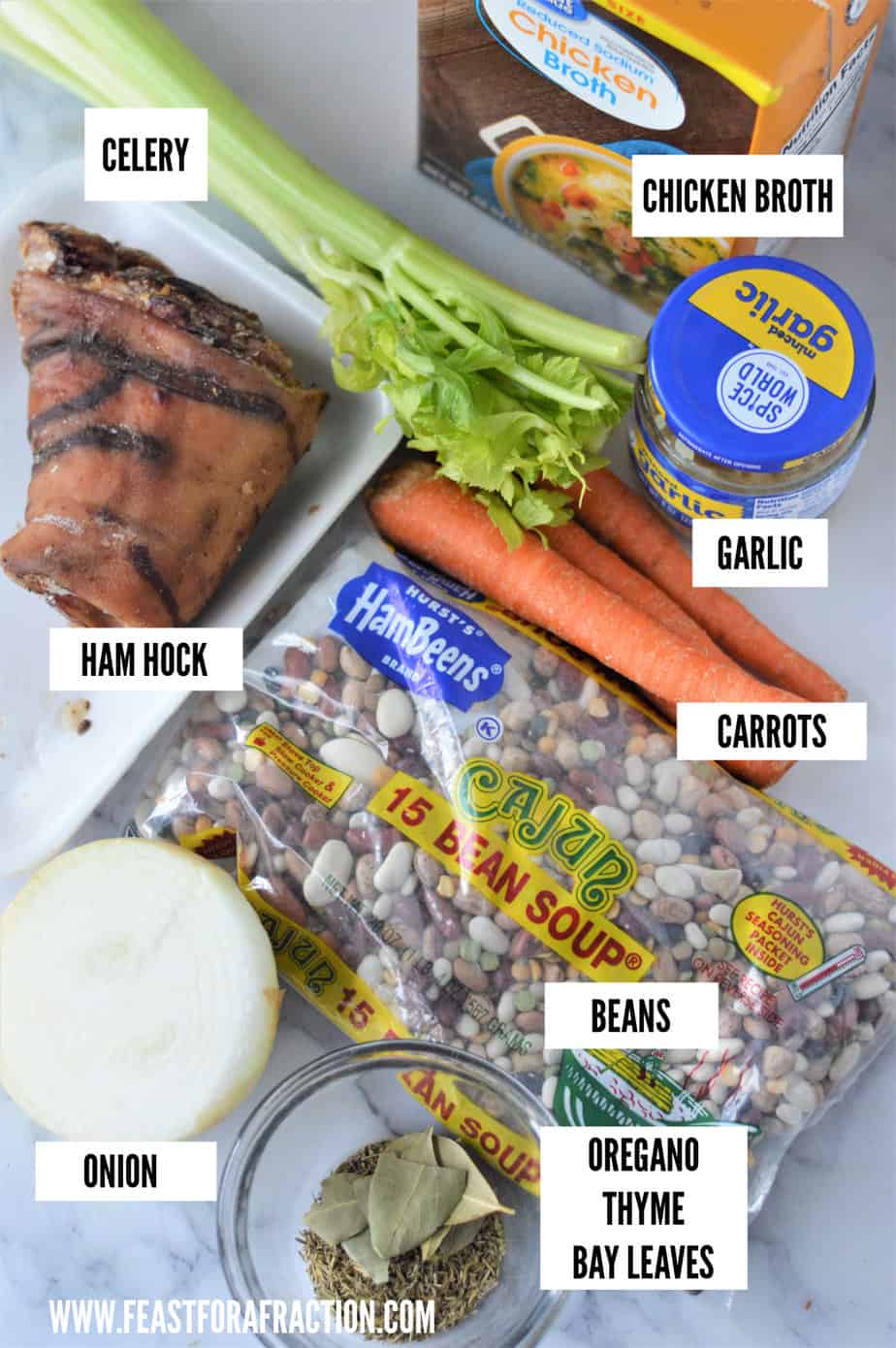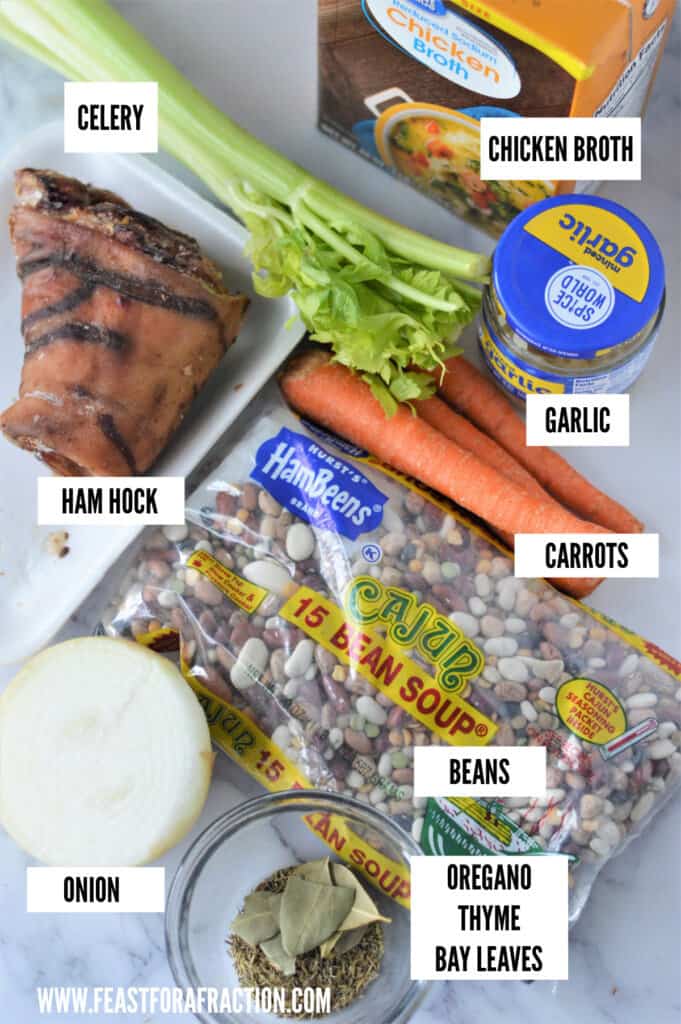 Dry 15 Bean Soup Mix – Using this soup mix is an easy and effective way to give your bean soup in pressure cooker an excellent flavor.
Olive Oil – You will need roughly three tablespoons of olive oil. If you don't have olive oil, you can replace it with another oil, such as vegetable or avocado oil.
Celery Stalks – Grab three celery stalks, place them on your cutting board, and begin chopping them down into small, fine pieces.
Carrots – Take three large carrots and chop them down into small pieces, just like you did with the celery.
White Onion – Use half of a white onion, slicing it down and dicing it finely before combining it with the carrot and celery.
Minced Garlic – For the garlic, you can use freshly minced garlic cloves or minced garlic from a jar, whichever you prefer and have on hand.
Chicken Broth – Use around 48 ounces of chicken broth for the base of this 15 Bean Soup in Pressure Cooker recipe. You can use any brand of chicken broth, including reduced sodium options.
Ham Hock – Add an incredibly smoky flavor to your soup by using a ham hock or ham bone in this recipe. It gives the Instant Pot 15 Bean Soup such a great taste.
You will also need thyme and bay leaves. In addition, you can garnish this soup with a bit of parsley.
Equipment
How to Make Instant Pot Bean Soup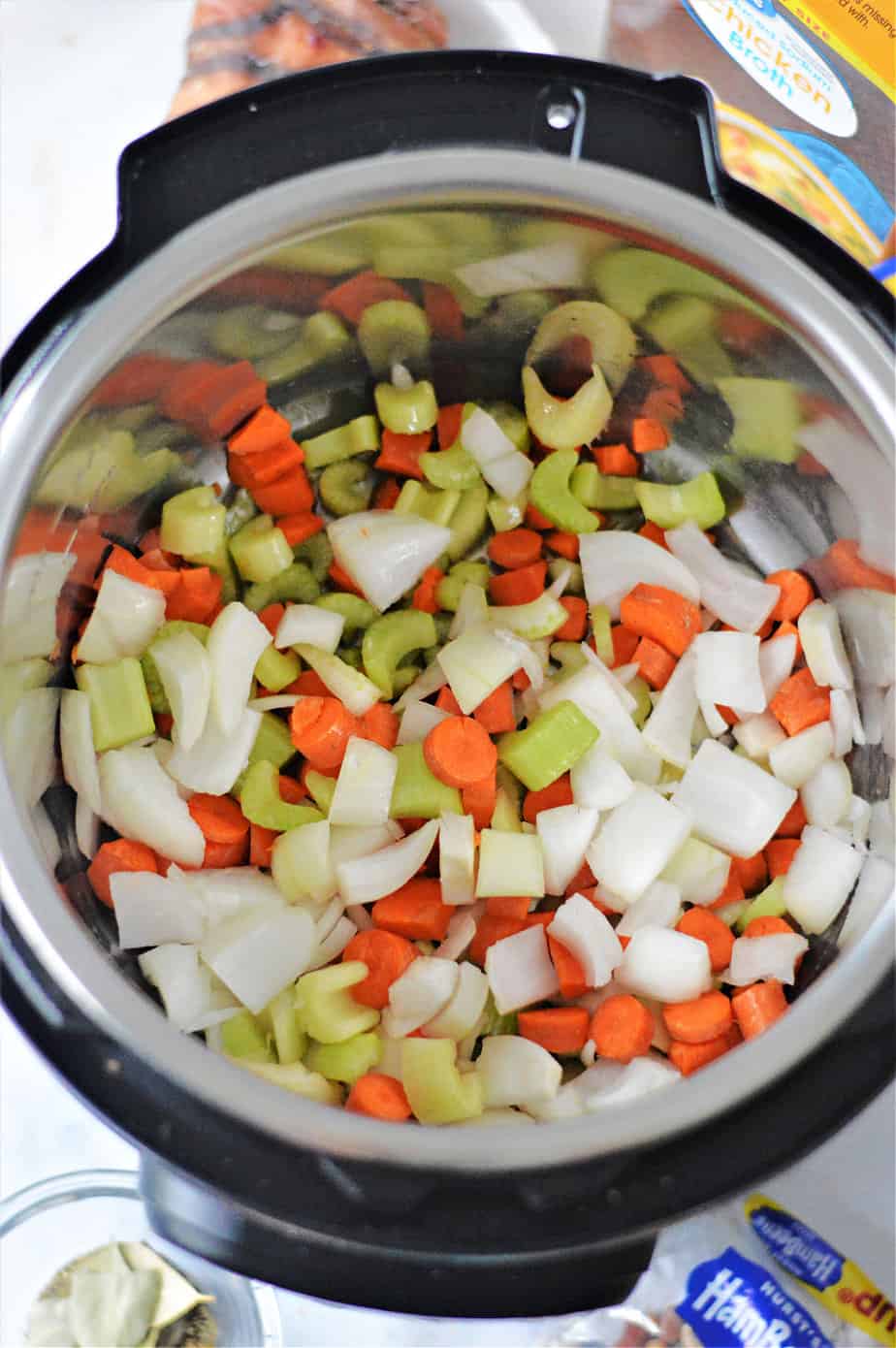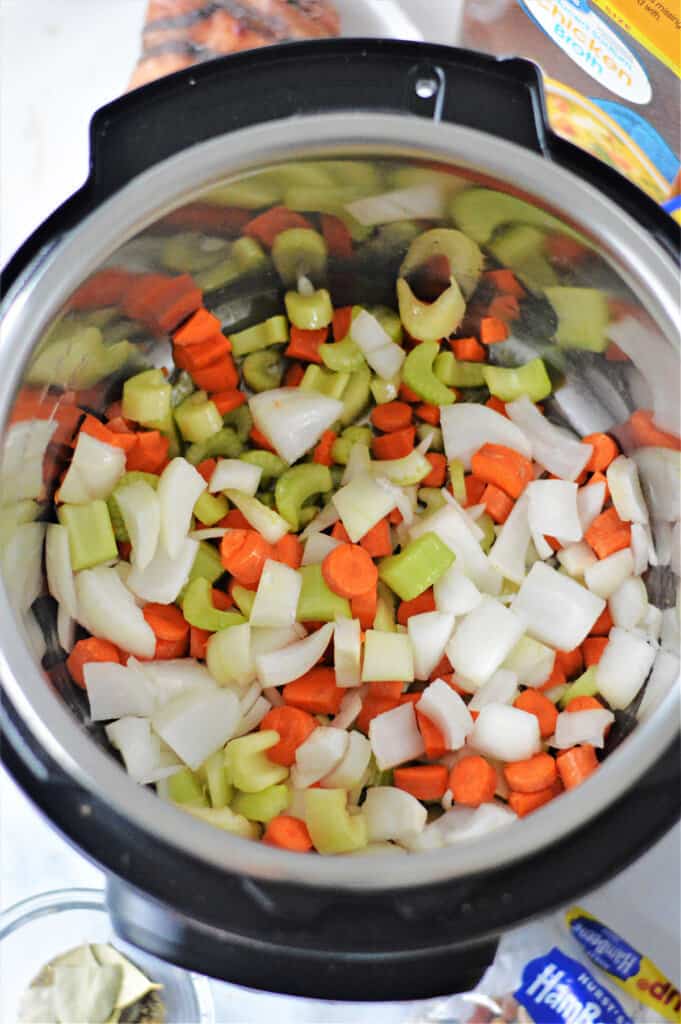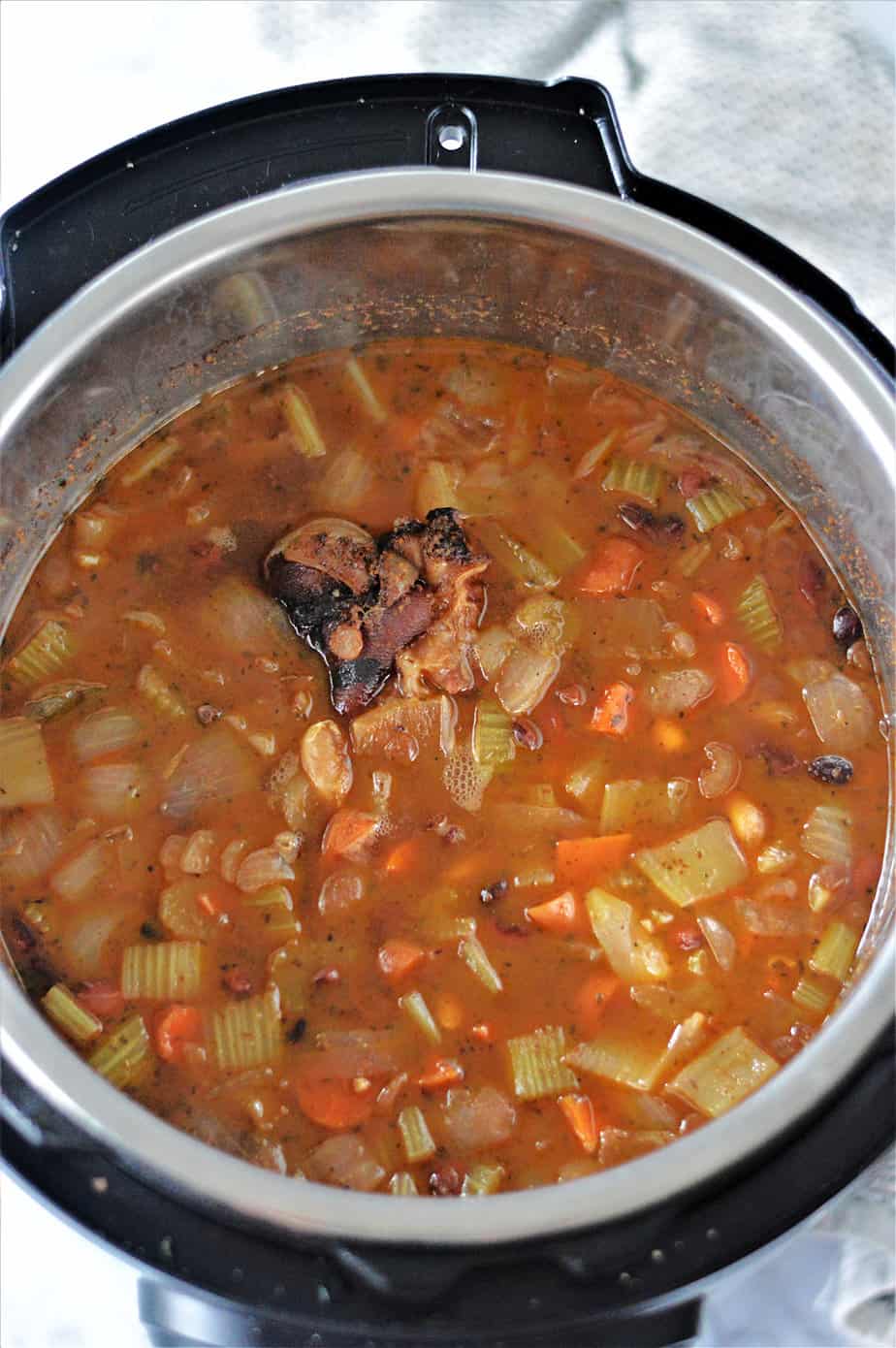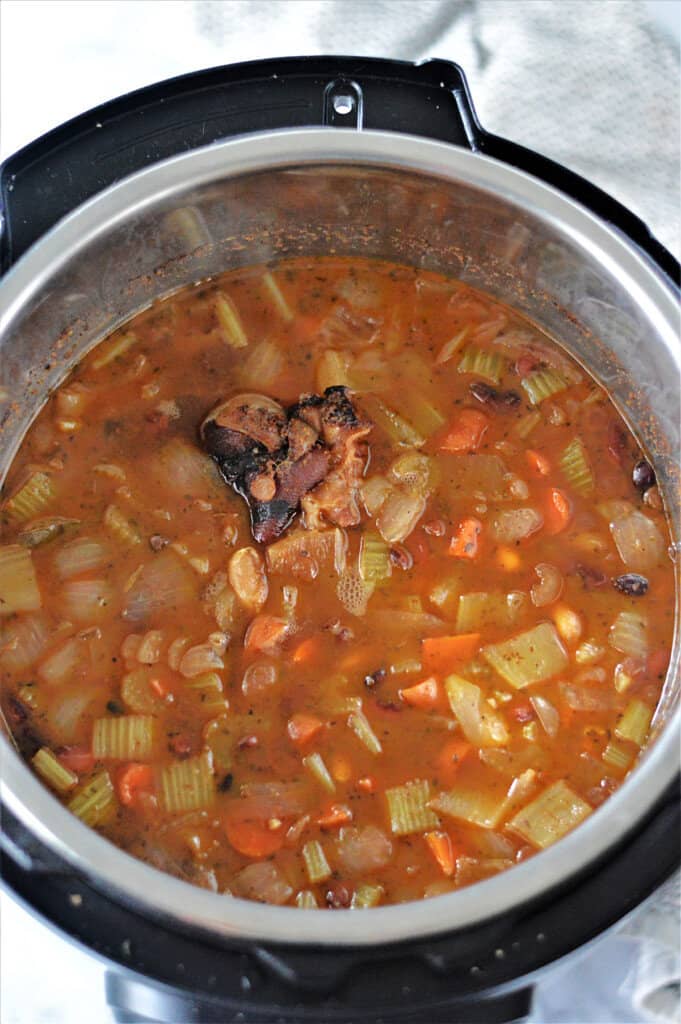 Open a packet of the Instant Pot 15 Bean Soup Mix, setting aside the seasoning packet and rinse the beans to remove any dirt.
Turn on the Saute feature of your Instant Pot, and then add your olive oil into the pot, allowing it to get nice and hot.
Place your chopped celery, onion, and carrots into the pot with the hot olive oil and saute the veggies until tender.
Stir your minced garlic into the Instant Pot, and then turn off the Saute function.
Place your ham hock into the Instant Pot, followed by the broth, beans, and seasoning mix and stir well.
Shut the lid to your Instant Pot, seal your steam valve, and cook on High Pressure for 45 minutes.
Let the pressure release naturally for approximately 15 minutes before releasing the rest of the pressure and remove the ham hock from the soup.
Pull meat off the bone, add it back into the pot with the soup, and toss the bone or save it for use later to make homemade bone broth.
Serve your fresh, hot soup. Add a bit of parsley on top to give it that finishing touch.
What to Serve with 15 Bean Soup
You can serve this warm, comforting dish with a side of easy Homemade Cornbread or crusty bread.
Or for a more hearty soup, add Instant Pot Brown Rice.
Croutons will add more flavor and are an excellent addition to this bean soup.
You can also add a dollop of sour cream to it.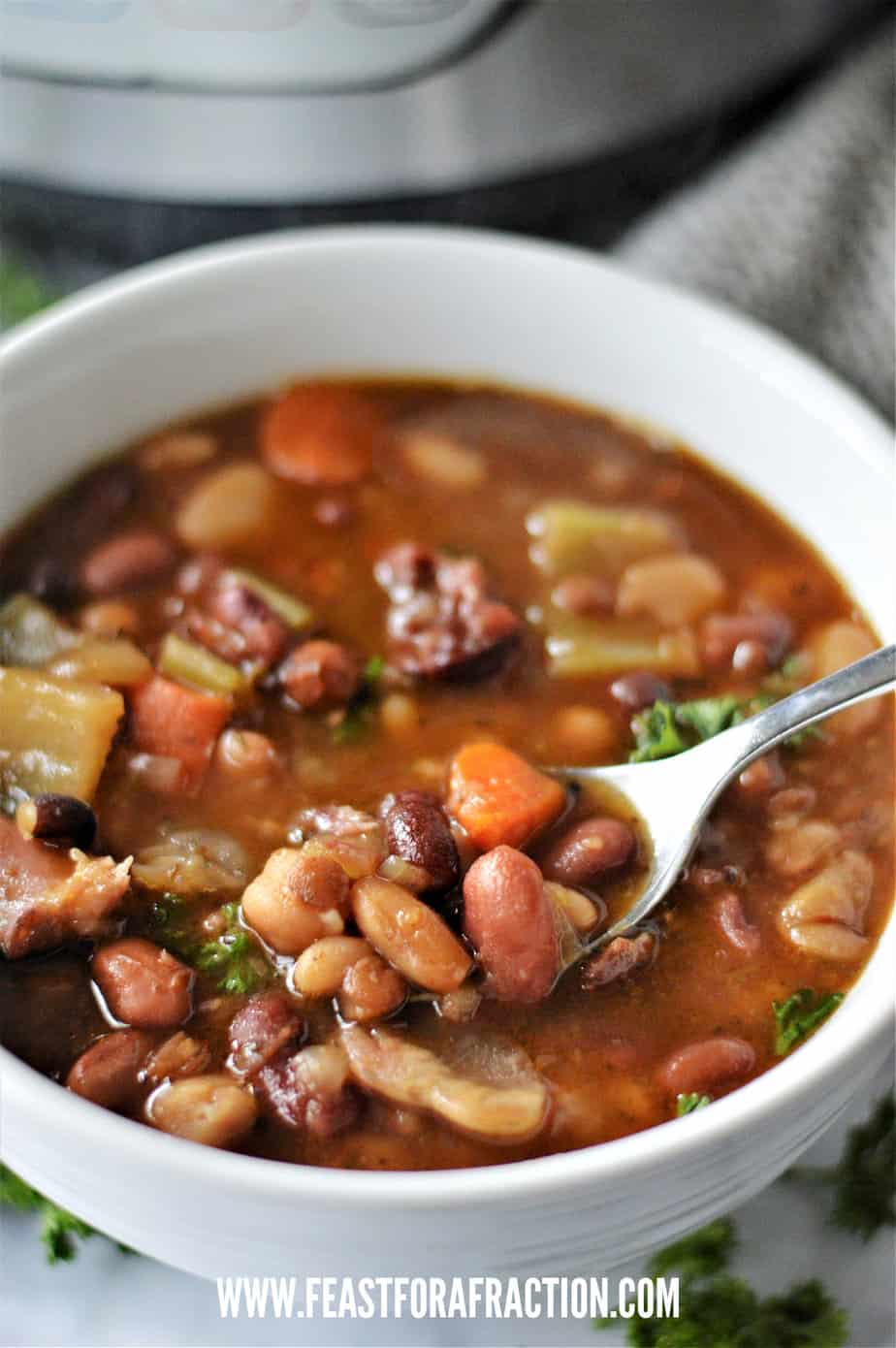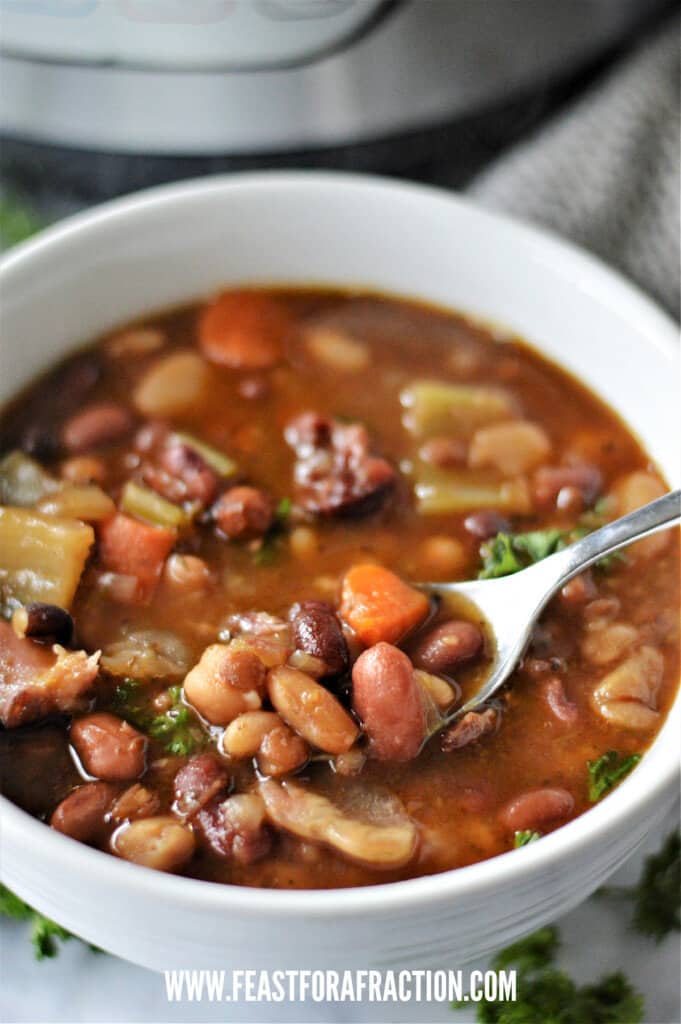 Frequently Asked Questions
Can you freeze and store Bean Soup made in a pressure cooker?
You can prepare this dish in advance and freeze it. If freezing your soup, store it in an airtight container and place in the freezer for up to 2 months. Be sure to label your soup so you know when to thaw it out, heat it up, and enjoy it.
Is there an alternative to a ham bone for this Instant Pot 15 Bean Soup?
If you don't have ham available, you can add bacon to this recipe as an alternative to get that smoky flavor.
Do I need to season the meaty ham bone?
No, you do not need to season the ham bone. It will cook in the Instant Pot and impart great flavor all on its own.
Where can I find a 15 bean mix?
Found with dried and canned beans, you should find a bag with 15 or 16 beans. Either variety can be used.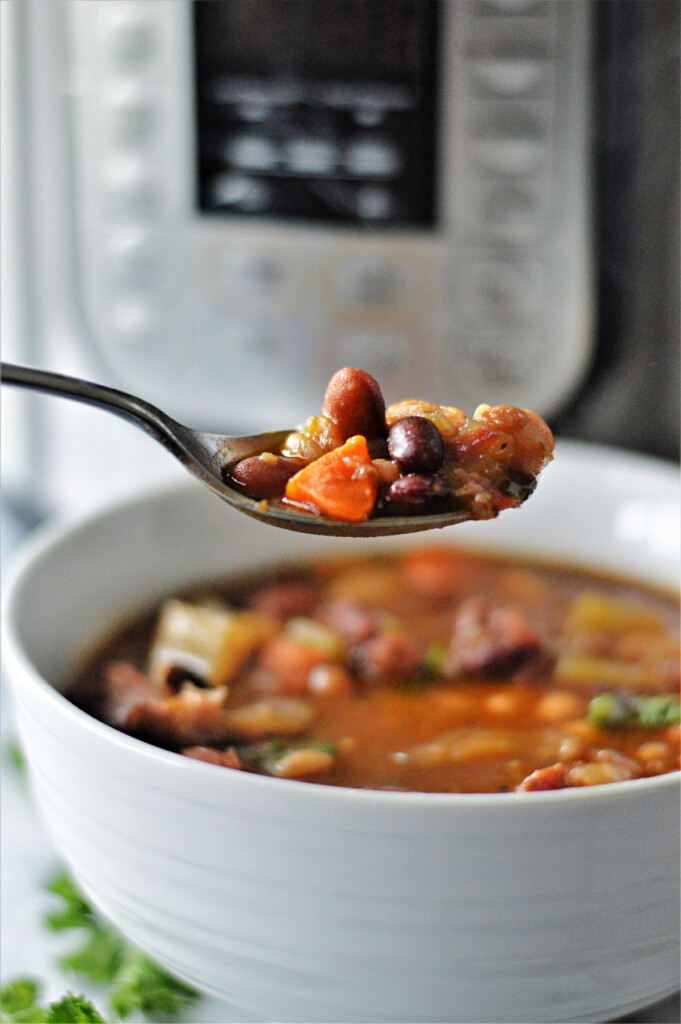 More Instant Pot Dinner Recipes
Instant pot 15 Bean Soup Recipe
Yield: 8 servings
Instant Pot 15 Bean Soup
Instant Pot 15 Bean Soup is a cost-effective, hassle-free one-pot recipe that's perfect for meal prep, offering a delicious blend of 15 beans cooked to perfection in the Instant Pot and designed to freeze beautifully for convenient and budget-friendly future meals.
Additional Time
15 minutes
Total Time
1 hour
15 minutes
Ingredients
1 pound dry 15 Bean Soup Mix
3 Tablespoon olive oil
3 celery stalks, chopped
3 large carrots, chopped
½ white onion, chopped
1 teaspoon minced garlic
48 ounces chicken broth
1/2 teaspoon oregano
1/2 teaspoon thyme
2 bay leaves
1 ham hock or ham bone
Instructions
Open 15 Bean Soup Mix, save the seasoning packet for now. Rinse dry beans, removing any dirt or debris.
Turn Instant Pot on to Saute. Begin to heat olive oil.
Add chopped vegetables, saute until tender.
Stir in minced garlic, then turn off saute function.
Place the ham hock in the Instant Pot. Add broth, beans, seasoning packet and remaining dry seasonings. Stir everything together.
Close lid, seal the steam release valve, cook on Soup/Stew for 45 minutes.
Once cooking time is complete, let the pressure release naturally for 15 minutes. Quick release the remaining pressure and carefully remove the ham hock from the soup. Pull off any meat from the bone, and return the meat to the soup.
Stir to combine and serve.
Notes
Variations: Feel free to leave out any ingredients that you don't have or want to use. If you don't have a ham bone or ham hock, you can chop and saute some bacon to get the smoky flavor. Feel free to use water with bouillon in place of chicken broth.
Storing and Reheating: Allow the soup to cool completely before packaging in an airtight container. Store in the fridge for up to 5 days or in the freezer for up to 2 months. Reheat in a saucepan over medium heat or in the microwave until heated through. You may need to add a little water to keep the soup consistency.
Recommended Products
As an Amazon Associate and member of other affiliate programs, I earn from qualifying purchases.
Nutrition Information:
Yield:
8
Serving Size:
1
Amount Per Serving:
Calories:

319
Total Fat:

10g
Saturated Fat:

2g
Trans Fat:

0g
Unsaturated Fat:

7g
Cholesterol:

20mg
Sodium:

3139mg
Carbohydrates:

39g
Fiber:

17g
Sugar:

8g
Protein:

18g
STAY IN TOUCH ON SOCIAL MEDIA – @ INSTAGRAM, @ FACEBOOK, @ PINTEREST
And don't forget to tag @feastforafraction if you try this recipe!
Pin for Later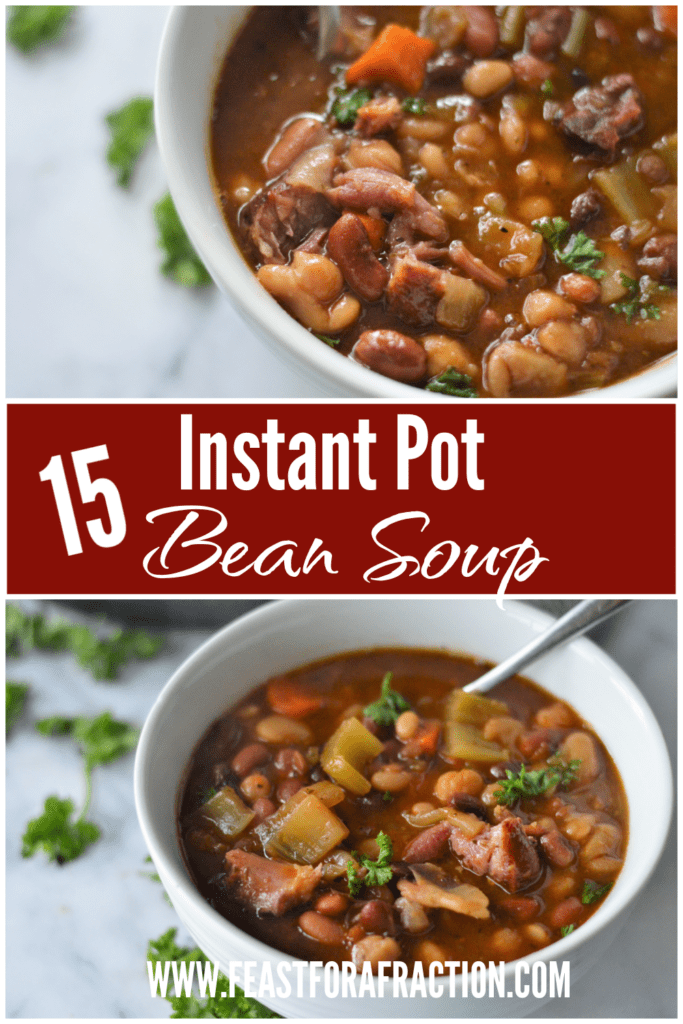 By