Make Lentil Soup in the Instant Pot in minutes and enjoy a delicious, hearty soup that is naturally vegetarian, gluten-free and dairy-free. It's also a great pantry meal option!
As an Amazon affiliate, I earn from qualifying purchases.
Lentils are a fantastic source of protein and insanely budget-friendly. A 16 ounce bag of dried lentils costs just $.98 in my neck of the woods. They keep in the pantry for up to a year, and cook up in 15 minutes in the Instant Pot or 45 minutes on the stove.
When it comes to cooking lentils, the kind of lentil to choose depends on how you want to cook them. Green and brown lentils hold their shape really well and are perfect for cooking in stews and soups. Brown lentils are the most commonly found variety in the US.
Yellow and red lentils cook more quickly and are better served in salads or pureed in curries. And the best part, lentils are naturally gluten-free, and pack 10 grams of protein and 11 grams of fiber per serving.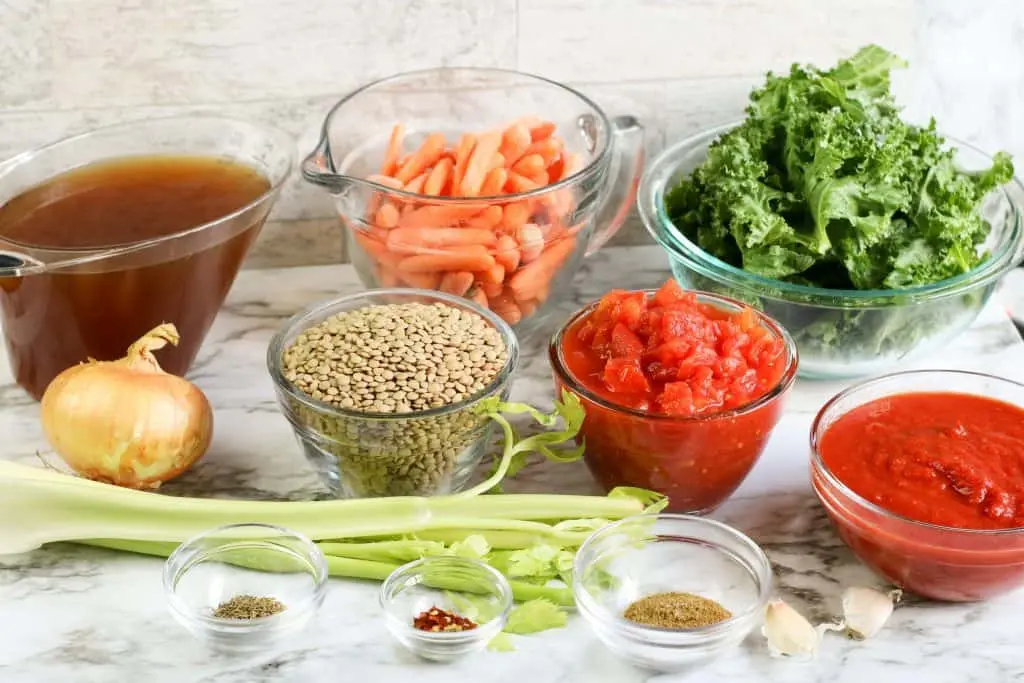 Ingredients
Lentils: We will use dried lentils for this recipe, and I recommend using brown or green lentils. They hold their shape really well even in soup. You will need a 1-pound bag or two-ish cups of lentils.
Vegetable Broth: We will need 40 ounces of liquid total for this recipe. You can use a 32 ounce carton of vegetable broth and 8 ounces of water or use a vegetable base and water to prepare 40 ounces of broth.
Kale: I call for stirring in fresh, chopped kale at the end of cooking so that it retains some of its texture and brings a bit of fresh vegetable flavor to the soup. You can also use a 16 ounces package of chopped, frozen kale or spinach and add it at the same time as the other ingredients before cooking.
Canned Tomatoes: For the diced tomatoes, feel free to use whatever variety you have. Fire-roasted or even an Italian blend will work perfectly. For the crushed tomatoes, you can substitute tomato sauce if it is all you have.
Garlic: For mincing garlic, I love using a garlic press. It is so easy to use and keeps your hands from smelling like garlic. If you don't have whole garlic cloves, you can substitute 1 teaspoon of garlic powder.
I usually have a fully stocked spice rack, and don't always have onions or garlic on hand. Feel free to use garlic powder and onion powder in place of either.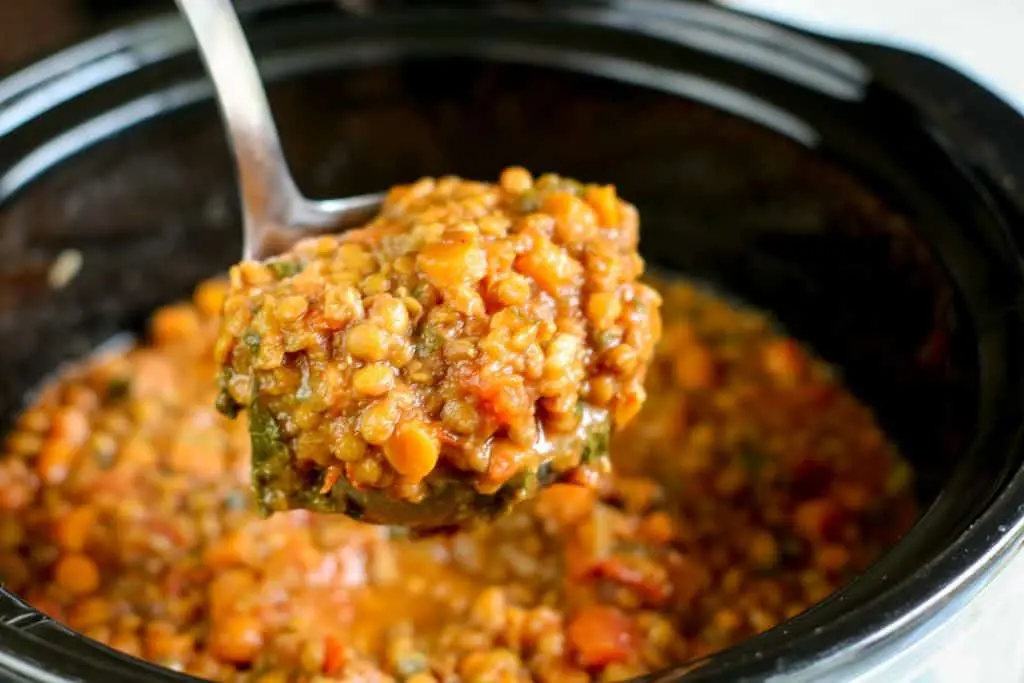 Equipment
Instant Pot (or Slow Cooker)
Knife
Measuring Cup
Prep Bowls
Ladle or Wooden Spoon
While this Lentil Soup recipe is designed for the Instant Pot, I also included instructions for cooking in a slow cooker. See the notes in the recipe card below.
Freezer Meal Options
When it comes to preparing your Instant Pot Lentil Soup as a freezer meal, you have two options. First, you can cook the soup and let it cool completely. Then, package it in 64 ounce freezer containers and store in the freezer. When ready to eat, thaw in the fridge and reheat in a saucepan or in the microwave until heated through.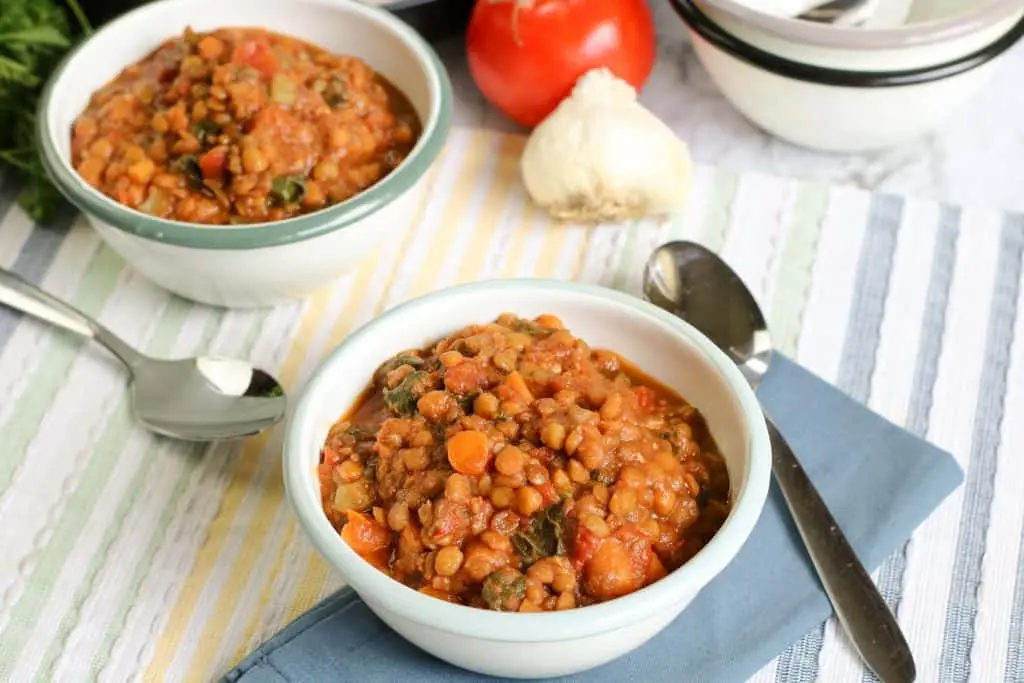 The second option is to combine the uncooked ingredients in the same style container or in a gallon-size freezer bag. Label and freeze for up to two months. When ready to cook, you can place the frozen meal in the Instant Pot (or slow cooker), and cook as instructed. No additional time is needed.
Now, since most of the ingredients for this recipe are pantry items anyway, the recipe can come together really quickly no matter what.
More Freezer Meal Recipes
Yield: 6-8 servings
Instant Pot Lentil Soup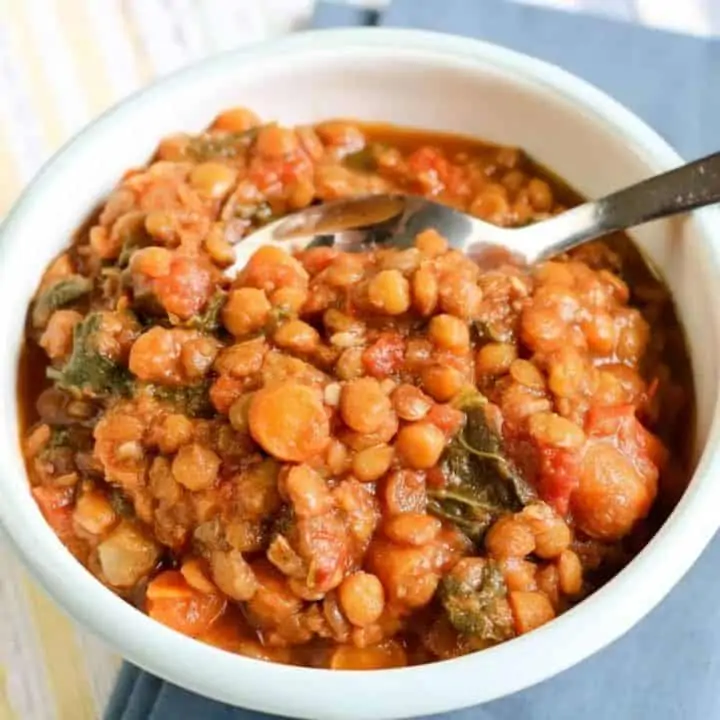 This hearty lentil soup is ready in minutes in the Instant Pot and it's vegetarian and gluten-free. Whether for dinner or make ahead meal prep, this soup will satisfy!
Additional Time
10 minutes
Ingredients
1 large Onion, diced
8 ounces Carrots, diced
3 stalks Celery, diced
1 pound Dried lentils
4 cloves Garlic, minced
32 ounces Vegetable broth
8 ounces Water
1/4 teaspoon Red pepper flakes
2 teaspoons Salt
1 teaspoon Pepper
2 teaspoons Ground cumin
1 teaspoon Dried Thyme (or 1 Tablespoon fresh Thyme)
1 (15 ounce) can Diced tomatoes
1 (15 ounce) can Crushed tomatoes (or Tomato sauce)
3 cups fresh Kale, chopped
Instructions
Place all ingredients except Kale into the inner pot of your Instant Pot and stir to combine.
Close lid and seal. Set on Manual or Pressure Cook for 15 minutes.
When timer goes off, allow pressure to release naturally for 10 minutes. Then, release pressure.
Remove lid and stir in chopped kale. Allow soup to sit for 1-2 minutes to wilt the kale.
Serve with parmesan cheese, if desired.
Notes
Slow Cooker Instructions: Place all ingredients, except the kale, in the slow cooker and stire to combine. Cover and cook on low for 8 hours. Stir in kale and allow to wilt for 1-2 minutes.
Freezer Meal: Once lentil soup is cooked, allow to cool completely and portion into containers of desired size (1 cup servings for individual, 4 cups for family, etc). You can use quart or gallon size freezer bags or 64 ounce plastic storage containers. Store in the fridge for up to 7 days or in the freezer for up to two month. To reheat from frozen, allow to thaw in the fridge. Pour into sauce pan and heat on medium until heated or warm in the microwave for 2-3 minutes until heated.
Recommended Products
As an Amazon Associate and member of other affiliate programs, I earn from qualifying purchases.
Nutrition Information:
Yield:
6
Serving Size:
1 Amount Per Serving:

Calories:

160

Total Fat:

1g

Saturated Fat:

0g

Trans Fat:

0g

Unsaturated Fat:

1g

Cholesterol:

0mg

Sodium:

1296mg

Carbohydrates:

30g

Fiber:

10g

Sugar:

8g

Protein:

10g

By