If you're looking to change up your pot roast routine, this Crockpot Mississippi Pot Roast is a winner! A true dump and go dinner recipe, this crockpot beef roast couldn't be easier. Serve for Sunday supper and turn the leftovers until beef roast sandwiches.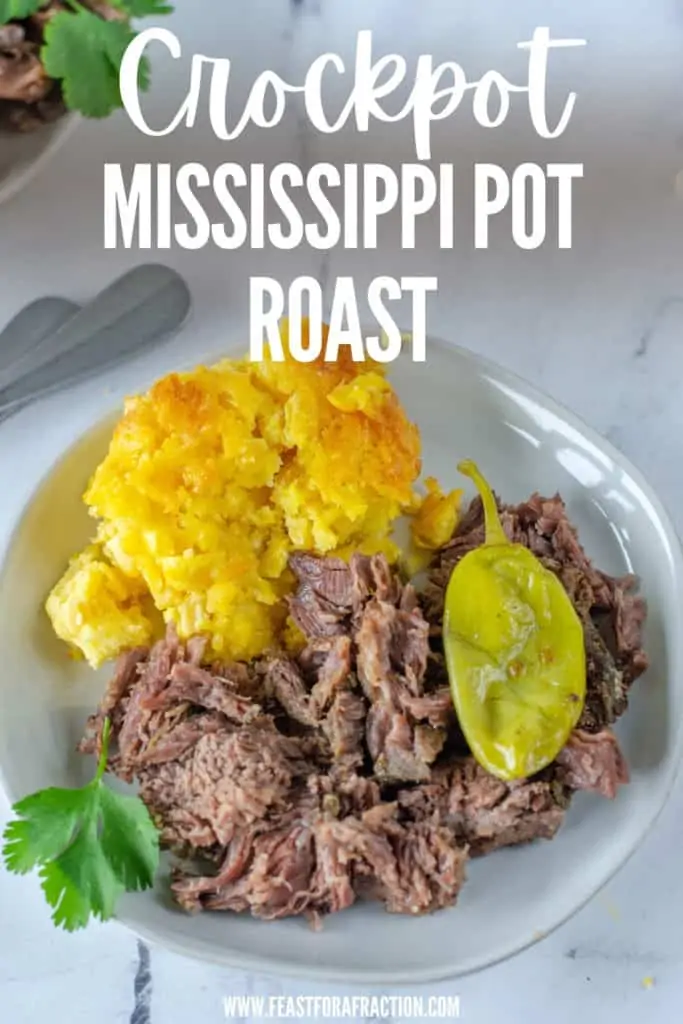 As an Amazon affiliate, I earn from qualifying purchases.
Who doesn't love a good pot roast? I love that you can throw it in the slow cooker or Instant Pot and forget about it. I was first introduced to Mississippi Roast, pot roast with butter, pepperoncini peppers, ranch seasoning and au jus seasoning, by a coworker. Don't get it wrong, it tasted amazing! I wasn't be biggest fan, though, that it called for a whole stick of butter!
In an effort to lighten up this dish, I tried making it without any butter and didn't miss it at all. Rather than use powdered au jus seasoning, I used what I had on hand: a packet of onion soup mix. Guess what? It tasted amazing. You still get an amazingly flavorful "gravy" to spoon over melt-in-your-mouth pot roast.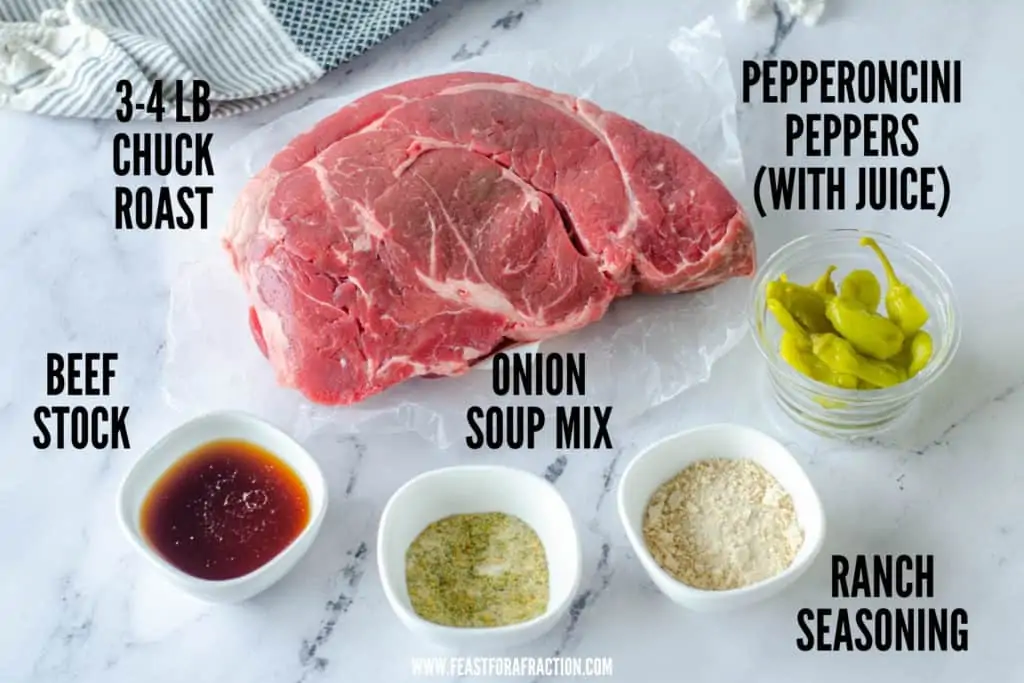 Ingredients
Beef Chuck Roast: Chuck roast is the perfect cut for slow cooking. It turns a traditionally tough cut of meat into tender morsels. It also happens to be one of the most affordable roasts. You can also make this recipe with a shoulder roast or even a pork butt.
Ranch Seasoning: I prefer to buy ranch seasoning powder in bulk because I can sprinkle it on all kinds of things. You will need 1 (1 ounce) packet or 2 Tablespoons. If you prefer to make your own ranch seasoning powder, here is a great recipe.
Onion Soup Mix: This comes dried in packets and you'll find it in the soup aisle of your grocery store.
Pepperoncini Peppers: Pepperoncini (or peperoncini) peppers are very mild so you don't have to worry about this dish being spicy at all. Make sure to reserve 1/2 cup of the pepper juice, as well.
Beef Broth (or water): This extra bit of liquid helps give us plenty of sauce and helps cut the richness from the ranch and onion soup mix.
Equipment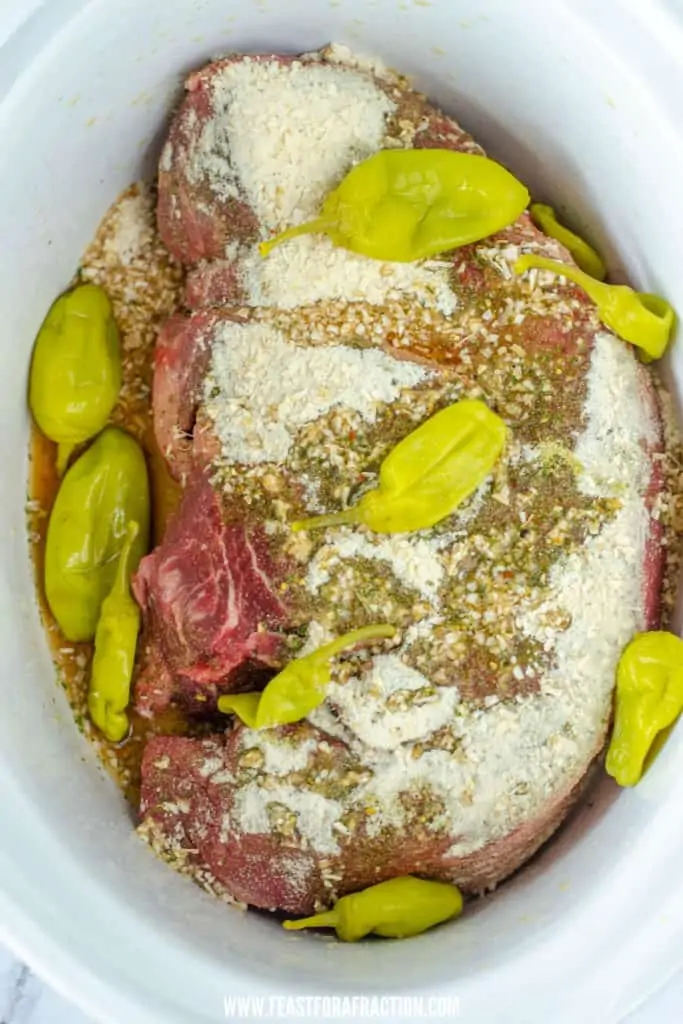 How to Make Crockpot Mississippi Roast
It really could not be easier. Simply toss everything in your slow cooker or Instant Pot. Cover and let it cook. For slow cooking, you'll cook on Low for 8 hours. This recipe really needs to be cooked on Low to ensure that the meat becomes really tender. I have found when cooking on High for 5-6 hours, the meat is still pretty tough.
For the Instant Pot, you'll cook on high pressure for 65 minutes, allowing the pressure to naturally release for 10 minutes.
Now, there is one step that you can absolutely do to make your pot roast even better. I'm usually going for super quick and don't want to dirty a pan, so I skip this pretty often. Before adding everything to your slow cooker, you can brown the chuck roast in a pan. Get a good sear on all sides (2ish minutes per side), and you'll develop an extra layer of flavor from the browned roast.
Once cooked, you'll shred the meat with two forks and you're ready to go! Serve your Mississippi Roast with this Parsnip Puree or this Corn Casserole or some Potatoes Dauphinoise (scalloped potatoes)!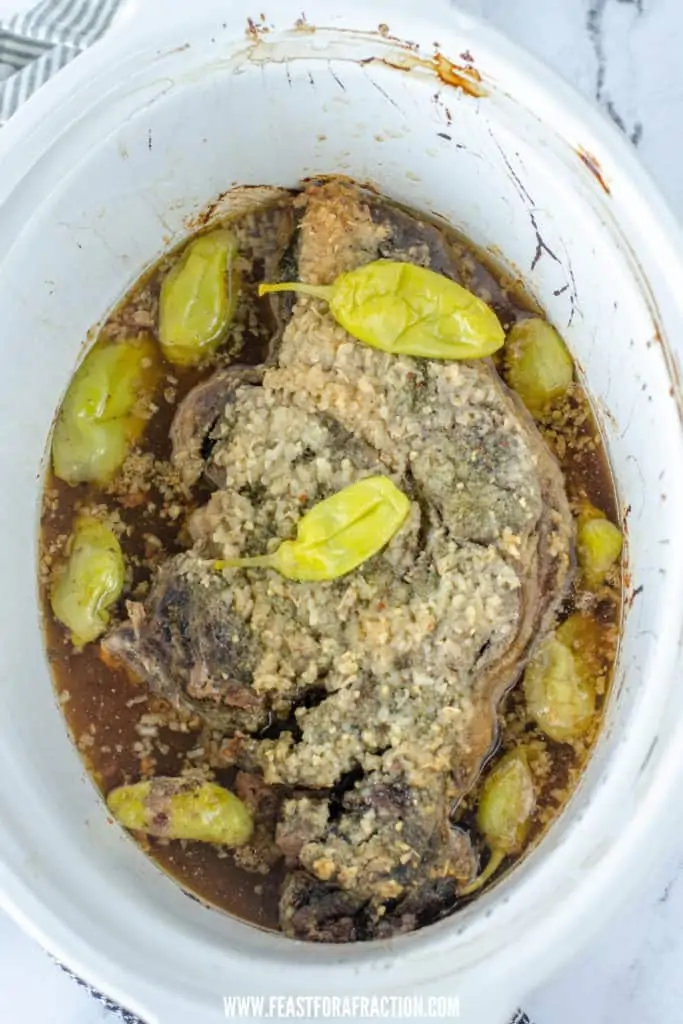 FAQs and Tips
What cut of meat is best for pot roast recipes?
My favorite cut is beef chuck roast. It is a tougher cut, but melts in your mouth when cooked low and slow in a crockpot. It also happens to be one of the most affordable cuts of beef. I've also made this recipe using pork shoulder or pork butt and it was fantastic.
What sides go well with Mississippi Pot Roast?
You certainly can't go wrong with mashed potatoes or mashed cauliflower and your favorite vegetable. A favorite in our house is Corn Casserole. The sweetness is the perfect complement to the roast and it soaks up that delicious sauce!
You can also make sandwiches using the beef roast. Use a hearty hoagie roll and top with provolone cheese.
Freezer Meal Prep
This recipe is perfect for freezer meal prep. Combine all of the ingredients in one of these 64 oz freezer containers or a gallon-size freezer bag and freezer. When ready to cook, thaw in your fridge overnight. (It's ok if it is still frozen when added to your slow cooker or Instant Pot.) Cook as directed.
How should I store leftovers?
Allow the roast to cool completely and package in an airtight container. Make sure to include the yummy sauce. This will keep in the fridge for up to 5 days or frozen for up to 2 months. To reheat, thaw in the fridge overnight and microwave uncovered until heated.
More Crockpot Dinner Recipes
Crockpot Mississippi Pot Roast Recipe
Yield: 6 servings
Crockpot Mississippi Pot Roast
Pepperoncini peppers, ranch seasoning and onion soup mix make the perfect sauce for this tender beef pot roast. The peppers and ranch add the perfect touch of tang to balance the rich beef. Serve with mashed potatoes or on hoagie rolls with provolone cheese.
Total Time
8 hours
5 minutes
Ingredients
3-4 lb Chuck Roast, excess fat trimmed
1/2 cup juice from pepperoncini peppers
1 (1 ounce) packet Onion soup mix
1/2 cup Beef stock (or water)
Instructions
Place Chuck Roast in your slow cooker. (Optional 1st step: Sear the chuck roast in a pan on medium-high heat for 2 minutes per side until all sides are browned. Then, add to your slow cooker.)
Add Peppers, Juice, Ranch seasoning, Onion soup mix and Beef stock or water.
Cover with lid and cook on Low for 8 hours.
Remove meat to a platter and shred with two forks. Return to slow cooker and stir to combine with sauce.
Notes
To cook in Instant Pot: Add all ingredients to Instant Pot. Seal and cook on High Pressure for 65 minutes. Allow pressure to release naturally for at least 10 minutes, then release remaining pressure. Shred the meat and return to the sauce.
Freezer Meal: For Freezer Meal prep, label a gallon-size freezer bag with slow cooker or Instant Pot cooking instructions. Place all ingredients in freezer bag. Seal, pressing to remove excess air from bag. Store in freezer up to three months. Thaw in fridge overnight when ready to cook.
Storing Leftovers: Cool completely and store in an airtight container in the fridge for up to 5 days. To reheat, microwave for 2-3 minutes until heated through or saute in a pan over medium heat until heated.
How to Serve: Serve as you would any pot roast, with mashed potatoes and a vegetable of your choice. Or try spooning the roast on a bun, top with provolone cheese and pop under the broiler just to melt the cheese.
Recommended Products
As an Amazon Associate and member of other affiliate programs, I earn from qualifying purchases.
Nutrition Information:
Yield:
6
Serving Size:
4 ounces Amount Per Serving:

Calories:

334

Total Fat:

12.7g

Cholesterol:

134.7mg

Sodium:

771.8mg

Carbohydrates:

6g

Sugar:

1g

Protein:

35g

By