If you are looking for some tasty comfort food, this recipe for Crock Pot Chicken and Stuffing is one you should try. Creamy chicken and veggies topped with flavorful stuffing will have everyone asking for seconds!
As an Amazon affiliate, I earn from qualifying purchases.
This Chicken and Stuffing recipe cooks up in the crock pot or slow cooker and is completely hands-off. No chopping required!
It is not only insanely budget-friendly, you can also prep and freeze for easy meal prep. This dish reminds me of Thanksgiving dinner but it is easy enough to make all year round in your slow cooker!
The key ingredients here are the cream of chicken soup and stuffing. They add flavor to your chicken and keep money in your wallet! There are different flavors of stuffing, too. This is a recipe you can make in a couple of different ways to get a whole new dinner!
Ingredients
Chicken Breast: You can also use chicken thighs in this recipe as well. I recommend choosing boneless thighs as it is much easier to serve and eat. Depending on the size of the chicken thighs you are using, 3-5 should be plenty of chicken.
Cream of Chicken Soup: The cream of chicken acts as a flavorful "gravy" for the chicken and vegetables. I also suggest swapping it out for cream of mushroom soup for a new flavor.
Chicken Broth: This is to add to the stuffing. I do not suggest using bouillon because it needs to be cooked in hot water. Chicken broth or stock is easier and faster without being more costly.
Frozen Vegetables: A small bag of frozen peas and carrots works perfectly for this chicken and stuffing recipe. If you want some more veggies, use mixed vegetables instead. There is no need to defrost them either. Just pour it right into the crockpot straight from the freezer.
Stuffing Mix: You can use turkey or chicken stuffing. I typically just use a box of Stovetop stuffing for this recipe. There are also cornbread and herb stuffing varieties with other brands which you can also substitute.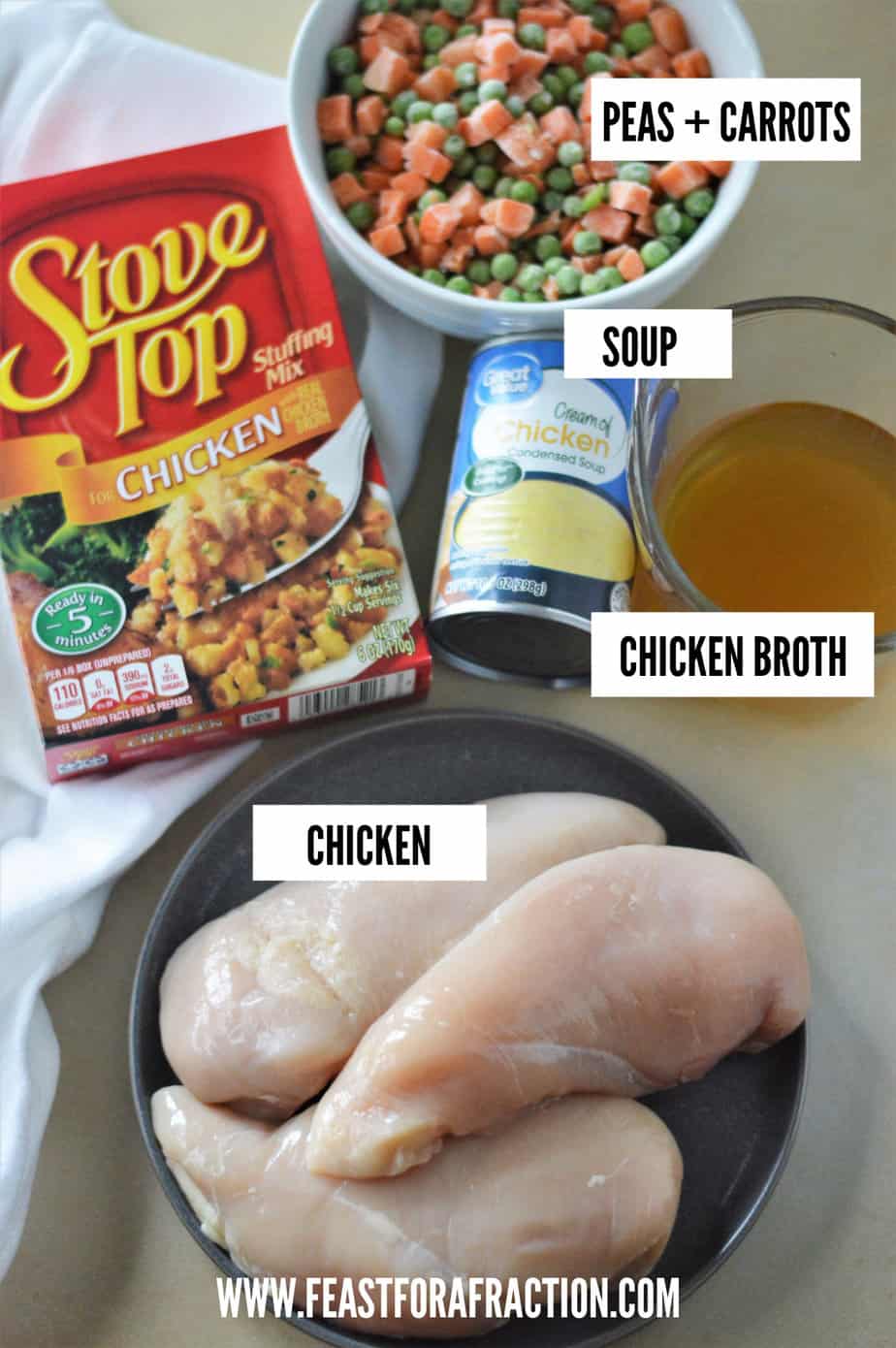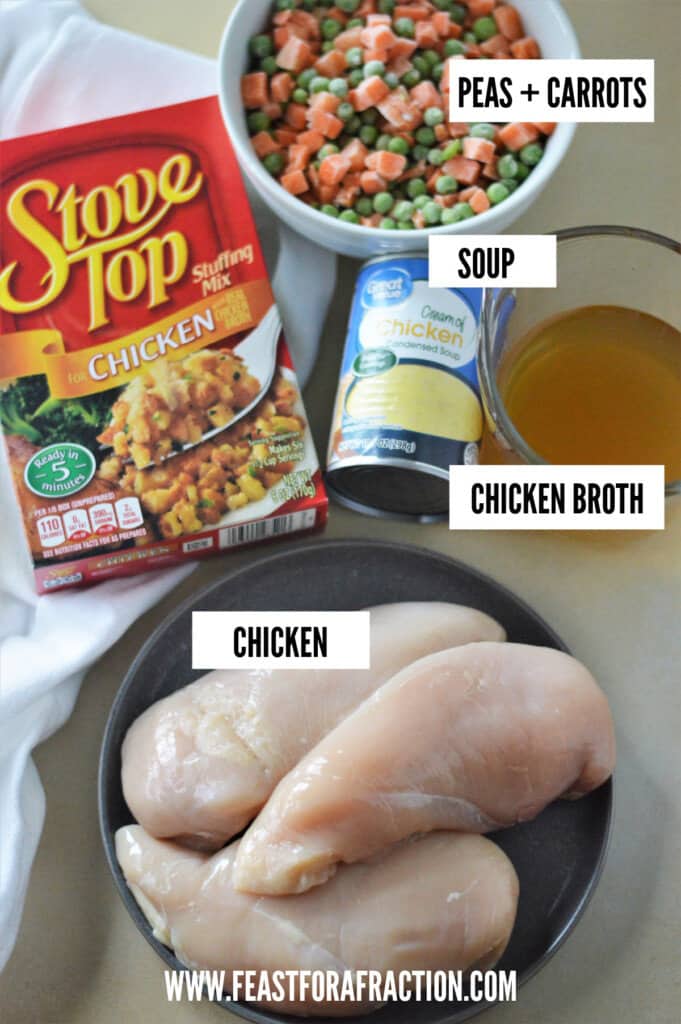 Equipment
Medium Mixing Bowl
Large Spoon
Measuring Cups
How to Make Crockpot Chicken Stuffing
First, place your chicken breasts in the bottom of the pot.
Then, pour in the cream of chicken soup and spread it evenly over the chicken.
Top the soup and chicken breasts with the frozen peas and carrots.
Next, you will prepare the stuffing. In a medium mixing bowl, combine chicken broth and the boxed stuffing. Let it sit for about 2-3 minutes so the broth soaks into the stuffing.
Once that is ready, spread it over the veggies in the Crockpot. Put the lid on it and cook on high for about 4 hours or low for 8 hours.
The chicken should be cooked through and nice and tender when it's done. Serve as is or with biscuits!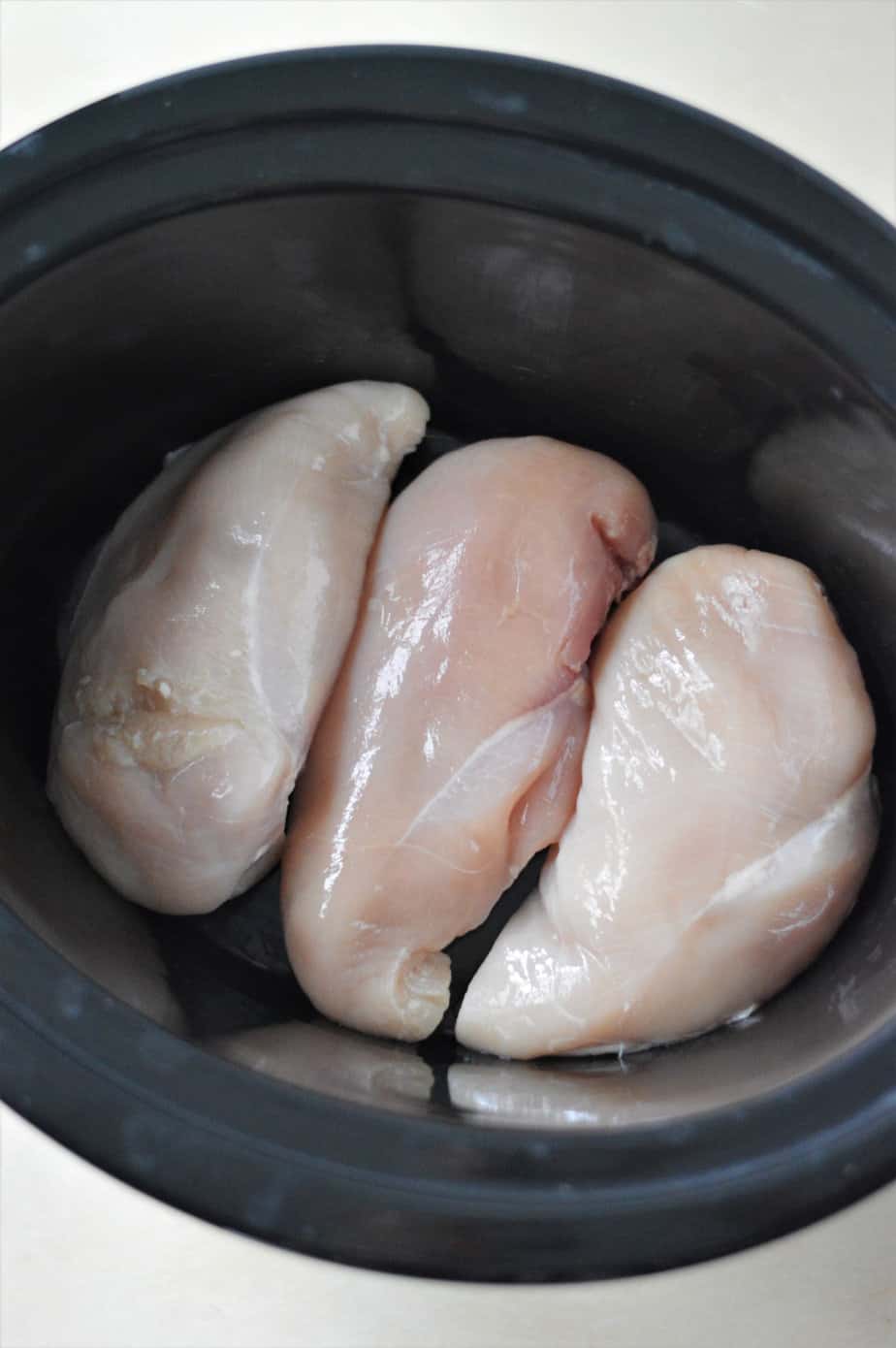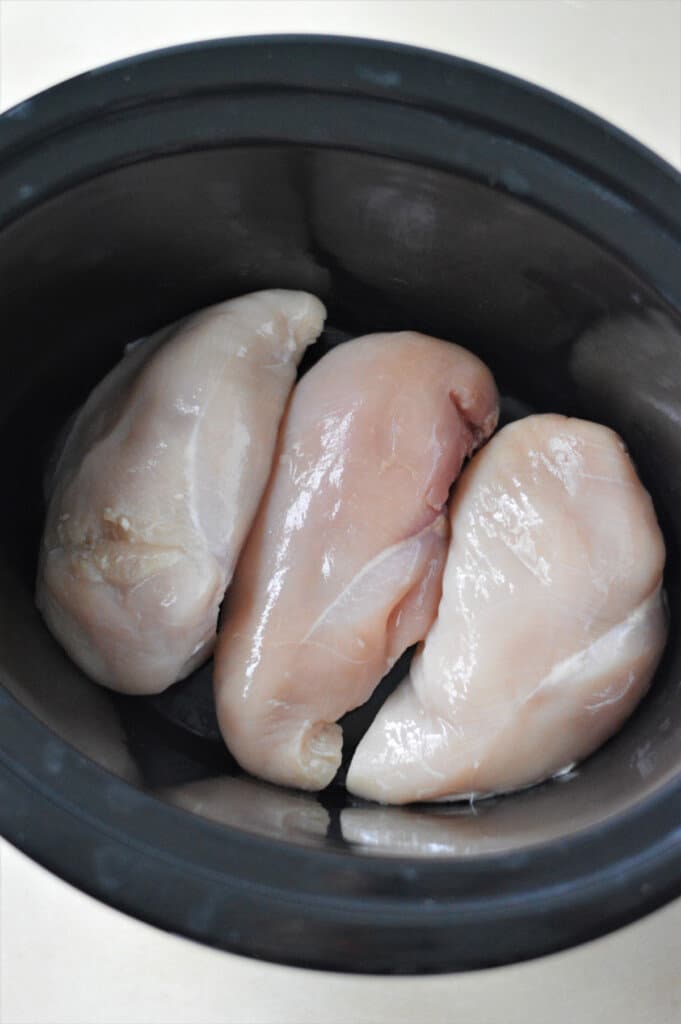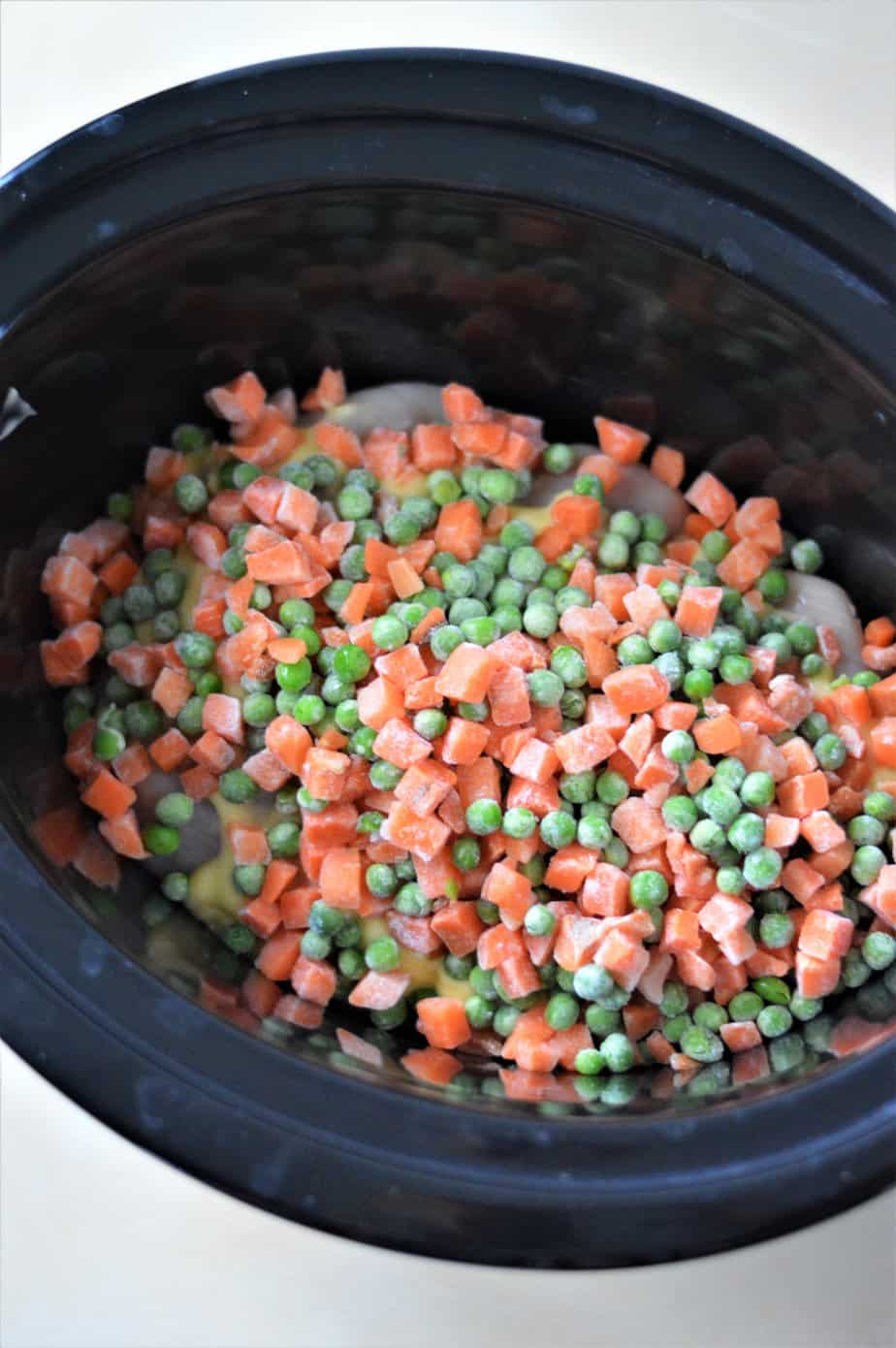 Frequently Asked Questions
How Do I Know When the Chicken is Cooked?
To safely consume poultry, it needs to be cooked to an internal temperature of at least 165 degrees F.
If you are unsure, cut into the chicken to make sure there is no pink, or check the temperature with a thermometer. This ThermoWorks Instant Read Thermometer is what I use in my kitchen. The nice part about cooking in the slow cooker or crock pot is that you can let it go on low for 8 hours and let it sit on warm until you get home!
Can I make this in the oven?
Yes! Follow the same preparation steps and instead, layer the ingredients in a greased 8×8 baking dish. Bake at 400 degrees Fahrenheit for about 30-40 minutes or until the chicken is thoroughly cooked and the stuffing is golden brown. Use a thermometer and check the chicken for doneness the same way if you are unsure if is thoroughly cooked.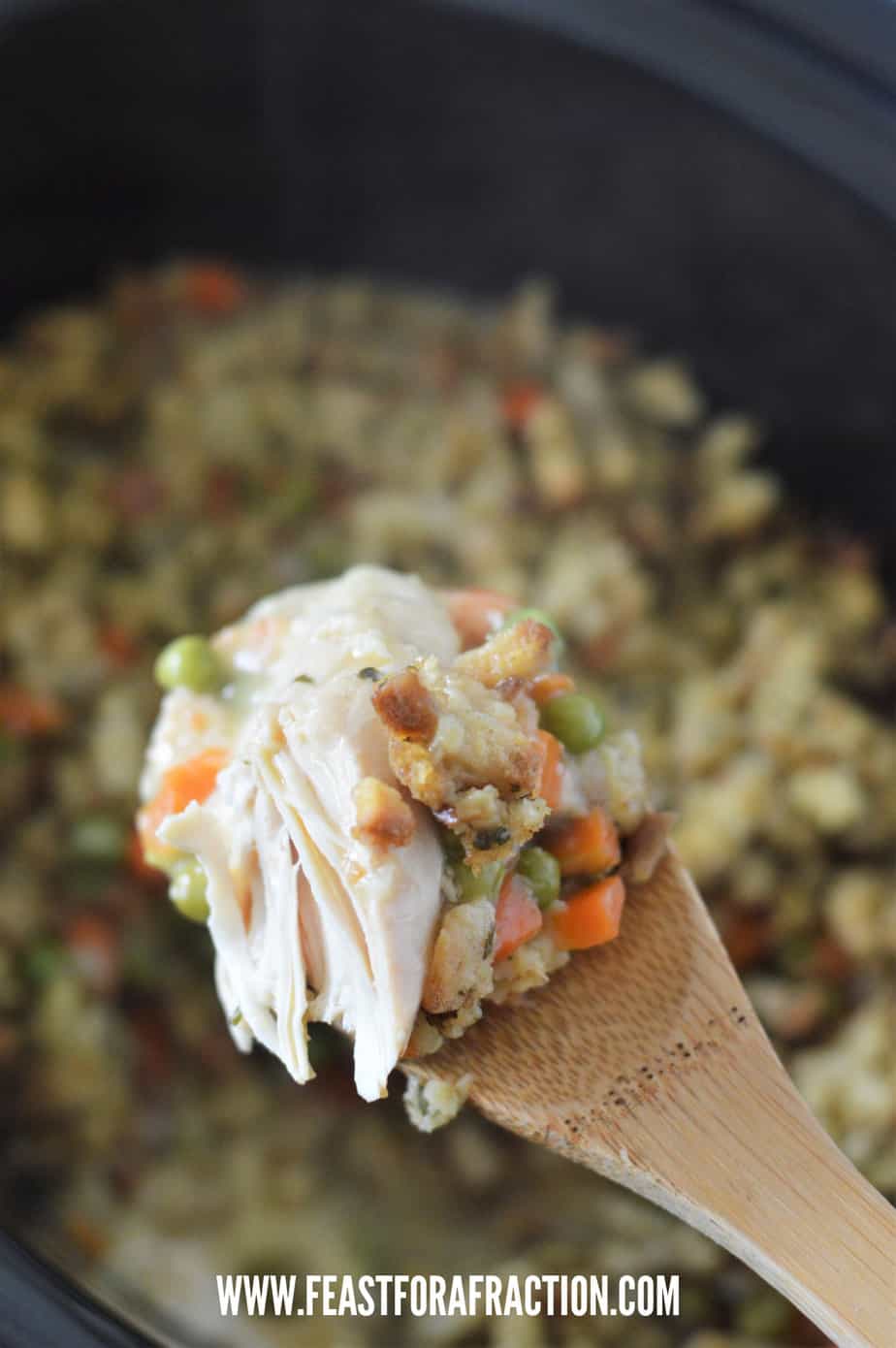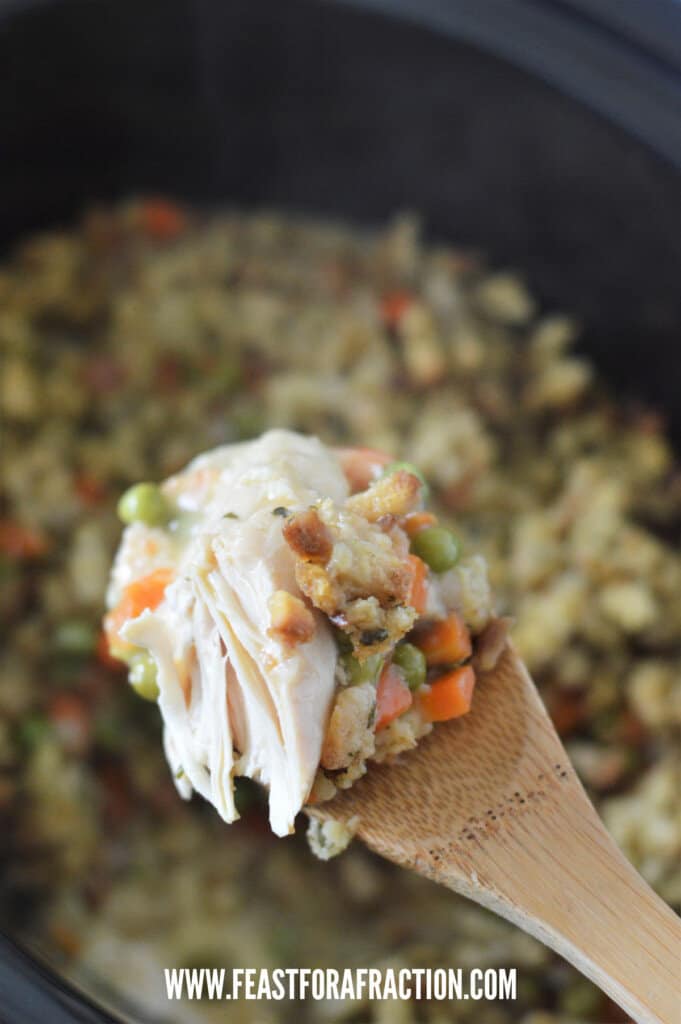 More Slow Cooker Dinner Recipes
Crock Pot Chicken and Stuffing Recipe
Yield: 6 Servings
Crock Pot Chicken and Stuffing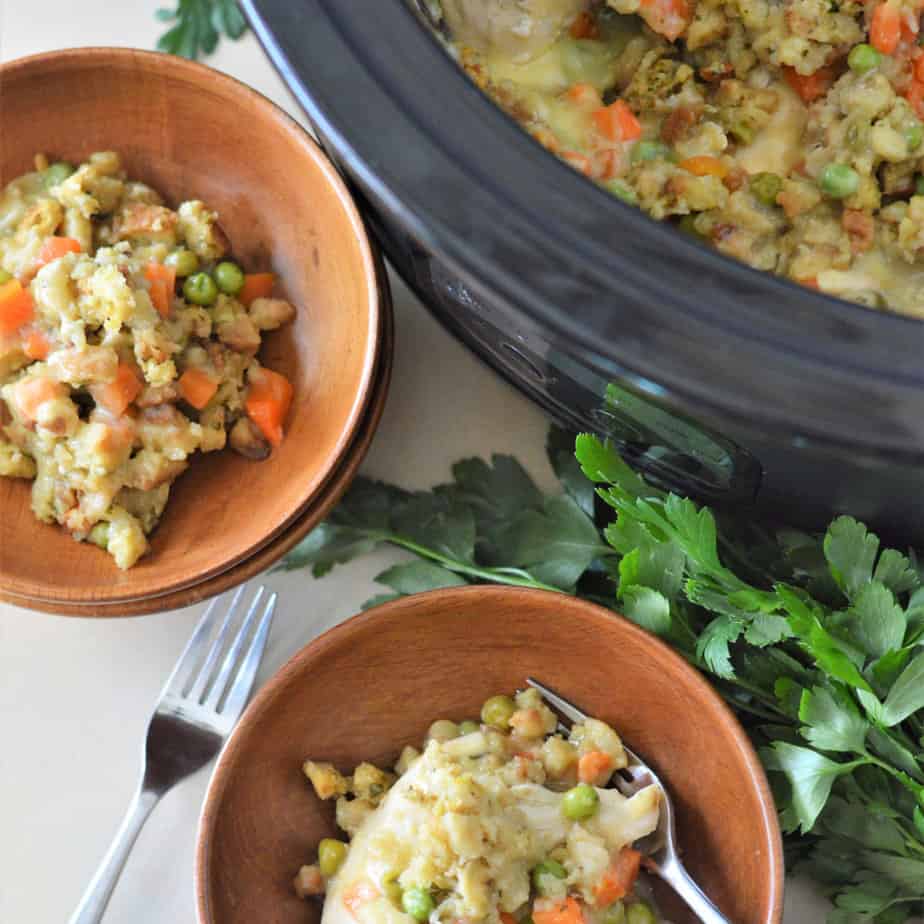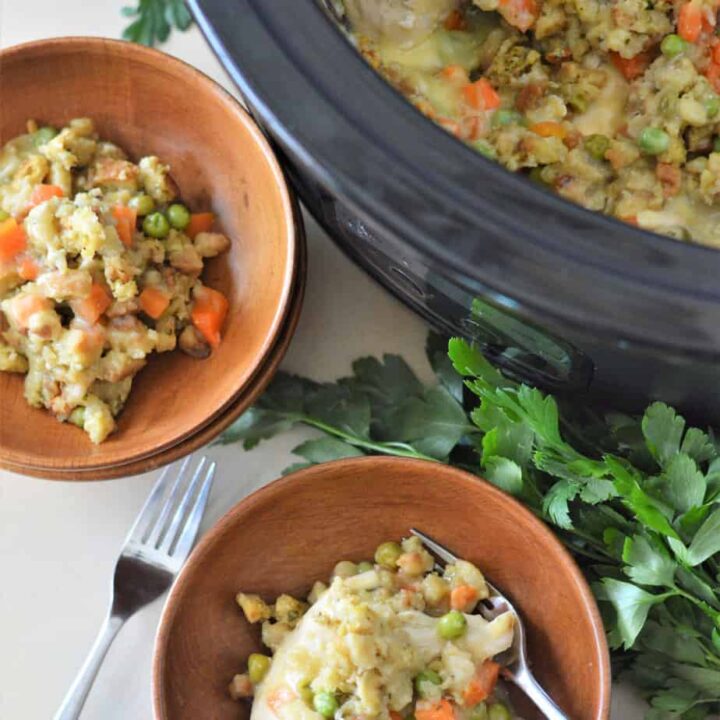 This Crockpot Chicken and Stuffing is a perfect dinner for busy weeknights. Toss everything in the crock pot and cook on high for 4 hours or low for 8 and you've got a complete dinner ready to go!
Total Time
4 hours
10 minutes
Ingredients
3 large chicken breast, about 2 pounds
1 (10 ounce) can cream of chicken
1 ¼ cup chicken broth
1 (12-16 ounce) package frozen peas & carrots
1 (6 ounce) box stuffing mix, any variety
Instructions
Place chicken breasts in your crock pot.
Spread the cream of chicken condensed soup over the chicken.
Top with frozen peas & carrots.
In a bowl, combine stuffing mix and chicken broth. Let sit for 2-3 minutes.
Pour the stuffing mix over the frozen vegetables.
Cook on High for 4 hours or Low for 8 hours.
Notes
Cook on high for 4 hours or low for 8 hours, or until the chicken reaches at least 165 degrees Fahrenheit. The best part about the crock pot is that it cooks low and slow and you wind up with tender meat that can cook all day.
Variations: Feel free to use other flavors of "cream of" soup - mushroom, celery, etc, and your favorite frozen vegetable mix. Peas and carrots can stand up to long cooking, and so can mixed vegetables.
Recommended Products
As an Amazon Associate and member of other affiliate programs, I earn from qualifying purchases.
Nutrition Information:
Yield:
6
Serving Size:
1 Amount Per Serving:

Calories:

360

Total Fat:

9g

Saturated Fat:

1g

Trans Fat:

0g

Unsaturated Fat:

3g

Cholesterol:

54mg

Sodium:

473mg

Carbohydrates:

12g

Fiber:

1g

Sugar:

1g

Protein:

20g

STAY IN TOUCH ON SOCIAL MEDIA – @ INSTAGRAM, @ FACEBOOK, @ PINTEREST
And don't forget to tag @feastforafraction if you try this recipe!

By