This easy Slow Cooker Pork Loin delivers tender, juicy pork every time and it's completely hands-off. Flavored with brown sugar and balsamic vinegar, you'll also get a luxurious sauce. Serve sliced for dinner and use your leftovers for sandwiches for quick stir-frys.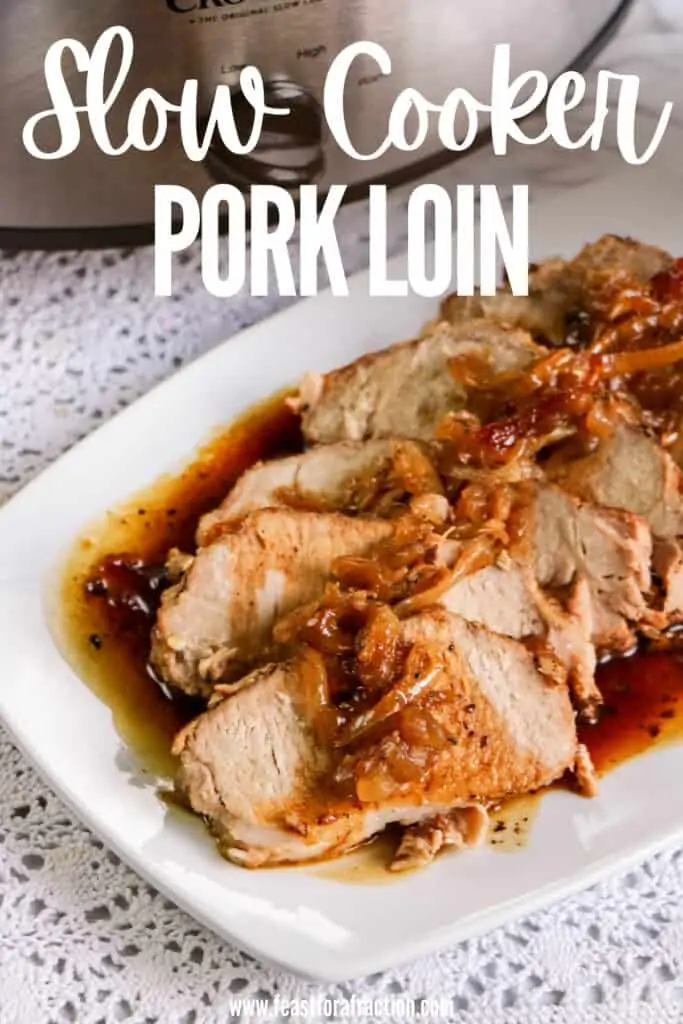 As an Amazon affiliate, I earn from qualifying purchases.
A slow cooker or Crockpot is your best friend when it's a struggle to get dinner on the table. Just throw in your ingredients in the morning, and you'll come home to a cooked dinner.
Slow cooking is one of my favorite ways to cook pork loin because pork loin is a very lean cut that can overcook and dry out very easily. Cooking is low and slow allows the loin to cook to temperature gently and gives you some wiggle room before it becomes overcooked.
Ingredients
Pork Loin: This recipe calls for a 3-4 pound pork loin. You'll want to remove the excess fat from the loin. Do this my piercing your knife into the fat and running your knife along the loin. You can also use a pork shoulder or pork butt for this recipe, but note that those cuts will need to cook for 9-10 hours on low rather than the 5-6 hours for pork loin.
Onions and Garlic: Both of these provide aromatics for our sauce, but the onions serve a second purpose. Sliced in rounds, these will go in the bottom of the slow cooker to keep the loin up off the bottom.
Brown Sugar: Brown sugar is going to add sweetness to our sauce and also almost caramelize on the top of our roast, creating a delicious glaze.
Balsamic Vinegar: Balsamic vinegar has a richer flavor than other vinegars. It provides balance to the sauce without being overly tart. If you don't have balsamic vinegar, you could use red wine vinegar or apple cider vinegar.
Soy Sauce: Everyone has heard of umami, but no one really knows what it is. It is a savory taste that really punches up meat dishes. Yes, soy sauce also provides salty flavor which we need in our sauce, but it also deepens the flavor of the whole dish. Feel free to use low-sodium soy sauce if you like.
Equipment
Slow Cooker (Crockpot)
Cutting Board
Knife
Large Skillet (I recommend cast iron)
Measuring cups
Measuring spoons
How to Serve
After allowing your pork loin to rest, it will slice and hold its shape easily. You can serve it like a traditional roast with potatoes and carrots, or add some variety with quartered apples. Feel free to include the potatoes, carrots, turnips or apples in the crock pot and everything will cook together for a complete meal.
Side dishes that go perfectly with pork include braised celery, roasted or mashed sweet potatoes, or even creamed corn casserole.
For your leftovers, you can store in a freezer bag for up to 3 months or in the fridge for up to 3 days. I love to dice up leftover pork loin and use it in stir-frys. Swap the ham in this recipe for pork and you'll have a treat.
FAQs and Tips
What's the difference between Pork Loin and Tenderloin? Both cuts are very lean and run along the back of the pig. Loin is larger in diameter and usually comes with a thin layer of fat. The tenderloin is much smaller and is more tender. It is best for the tenderloin to be cooked on high heat very quickly.
Why cook Pork Loin in the slow cooker? Cooking in the slow cooker allows the meat to cook more gently on a lower temperature. This helps keep the roast from overcooking and keeps the juices in the roast, making it tender and juicy.
How do I know when my Pork Loin is done cooking? A digital thermometer is your best friend in the kitchen. It is so helpful for checking roasts without having to slice into them, and you can use it to check the temperature of steaks and even bread to ensure that they are cooked to exactly the temp you like. For pork, you want to cook to an internal temperature of 145 degrees Fahrenheit. This is my favorite digital thermometer for its accuracy and quick reading.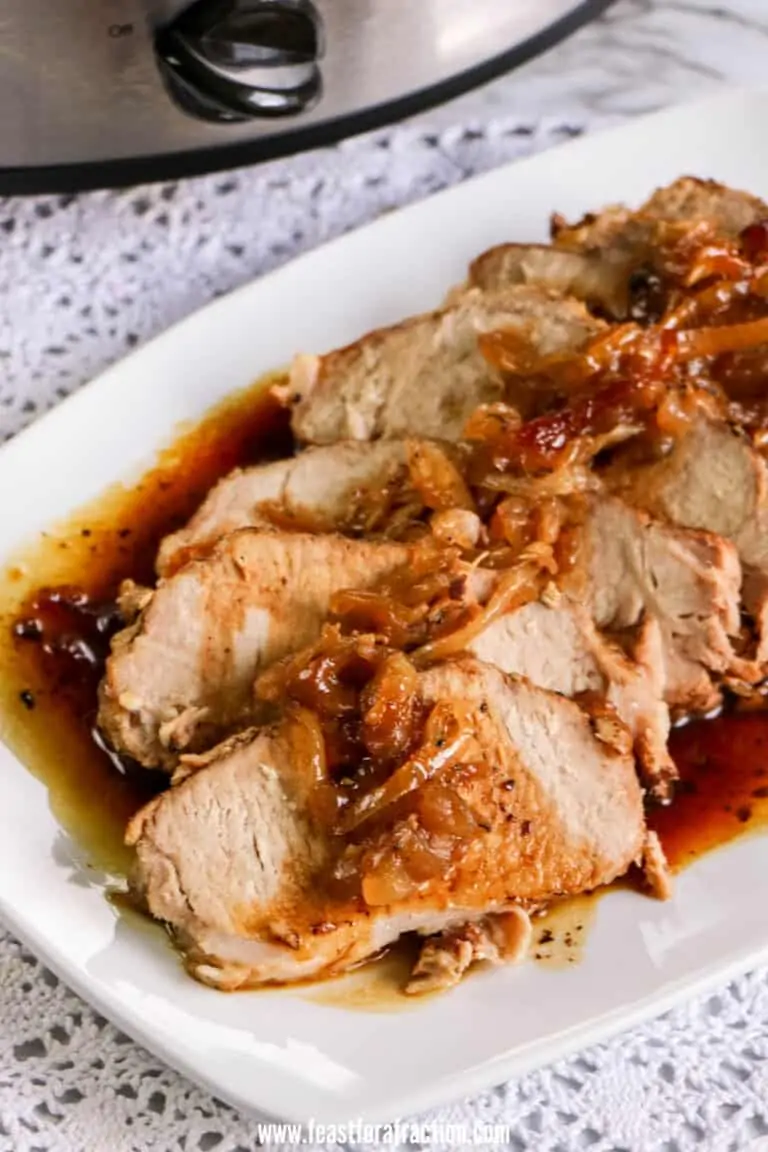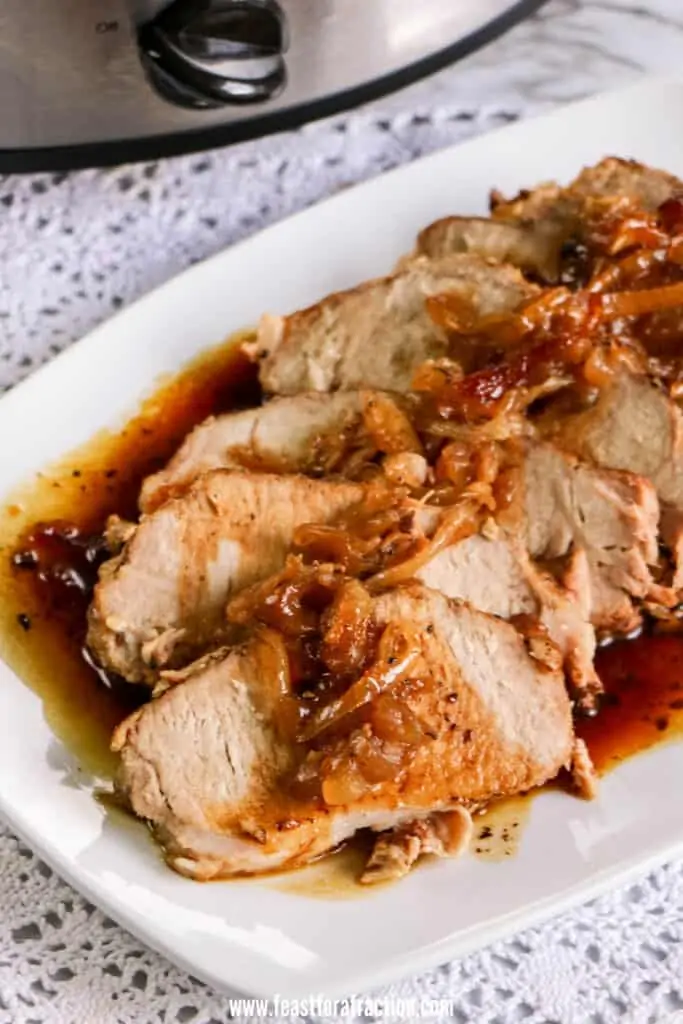 More Easy Slow Cooker Recipes
Easy Slow Cooker Pork Loin Recipe
Yield: 6-8 servings
Easy Slow Cooker Pork Loin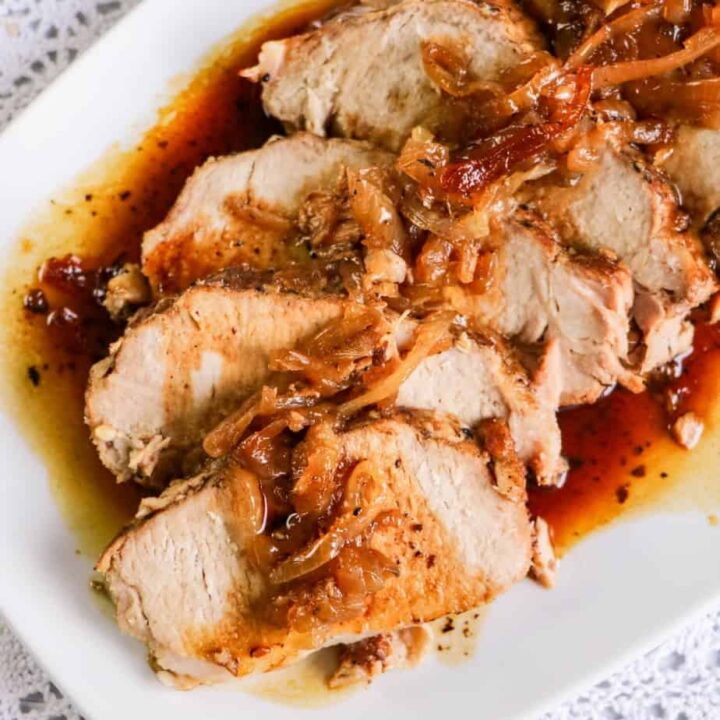 Slow Cooker Pork Loin delivers tender, juicy pork every time and it's completely hands-off. Flavored with brown sugar and balsamic vinegar, we also get a luxurious sauce.
Additional Time
10 minutes
Total Time
6 hours
20 minutes
Ingredients
1 Tablespoon oil
1 (3-4 lb) pork loin, excess fat removed
salt and pepper
1 large onion, sliced in thin rounds
4 cloves garlic, chopped
1/2 cup brown sugar, lightly packed
1/2 cup water
1/2 cup balsamic vinegar
2 Tablespoons soy sauce
Instructions
Season all sides of pork loin roast generously with salt and pepper.
Place cut onions in the bottom of your slow cooker.
Heat a large skillet over medium-high heat. Add oil and sear pork loin on all sides until golden brown, 2 minutes per side. Remove from pan and place on top of onions in slow cooker.
Turn off the heat on your skillet and add garlic, water, balsamic vinegar and soy sauce. Stir together ingredients, making sure to scrape up any brown bits that stuck to the pan.
Sprinkle brown sugar on top of pork loin and then pour sauce mixture over the pork.
Cover and cook on Low for 5-6 hours, or until the internal temperature is 145 degrees Fahrenheit.
Once cooked, remove pork loin to a plate and cover with foil. Allow to rest for 10 minutes.
While pork is resting, pour the sauce and juices from the slow cooker into a saucepan. Bring to a simmer over medium heat and allow the sauce to thicken, 5-6 minutes. Stir occasionally.
Notes
The pork loin is done cooking when the internal temperature reaches 145 degrees Fahrenheit. Since it is a lean cut, it will not fall apart and you will be able to slice it.
This recipe also works with pork shoulder. Cook 3-4 lb pork shoulder on Low for 9-10 hours. It will be fall-apart tender.
Leftovers will keep in the fridge for up to 3 days or frozen for up to 3 months.
**Please note: Different models of slow cooker or crock pot heat differently, so please
Recommended Products
As an Amazon Associate and member of other affiliate programs, I earn from qualifying purchases.
Nutrition Information:
Yield:
6
Serving Size:
1 Amount Per Serving:

Calories:

240

Total Fat:

8g

Saturated Fat:

0g

Trans Fat:

0g

Unsaturated Fat:

2g

Cholesterol:

0mg

Sodium:

352mg

Carbohydrates:

12g

Fiber:

0g

Sugar:

8g

Protein:

33g

By