Rice is not only a super frugal pantry ingredient to keep stocked, it's naturally gluten free and really filling. By cooking rice in the Instant Pot, we cut the cooking time in at least half and don't have to heat up the house by turning on the stove. These Instant Pot Rice Recipes are sure to save you time in the kitchen and save on your grocery budget!
As an Amazon Affiliate, I earn from qualifying purchases.
My first attempt at cooking rice in my Instant Pot, or electric pressure cooker, was brown rice. Traditionally, brown rice takes at least 45 minutes to cook on the stove. And I never plan ahead, so you see the problem.
But the pressure cooking for the Instant Pot cuts the cook time down to 22 minutes! That's a game changer for anyone who is struggling to get dinner on the table quickly.
Imagine, throw your rice in the Instant Pot, vegetables in the microwave and saute up some chicken and you've got a balanced, budget-friendly, homemade dinner on the table in less than 30 minutes. And the best part is the rice cooking is completely hand off.
I've rounded up 25 of the best Instant Pot Rice recipes from basic Brown Rice to dishes such as Risotto or Cheesy Chicken and Rice Casserole.
Helpful Tips and Tools
All cook times referenced in this list are for a 6 quart Instant Pot
Make sure to rinse your rice 2-3 times or until the water runs clear. I like to do this in a strainer and then add it straight to the Instant Pot. Rinsing the excess starch helps prevents the rice from sticking together.
Follow the appropriate ratio for your rice and you can easily double or triple the recipe. (Check out my free cheat sheet below!)
Make sure to do the full 10 minute Natural Pressure release. You may think the rice will be overcooked and mushy, but it won't be. After 10 minutes, release the remaining pressure and fluff the rice with a rubber scraper/spatula to release any excess steam.
You can cook and freeze your rice for easy meal prep. Spread your cooked rice on a sheet pan in a single layer and freeze. Then break up the rice and place in a gallon-size freezer bag. It will keep in the freezer for up to 2 months.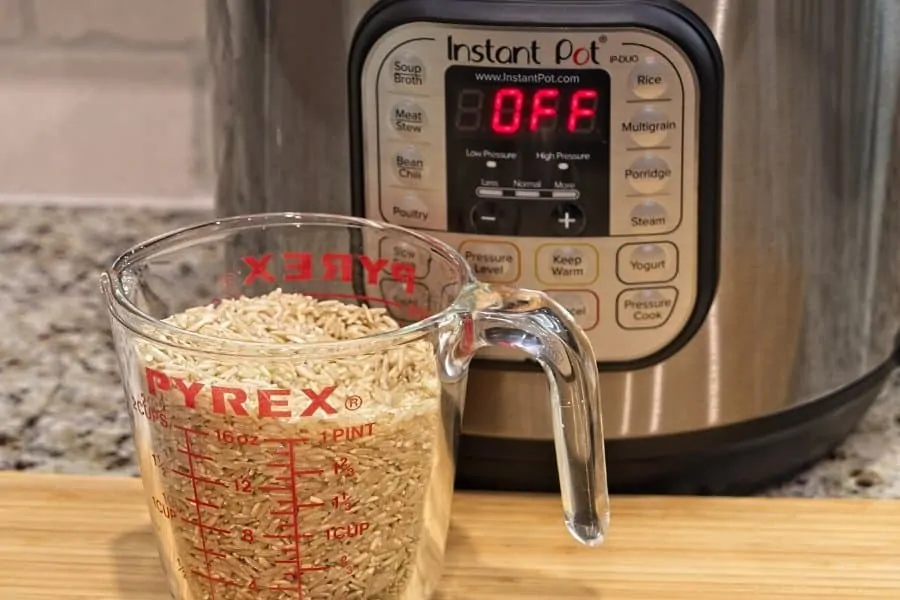 Free Printable Instant Pot Rice Cooking Times Cheat Sheet
To help save you even more time when cooking rice in your Instant Pot, I've put together a little cheat sheet. The cooking time cheat sheet is based on ratios, so you can easily double or triple the recipe with no change to the cook time.
Don't attempt to cook more than 3 cups of rice in a 6 quart Instant Pot. A triple back is the most that it can handle. Make sure to grab your free printable below!
More Instant Pot Recipes
25 Easy Instant Pot Rice Recipes
Instant Pot Rice Recipes
Cooking rice and rice dishes in your Instant Pot not only saves you time, it is one pot clean up. Pressure cooking allows you to cook rice in a fraction of the time it would take to cook on the stove or in the oven. Better yet, you can batch cook and freeze your rice for easy meal prep or freezer meals!

By