Sheet pan dinners are a life-saver for easy cooking and quick clean up. This Sheet Pan Chicken Drumsticks and Roasted Vegetables dinner is on the table in 30 minutes! And the best part? This entire meal costs less than $5. That's $1.25 per serving!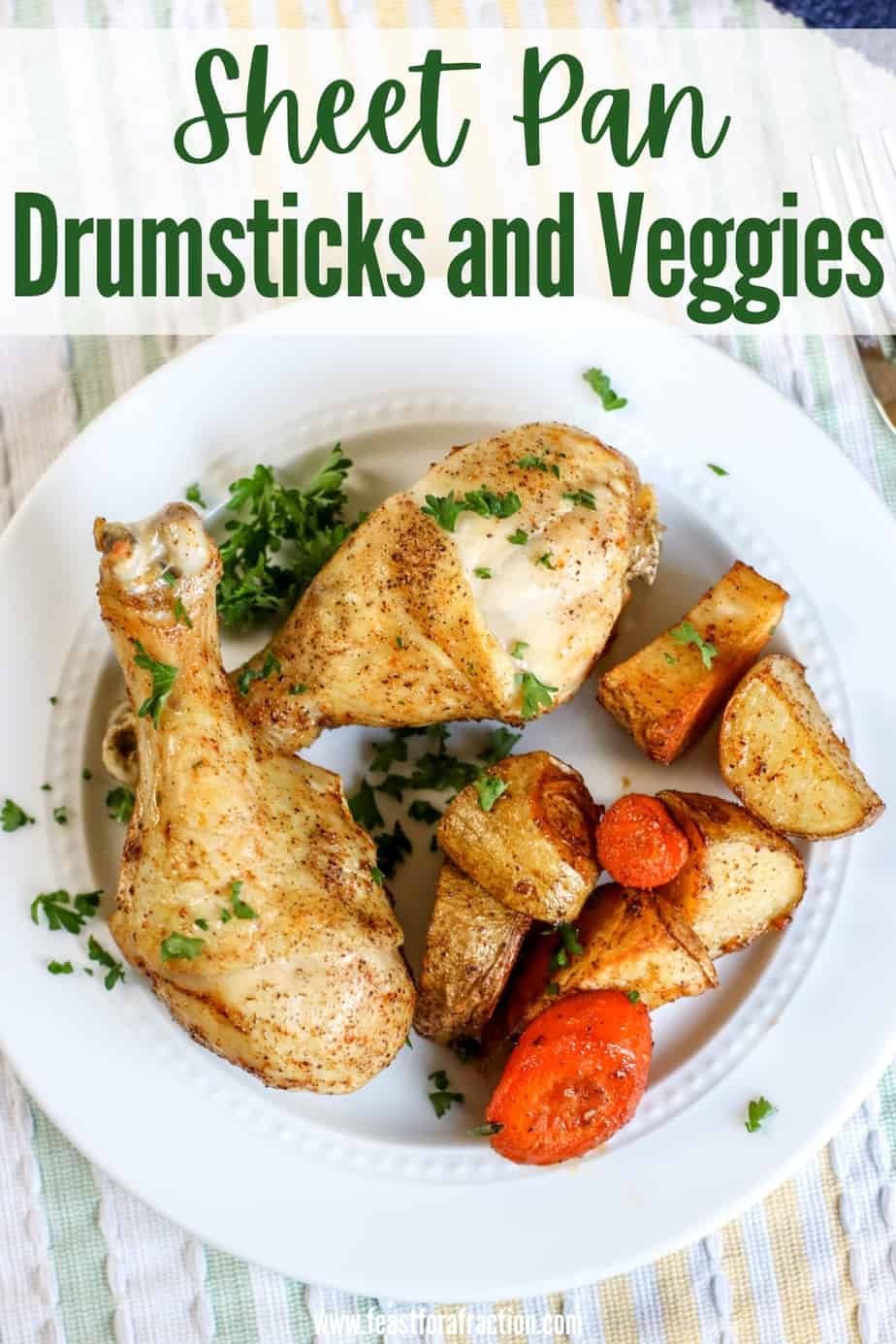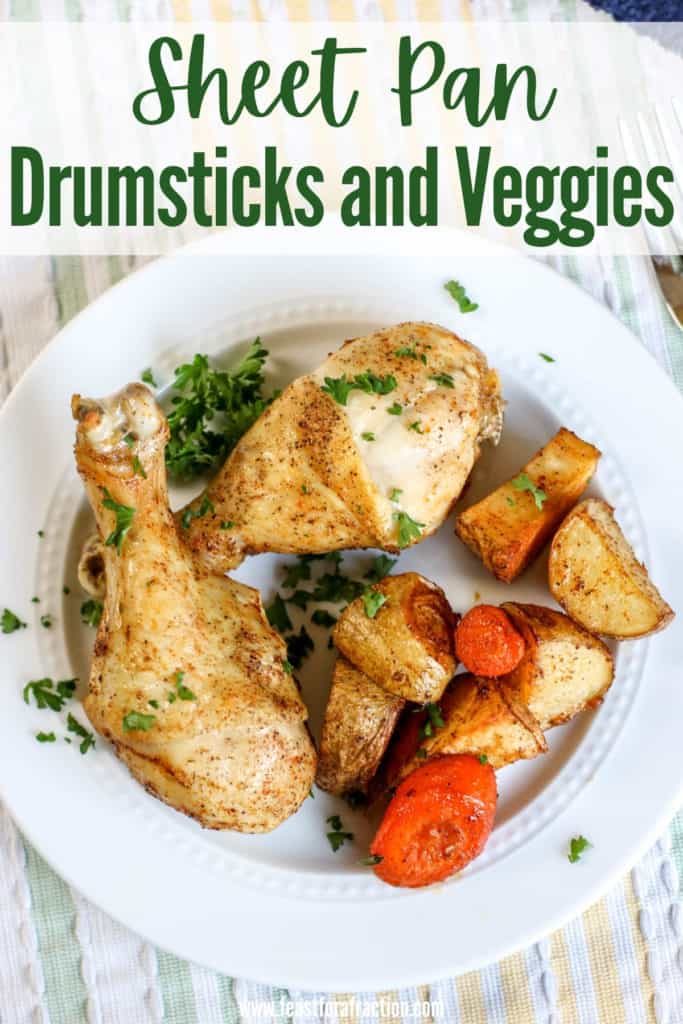 As an Amazon affiliate, I earn from qualifying purchases.
Ingredients
Chicken Drumsticks: Drumsticks are one of my favorite proteins because they are so dang affordable. Depending on your location, you can regularly find drumsticks (also known as chicken legs) for $.99/lb.
Potatoes: Another frugal ingredient, you can use whatever potatoes you like. Your standard Russet potatoes will be the most budget-friendly, but Yukon gold or Red potatoes are delicious and you don't even have to peel them. Just make sure to give your potatoes a good scrub and you can cut them up peel and all.
Carrots: Whole carrots are your best option when it comes to price. You can easily get whole carrots for $.50/lb. To save time, though, feel free to use baby carrots. They are already peeled and washed and you don't even have to cut them.
Olive Oil: Use whatever oil you have on hand: vegetable, canola, avocado will all work perfectly. I do not recommend using butter.
Spices: This is where you can take some liberties. I use thyme, paprika, garlic powder, onion powder, salt and pepper in this recipe. If you don't have thyme, feel free to use rosemary or an Italian seasoning blend or leave out. Don't skimp on the salt. We're seasoning a lot of chicken and vegetables that will soak it all up.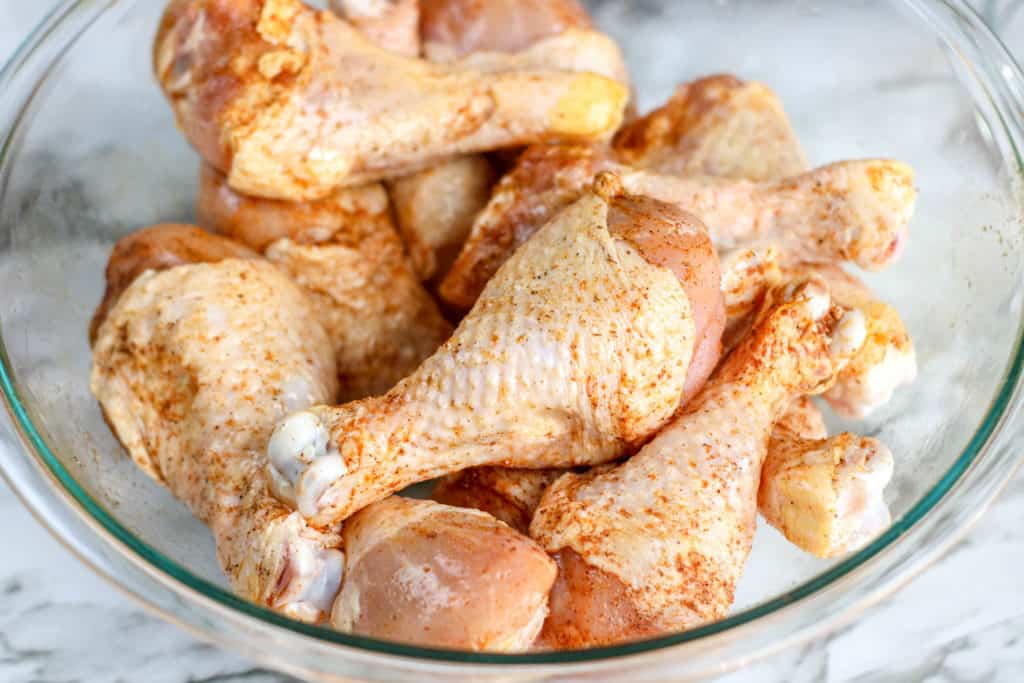 Equipment
Parchment paper or Aluminum foil
Cutting Board
Knife
Large Bowl
Small Bowl
Measuring Spoons
Tongs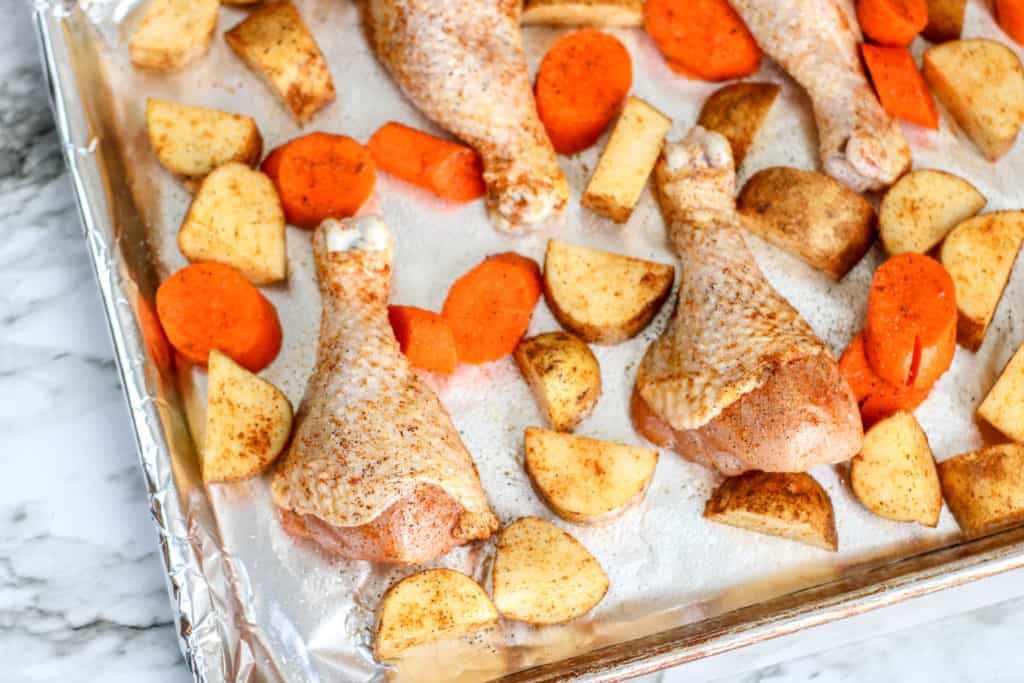 Variations
Instead of chicken drumsticks, you can use boneless, skinless chicken thighs or breasts with no change to the cooking time. If you are using bone-in chicken thighs, cook the thighs by themselves for 20 minutes before adding the vegetables. Then, cook for 25-30 more minutes. You're still looking for an internal temperature of 165 degrees for the chicken.
I love to change up the vegetables in this recipe, too. Sweet potatoes and Brussels sprouts are great, or add sliced onions to the pan. Fresh green beans would be great, too.
The beauty of a simple sheet pan dinner is the possibilities. You can use different meats and vegetables that have similar cooking times and you've got a perfectly cooked dinner done all at the same time. No more waiting on the chicken to finish while the sides are getting cold!
Helpful Cooking Tips
Make sure not to crowd the pan. We want our sheet pan chicken drumsticks and vegetables to roast and get beautiful color. If the pan is filled too much, the food will steam rather than roast.
A meat thermometer really is your best friend. It takes all the guesswork out of if your meat is cook fully or not. This digital thermometer from ThermoWorks is my absolute favorite. It also works great for candy making or bringing fry oil up to temp.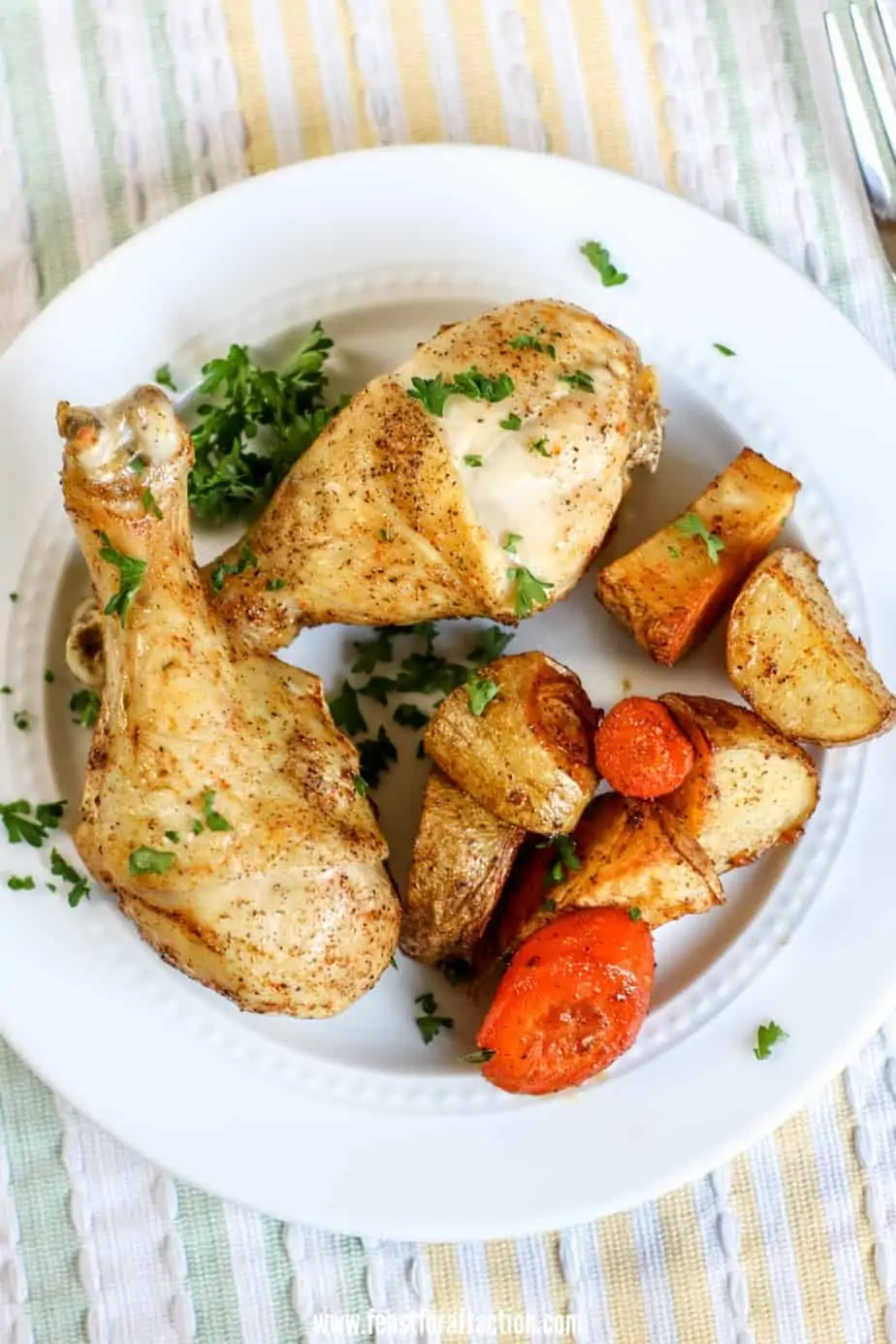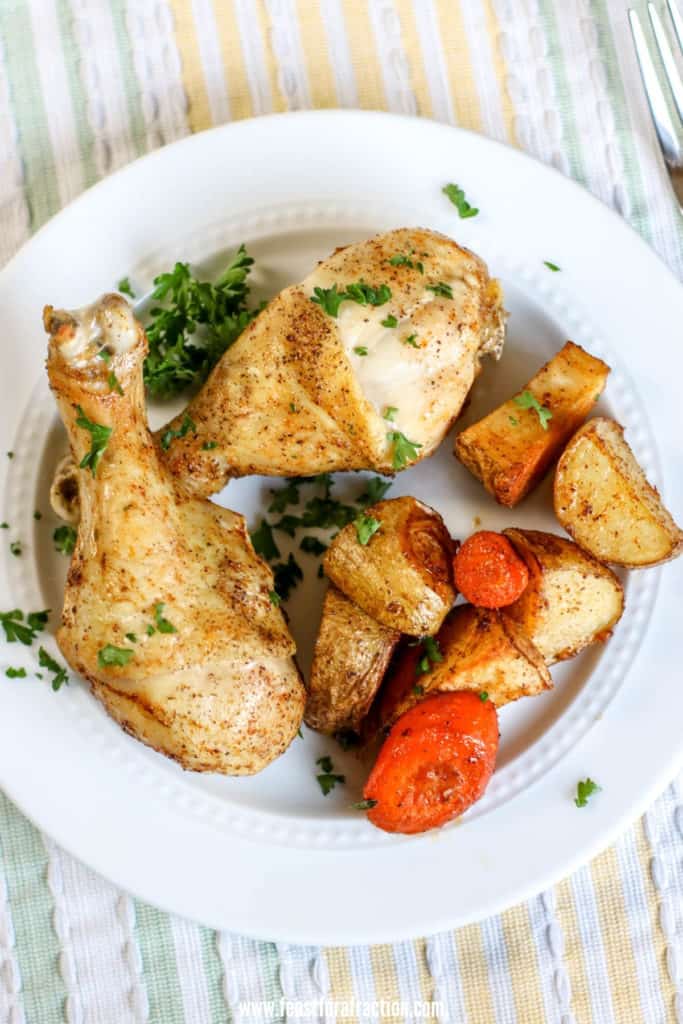 More Sheet Pan Dinner Recipes
Yield: 4 servings
Sheet Pan Chicken Drumsticks and Vegetables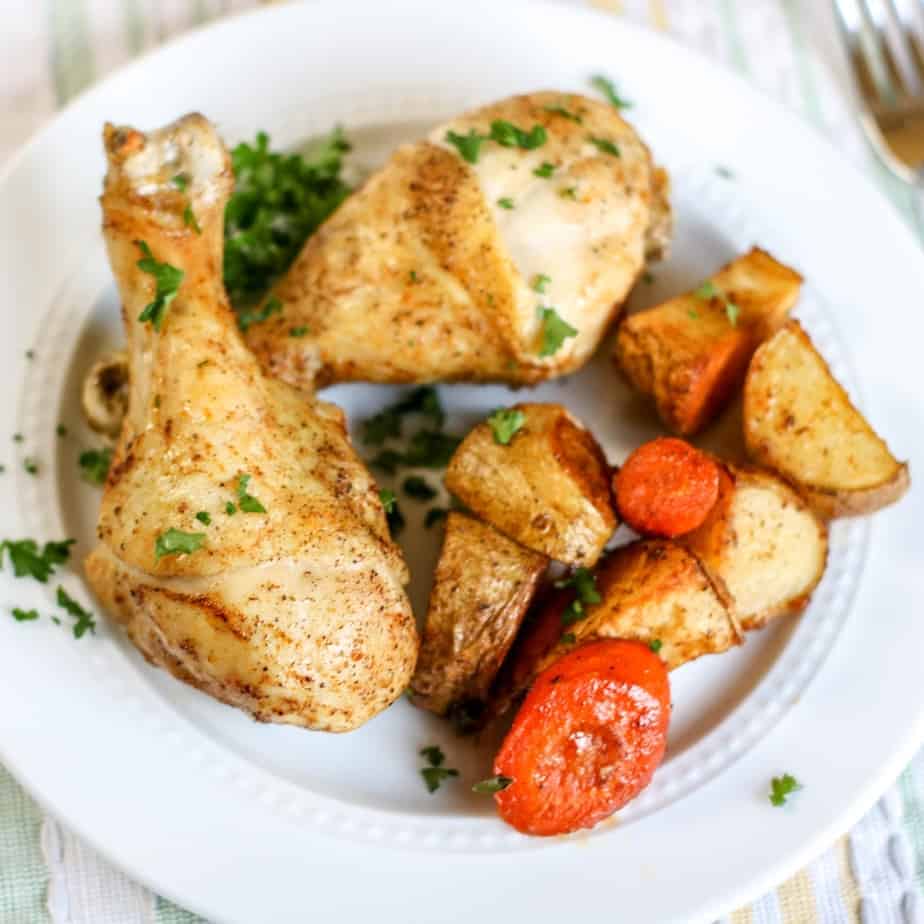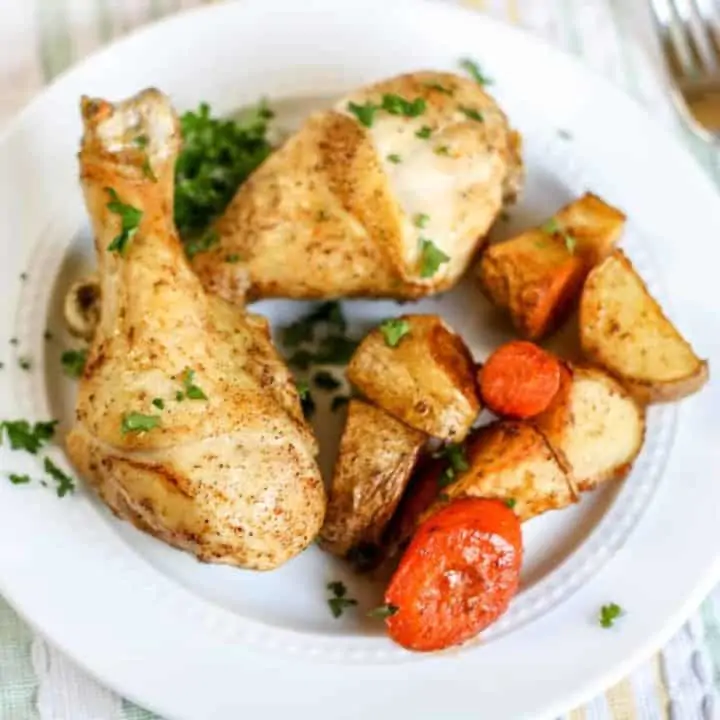 Sheet Pan Chicken and Vegetables is a breeze to bake up and it's on the table in 30 minutes and easy clean up!
Ingredients
6-8 chicken drumsticks
1 pound potatoes, cleaned and cut into 1 inch pieces
1 pound carrots, peeled and cut into 1 inch pieces
1 1/2 teaspoons smoked paprika
1 teaspoon garlic powder
1/2 teaspoon onion powder
1 teaspoon dried thyme
2 teaspoons salt
1 teaspoon black pepper
5 Tablespoons olive oil
Instructions
Preheat oven to 400 degrees Fahrenheit.
Line a large baking sheet with parchment or aluminum foil.
Combine chicken, carrots and potatoes in a large bowl. Add olive oil to bowl. Toss the chicken and vegetables to coat in oil.
Combine paprika, garlic powder, onion powder, thyme, salt and pepper in a small bowl and stir to combine.
Sprinkle spice mixture on chicken and vegetables. Use gloves or tongs to stir mixture until spices are evenly coated on chicken and vegetables.
Pour onto sheet pan and spread until a single layer.
Bake for 25-30 minutes until potatoes and carrots are tender and golden and chicken reaches an internal temperature of 165 degrees Fahrenheit.
Notes
This recipe is perfect for meal prep. Portion cooked chicken and vegetables into airtight containers and they can store in the fridge for up to 5 days. Reheat in the microwave for 2-3 minutes, or until heated through.
Feel free to use any variety of potatoes and get creative with the vegetables. Brussels sprouts sliced in half or onion cut into wedges would be delicious.
This recipe also works with boneless, skinless chicken thighs or boneless, skinless chicken breast with no change to the cooking time. It is important to cook chicken to an internal temperature of at least 165 degrees Fahrenheit. Use a digital thermometer or meat thermometer for accuracy.
Recommended Products
As an Amazon Associate and member of other affiliate programs, I earn from qualifying purchases.
Nutrition Information:
Yield:
4
Serving Size:
1 Amount Per Serving:

Calories:

637

Total Fat:

34g

Saturated Fat:

7g

Trans Fat:

0g

Unsaturated Fat:

24g

Cholesterol:

231mg

Sodium:

1315mg

Carbohydrates:

35g

Fiber:

7g

Sugar:

5g

Protein:

48g

By