Baked Chicken Leg Quarters are a fantastic, affordable cut of meat that is so easy to make. Baking keeps the chicken juicy on the inside with mouthwatering crispy skin.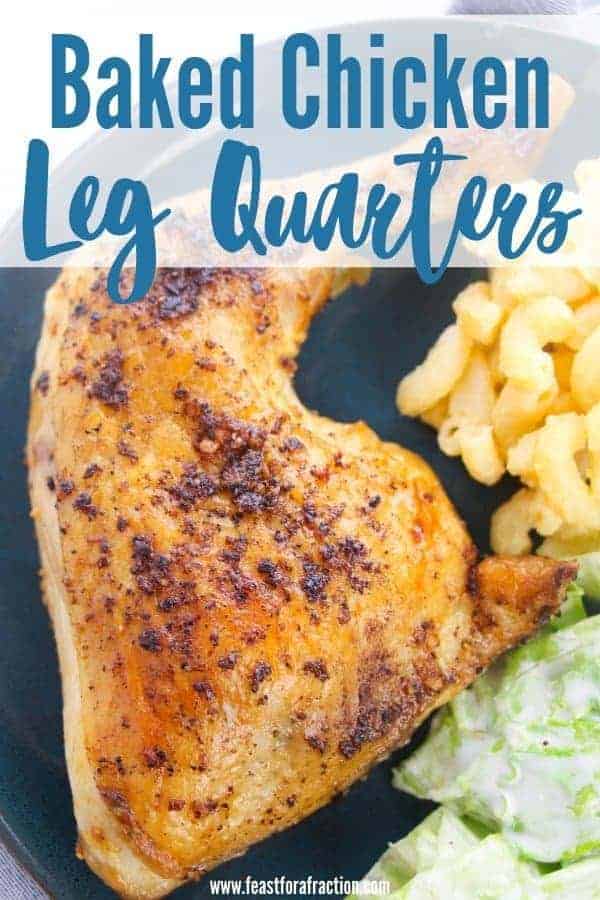 As an Amazon affiliate, I earn from qualifying purchases.
Leg quarters are one of THE MOST affordable cuts of meat that you can buy. And since they are dark meat, they stay really juicy and flavorful. Baking them on a baking rack also allows the skin to get nice and crispy.
What are Leg Quarters?
Chicken Leg Quarters are the bone-in section of chicken consisting of the thigh and drumstick.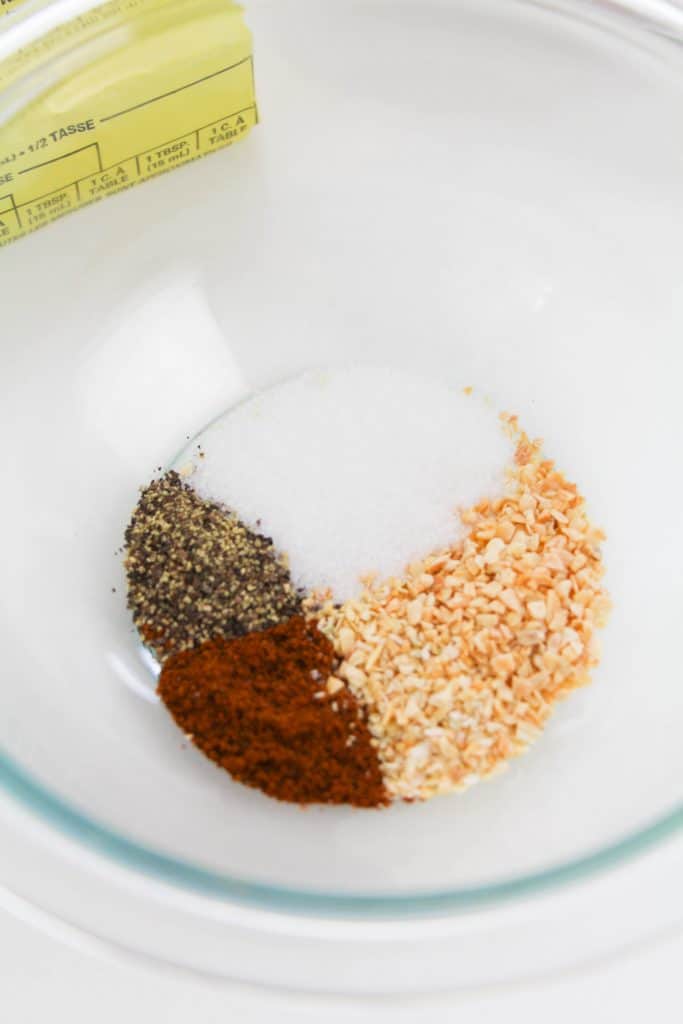 Ingredients
Chicken Leg Quarter: Feel free to use fresh or thawed frozen leg quarters. I find that the 10 pound bags of frozen leg quarters are the cheapest option working out to about $.50 per pound!
You can absolutely use bone-in chicken thighs, drumsticks or even breasts. Just make sure to use a meat thermometer to make sure that you cook dark meat (thighs and drumsticks) to 175 degrees Fahrenheit and white meat (breasts) to 165 degrees Fahrenheit. To accurately take the temperature, make sure that the thermometer is inserted into the thickest part of the meat and only to the middle. Take care to make sure the thermometer is not touching the bone.
Butter (or Oil): Use whatever you have on hand. Use any kind of softened butter or neutral oil, such as canola or vegetable oil.
Spices: For this recipe, you'll need salt, pepper, dried minced garlic or garlic powder, dried minced onion or onion powder, ground chili powder and cayenne (optional). For salt, I recommend using kosher salt. If you only have table salt, cut the measurement to 1 1/2 teaspoons.
If you have any interest in making your own garlic and onion powder, Darcy of The Purposeful Pantry a recipe and super helpful tips.
Equipment
Aluminum Foil (optional)
Small Bowl
How to Serve Baked Leg Quarters
Chicken leg quarters can be served whole or separate the thigh and drumstick for smaller portions. To cut, turn the leg quarter over and cut along the white line that separates the thigh from the drumstick. This is the joint and will cut cleanly.
Another option is to cut all the chicken off the bones and dice or shred the chicken for use in other dishes. The cooked meat is perfect for soups like Chicken and Dumplings, Chicken Pot Pie or this super tasty Curry Chicken Salad with Raisins.
I like to bake the leg quarters in large batches and freeze the chicken for quick meal prep. You can wrap the whole chicken in a double layer of plastic wrap or remove the chicken from the bone. Store either in a freezer bag, with as much air removed as possible, for up to three months.
More Baked Dinner Recipes
Baked Chicken Leg Quarters Recipe
Yield: 6-8 servings
Baked Chicken Leg Quarters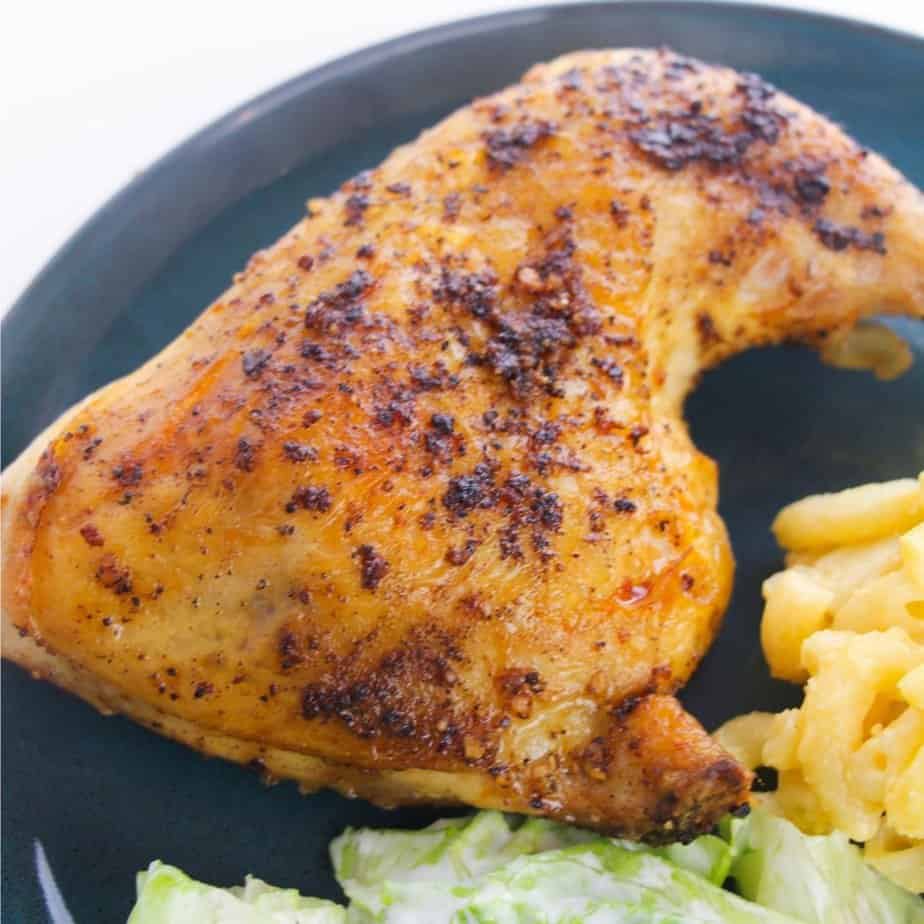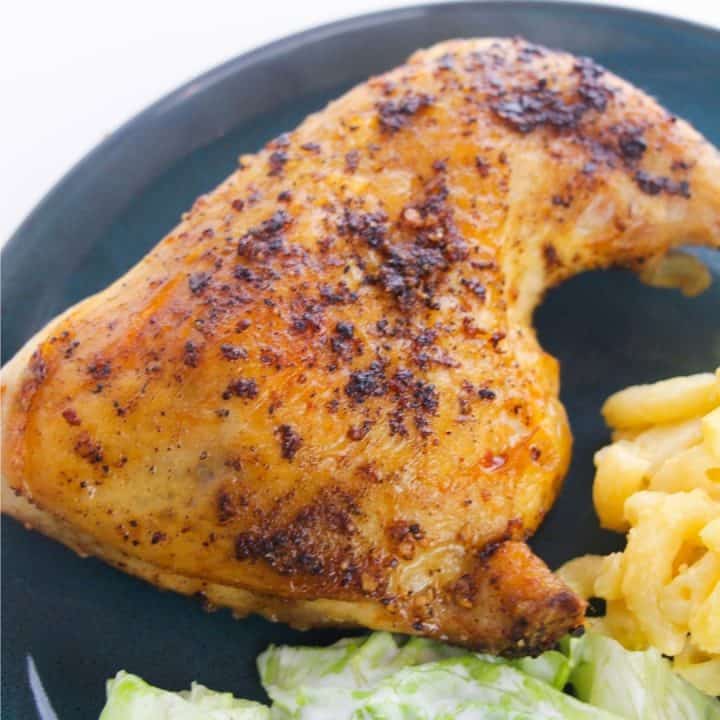 Baked chicken leg quarters are a fantastic, budget-friendly protein option. They cook up beautifully and stay nice and moist. Serve with sides or shred the meat for other dishes.
Ingredients
4-6 Chicken leg quarters (about 5 lbs)
2 Tablespoons Butter or Vegetable oil
2 teaspoons Salt
1 teaspoon Black pepper
2 teaspoons dried minced Garlic (or garlic powder)
2 teaspoons dried minced Onion (or onion powder)
1 teaspoon Chili powder
1/2 teaspoon Cayenne (optional)
Instructions
Preheat oven to 400 degrees Fahrenheit and line a baking sheet with aluminum foil and top with an oven-safe baking rack.
Place the chicken on the baking rack and rub with butter (or brush with oil).
Mix together salt, pepper, garlic, onion, chili powder and cayenne in a bowl until well combined.
Rub spice mixture all over chicken.
Bake for 30-35 minutes, or until a meat thermometer reads 175 degrees Fahrenheit or the juices run clear.
Notes
You can use drumsticks, thighs or bone-in chicken breasts for this recipe. Check the internal temperature of the meat at 25 minutes. Cook to 175 degrees Fahrenheit for drumsticks and thighs or 165 degrees for breasts.
Once cooked, you can serve whole or cut along the joint to separate the drumstick from the thigh. You can also remove the meat from the bone, shred and use in other dishes that call for shredded or chopped chicken.
To freeze: Allow the chicken to cool completely. Double wrap in plastic wrap and store in a freezer bag for up to 3 months. To freeze shredded chicken, place in a freezer bag and seal removing as much air as possible.
Recommended Products
As an Amazon Associate and member of other affiliate programs, I earn from qualifying purchases.
Nutrition Information:
Yield:
8
Serving Size:
1 Amount Per Serving:

Calories:

400

Total Fat:

22g

Saturated Fat:

7g

Trans Fat:

0g

Unsaturated Fat:

13g

Cholesterol:

253mg

Sodium:

751mg

Carbohydrates:

1g

Fiber:

0g

Sugar:

0g

Protein:

47g

By