This super easy Stuffing Meatloaf recipe is just 4 ingredients and packed with flavor thanks to boxed stuffing mix! No chopping required; it is on the table in less than an hour. Not only does the stuffing add flavor, it helps keep the meatloaf moist and tender.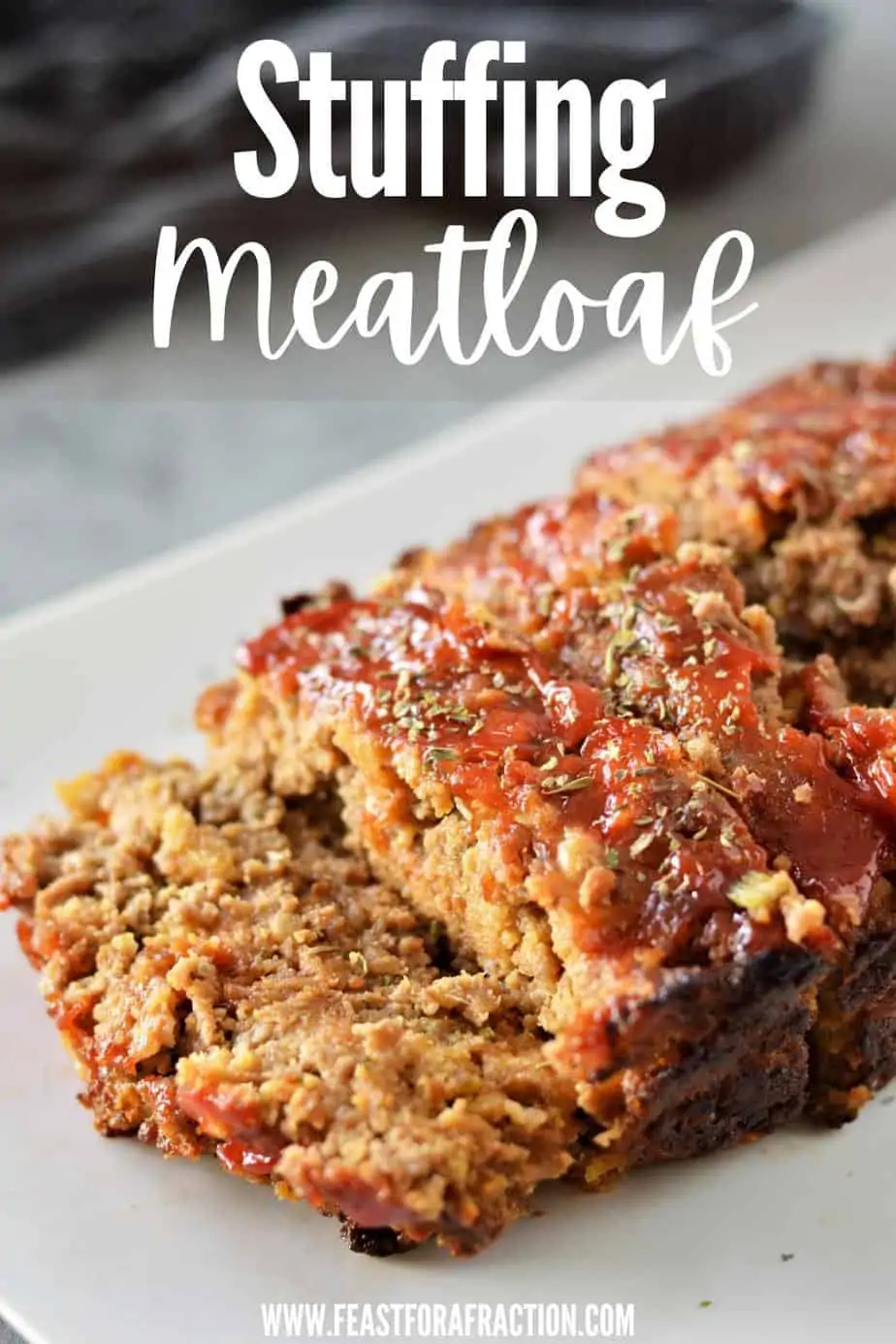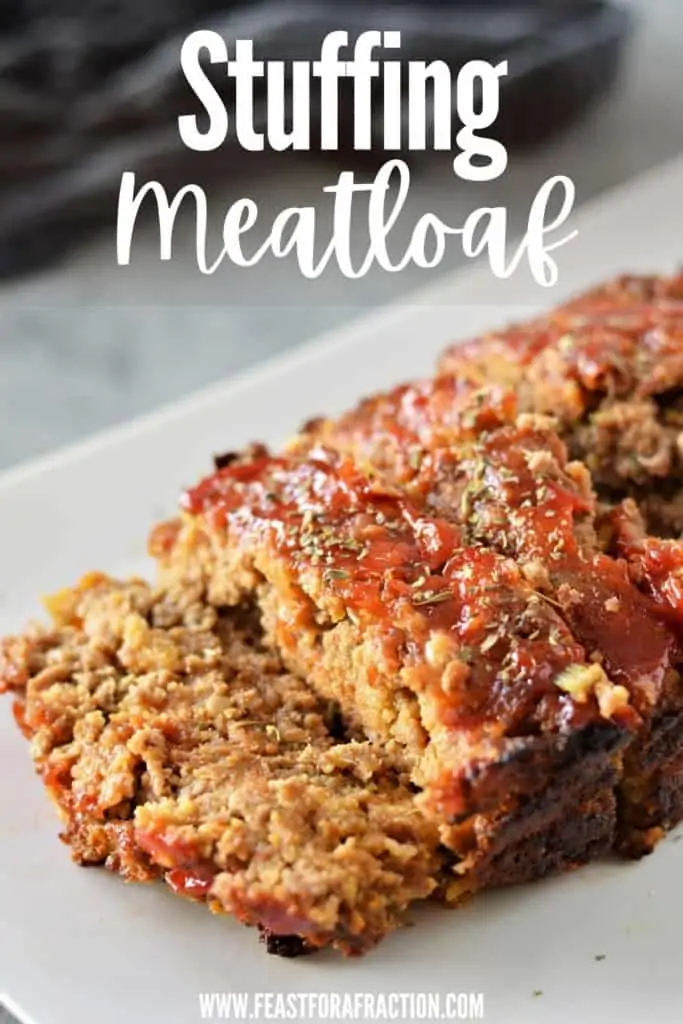 As an Amazon affiliate, I earn from qualifying purchases.
Meatloaf is one of those dinners that I never necessarily crave, but when I make it – it is comfort food to the max! Traditional meatloaf can be time-consuming to make with the milk and bread panade, chopped onions and other seasonings. But we've got a secret weapon… boxed stuffing mix. Yes, that mix that you only give thought to around Thanksgiving. In it contains the bread, spices, onions and celery.
This easy Meatloaf recipe only needs 4 ingredients: ground beef (or turkey, pork or chicken), stuffing mix, eggs and ketchup. Mix it up, bake it, and you've got a flavorful meatloaf ready to serve with your favorite sides. And you won't even notice the veggies, so even the pickiest kiddos will love it!
Ingredients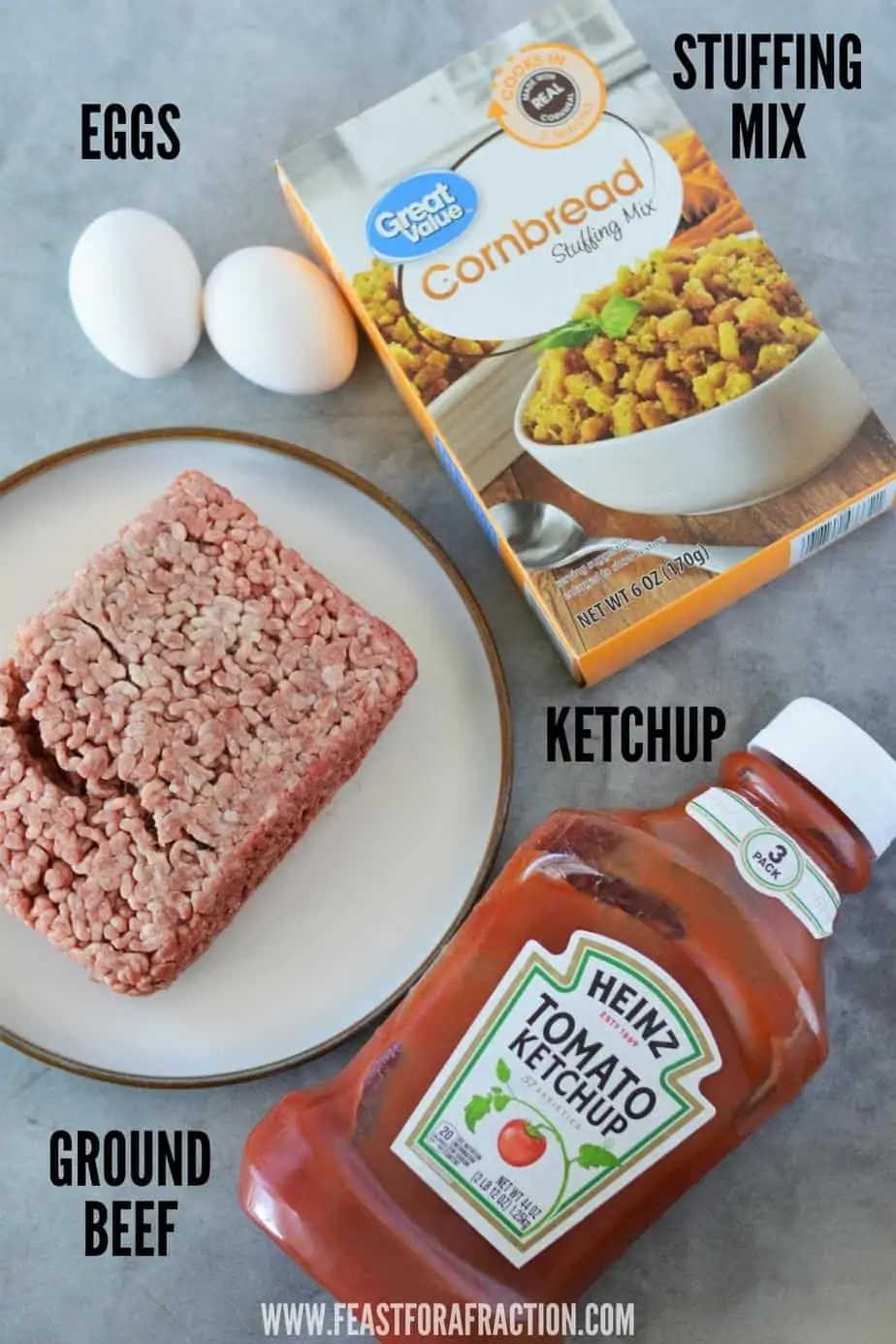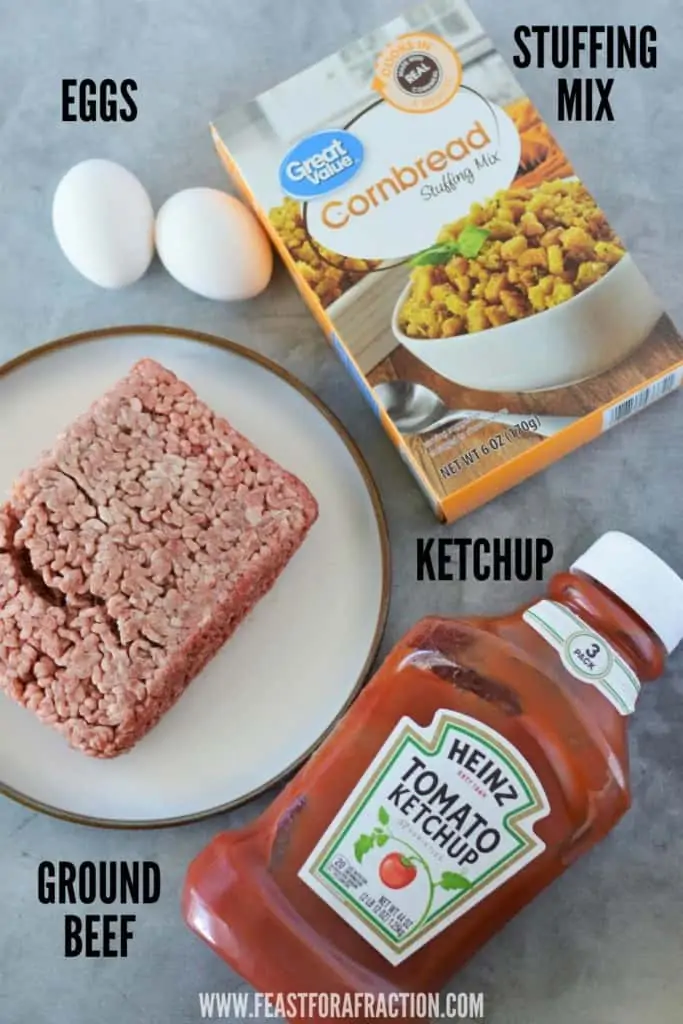 Ground Beef: For 4 servings, you will need 1 pound (lb) of ground beef. You can easily halve or double this recipe depending on how many servings you need. I prefer to use 80%/20% ground beef because it still has enough fat content to have good flavor, but it isn't too greasy when cooked. You can also use ground turkey, pork or chicken in this recipe.
Boxed Stuffing Mix: You'll need 1 (6 ounce) box of stuffing. I used cornbread stuffing, but you can absolutely use any flavor or variety of stuffing mix. Gluten-free stuffing mix is even readily available in most stores for those who require gluten-free.
Eggs: Eggs will help act as the binder for our meatloaf. The size of your eggs does not matter in this recipe. You will need 2.
Ketchup: You will need 1/2 cup plus some additional to spread on top of your meatloaf. Use your favorite brand or even homemade ketchup. If you're not a fan of ketchup, you can easily swap it for BBQ sauce or tomato sauce.
Equipment
Large Mixing Bowl
Measuring Cup
Mixing Spoon
Loaf Pan (Bread Pan) or Sheet Pan
Aluminum Foil or Parchment Paper (optional, but makes for easy clean up)
Digital Thermometer (optional, but really really useful!)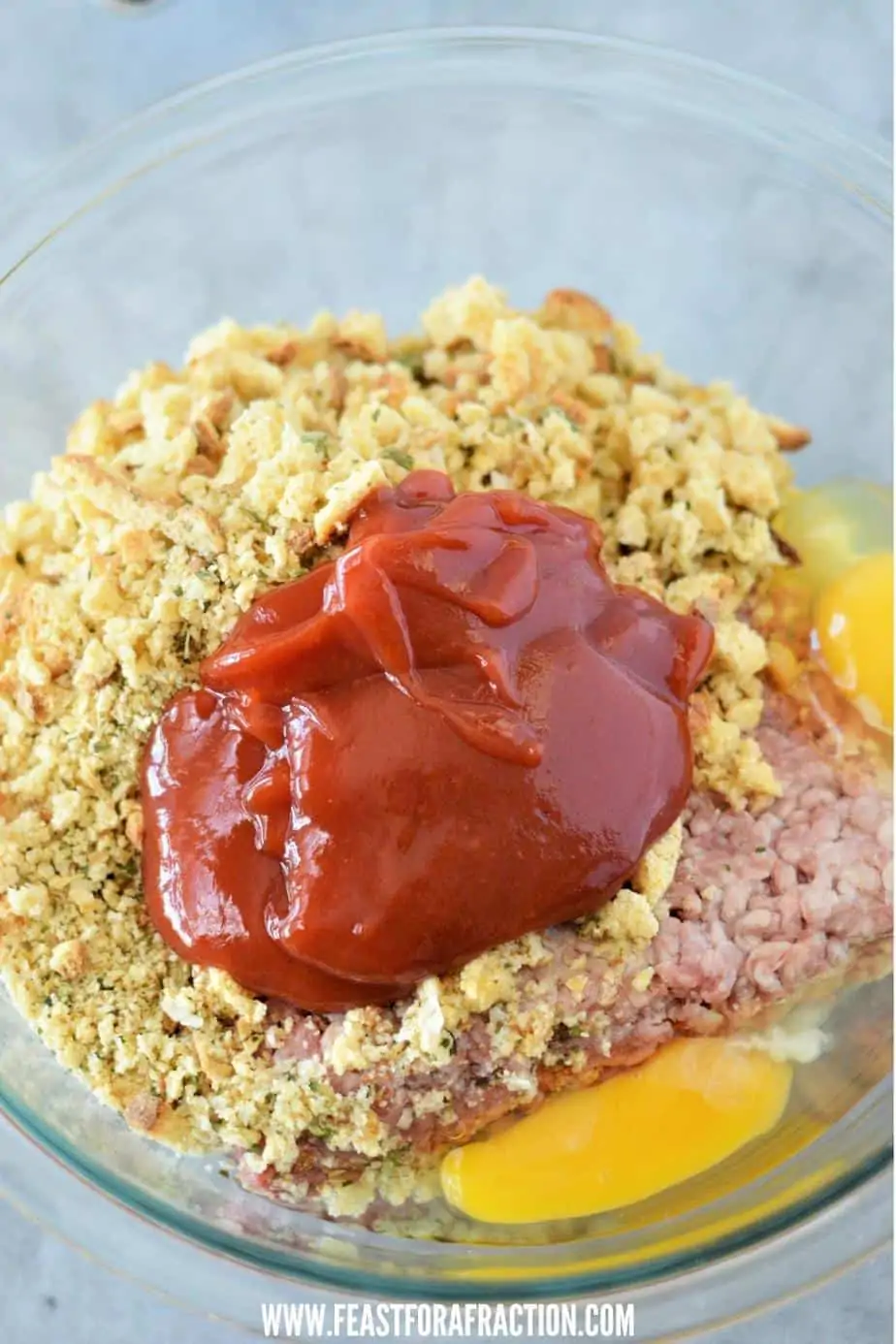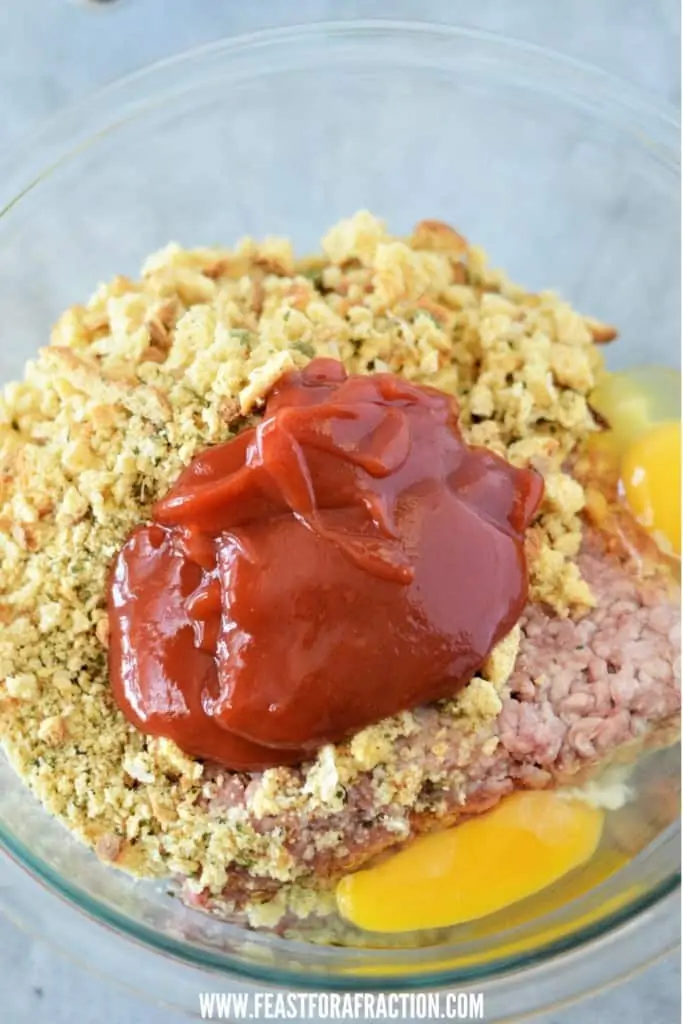 Variations
As I mentioned above, you can easily substitute ground turkey or ground chicken for the ground beef. I use ground turkey all the time because I can usually find it on sale for cheaper than ground beef in my area.
For the stuffing, I highly recommend the following varieties: cornbread, savory herb, and chicken. You can even use a low-sodium or gluten-free variety if you like. I will say that turkey flavor stuffing mix has sage in it which can be an overpowering spice if you're not expecting it. Keep that in mind.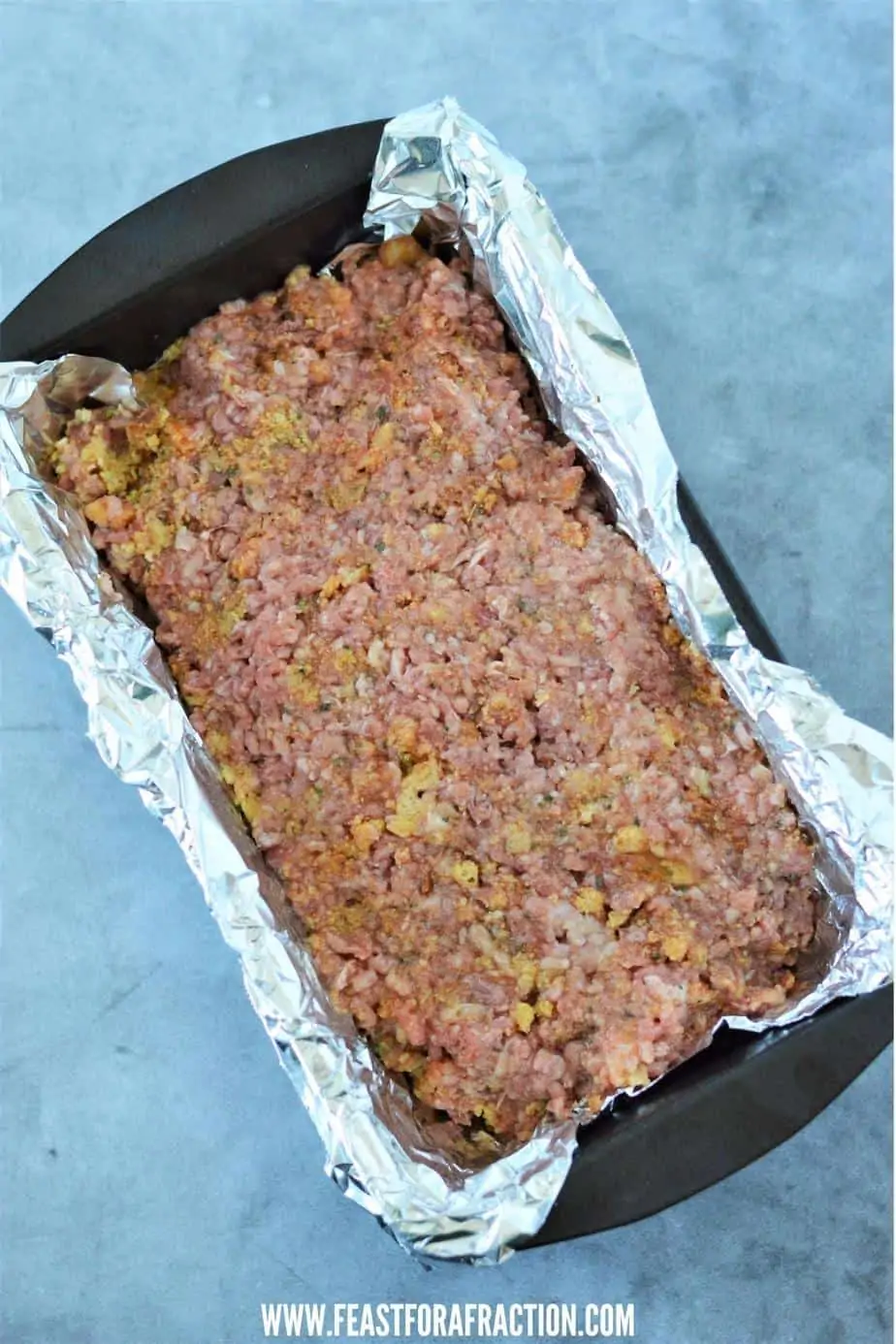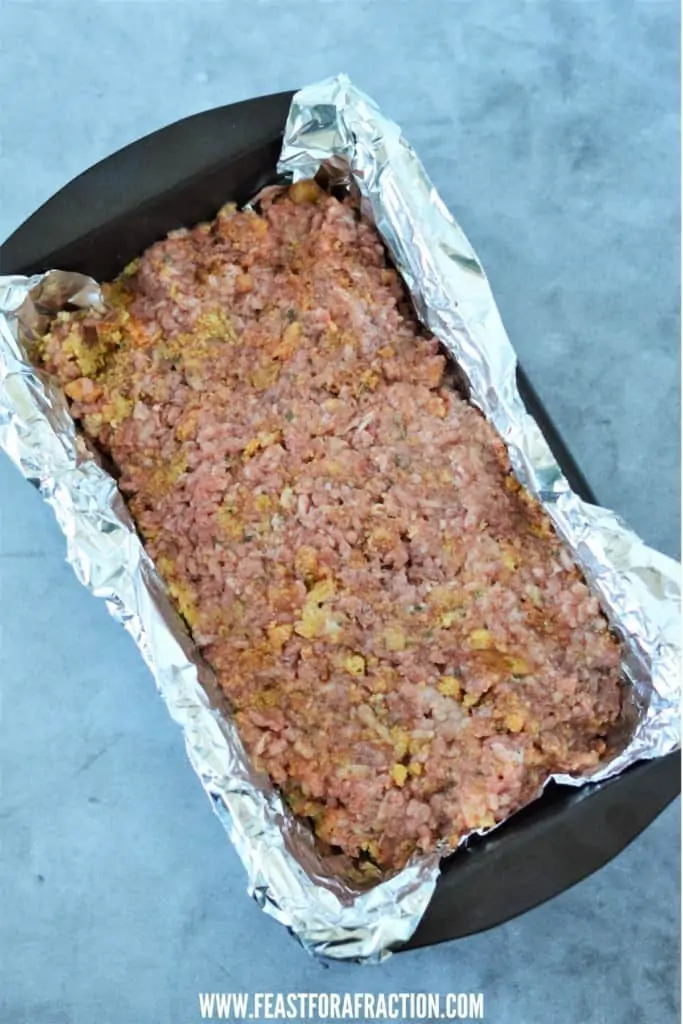 As as I said above, you can swap equal measurements of BBQ sauce or tomato sauce for the ketchup. Or do a combination of ketchup and BBQ. To top or not to top your meatloaf with additional sauce is completely up to your preference. I like that the sauce creates a glaze as it bakes.
Now, when it comes to baking your meatloaf recipe, you've got some options:
Rather than bake in a loaf pan, shape your meatloaf into a rounded loaf or even a disk and bake on a sheet pan.
For a quicker cooking time, portion your meatloaf mixture into 4 even portions and shape into loaves. Bake at 375 degrees Fahrenheit for 30-35 minutes.
Make mini meatloaves by baking in a muffin pan. This recipe will make approximately 8 mini meatloaves. Bake them at 375 degrees Fahrenheit for 25 minutes, or until the internal temperature reaches 165 degrees.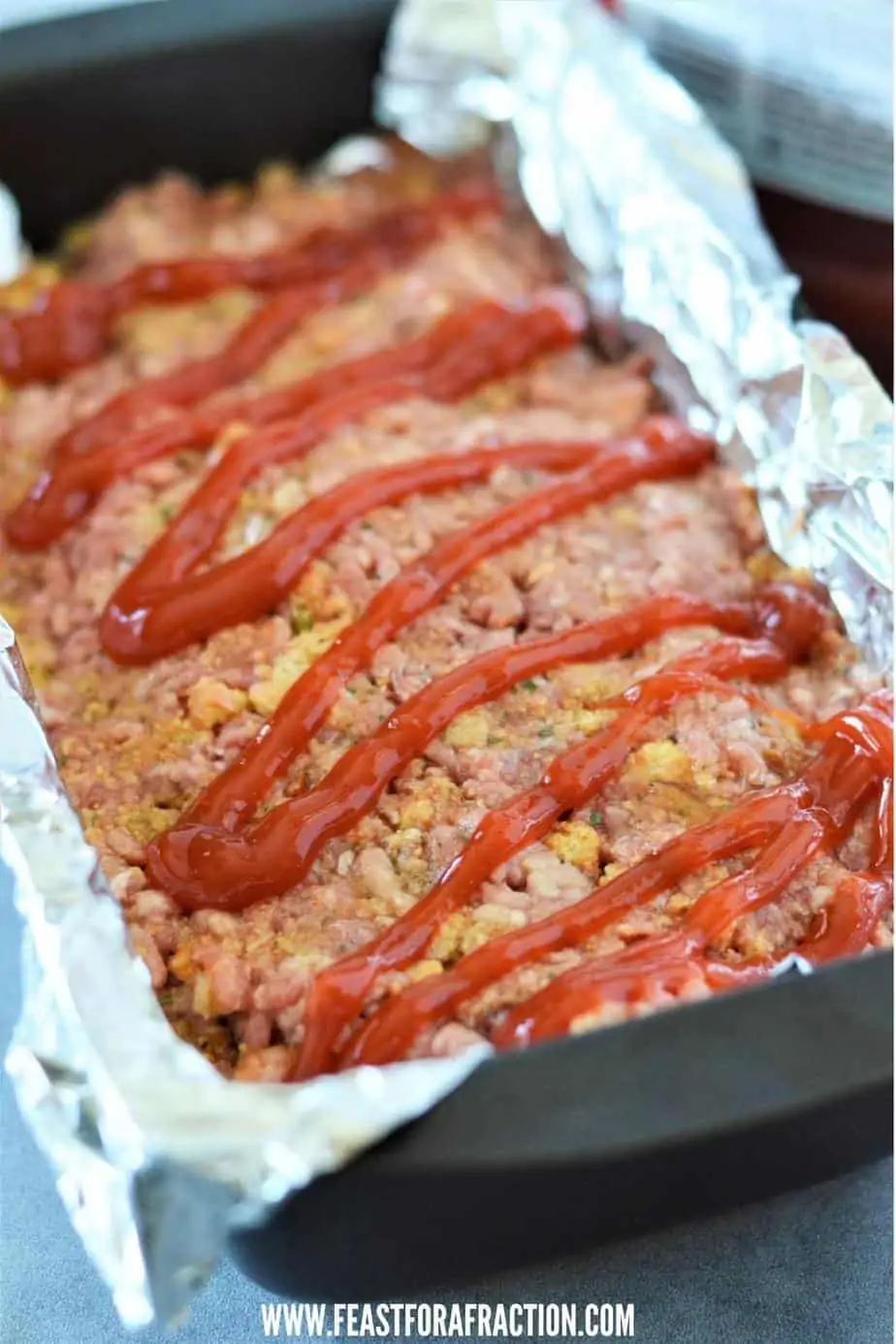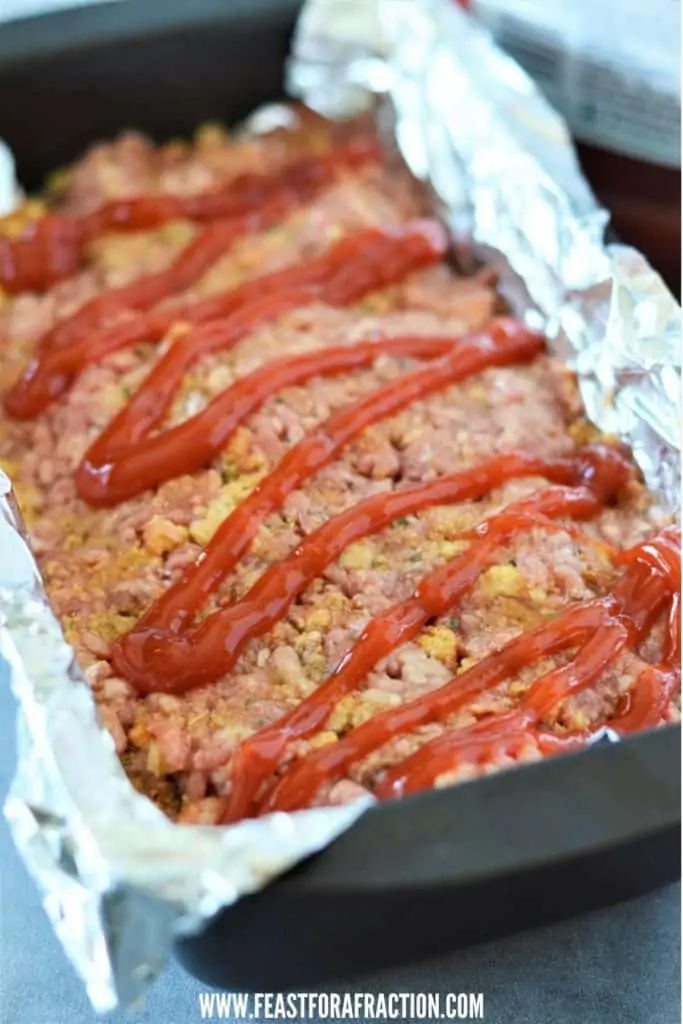 Recommended Sides
Anytime I think of meatloaf, I think of the quintessential meat and potatoes dinner. Throw in a vegetable or two and you're set.
Green Beans or Steamed Broccoli – frozen veggies are so convenient!
Roasted Brussels Sprouts
Mashed Potatoes, obviously – whip up these Instant Pot Mashed Potatoes
Salad
Frequently Asked Questions
How can I tell if the meatloaf is done cooking?
A meat thermometer or digital instant-read thermometer really is your best friend when it comes to knowing if something is done cooking or has reached the desired temperature. I HIGHLY recommend ThermoWorks. If you don't have a thermometer, you can cut into the center of your meatloaf and you want to make sure that the meat is no longer pink.
How can I tell if I need to add salt and pepper to the meatloaf mixture?
I found that the stuffing mix provided enough seasoning so I didn't need to add any salt and pepper. To check meat mixtures for seasoning, take a meatball size portion of the mixture and cook it in a pan. This will allow you to (safely!) taste the mixture and you can add additional seasoning as desired. Just to be clear, do not eat raw ground meat.
I'm allergic to eggs. What can I use in meatloaf instead?
I know it sounds weird, but egg-free mayonnaise (use 1/4 cup) is a great substitute for eggs in meatloaf. The mixture of olive and stabilizers provide the binding that eggs would do and I promise you won't taste it at all. You can also leave out the eggs all together. The stuffing in this recipe helps bind the loaf together enough that it will still hold its shape. You may not be able to slice it as cleanly, but it will still be delicious!
Can I freeze leftover cooked meatloaf?
Yes, you can! Make sure your meatloaf has cooled completely, then wrap in a layer of plastic wrap and foil to prevent freezer burn. It will keep frozen for up to 2 months. When you're ready to reheat, allow to thaw in the fridge overnight. Remove the foil and plastic wrap and microwave until heated through. If reheating in the oven, place your thawed meatloaf in a baking dish with a bit of water and cover with foil. Bake at 350 degrees for 20-30 minutes depending on how much you are reheating, until heated through.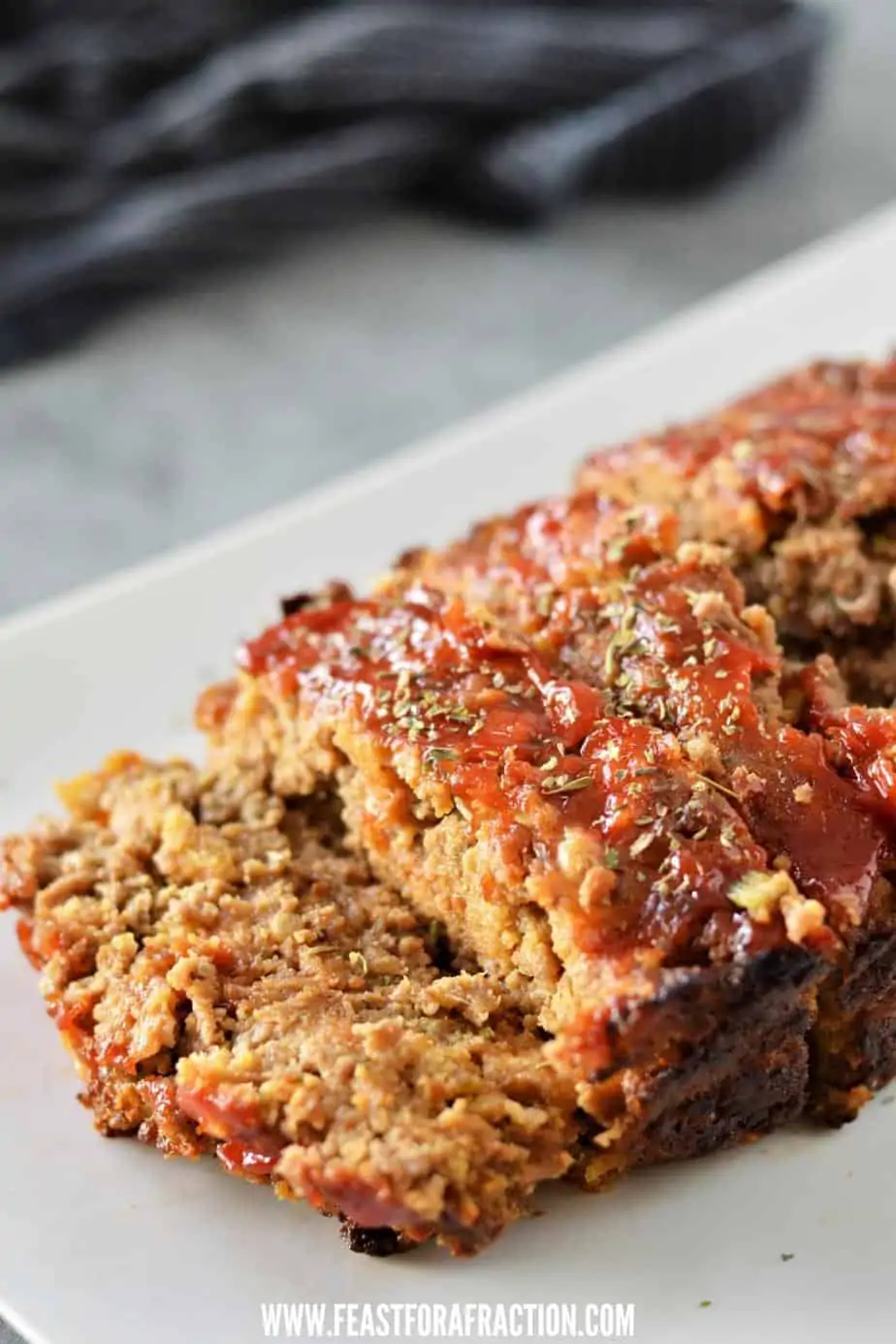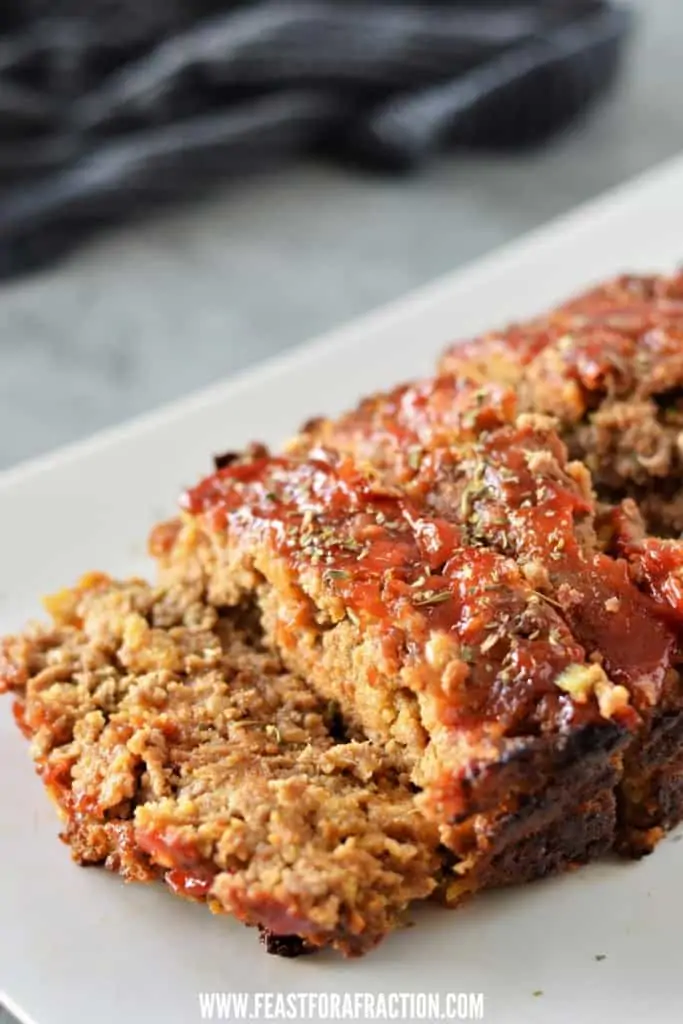 More Easy Dinner Recipes
Stuffing Meatloaf Recipe
Yield: 4 servings
Stuffing Meatloaf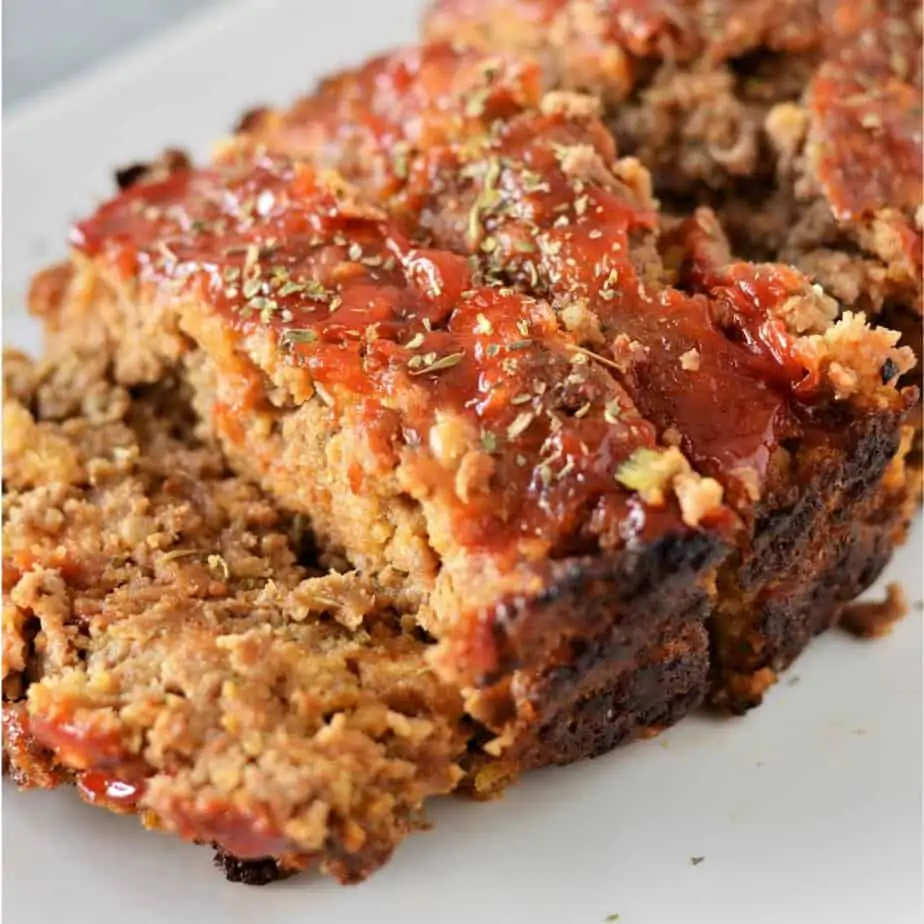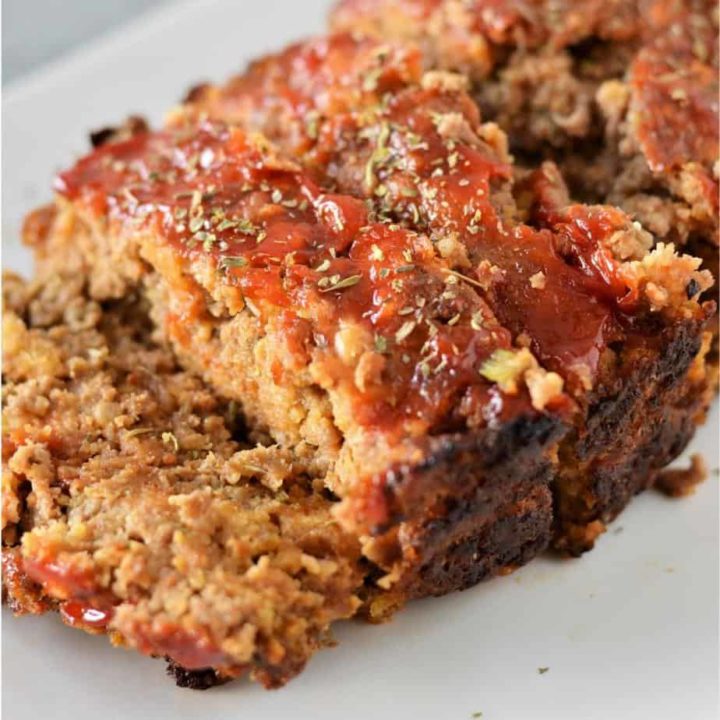 Ingredients
1 pound ground beef
1 (6 ounce) box stuffing mix
2 eggs
1/2 cup ketchup, plus additional for topping
1/2 cup water
Instructions
Preheat the oven to 375 degrees Fahrenheit.
In a large mixing bowl, combine ground beef, stuffing mix, eggs, ketchup and water. Mix until well combined.
Transfer the mixture to a loaf pan lined with parchment paper or aluminum foil. You may also shape into a loaf on a baking sheet.
Top with additional ketchup if desired.
Bake at 375 degrees Fahrenheit for 45-50 minutes, or until the internal temperature reaches 165 degrees Fahrenheit.
Allow to cool in loaf pan for 5 minutes, then slice and serve!
Notes
I did not need to add additional salt and pepper as the stuffing mix provided plenty of seasoning. One way to test if you desire additional salt and pepper in the meatloaf mixture is to take a meatball-sized portion of the meatloaf mixture and cook it in a pan on the stove. This way, you can taste and adjust the seasonings as desired.
Stuffing Mix: I used cornbread stuffing mix for this recipe, but you can use any variety of stuffing mix. Note that turkey stuffing mix has sage added. Easily make this recipe gluten-free by using a gluten-free stuffing mix.
Feel free to swap the ketchup for BBQ sauce or tomato sauce based on your preference.
The easiest way to make sure that your meatloaf is cooked through is to use a meat thermometer. You want to make sure the meat reaches a temperature of 165 degrees Fahrenheit in the center.
Individual Mini Meatloaf: To make mini meatloaf, portion your meatloaf mixture into 4 equal portions and shape into loaves. Bake on a parchment or foil-lined baking sheet at 375 degrees Fahrenheit for 30-35 minutes or until the internal temperature reaches 165 degrees. You can also bake your mini meatloaves by portioning the mixture into 8 cups of a muffin tin. Top with the ketchup glaze and bake at 375 degrees for 25 minutes.
Recommended Products
As an Amazon Associate and member of other affiliate programs, I earn from qualifying purchases.
Nutrition Information:
Yield:
4
Serving Size:
1 Amount Per Serving:

Calories:

423

Total Fat:

25g

Saturated Fat:

9g

Trans Fat:

1g

Unsaturated Fat:

13g

Cholesterol:

194mg

Sodium:

532mg

Carbohydrates:

13g

Fiber:

0g

Sugar:

7g

Protein:

35g

By