Tuna Noodle Casserole is a classic recipe made from pantry ingredients making it a budget-friendly dinner that's delicious. Just like mom used to make! Less than $8 total for 6 servings or $1.33 per serving.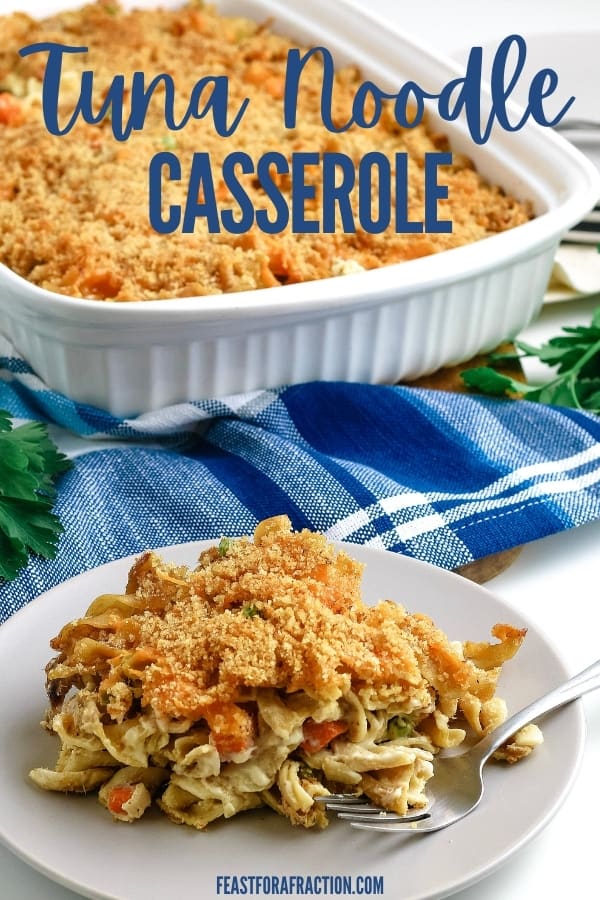 As an Amazon affiliate, I earn from qualifying purchases.
I'm pretty sure Tuna Casserole is the first thing people think of when they hear budget meals. Yes, canned tuna is incredibly frugal and shouldn't be overlooked. Used in the right way, it can add a great source of protein to a meal without costing much at all.
This Tuna Noodle Casserole takes the best parts of a budget-friendly dinner and really plays up the flavor!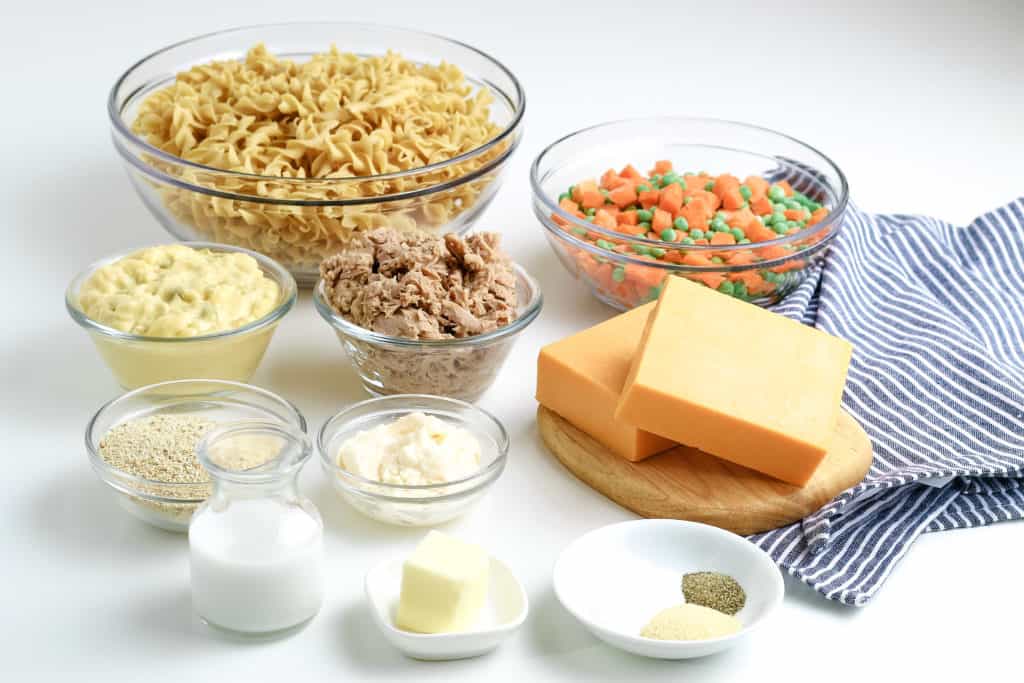 Ingredients
Egg Noodles: The most quintessential ingredient in tuna noodle casserole, egg noodles are also insanely affordable.
Condensed Soup: I use cream of celery soup in this recipe because I think the flavor goes better with the tuna. Feel free to use cream of mushroom soup if that's what you have.
Canned Tuna: Canned tuna packed in water is usually cheaper than tuna packed in oil, so that is what I always buy. Whichever you use, make sure to drain well and if you're using tuna packed in oil, go ahead and give it a little rinse.
Frozen Vegetables: I use a peas and carrots blend in this recipe because it adds variety and a pop of color to the dish. If you prefer only peas, feel free to substitute. You can even leave out if you're not a fan. I have not tried this with frozen green beans, but I imagine it would be tasty, too.
Cheddar Cheese: You can use mild or sharp cheddar cheese, depending on your preference. I recommend buying cheese in blocks because it is more affordable and the cheese melts better when shredded from whole.
Breadcrumbs: Breadcrumbs and butter are combined to make a crunchy topping for our casserole. You can leave out if you don't have breadcrumbs or you can use crushed potato chips for a fun variation.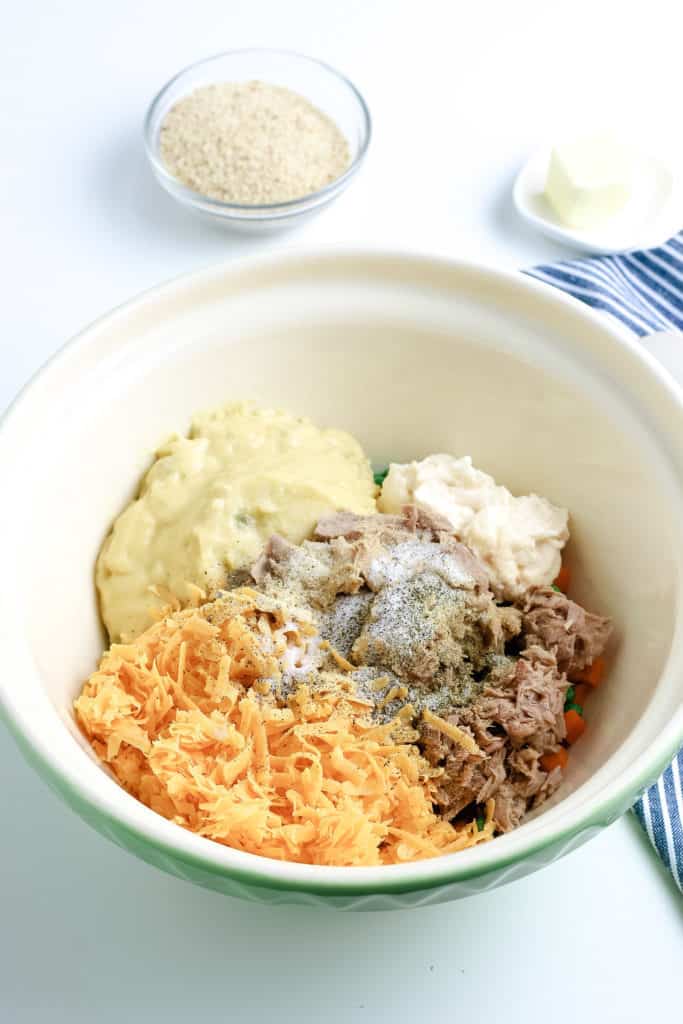 Equipment
Large Mixing Bowl
Small Mixing Bowl
Rubber Spatula or Mixing Spoon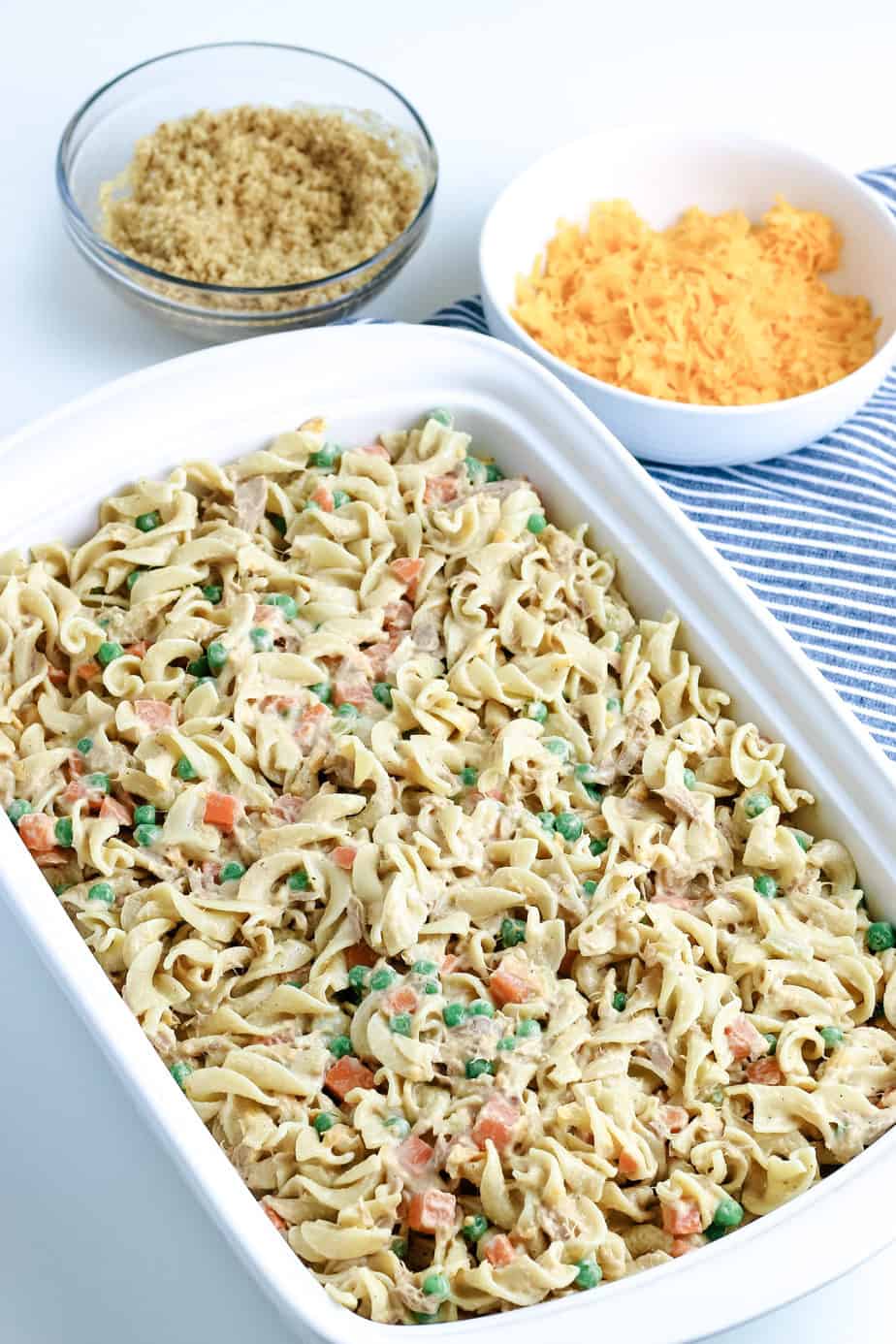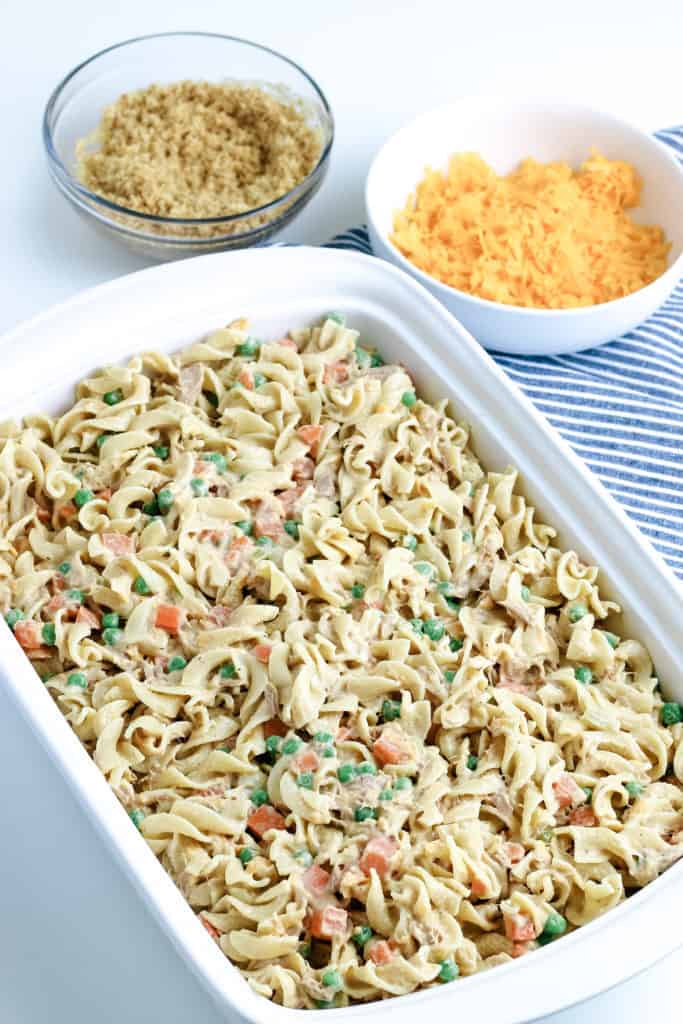 Variations
This recipe is great because it can be tailored to the ingredients that you already have.
Cream of mushroom soup can be substituted for cream of celery soup
Swap frozen peas for the peas and carrots mix if you prefer
Use sour cream in place of mayonnaise
In a pinch, use chicken or vegetable stock instead of milk
Use 12 ounces of penne or rigatoni pasta instead of egg noodles
Can Tuna Noodle Casserole be Frozen
There are two ways to make this recipe ahead and freeze. First, you can mix together the soup, tuna, frozen veggies, milk, mayonnaise, seasonings and 1 cup cheese in a bowl. Store in a gallon-size freezer bag in the freezer for up to 3 months.
When ready to cook, thaw the mixture in the fridge overnight. Cook your egg noodles as directed, assemble the dish and bake as directed. While this doesn't save all that much time, it guarantees the best flavor upon baking.
Second, you wrap your cooked casserole in plastic wrap and aluminum foil (I love pans that come with lids specifically for freezer meals) and store in the freezer for up to 3 months. When ready to reheat, thaw in the fridge 1-2 days and reheat individual servings in the microwave or bake at 350 degrees Fahrenheit until heated through, about 30-40 minutes. This second bake does run the risk of overcooking the noodles.
More Casserole Recipes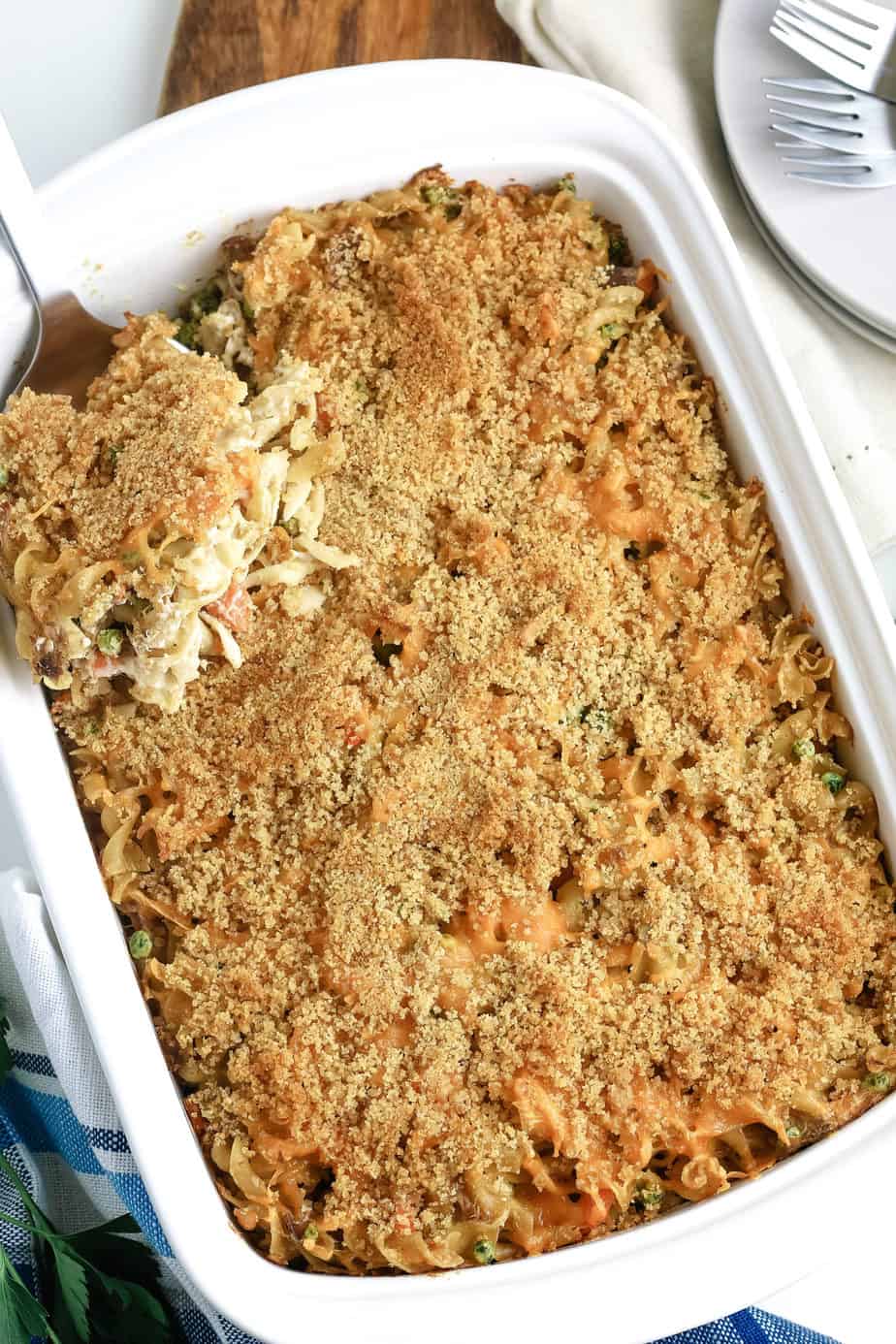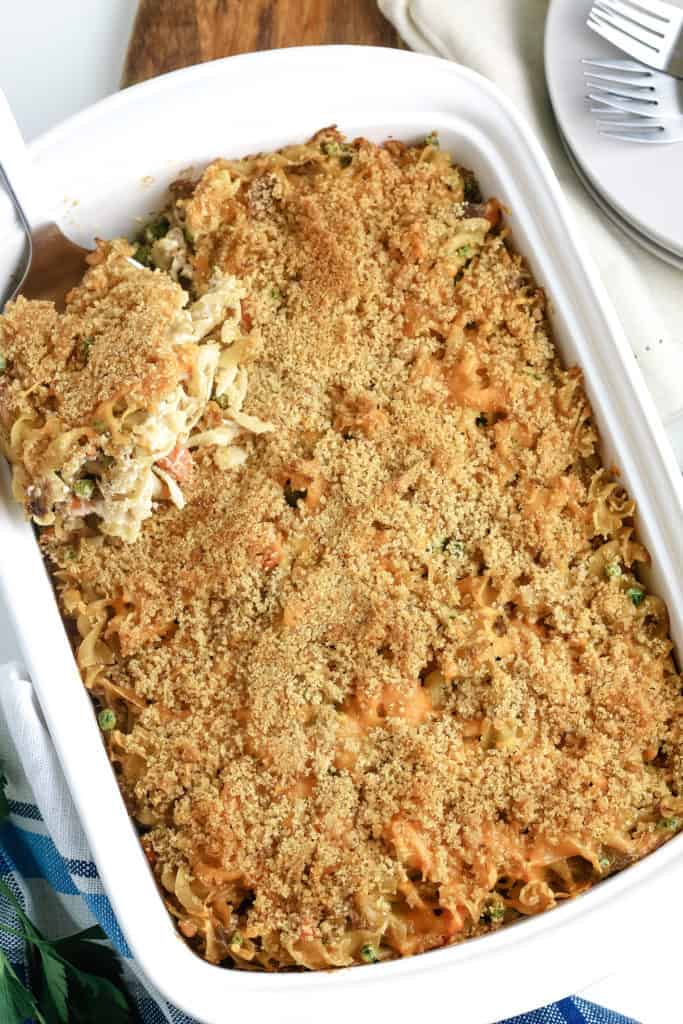 Yield: 6 servings
Tuna Noodle Casserole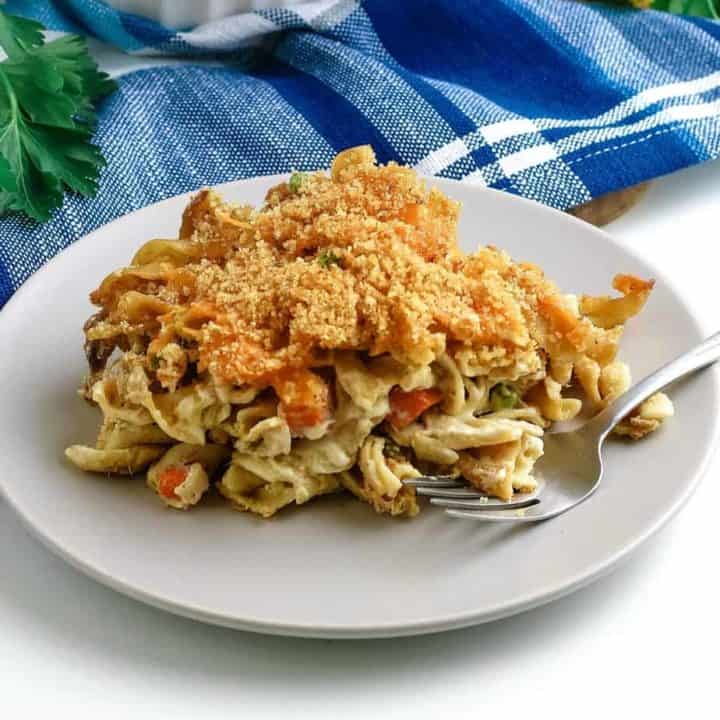 Tuna Noodle Casserole is a classic dish made from pantry
ingredients making it a budget-friendly dinner that's delicious. Top with breadcrumbs or crushed potato chips for a deliciously crunchy topping.
Ingredients
1 (12 ounce) bag egg noodles
2 (6 ounce) cans tuna packed in water, drained
1 (12-16 ounce) bag frozen peas and carrots
1/2 cup milk
1 teaspoon salt
1 teaspoon garlic powder
1/2 teaspoon black pepper
2 cups shredded cheddar cheese, divided
Crumb Topping
1/2 cup bread crumbs
2 Tablespoons butter, melted
Instructions
Preheat oven to 350 degrees Fahrenheit.
In a large pot, boil egg noodles according to package directions. Drain and set aside.
In a large bowl, mix together cream of celery soup, drained tuna, peas and carrots, milk, mayonnaise, 1 cup shredded cheese, salt, pepper and garlic powder.
Stir in cooked egg noodles, mixing until well combined.
Spray a 9x13 inch baking dish with non-stick spray. Pour noodle mixture into baking dish.
Top with remaining cup of shredded cheese in an even layer.
In a small bowl, mix breadcrumbs and melted butter with a fork and sprinkle on top of casserole.
Bake for 40-45 minutes, until golden brown and bubbly.
Notes
Peas and carrots can be substituted with frozen peas or omitted from recipe.
Leftovers will store in a sealed container in the fridge for up to 5 days.
Tuna Noole Casserole filling can be mixed together and frozen, without the noodles, for up to 3 months. When ready to cook, thaw the mixture in the fridge overnight, cook noodles and mix together. Bake as directed above.
Baked casserole can be wrapped with a layer of plastic wrap then aluminum foil and frozen for up to 3 months. To reheat, thaw in fridge overnight and warm in microwave or oven until heated through.
Recommended Products
As an Amazon Associate and member of other affiliate programs, I earn from qualifying purchases.
Nutrition Information:
Yield:
6
Serving Size:
1 Amount Per Serving:

Calories:

404

Total Fat:

27g

Saturated Fat:

12g

Trans Fat:

1g

Unsaturated Fat:

13g

Cholesterol:

71mg

Sodium:

944mg

Carbohydrates:

21g

Fiber:

2g

Sugar:

2g

Protein:

19g

By