Corn Casserole is the quintessential side dish for Thanksgiving and Christmas in my book, but it's also an easy, super affordable side dish any time of year.
As an Amazon affiliate, I earn from qualifying purchases.
Corn casserole, corn pudding and spoon bread are all possible names for the same dish – Whole Corn, Creamed Corn, Sour Cream, Butter, Eggs and Jiffy Corn Muffin mix. It doesn't get much simpler than that.
The variations, though, come in your extra additions or subtle differences in the combination of ingredients. If you ask anyone on my mom's side of the family, Corn Casserole consists of whole corn, creamed corn, butter, eggs and crushed up saltine crackers. It's a perfectly acceptable interpretation of corn casserole, but I very much prefer corn muffin mix to the saltine crackers.
Ask someone else and they'll tell you that corn casserole should have chopped jalapenos and shredded cheese mixed in. Again, a perfectly delicious option.
That is the beauty of this dish. You have a basic, fool-proof recipe in which you can customize to your heart's desire.
More Side Dish Recipes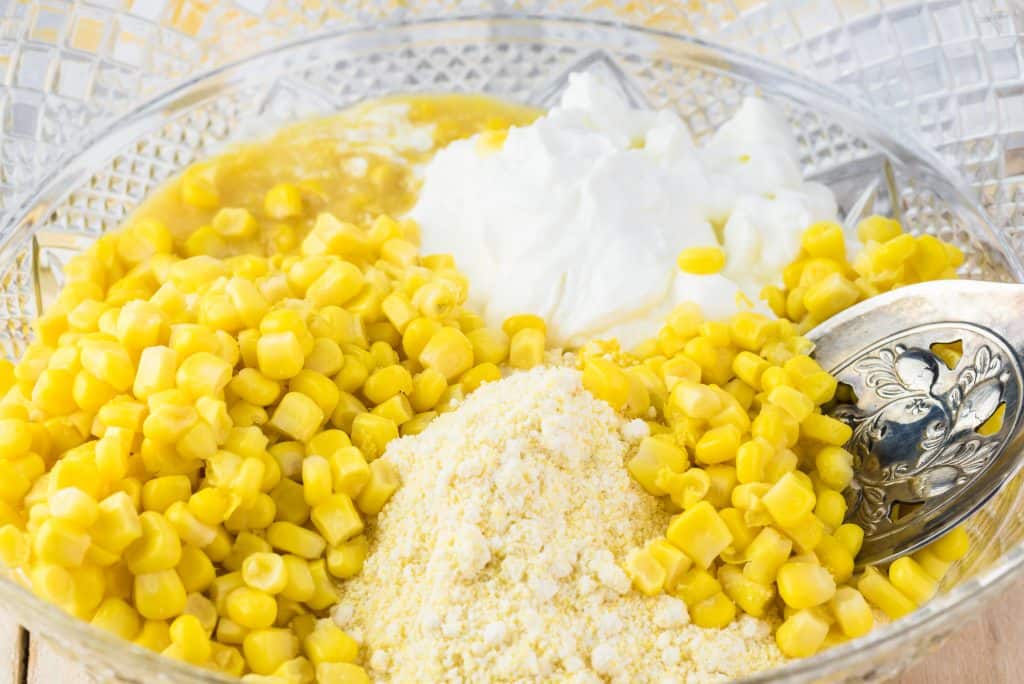 Ingredients
Whole Corn: This recipe is traditionally made with canned corn because it is convenient and affordable, but you can absolutely use fresh or frozen corn. You'll need two cups of whole corn. There is no additional prep if using fresh or frozen, and you don't even have to adjust the baking time.
Creamed Corn: Any brand will work. You just need two cups (the equivalent of 1 – 15 oz can).
Sour Cream: Feel free to use whole fat or reduced fat. I feel that whole fat dairy products have a much better flavor, but the sour cream isn't the star of this dish so the taste difference isn't noticeable.
Butter: You can use salted or unsalted butter, whatever you have on hand. I cook with unsalted butter because I like to control the amount of salt that I add to a dish.
Eggs: This recipe is so forgiving that it doesn't even really matter the size of your eggs. I say use Large because that is the most consistent size and it is the cheapest to purchase. If you have a couple of jumbo eggs, use them. It won't hurt anything.
Jiffy Corn Muffin Mix: This is the only ingredient that calls for a specific brand. I have not made this recipe with generic corn muffin mix, but I am sure that it would work. Jiffy also has vegetarian and gluten-free varieties of their corn muffin mix if that appeals to you. You can also make your own corn muffin mix using this recipe.
Equipment
How to Serve Corn Casserole
Corn casserole is a simple, yet delicious side dish that works well with any protein. The touch of sweetness from the corn muffin mix pairs really well with turkey, chicken or pork. It is also fantastic served with chili.
Once baked, corn casserole can be stored in a covered container in the fridge for up to 5 days. You may also wrap in plastic wrap and aluminum foil and store in the freezer for up to 2 months.
Corn Casserole Variations
Add 1 cup shredded cheese of your choice to the batter. Sprinkle 1/2 cup shredded cheese on top. Bake as usual.
Mix in one drained can of diced green chilies before baking.
Amp up the sweetness by added 1/4 cup sugar to the batter.
Add 1/4-1/2 cup crumbled bacon to the batter.
Do any combination of the above for an even more interesting interpretation.
Yield: 8 servings
Classic Corn Casserole
Corn Casserole is a staple at any family function over the holidays, but it would also be the perfect side any time of year.
Ingredients
1 (15 ounce) can Whole Kernel Corn, drained
1 (15 ounce) can Creamed Corn
1/2 cup (1 stick) Butter, melted
2 Large Eggs
1 cup Sour Cream
1 (8.5 ounce) box Jiffy Corn Muffin Mix
Instructions
1. Preheat your oven to 350 degrees Fahrenheit. Lightly grease a 2-quart baking dish or 9x9 inch baking pan.


2. Combine drained whole corn, creamed corn, eggs, sour cream and melted butter in a large bowl. Stir well to fully combine.


3. Add corn muffin mix. Stir gently until ingredients are just combined.


4. Pour mixture into baking dish. Spread evenly.

5. Bake for 45-50 minutes until golden brown and the center is set.
Notes
Leftovers can be stored in the fridge for up to a week or frozen in a sealed container for up to three months.
Recommended Products
As an Amazon Associate and member of other affiliate programs, I earn from qualifying purchases.
Nutrition Information:
Yield:
8
Serving Size:
1 Amount Per Serving:

Calories:

131

Total Fat:

8g

Saturated Fat:

4g

Trans Fat:

0g

Unsaturated Fat:

3g

Cholesterol:

67mg

Sodium:

149mg

Carbohydrates:

13g

Fiber:

1g

Sugar:

4g

Protein:

4g

For even more ideas for holiday dishes, check out these Savory Pumpkin Recipes You'll Love This Fall.

By