These easy sheet pan dinner recipes are so quick to bake up and clean up is a breeze! A complete meal cooked up on one sheet pan. You'll add sheet pan dinners to your weekly dinner rotation for sure.
As an Amazon affiliate, I earn from qualifying purchases.
What Makes a Great Sheet Pan Dinner
The beauty of sheet pan dinner recipes is that everything cooks at the same time: your meat, vegetables, and even potatoes. This makes dinner prep a breeze and it's also perfect for meal prep for the week.
It all starts with a good quality sheet pan. You don't want to worry about your sheet pan warping under the high temperature we'll be roasting, so you'll want to make sure that you use a sheet pan that doesn't flex easily.
The size of the sheet pan can depend on how many servings you are making. For 4-6 servings, I recommend a half-sheet pan. This gives plenty of room to fit everything and leave plenty of room for browning.
For less than 4 servings, you can use a quarter-sheet pan. It's also a great size for smaller ovens.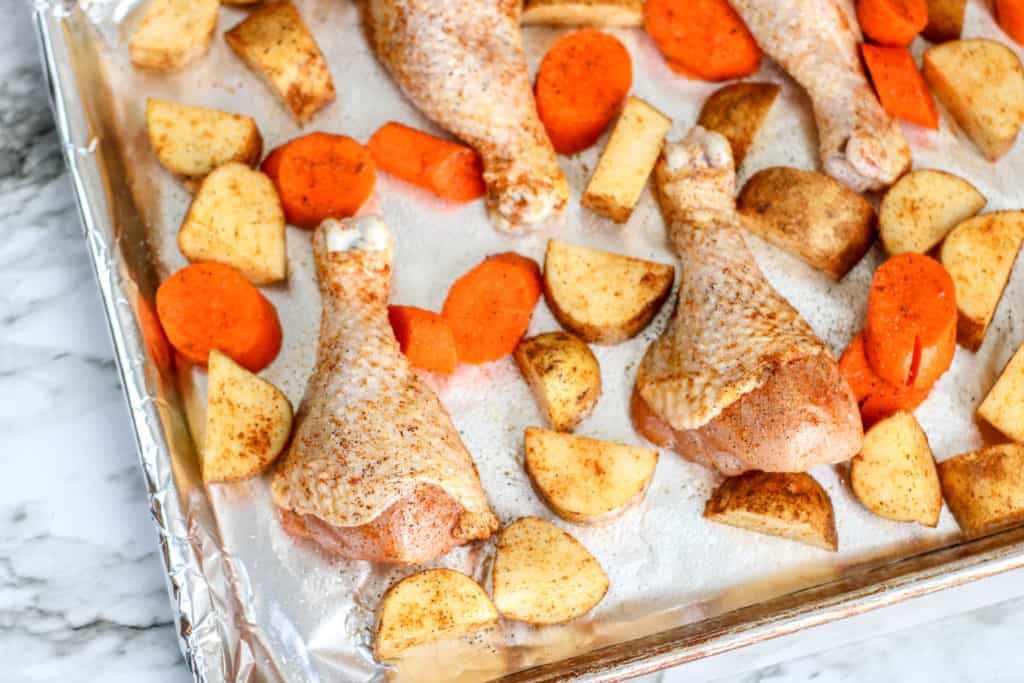 Choosing a Protein
Roasting at a high temperature develops a perfect crisp skin on chicken and gives beautiful golden color to fish and other meats. Some options that are perfect for sheet pan dinners are:
Chicken: Bone-in chicken thighs or legs, boneless skinless chicken breast or thighs
Fish: salmon filet or steaks, cod, tilapia
Beef: flank steak cut in strips, ground beef
Pork: pork chops, pork tenderloin, or sausage
Tofu: firm or extra-firm tofu
From there, you can mix and match vegetables, spices, and even starches such as potatoes, gnocchi, or pierogies for a complete meal. If you're practicing keto or low-carb, you can skip the starch option. It's basically a choose your own adventure!
Tips for Cooking
Cut your vegetables in roughly the same size so that they cook evenly
Make sure to spread everything evenly and in a single layer on the pan so it all can brown rather than steam
Cook similar vegetables together like hardy carrots and potatoes or tender asparagus and broccoli
Line your sheet pan with aluminum foil for even quicker clean up and it will prevent any food from sticking to the pan
Double the recipe and cook two sheet pans at once for easy meal prep for the week
Even More Easy Dinner Recipes
Easy Sheet Pan Dinners
When it comes to a simple dinner to feed the family, easy sheet pan dinners can be a great go to meal everyone can enjoy.

With sheet pan dinners, you can easily make a filling and delicious dinner with little to no work. This is great for those busy weeknights when you don't have a lot of time to stand over the stove and fix a big meal. Not to mention the are easy to cleanup which is always a plus!

These sheet pan dinners are easy to make and delicious. You only need a few ingredients to make them and you can clean them up in no time.

By