Colcannon or colcannon mash is a traditional Irish dish made from mashed potatoes and cabbage, making it super budget-friendly and full of flavor. It is often served as a side dish with meat or fish and it's perfect to accompany your corned beef on St. Patrick's Day, or whenever you want!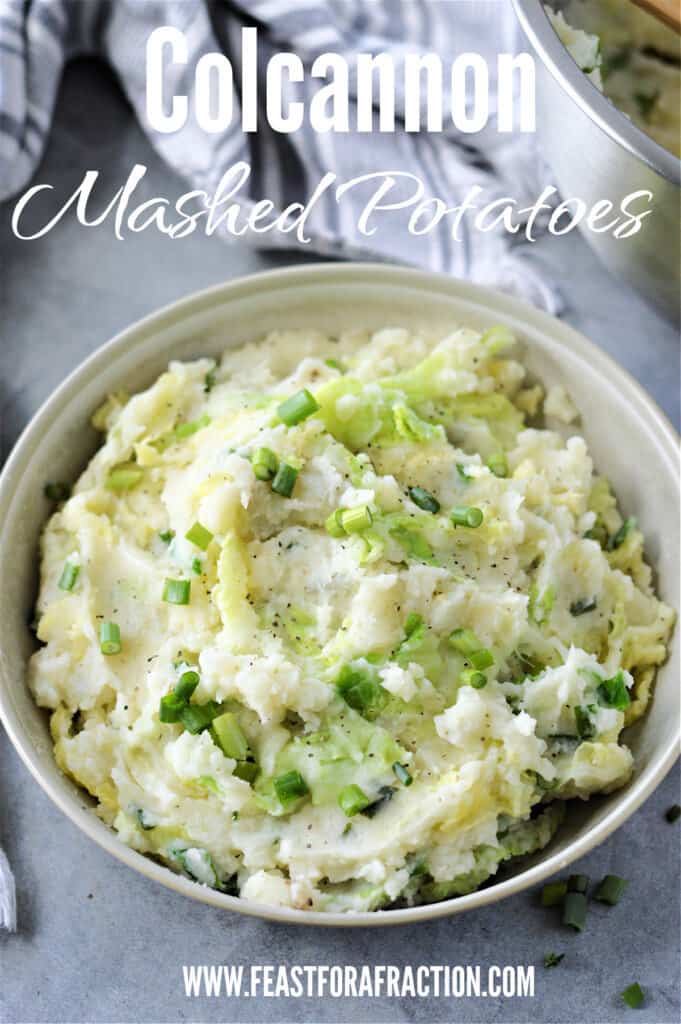 As an Amazon affiliate, I earn from qualifying purchases.
Making a Colcannon mash is as easy as taking a handful of simple, budget-friendly ingredients easily found at the grocery store, such as russet potatoes, cabbage, and green onions, and preparing an Irish-inspired dish your family will love. With this Colcannon recipe, you're taking traditional mashed potatoes to the next level, adding incredible natural flavor to them with the addition of cabbage and creamy butter.
Not only can you serve it with corned beef, but it commonly pairs with ham or Irish bacon as well. You can even serve alongside this Slow Cooker Irish Chili!
Ingredients for Irish Colcannon Potatoes
Russet Potatoes – Peel and dice your potatoes into 1-inch chunks, making them easier to work with, and mash down when you're ready. When chopped into pieces, the potatoes tend to boil faster, which means you can make this Colcannon in even less time.
Cabbage – The Colcannon recipe wouldn't be the same without cabbage. While you can use your favorite type, I used savoy cabbage for this recipe. It's easy to work with and has an excellent flavor that it brings to the dish.
Butter – Add a rich, creamy taste and texture to your Colcannon Irish mashed potatoes with at least four tablespoons of butter. Of course, use more butter if you feel it's necessary. You can also use margarine or olive oil if you don't have butter.
Milk – Use milk to give your mashed potatoes a creamy texture. You can use whole, 2%, or even 1% milk.
Green Onions – Slice your green onions into thin pieces before adding them to your Irish mashed potatoes.
Don't forget the salt and pepper to taste.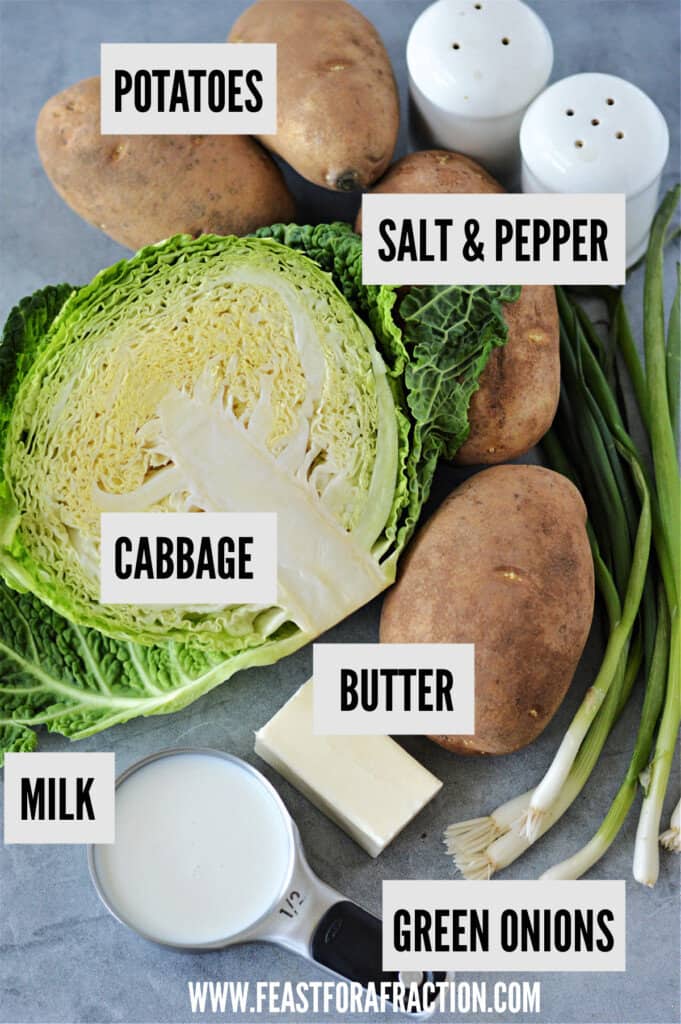 Equipment
You won't need much equipment to prepare this Colcannon recipe.
Large pot
Knife
Cutting Board
How to Make Colcannon Potatoes
Dice your potatoes and add them to a pot of cold water with a bit of salt.
Place your pot on the stovetop and bring your water to a boil, allowing the potatoes to cook in the water until fork-tender.
As the potatoes boil, grab your cabbage and green onions and slice them into thin pieces with your knife on a cutting board.
Remove your potatoes from the heat and carefully remove the potatoes from the water without draining them.
Add your cabbage to the water and let it cook until wilted, which should only take a few minutes.
Combine your potatoes with milk and butter before mashing them to your desired consistency.
Remove your cabbage from the water and toss them into your mashed potatoes. Add the green onions after the cabbage as a finishing touch.
Mix well and serve as a side to your favorite entrees.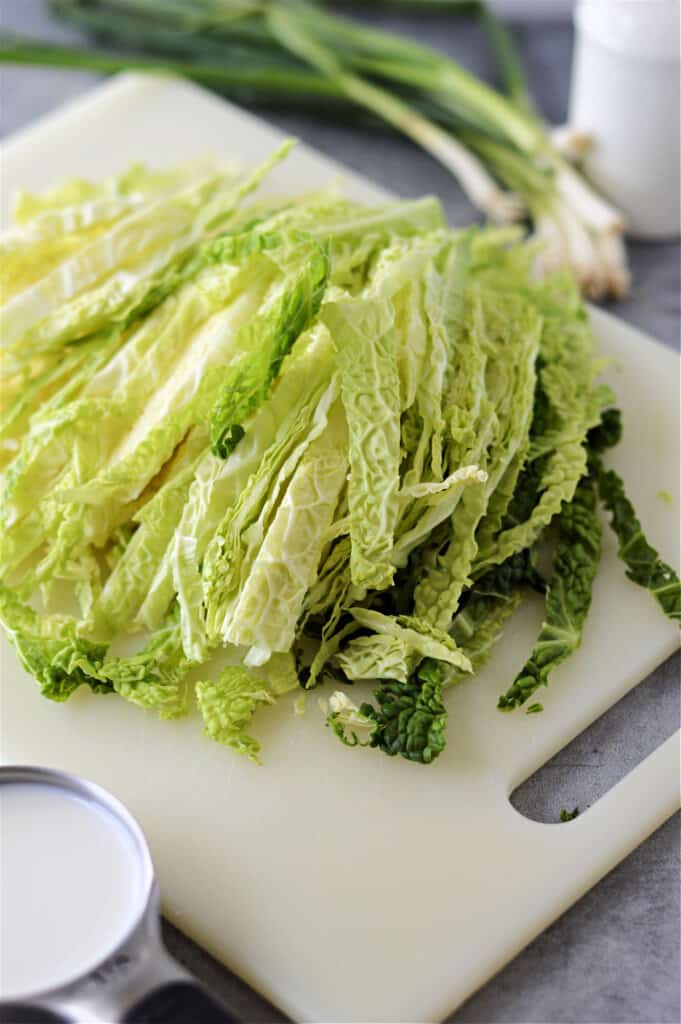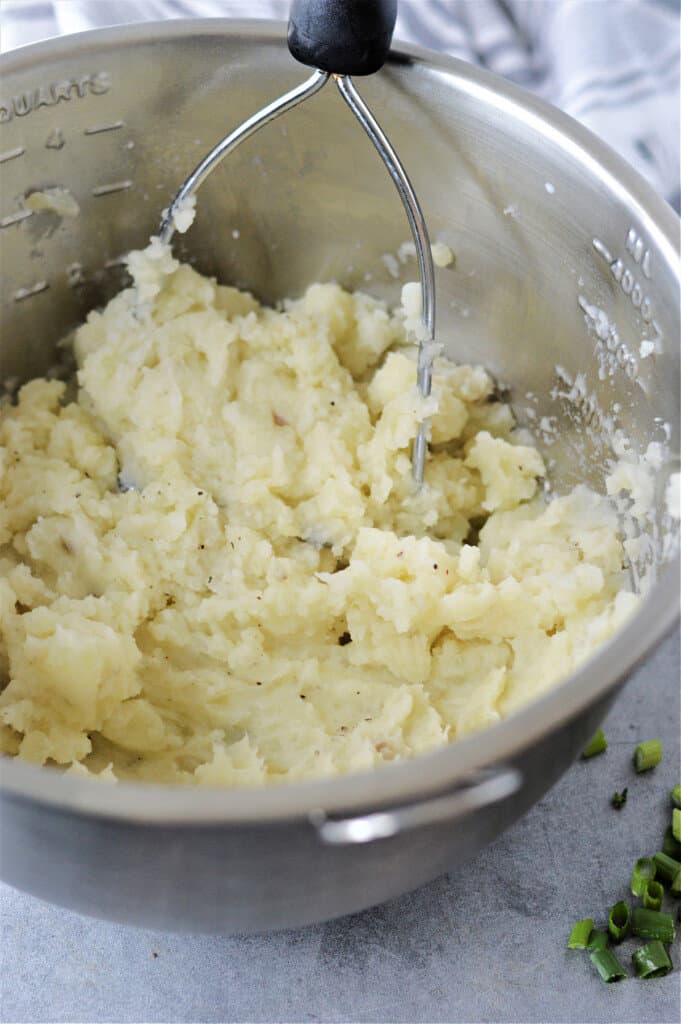 Storing and Reheating Mashed Potatoes with Cabbage
When you have leftover Colcannon Potatoes, place them in an airtight glass or plastic food storage container and put them in the fridge to keep them fresh. You can leave them refrigerated for up to three days. When you need to reheat your potatoes, you can toss them into a microwave-safe bowl and heat them in the microwave or add them to a pot on the stove and reheat them that way.
Variations
If you don't want to use savoy cabbage, you can use any other type of cabbage you personally prefer, such as green/white cabbage.
Add as much butter as you would like to these potatoes. Some people prefer more butter to give their potatoes an even better taste. You can add more than four tablespoons if your potatoes need it.
Although not traditionally included in this recipe, you can add shredded cheese and other toppings to your potatoes to customize them and give them a special touch.
Some people like using kale in this recipe. If you have kale on hand, you can slice it into thin pieces and then add it to your potatoes.
Tips and Frequently Asked Questions
Tips: You can use heavy cream as a replacement for milk in this recipe for Colcannon Potatoes. The heavy cream adds an excellent taste to the potatoes and leaves them with a perfect creamy texture that you can enjoy.
Feel free to add assorted herbs to this recipe. While the salt and pepper add the perfect seasoning to these potatoes without overdoing it, you can enhance the taste of the Colcannon even further by selecting your favorite herbs, chopping them up, and tossing them into your mixture of potatoes with milk, butter, cabbage, and green onions.
What are some other Irish Recipes to make with Colcannon?
Colcannon can be served as a side dish with a variety of Irish dishes, but some other traditional Irish recipes you could make to go with it include Shepherd's pie, Irish stew, or Dublin coddle.
Can I make Colcannon Potatoes into a main dish?
Colcannon is enjoyed year-round and is a staple of Irish cuisine. It is a delicious and comforting dish that can be served as a main course with the addition of other ingredients like bacon or leftover corned beef.
What is the origin of Colcannon (Irish Mashed Potatoes)?
Colcannon is a classic Irish side dish that has been around for centuries. The dish was traditionally eaten on Halloween night, and it was a popular meal among Irish farmers and their families. In recent years it has become popular to serve during St. Patrick's day celebrations.
More Easy Side Dish Recipes
STAY IN TOUCH ON SOCIAL MEDIA – @ INSTAGRAM, @ FACEBOOK, @ PINTEREST
And don't forget to tag @feastforafraction if you try this recipe!
Yield: 6
Colcannon (Irish Mashed Potatoes)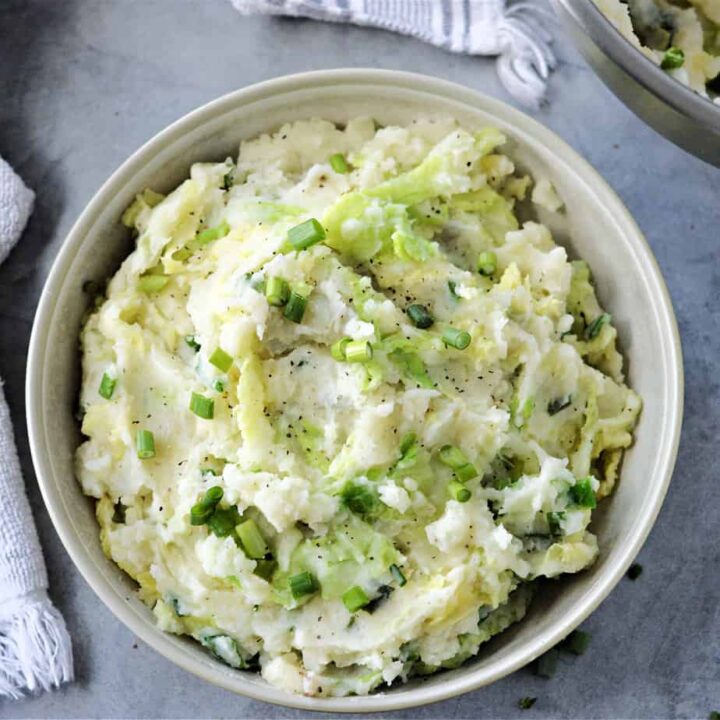 Making a Colcannon recipe is as easy as taking a handful of simple ingredients easily found at the grocery store, such as russet potatoes, cabbage, and green onions, and preparing an Irish-inspired dish your family will love.
Ingredients
4 russet potatoes, peeled and diced into 1 inch chunks
1 teaspoon salt
½ cabbage (I used savoy cabbage)
6 green onions
4 Tbsp butter
½ cup milk
Salt & pepper to taste
Instructions
Place diced potatoes and 1 teaspoon salt in a pot and cover with cold water. Bring to a boil and cook until the potatoes are fork-tender, meaning you can stick them with a fork and it easily goes through the potato. This should take 10-12 minutes.
While potatoes are cooking, thinly slice the cabbage and green onions. Set aside for now.
Once the potatoes are finished boiling, turn off the heat, and remove the potatoes from the water. (Do not drain the water).
Place the sliced cabbage in the water. Let the cabbage wilt in the water while you mash the potatoes. It should only need a couple minutes to become tender.
Mash the potatoes with butter, milk, salt and pepper to taste. You may find that you prefer more butter in your mashed potatoes. Feel free to add to your taste.
Remove the tender cabbage from the water and add to your mashed potatoes, along with green onions.
Stir everything together and ENJOY!
Nutrition Information:
Yield:
6
Serving Size:
1
Amount Per Serving:
Calories:

198
Total Fat:

8g
Saturated Fat:

5g
Trans Fat:

0g
Unsaturated Fat:

2g
Cholesterol:

22mg
Sodium:

492mg
Carbohydrates:

28g
Fiber:

3g
Sugar:

3g
Protein:

4g
Pin for Later
By