Ground chicken is a healthier and more affordable option to ground beef and is easily substituted in most recipes. These easy, tasty Ground Chicken Recipes are a must try! From burgers and meatballs to one-pot pasta dishes and ethnic recipes, ground chicken is a versatile protein you should add to your meal planning.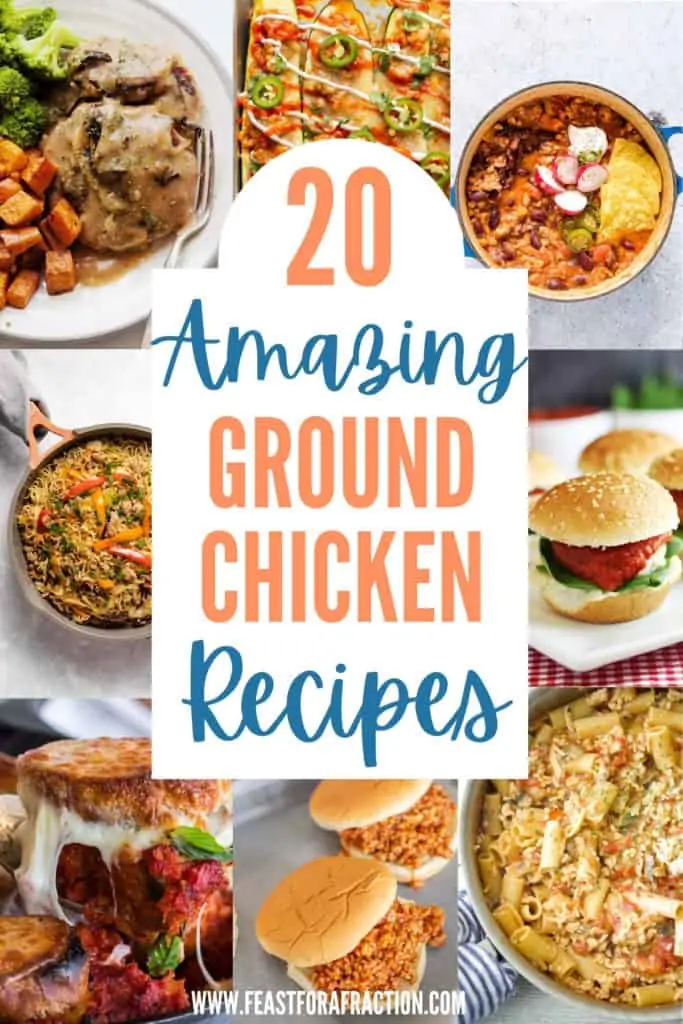 As an Amazon affiliate, I earn from qualifying purchases.
If you're looking to make some healthy swaps to your dinner routine, try using ground chicken in place of ground beef. Not only is it lower in fat and calories, it is usually cheaper. These ground chicken recipes are packed with so much flavor that you won't even notice that they are considered "healthy."
Tips and FAQs for How to Use Ground Chicken
Isn't ground chicken really dry? Ground chicken comes in different varieties and you'll want to pay attention. You can get 100% white meat ground chicken that is very lean and can become dry if overcooked. I prefer to stick to 85%/15% meaning that the ground chicken contains 85% white meat and 15% dark meat. This provides enough fat to keep the meat from drying out when cooked.
Also, cooking ground chicken at a lower temperature and for longer will help retain the moisture in the meat.
I don't like the texture of ground chicken. Yes, there is definitely a difference in texture from ground beef and it may be an adjustment for some. If you're looking to make the swap to ground chicken or ground turkey for the first time, I recommend trying it in a chili or Italian recipe in which it can be mixed into sauce.
How do I know when ground chicken is done? Ground chicken must be be cooked to a temperature of 165 degrees Fahrenheit. My favorite digital thermometer for checking temperatures in the Mk4 from Thermoworks. It reads accurately and very quickly and also works perfectly for baking, grilling and candy-making.
Recipes to Easily Swap for Ground Chicken
Tasty Ground Chicken Recipes
With summer here, what better way to lighten up dinner than by adding some delicious ground chicken recipes to the menu. Ground chicken can be used in any dish that you would typically use ground beef or turkey and is usually a healthier and cheaper option.

These flavorful ground chicken recipes include a variety of different flavors that the whole family will love. From burgers to casseroles, here are some tasty ground chicken recipes to try!

By