Prepare the perfect side dish in 20 minutes or less with this recipe for English Pea Salad. This old-fashioned dish is a huge hit at family functions and special events, pairing perfectly with everything from burgers to chicken, hot dogs, and more.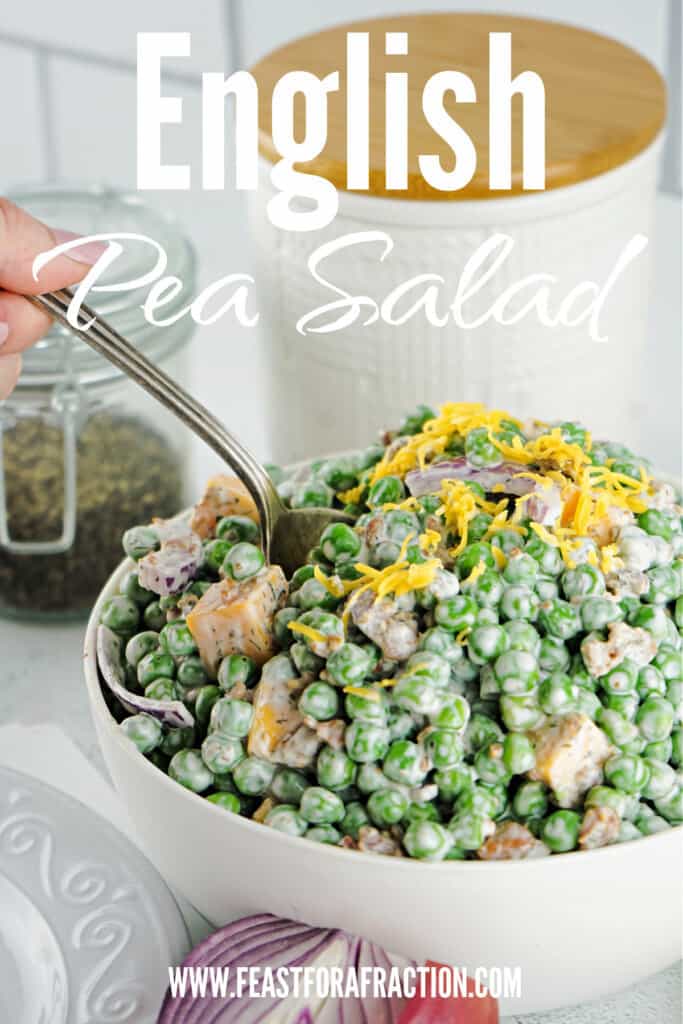 The English Peas in this salad can make it taste amazing or leave it less than desirable. Start with a good quality frozen pea, and allow them to thaw in the refrigerator overnight. The uncooked peas give a slight crunch to the salad, however if you rather not eat them raw, you can boil them for a couple minutes in water. This will also give them an even brighter color.
This Pea Salad recipe truly is the perfect dish for any holiday or even if you have a potluck or cookout to go to. Our Tuna Pasta Salad and Instant Pot Pulled Pork recipes are great addition to your potluck, as well.
Ingredients
Frozen English Peas – Use a 32-ounce package of frozen English peas for this recipe. If you don't have frozen peas, you can use three cans of small peas, but be sure to drain them beforehand.
Cheddar – Grab an 8-ounce block of cheddar and chop it into cubes. These cubes will add the perfect cheesy taste to this side dish. You may choose to shred the cheese rather than cube, and either are perfect.
Real Bacon Bits – These bacon bits add a light, smoky flavor to the salad and are a must-have! In addition to the smoky taste, they add a bit of a crunchy texture that goes great with all the other ingredients used in this recipe, such as the peas and cheese. Leave out the bacon bits for a fully vegetarian recipe.
Red Onion – Slice your red onion into the thinnest slivers or chop finely. The onion has a robust taste, so a little bit goes a long way to give onion flavor to this dish.
Mayonnaise – Use store-bought or homemade mayo to make your salad creamier and add more flavor to it. If you're not a fan of mayo, you can use Miracle Whip or replace it with sour cream to make your pea salad dressing.
Apple Cider Vinegar – Just a bit of apple cider vinegar is an excellent way to add a zesty taste to your Old Fashioned Pea Salad.
Sour Cream – Adding sour cream to your English Pea Salad can make it even creamier. If you don't have sour cream, you can always use plain Greek yogurt as a replacement for it.
You will also need dried dill, salt, and pepper to enhance the flavor of this classic pea salad even further.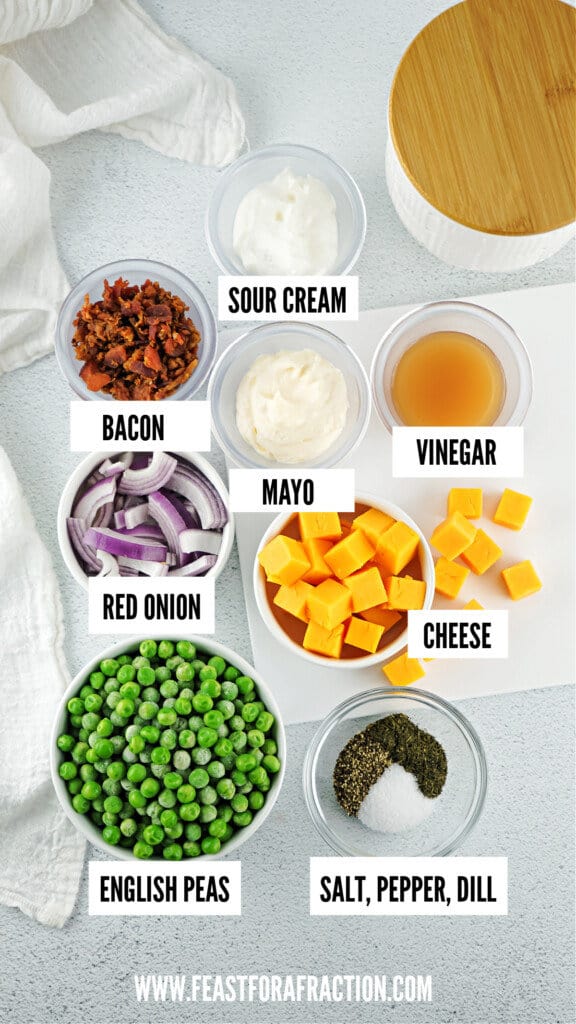 Equipment
Knife
Cutting Board
Large Mixing Spoon
How to Make the Recipe for English Pea Salad
Warm your frozen garden peas either in the microwave or allow the peas to thaw in the fridge, and then chop your cheddar into cubed pieces.
Grab your onion and cut it down into slivers, add the onion slivers to a bowl of ice water for 10 minutes if you would like a more mellow onion flavor.
Place the peas, onions, and cheese into a large mixing bowl.
Begin adding the rest of your ingredients into the bowl, such as the mayo, apple cider vinegar, salt, pepper, and more.
Fold your ingredients together in the mixing bowl until thoroughly combined.
Serve in a salad bowl or place your English Pea Salad in the fridge, allowing it to get cold before you enjoy it.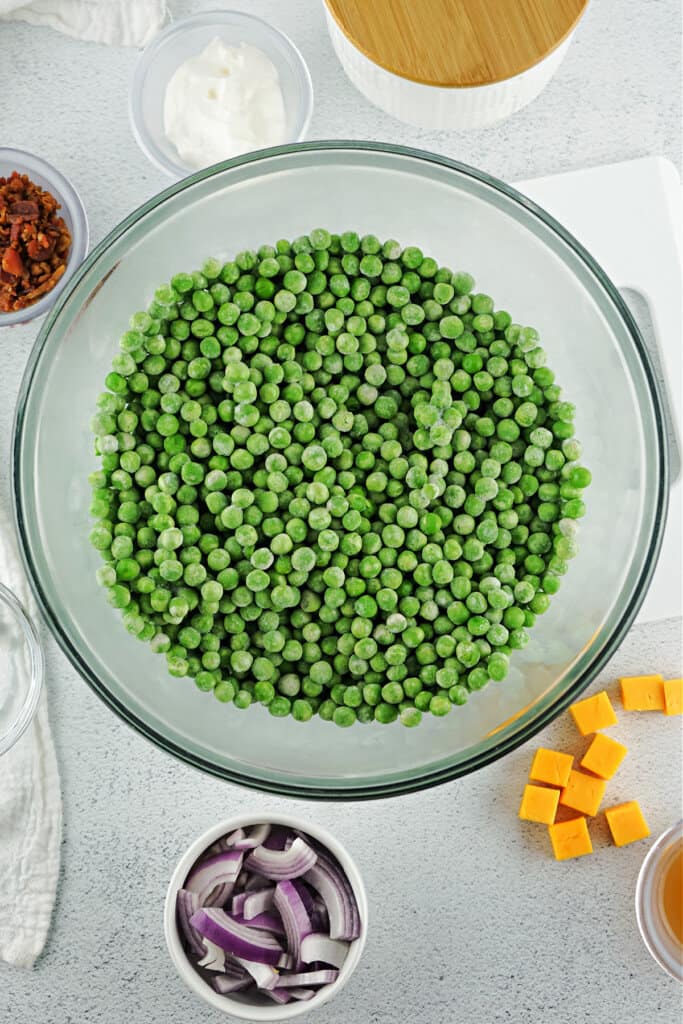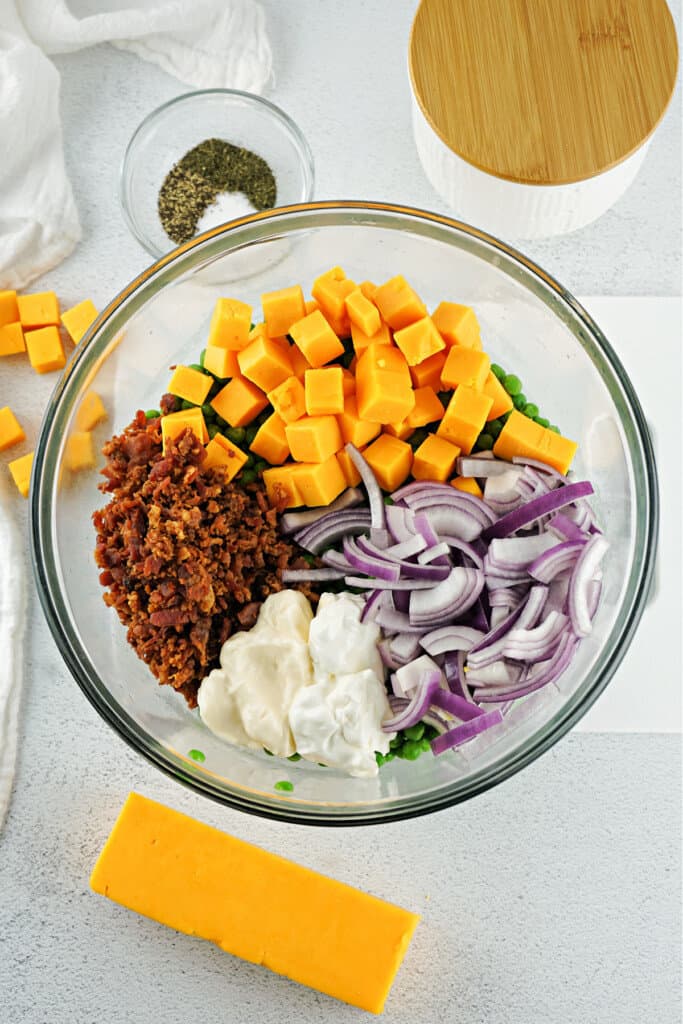 Storing Your English Pea Salad
Conveniently store your English Pea Salad in an airtight container. Be sure to place the salad in the fridge, where it will stay fresh for up to five days.
You will need to keep the salad refrigerated because it contains mayo and sour cream, both of which can spoil when left out at room temperature for more than 2 hours.
Variations
Some people like to add shredded carrots to this recipe. You can do this if you want to give your English Pea Salad a special touch!
If you don't like cheddar cheese, feel free to use any other type of cheese in this recipe. The cheese adds both texture and flavor to the salad, pairing well with the peas and other ingredients, so it's worth including in your salad. If you don't like cubed cheese, feel free to use shredded cheese in this recipe as an alternative.
Consider adding some hard-boiled eggs to this recipe to make the salad even more fulfilling. This is one of my favorite add-ins!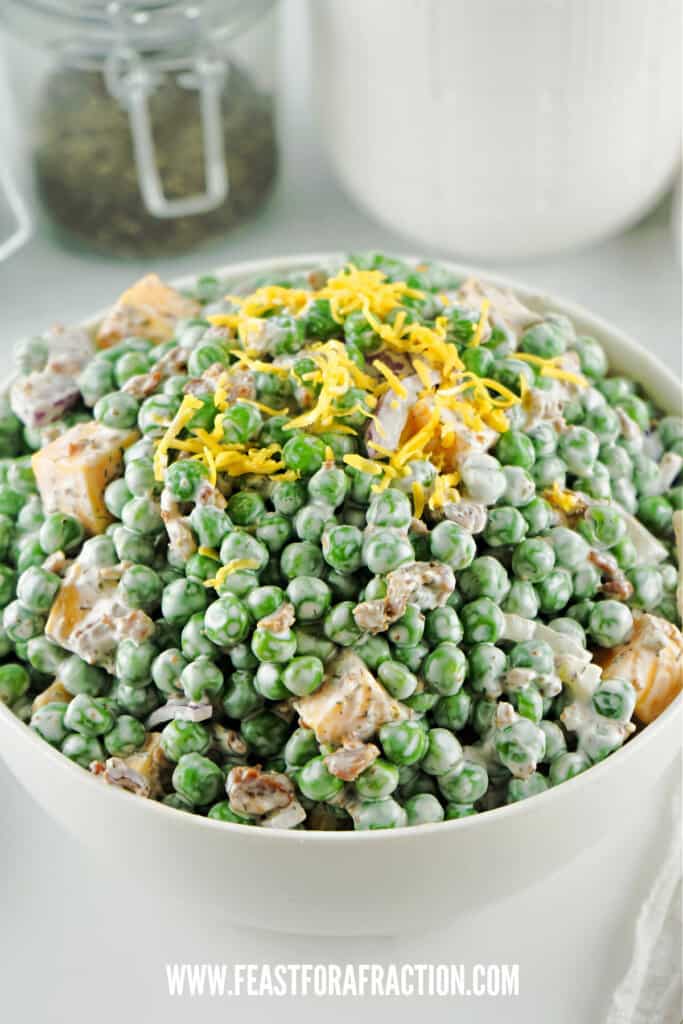 Tips and Frequently Asked Questions
When thawing your peas to prepare the salad, don't overcook them. You want to warm them enough so that they're no longer freezer, but you don't want to make them hot.
To do this, I recommend putting the peas in a strainer and running hot water over the peas until they are completely thawed. You can also microwave for 4-5 minutes. Ultimately, we will refrigerate the pea salad once prepared – it is best when it's served cold.
Can I freeze the Pea Salad?
Because this salad contains dairy, it's not the best idea to freeze it. Instead, make it fresh and then keep it stored properly by placing it in the fridge for up to five days.
Are green peas and English peas the same?
Green and English peas are basically the same, however English peas, most of the time need to be shucked. Any small pea will work well for Pea Salad.
Do frozen peas need to be cooked?
Frozen peas are flash steamed before they are frozen, so you don't need to cook them first. However, as we mentioned above, if you prefer to not eat raw peas you can boil them first for a couple of minutes in water.
More Easy Side Dish Recipes
Yield: 8 servings
English Pea Salad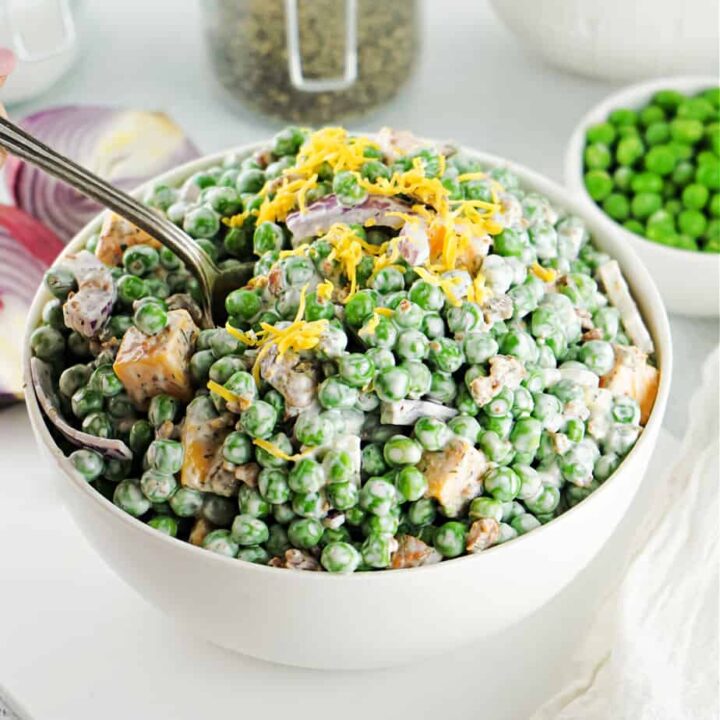 This old fashioned pea salad is the perfect go-to side dish for any summer get together. Of course, it works great all year round as well. Bold flavors of cheddar and onion mix with the calming flavor of peas and sour cream for a delicious side dish or snack.
Total Time
2 hours
20 minutes
Ingredients
32 ounces Frozen English Peas, thawed (or 3 cans of drained canned small peas)
8 ounces Cheddar, cubed or shredded
3 ounces Real Bacon Bits
1 small red onion, thinly sliced or chopped
⅓ cup mayonnaise
⅓ cup sour cream
1 Tablespoon apple cider vinegar
1 teaspoon dried dill
1 teaspoon salt
1/2 teaspoon pepper
Instructions
Thaw your frozen peas or drain canned peas, slice onion and measure remaining ingredients.
Combine all ingredients in a large mixing bowl and stir to combine.
Taste and add salt and pepper to your liking.
Eat immediately or place in the fridge, covered, until you're ready to serve it.
This recipe may be made up to 3 days in advance and stored in an airtight container.
Notes
There are quite a few variations to this recipe since it's been around for a long time. However, this combination is classic. So, try it and adjust to your preferences. (Hard-boiled egg makes a great addition.)
You can swap the mayonnaise for miracle whip and the cubed cheese for shredded if preferred. And feel free to leave out the onions if you're not a fan.
Do not over warm your peas. You simply want to warm them enough to where they're not frozen, but not piping hot. You want them to still be cold, as this will save you chilling time. If you overheat the peas, no problem, just chill the salad before serving.
This salad will keep in the fridge, covered properly, for up to 5 days. An airtight container would be best. I do not recommend freezing this salad due to the dairy it contains.
Recommended Products
As an Amazon Associate and member of other affiliate programs, I earn from qualifying purchases.
Nutrition Information:
Yield:
8
Serving Size:
1
Amount Per Serving:
Calories:

347
Total Fat:

21g
Saturated Fat:

8g
Trans Fat:

0g
Unsaturated Fat:

11g
Cholesterol:

37mg
Sodium:

702mg
Carbohydrates:

23g
Fiber:

8g
Sugar:

8g
Protein:

16g
Pin for Later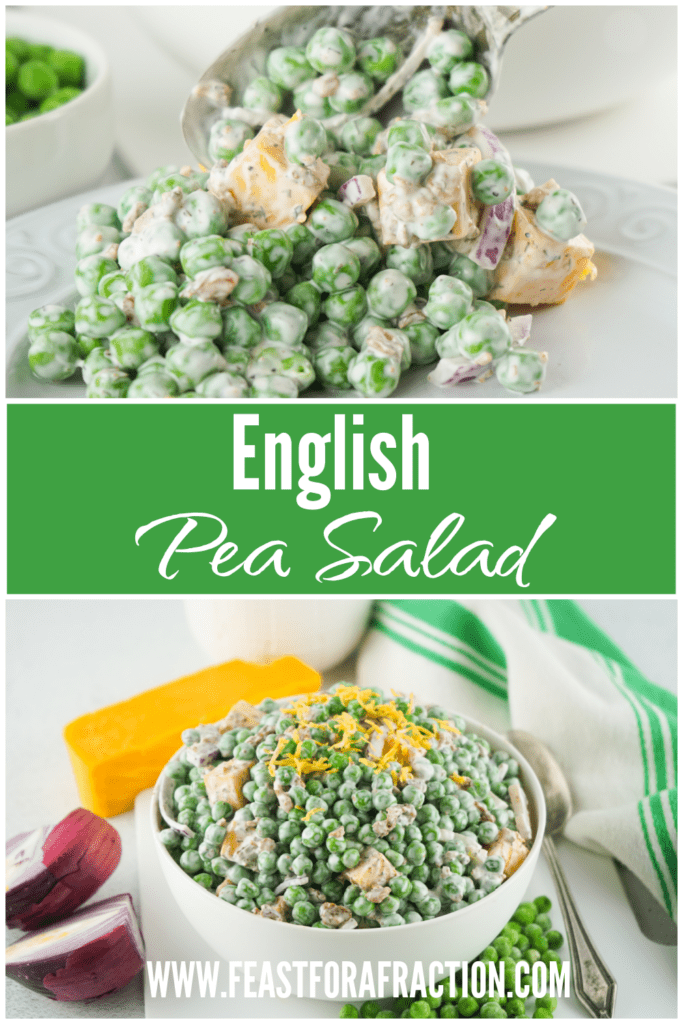 By