Save time and money by making homemade seasoning blends using spices you probably already have in your pantry. It's a fantastic way to try new flavors and add delicious flavor to your food!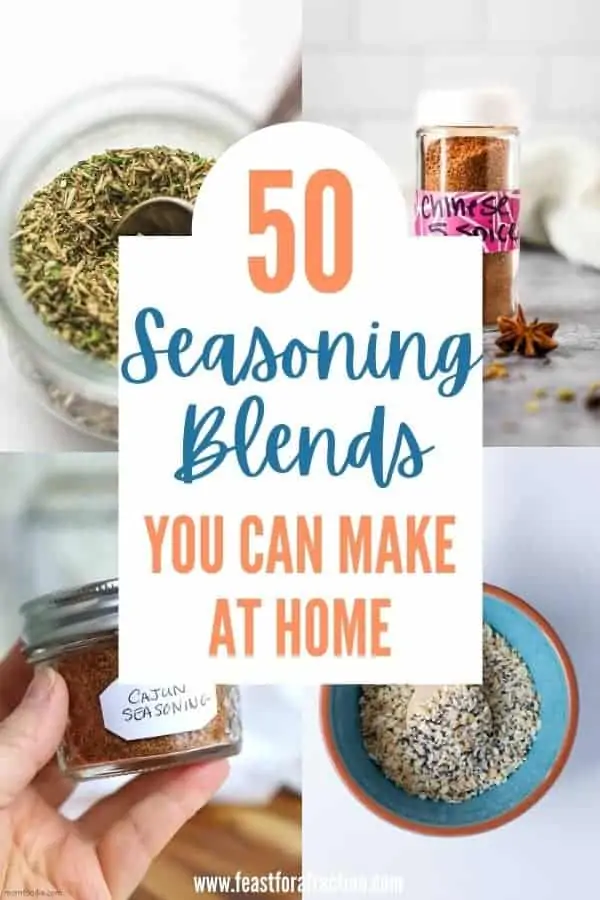 As an Amazon affiliate, I earn from qualifying purchases.
I know what you're thinking. Why would I mix up a spice blend when I can just buy it already prepared at the store? I've got two answers: price and flavor. I'm a frugal momma and don't like to spend more than I have to.
While I LOVE Penzey's spices, they are pretty expensive. It's great to wonder their stores to get ideas for interesting and unique spice blends, it makes much more financial sense to make them at home.
Secondly, store-bought spices and seasoning mixes can contain anti-caking ingredients, MSG, hydrogenated oil and other ingredients. By making them at home, you control the ingredients. If you're gluten-free or dairy-free, you can substitute or omit ingredients.
How to Make Homemade Seasoning Blends
It really is as simple as combining all the spices in a bowl and whisking them together until well combined. There are some extra steps that you can take to really give your spice blends an extra pop of flavor:
Toast Whole Spices: Take your whole spices and toast them in a dry skillet over medium heat. Make sure to stir pretty regularly so that they don't burn. Toasting helps open up the flavor of the dried spice and really intensifies the flavor.
Grind Your Own Whole Spices: Once those whole spices are nice and toasted, grind them up in a spice grinder. You can also use a mortar and pestle, but the grinder is so much easier. This will give you the freshest flavor for your seasoning or spice blends.
How to Store Spice Blends
You can absolutely re-use the plastic containers that spices come in from the grocery store. I have a handful of empty chili powder containers now just waiting to be used. I also like these glass spice containers because they are easy to fill and easy to swap out the labels for whatever they contain. It's nice, too, to have the same size jars so they fit nicely in your spice rack.
Recipes Using Homemade Seasoning Blends
How Long Can Spice Blends last
When stored in an airtight container in a cool, dry place like your kitchen pantry, spices and spice blends can last 6 months to a year. After that point, the flavor really starts to dull.
Bonus Tip: If you do have older spices that don't have as much flavor, wake them up by toasting in a skillet with a bit of oil. The heat and the oil help release the oils in the spices and rejuvenate their flavor.
STAY IN TOUCH ON SOCIAL MEDIA – @ INSTAGRAM, @ FACEBOOK, @ PINTEREST
And don't forget to tag @feastforafraction if you try this recipe!
Homemade Seasoning Blends
Spices and seasoning blends can transform any dish from ok to WOW! With a handful of spices you probably already have in your pantry, you can save money by not having to buy expensive blends and try different flavors from around the world. From sweet to savory to all-purpose seasonings, you'll love how much flavor these spice blends can add to a dish!

By