Grocery shopping on an extreme budget doesn't mean that you have to eat rice and beans every night. Use these tips to make the most of your tight grocery budget.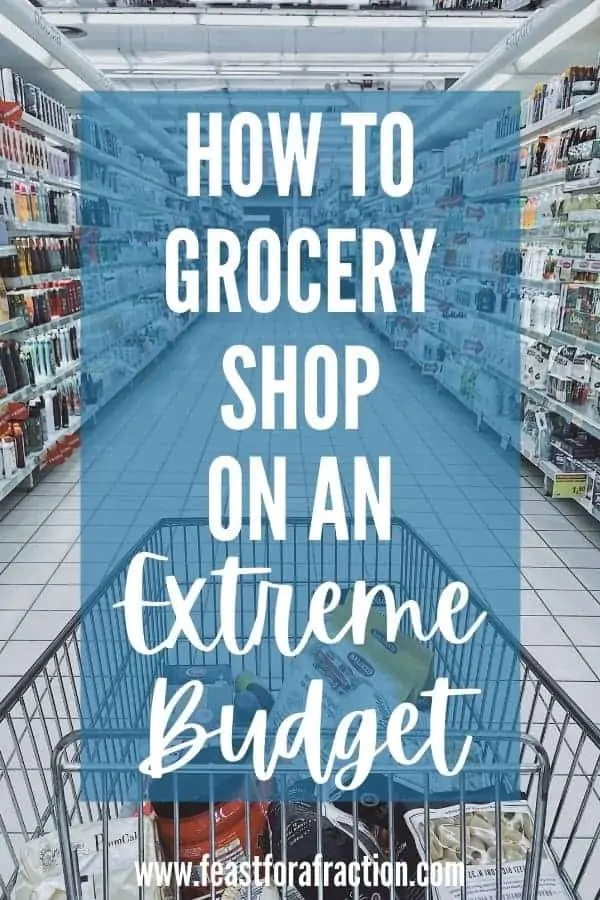 As an Amazon affiliate, I earn from qualifying purchases.
Don't be afraid to eat the same thing multiple days in a row
Making a different and unique dinner every night can get pretty expensive when you're on a tight budget. Make a large batch of spaghetti or chili and have it for dinner for two or three nights over the course of the week. Bonus tip: Bulk up meals like chili with budget-friendly canned diced tomatoes or canned beans to make the meal stretch even further.
If you aren't keen on eating the same thing multiple times in a week, make sure to plan at least one "leftovers" night into your menu plan. This will give you a night off from cooking, and you'll be able to use up leftover food that might otherwise get thrown away. You can also freeze leftovers for future lunches or dinners.
Choose one protein for the week so you can get the bulk discount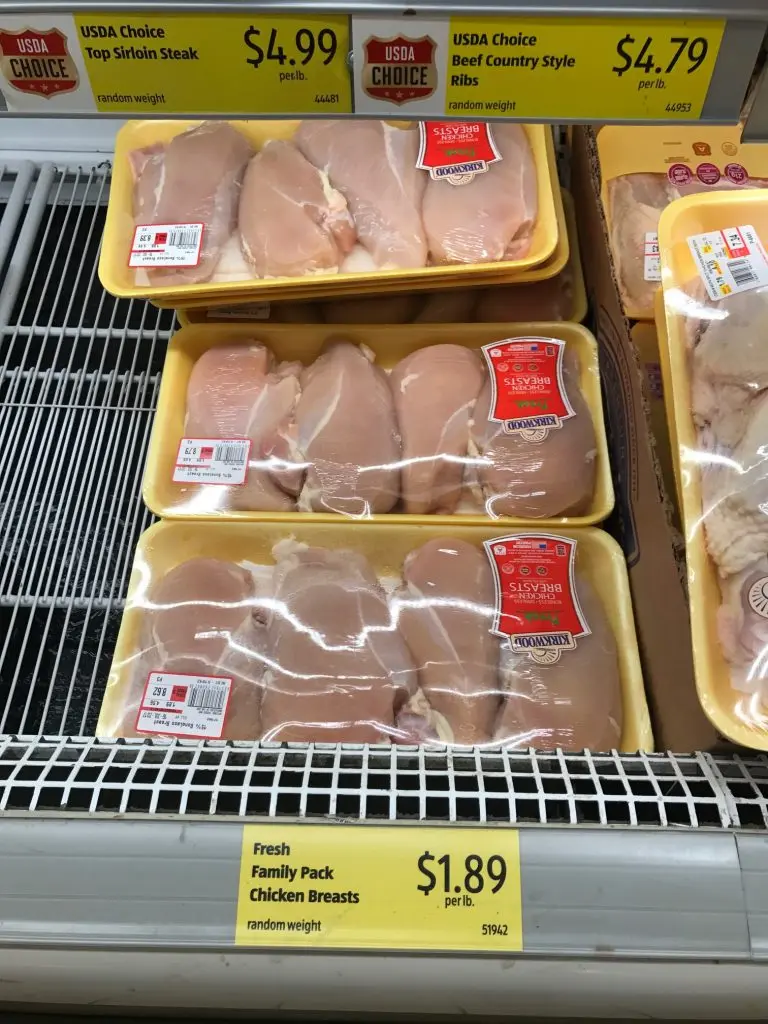 Small packages of chicken breast can cost up to $3.49/pound. This is usually just enough for one meal. Buy that same chicken in a 5-pound package and you can get it for $1.89/pound on sale.
Either plan meals in the week to use the whole 5-pound package or split it into 1-pound portions when you get home. Buying one pound of five different meats can really add up. Sticking to one protein allows for you to benefit from the cheaper bulk price.
Buy one pantry staple per week until your pantry is fully stocked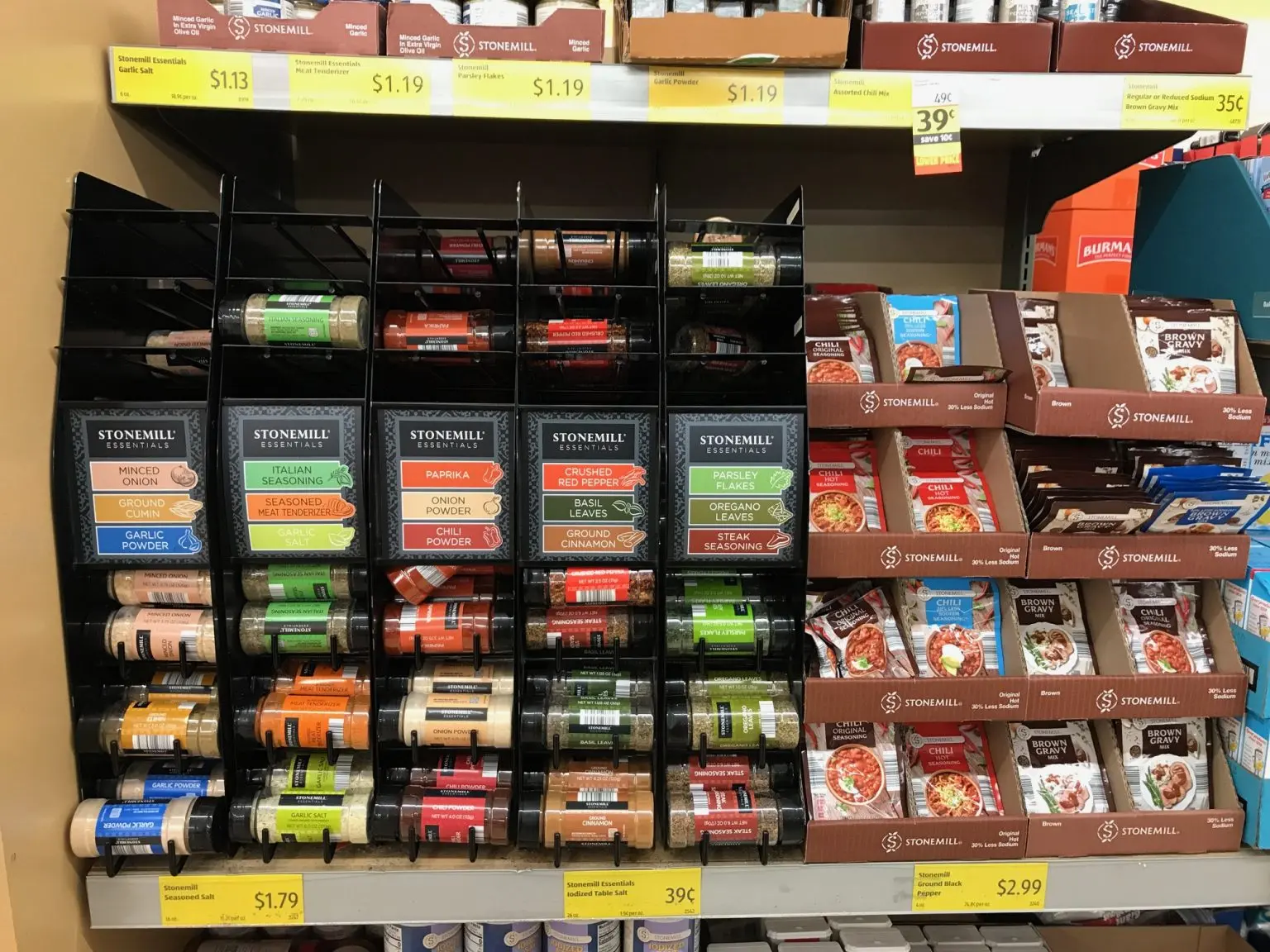 It can seem daunting to build a pantry when you're on a tight budget. Make it more approachable by adding one or two items to your pantry per week. Depending on how much you use those pantry ingredients, they can last for months.
And keep in mind that really basic ingredients can get you a long way. These are my recommendations for the most basic pantry:
Salt
Pepper
Sugar
Flour
Chili Powder
Cumin
Cinnamon
Onion Powder
Garlic Powder
Vegetable or Olive Oil or Vegetable Shortening
Baking Powder
Baking Soda
Corn Starch
Dried Beans
Dried Rice
Pasta
Canned Tomatoes
Tomato Sauce
With these ingredients, you have sweet and savory dishes covered, and you're able to make quick pan gravy, bake quick breads, muffins, and pancakes. As your budget allows, you can add other ingredients such as yeast, more canned goods or specialty spices.
Buy whole and cut it up yourself
Pre-cut or chopped protein, fruits and vegetables are outrageously expensive. Save money in your grocery budget by cutting it yourself. Whole chicken provides white meat, dark meat and bones to make chicken broth for way less than you would pay for chicken that is already cut up. If you are unsure how to break down a chicken, check out this really helpful video.
Don't forget the incredible versatility of eggs
Eggs are the unsung hero in any kitchen, not just a frugal kitchen. Eggs are a great source of protein and you can easily get a dozen for less than $1. This works out to about $0.08 per egg. Scramble, poach, fry or hard-boil eggs for breakfast, make egg salad or chop hard-boiled eggs and add them to salad for lunch, and enjoy shakshuka or ramen for dinner. Let's not forget all the baking that you can use them for.
Get familiar with substitutions
When you're on a tight budget, you have to make some concessions, but it doesn't mean that you have to do without. These simple substitutions will save you a bunch:
Instead of butter, use vegetable shortening.
Mix one cup of milk with one tablespoon of lemon juice to make buttermilk.
Rather than more expensive chicken breast, use thighs or legs. When on sale, they can be half the price of breasts.
Cook a batch of dried beans and store them in 2 cup portions rather than using canned beans.
Make your own powdered sugar by blending granulated sugar in a blender or food processor until it is a fine powder.
Make from scratch when it is cost-effective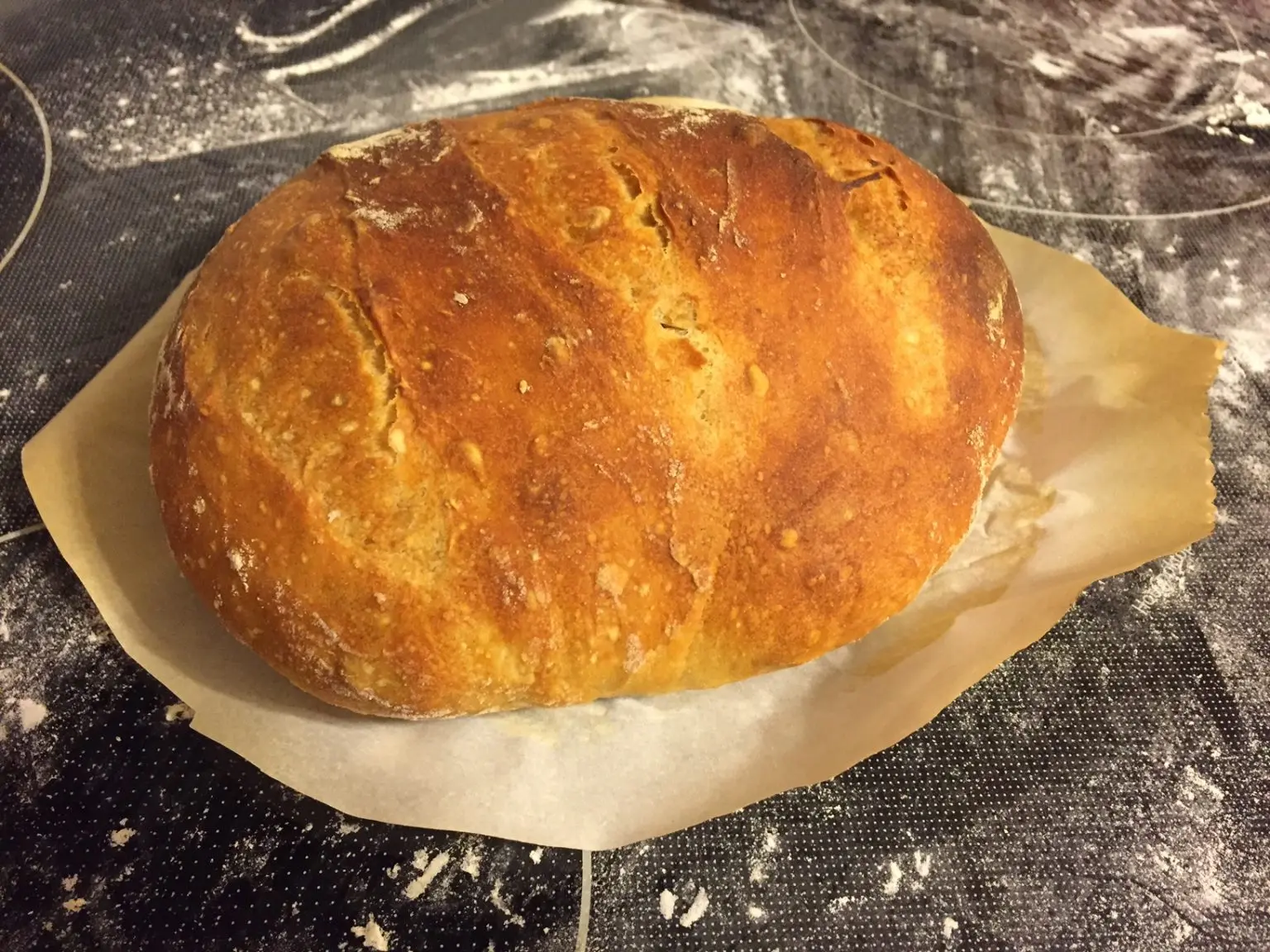 Depending on the cost of ingredients and if you feel it is worth your time, making things from scratch can be really helpful to your budget. One loaf of no-knead bread costs less than $0.67 in ingredients (flour, water, salt and yeast). If you can find bread for $1 per loaf, this may not seem like such a great deal. But if you're used to spending $2-3 per loaf, the savings can really add up.
Another example, store-bought mayonnaise can run up to $4 a jar and it is loaded with stabilizers and additives. You might be surprised to hear that making it yourself is super easy and way cheaper. Check out my recipe for easy homemade mayonnaise.
Now, tortillas are one thing that I still buy regularly. Yes, they are made from insanely cheap ingredients (flour, shortening and salt), but it takes a bit of time to make the dough, roll out the tortillas and cook them. It's not difficult, just time-consuming. And I can get a pack of 20 tortillas at Aldi for $1.19. This time, convenience wins.
Utilize discount store and get familiar with which stores have the best prices
Nine times out of ten, stores like Aldi and Wal-Mart will have better deals on groceries than places like Dollar Tree. However, there are those diamonds, like rice, that actually wind up being a better deal at Dollar Tree. Rice usually runs about $1/pound, but you can get a 2-pound bag for $1 at Dollar Tree.
It's also really important to keep track of which stores have better prices for the things you buy regularly. Keeping a price book is a fantastic way to track this. Simply log the prices of your usually groceries for each store and then you'll know when you're getting a great deal (meaning stock up if you can!) or where you need to go when you need certain items.
Grab my free downloadable Price Book below.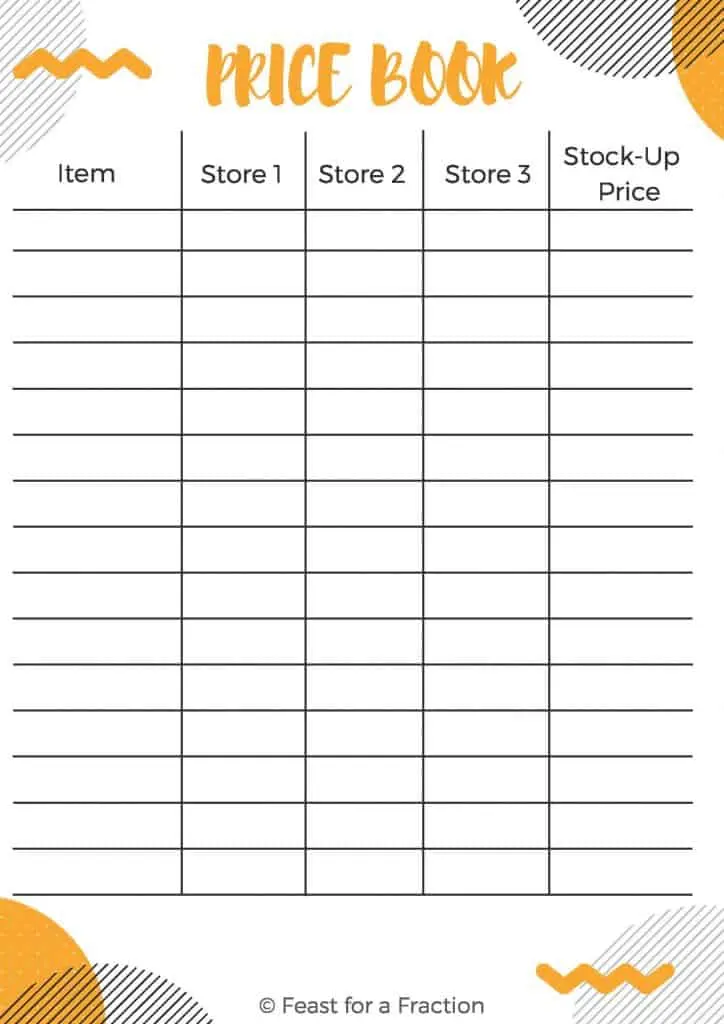 Avoid convenience items
Convenience items like microwavable seasoned rice packets or cereal are expensive compared to their alternatives, especially when you're on an extreme budget. Rather than buy a seasoned rice packet that makes the equivalent of 1 ½ cups of cooked rice, cook a batch of dried rice and season it yourself. Split it into 1 ½ portions and freeze for your own frugal, convenient side dish. Check out my recipe for Instant Pot Brown Rice here.
A box of cereal contains about 9 "servings." You know, the recommended serving that is puny compared to the bowls that we all actually serve. So, the price of convenience can really add up when you're eating cereal for breakfast every morning. Instead, cook up some oatmeal and flavor it with milk and brown sugar or super affordable grits that can be sweet or savory. You've got a more filling, and way cheaper, breakfast!
Learn the coupon policies at your go-to stores
I don't personally use coupons that much anymore because my local stores have pretty strict coupon policies. They don't double and you can only use up to three of the same coupons in a transaction. When I lived in New Jersey, though, it was a completely different story. Those stores would double any coupon up to $.75, meaning that it would take $1.50 off the price. And I could use 4 of the same coupons in a transaction and there wasn't a limit on the number of coupons I could use in total. So, it was really easy to get items for a huge discount or even free.
Make sure to familiar yourself with the policies of your stores. You could save big on some items that you're already buying. Another place to watch is drugstores. CVS and Walgreens have store loyalty coupons and discounts that can be stacked with coupons for even bigger savings. Check out The Krazy Coupon Lady for notifications on great deals and what coupons to use. As for acquiring coupons, you can find them in the Sunday newspaper, print them online from Coupons.com and RedPlum.com, or even order them pre-clipped from Klip 2 Save.
Make your meal plan based on what is on sale
Rather than making a meal plan for the week and then shopping for the ingredients you need, first look at the sales flyers for your grocery stores. This will give you an opportunity to see which stores have the best deals and make a more budgeted meal plan. If ground beef isn't on sale, don't pay full price. Just make a plan to buy something else instead. If ham is on sale for an amazing price (think around Easter), you can stock up and freeze them to benefit from that sale over and over.
This will require you to set aside those hankerings if it just isn't in the budget.
Buy produce in season
In-season produce is always going to be cheaper than when it is out of season. For example, apples are in season right now and you can easily find deals for less than $1/pound. In other seasons, though, you may have to pay up to $2.50/pound.

Use this produce season tracker to get an idea of when you can expect the best prices on your favorite fruits and vegetables.

What other tips do you have for grocery shopping on an extreme budget? For even more money-saving ideas, check out my Frugal Living page.

By