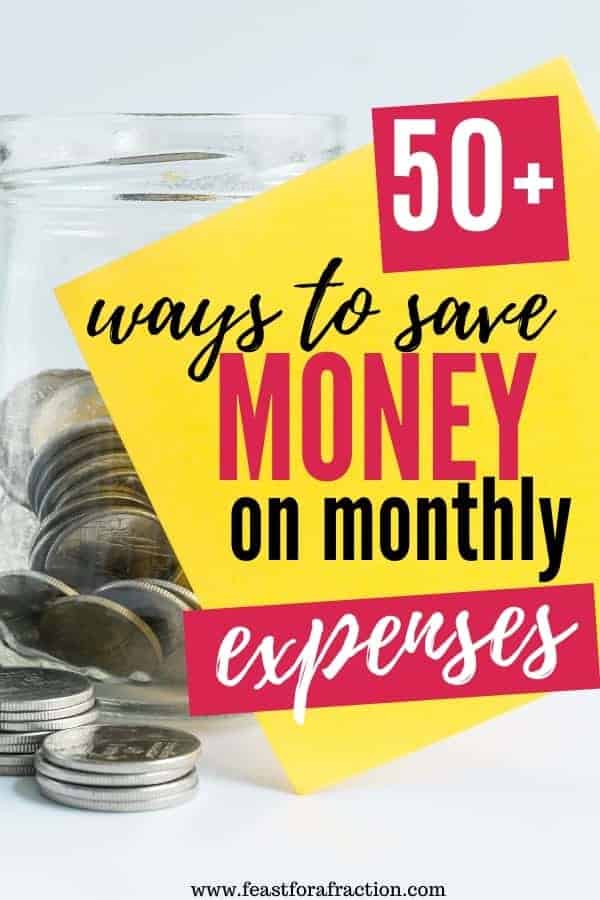 This post contains affiliate links. This site earns a small commission from purchases made using these links at no additional cost to you, the reader.
I'm always looking for ways to save money on expenses. Yes, rent is typically a set expense every month, but we can implement some ways to save on the expenses we can control. Some of these money-saving tips may seem like common sense, and some may seem pretty out of the box. Either way, watch your monthly bills shrink by using some (or all) of these tips. Leave me a comment with which tip you are most excited to start doing!
Save Money on Food Expenses
Keep a Freezer and Pantry Inventory
Knowing what you have on hand will make it so much easier to plan meals or know what you need (or don't need) to buy. Use my free printable freezer and pantry inventory charts to keep organized.
Meal Plan
After double checking what you already have in the pantry and freezer, use your grocery store flyers to plan your weekly meals based on what is on sale. Only buy what you need. – Renee Bolling
Regrow Food Scraps
Green onions are my favorite food scrap to regrow. Just place a 1″ piece from the root end in a cup with an inch of water. Place the cup on a sunny window sill in your kitchen. Change the water every few days and you'll have a continuous supply of green onion. Simply snip off what you need from the top of the plant. In addition to green onions, you can do this with lettuce, garlic, herbs, and celery to name a few. Checkout Buzzfeed's post for a more extensive list.
Cut one meal out per week
I'm not going to tell you to never go out to eat, but cutting out one meal out per week can save you $20-50 depending on family size. Have a homemade pizza night at home instead.
Make Cold Brew Coffee at Home
Making cold brew coffee at home is so simple you'll kick yourself for ever paying for Starbucks. Simply add 1/2-1 Tablespoon of coffee grounds to a french press for every cup of cold water. My french press holds 32 ounces, so I add 4 Tablespoons. I prefer to make the brew pretty strong and then I add non-dairy milk. Allow the coffee grounds to steep in the water for 24 hours. Strain using the press, and you're done! Pour over ice and mix in your favorite syrups, milk or creamer. You've got delicious cold brew for pennies.
…