To help stretch your food budget, it is really helpful to use every part of the food you buy. This includes apple cores, scraps and peelings that you might otherwise throw away. Check out these 10 Ways to Use Apple Scraps and give a second life to those peelings!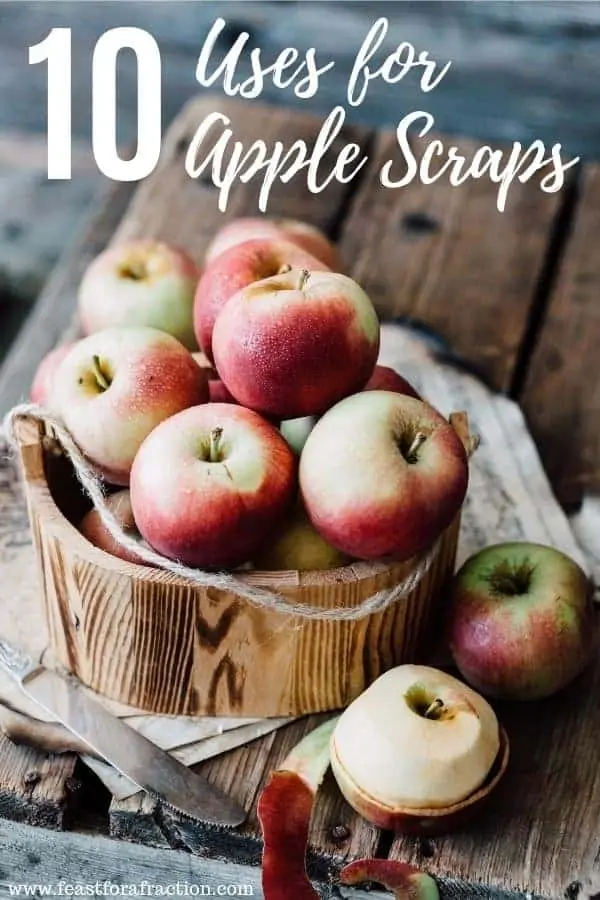 As an Amazon affiliate, I earn from qualifying purchases.
I love apples! They are the perfect snack. And my daughter will agree, but she absolutely will not eat her apple unless it is peeled and sliced. I'm sure there are a lot of you who feel my pain. I don't mind doing it, but I do wind up with a lot of apple scraps over time. (BTW, this is my favorite tool for peeling, coring and slicing apples in bulk. It makes such quick work without any waste!)
I hated the idea of throwing these scraps away, so I went on the hunt to find alternative uses for them. Of course you can throw the peels and cores in your compost, but I was looking for something more.
If you're peeling apples every once in a while, place the peels in a freezer bag and keep in your freezer until you have enough for a full recipe. I love to stock up on apples in the fall because they are such a good price. Depending on how I use them, whether prepping apple pie filling or making apple butter, wind up with a LOT of scraps. (PS – I can't wait to jump into canning with all of you!)
I've compiled 10 recipes for bringing new life to those apple scraps. Do you have any other suggestions? I would love to hear them. Just comment below!
More Ways to Save Money and Frugal Tips
Try these Apple Blondies, and don't forget to save the scraps. 😉

By