Building a pantry of dried and canned goods shouldn't cost you an arm and a leg. Using these tips, I'll teach you how to stock your pantry on a budget!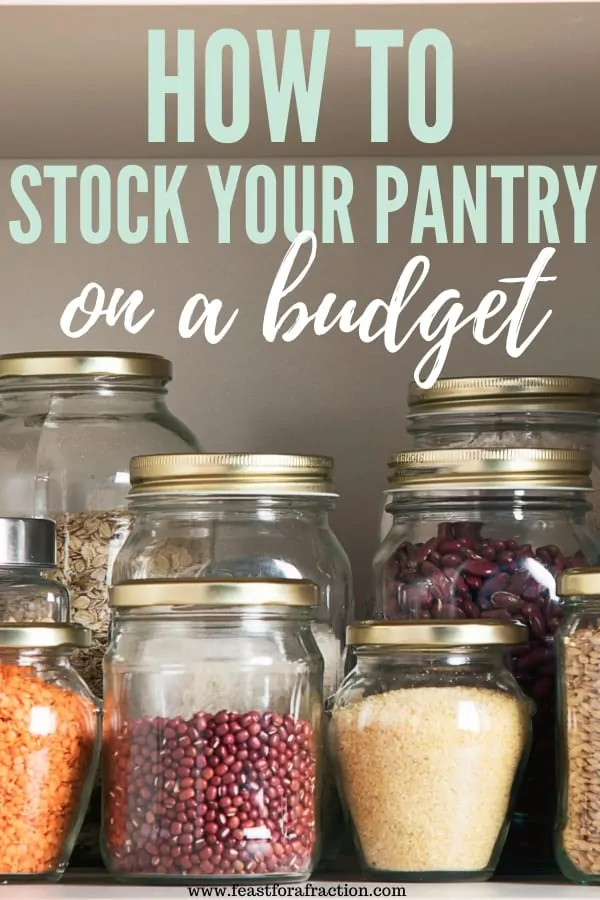 As an Amazon Affiliate, I earn from qualifying purchases.
Stocking up your pantry can very quickly get expensive if you aren't careful. But, there are a few things you can do to help keep your food bill down without having to sacrifice or go without. I've put together a few tips on how to stock your pantry on a budget to help you save money.
Shop Discount Stores
Aldi and Ruler Foods are fantastic places to get food cheaply but they are by no means the only discount stores that exist. In fact, many of them are local stores with clever names like Stuff and Things.
Your local dollar store is also a fantastic place to stock up on canned foods. But, make sure you check the expiration date on everything you buy from discount stores before you put them in your basket. You don't want to buy anything nearing its expiration.
It also helps to know what you already have on hand, so use my free Pantry and Freezer Inventory printables to keep track of what you have in your pantry and what you need to buy.
Buy in Bulk
When possible you can save a considerable amount of money by buying in bulk. Specifically, buying canned foods and dry foods in large quantities can wind up costing less than half the price per ounce as smaller portions. Check the price per unit to see the difference.
If you don't have a need for 20 pounds of flour or rice, you can still shop from the bulk bin aisle of your grocery store. You can bring glass jars with you and fill them with as much or as little as you need.
Sometimes you even find yourself with ingredients on hand that you got for one specific recipe and now need ideas for how to use it up like glutinous rice flour (link to ways to use this ingredient). It's fun to find new ways to use ingredients and helps cut down on waste.
Ditch Name Brand
When it comes to saving money on food one of the best things you can do is switch from name brand to store-brand foods. For most foods, there is very little difference in taste and quality between the more expensive name brand and the generic.
Look For Long Shelf Life Foods
When it comes to stocking your pantry you want to look for foods that have a long shelf life, meaning they aren't likely to go bad anytime soon. Dried foods like beans, rice, oats, and pasta are the best to stock up on.
Just be sure to check for the use-by date before you buy the food and if you can, dig to the back of the shelf where you'll find the food that has the furthest expiration date.
Know the Prices for Your Top 10 Foods
Identify what the top 10 foods are that are consumed in your house. This likely includes coffee, pasta, rice, and a tomato product either in a can or in a jar. Keep that list on you and check the price of these things in every store you go to. Keep track of the lowest price you see and which store you see it in.
Over the long term, you'll end up saving quite a lot of money on these items just by knowing where to get the best price for them.
Download my free Price Book for tracking prices for your Top 10 Foods to know what the best price is for stocking up!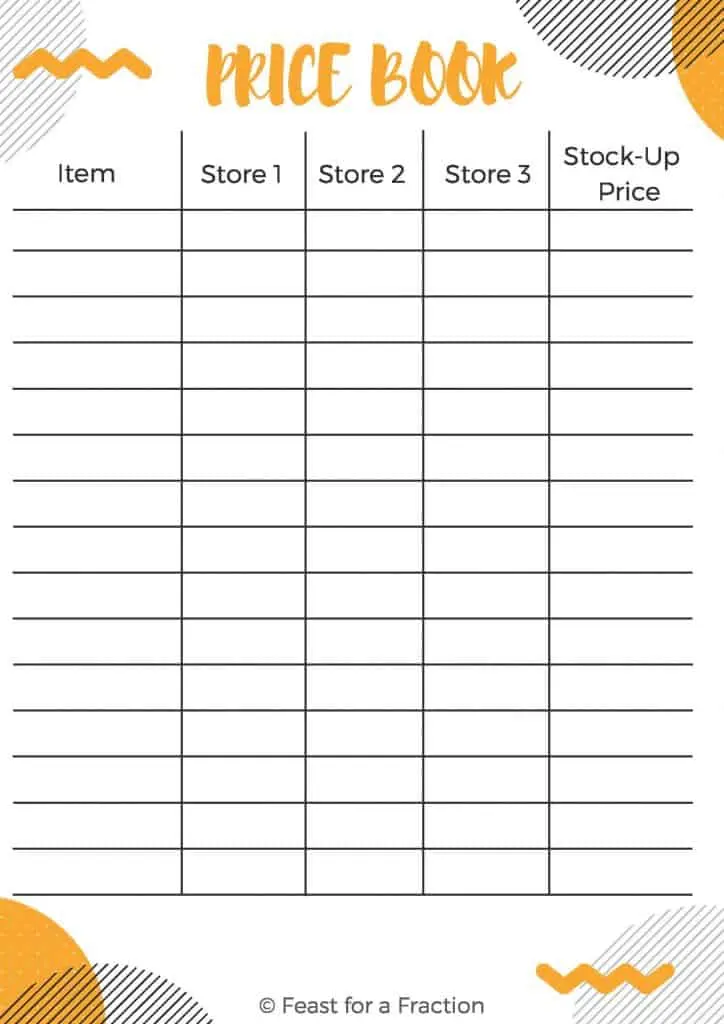 Price Compare Frozen vs Canned by Weight
While you're shopping compare the cost of frozen food vs canned foods. Sometimes frozen is cheaper than canned but not always. You should also consider how much freezer space you have.
If your freezer is on the smaller side you might want to forgo frozen veggies so you have more room for meat. In which case you'll want to buy canned veggies.
Buy Components, Not Meals
Pouches of fried rice you can just throw in the microwave are a fantastic invention, but wow are they expensive when you compare it with buying all the ingredients individually and making it yourself.
You pay a lot for convenience and when you're on a budget you simply can't afford them. Stock your pantry on a budget by buying dried rice, bullion cubes and powdered milk to make your own creamy rice.
Shop in Asian Food Stores
Your local Asian food store is an excellent place to purchase rice in bulk as well as dried herbs. The dried goods sections of Asian markets even include dried fish and shrimp that can be used to make very flavorful broths, a perfect addition when stocking up your pantry.
You'll also be able to find much larger containers of soy sauce, sweet chili sauce, and even things like olive oil. You'll find that the prices are much more reasonable than if you were trying to buy the same foods from a major retailer.
Grow It Yourself
Finally, if you have space consider growing your own food. You don't even need to have a yard to grow food. Many of the foods you know and love, including potatoes, can be grown indoors. A packet of lettuce seeds will cost you $2 and have the potential to give you 200 heads of lettuce!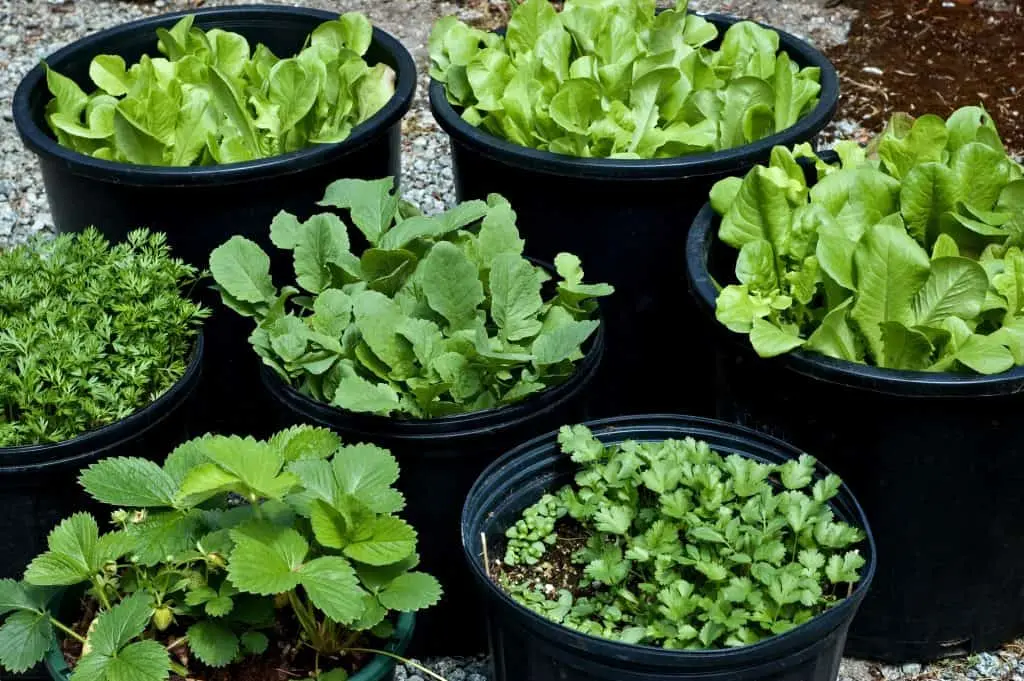 This AeroGarden is perfect for growing herbs right on your kitchen counter. I've had mine for three years now and always have an abundance of basil, dill and chives on hand.
Check out my post Container Gardening for Beginners for tips on how to get started with your own garden whether you have a yard or not.
If you liked this, you'll love…
By