Enjoy homemade Peppermint Hot Chocolate Bombs for a festive treat the whole family will love, for a fraction of the price of store-bought hot chocolate bombs. Once you've got the technique down, the flavor possibilities are endless!
As an Amazon affiliate, I earn from qualifying purchases.
My obsession with Hot Chocolate Bombs finally got the best of me. You know I refuse to pay big bucks for something I believe I can make myself. And it turns out these hot cocoa bombs are so easy!
My daughter has such a sweet spot (no pun intended) for peppermint hot cocoa, so I thought why not make it into a hot chocolate bomb.
Ingredients
Candy Melts: Rather than having to mess with tempering chocolate, we are using candy melts. They are specifically made for candy making and melt easily and cool with a perfect shine. We're using a mix of light green and white here, but you can use whatever color you like. You can also use Candy Color to die white candy melts to any color.
Peppermint Hot Cocoa Mix: We're taking the easy route and using prepared peppermint hot cocoa mix. Feel free to use regular hot cocoa mix and if you only have individual packets of cocoa mix, use one packet per hot chocolate bomb. I've also got a recipe for Homemade Hot Chocolate mix if you want to make your own mix.
Mini Marshmallows: Mini marshmallows are part of the surprise when you melt your bomb. Feel free to leave out if you're not a fan.
Sprinkles: Sprinkles are totally optional, but they're oh-so cute! These shamrock sprinkles are perfect for St. Patrick's Day themed hot chocolate bombs.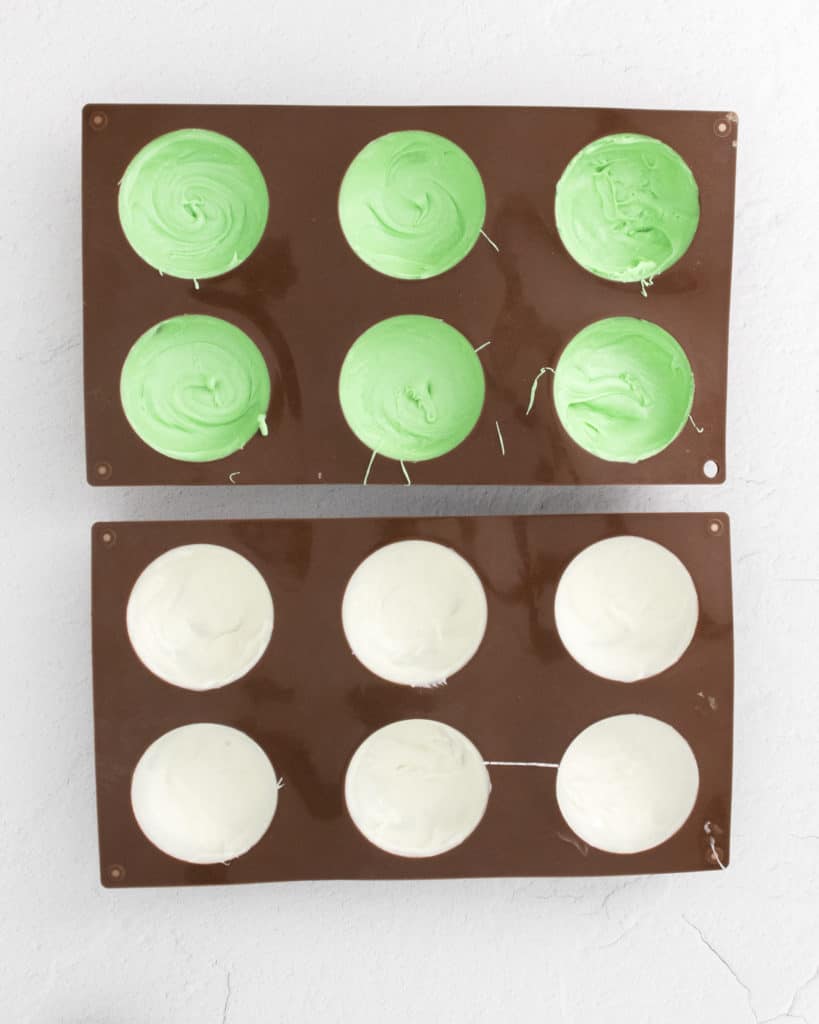 Equipment
Small Glass Bowls
Spoon
Measuring Spoon
Measuring Cup
Small Nonstick Pan
Variations
The basics of making a hot chocolate bomb are really simple, so you can have fun with all kinds of different flavors or colors for different occasions.
Add a York Peppermint Patty inside your bomb for even more peppermint flavor
Use milk chocolate hot cocoa mix or white chocolate hot cocoa mix instead of peppermint
Add a teaspoon of instant coffee inside your bomb for a mocha flavor
Once prepared, spike your hot chocolate with a shot of Bailey's or Kahlua for a grown-up treat
Top your hot chocolate bomb with crushed graham crackers for a s'mores variety
Tips
Because we are using Candy Melts in this recipe, you don't have to worry about tempering chocolate. Your candy shell with have a smooth shine and hold up well. If you would rather use real chocolate for your bomb, I Am a Food Blog has great instructions on how to temper chocolate.
If your Candy Melts cool and become hard to work with while you're coating your molds, simply pop the candy melts back in the microwave for 30 seconds on 50% power.
When assembling your hot chocolate bombs, fill half of the shells with hot cocoa mix and marshmallows before you even start melting the edges of your other shells. You'll want to be able to press them together quickly once you've melted the edges.
If you find that you have lumpy edges, use your finger to smooth the seam of your bombs. I recommend wearing plastic food gloves when assembling your bombs so that you don't leave fingerprints on the candy shells and it makes for easy clean-up.
For decorating the top of your peppermint hot chocolate bombs, put your leftover candy melts in a ziploc bag and cut the tip of the bag to use like a piping bag. Drizzle on top and add sprinkles if desired.
How to Serve Hot Chocolate Bombs
Simply heat 8 ounces of your favorite milk (or milk alternative) in the microwave or in a pan on the stove until steaming and pour over your hot chocolate bomb in a mug.
Let it sit for 30 seconds or so and watch as the candy shell melts and releases the hot chocolate mix and mini marshmallows hidden inside. Give it a quick stir to combine and top with more marshmallows or sprinkles if you like.
How to Store Hot Chocolate Bombs
Once prepared, hot chocolate bombs can be stored in an airtight container at room temperature for 4-6 months. They're perfect to make ahead and keep for a fun treat.
You can also wrap your Peppermint Hot Chocolate bombs in plastic gift bags and tie with ribbon for a delicious gift. I like to write the instructions for preparing on a piece of kraft paper or cardstock and string onto the ribbon.
More DIY Recipes
Yield: 6 (2.5 inch) hot chocolate bombs
Peppermint Hot Chocolate Bombs
Hot Chocolate Bombs are all the rage, and this Peppermint version is no exception. Celebrate St. Patrick's Day with festive shamrock decorations, or decorate for any occasion.
Instructions
Melt candy melts according to package instructions.
Spoon 2-3 Tablespoons of melted candy melts into each well of your hot chocolate bomb molds. Use the back of a spoon to spread and coat the entire well. Make sure to have a fairly thick layer around the edges to ensure that your bombs seal properly and don't break.
Place molds in the fridge for 5 minutes to harden.
Remove your candy shells from the molds by peeling back the silicone mold and popping out the candy shell. Place open side up on a flat surface.
Fill half of your candy shells with 2 Tablespoons each peppermint hot cocoa mix. Top with 4-5 mini marshmallows.
Heat a nonstick pan over medium heat for 1-2 minutes, then remove from heat.
Place an unfilled candy shell open side down on the pan and let sit for 2-3 seconds, or until you see the edges start to melt.
Press the melted candy shell onto a shell filled with cocoa mix. Press gently to seal and wipe the seam to smooth.
Repeat until all bombs are formed.
Drizzle with additional candy melts and top with sprinkles, if desired.
To Serve:
Heat 8 ounces of milk in the microwave or on the stove until steaming hot.
Place a hot chocolate bomb in a mug and pour hot milk over the bomb.
Allow to sit for 30 seconds as bomb melts and hot cocoa mix dissolves in milk. Stir to combine.
Top with additional mini marshmallows and sprinkles, if desired.
Notes
Candy Melts do not require any tempering for use, so they are ideal for hot chocolate bombs.
Feel free to wear gloves when assembling your hot chocolate bombs to avoid leaving fingerprint marks on the candy coating.
This recipe uses a 2.5 inch hot chocolate bomb mold. If your mold is larger, you will need more candy melts to coat the molds.
Prepared hot chocolate bombs can be wrapped in plastic gift bags for gifts or stored in a sealed container at room temperature for 4-6 months.
Recommended Products
As an Amazon Associate and member of other affiliate programs, I earn from qualifying purchases.
Nutrition Information:
Yield:
6
Serving Size:
1 Amount Per Serving:

Calories:

341

Total Fat:

13g

Saturated Fat:

0g

Trans Fat:

0g

Unsaturated Fat:

0g

Cholesterol:

0mg

Sodium:

82mg

Carbohydrates:

50g

Fiber:

1g

Sugar:

43g

Protein:

1g

By