As an Amazon Affiliate, I earn from qualifying purchases.
Homemade gifts are the best kind to receive, and this Homemade Lavender Soap is no exception. There is something about the love that goes in to a hand made gift. Whether you make this lavender soap for yourself or for a friend, it will be beautiful and the shea butter and lavender will feel great on your skin and even have a calming effect.
How to Make Lavender Soap
The method I have included in this recipe is the easiest way to make soap. Rather than make the soap from scratch using lye, we are using melt and pour soap base.
Soap base comes in a variety of types from shea butter to goat's milk to glycerin. We will be using shea butter, but you are welcome to experiment or use what you have on hand.
You will also need a soap mold. I really like this one from Amazon because it is silicone, so it is really easy to remove the soap from the mold once it is set. It is also very lightweight and easy to clean.
Lastly, you'll need Lavender Essential oil and Dried Lavender petals. I got both of these from Amazon, as well, but they are also available at your local craft store or on Etsy.
To create your Lavender Soap, you'll simply cut the Shea Butter Soap base into pieces and melt in the microwave or over a double-boiler until it is liquid.
Then you'll add your essential oils. You can also add soap colorant here if you'd like to change the color of your soap base.
Sprinkle some dried lavender into each of your soap molds. Then, you'll pour the soap base into the molds and sprinkle a little more dried lavender on top. You can use a toothpick to stir the lavender into the soap if you want it incorporated.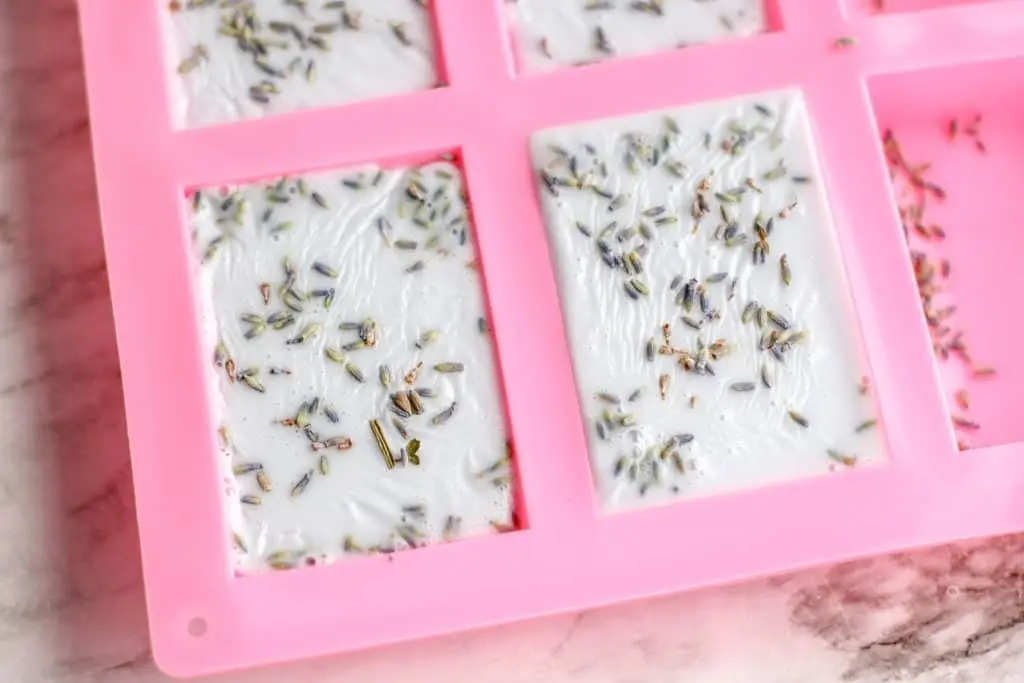 Let it sit on a level surface until it sets completely. This should take about 45 minutes. Once set, you can remove the soap from your molds and use as you wish or wrap with parchment paper and tie some twine around it for an easy, frugal homemade gift.
Yield: 6 Bars
Homemade Lavender Soap
Homemade Lavender Soap makes the perfect gift. It is very easy to make and looks fabulous.
Additional Time
45 minutes
Ingredients
1 lb Shea Butter Soap Base (or other Melt and Pour Soap Base)
Silicone Soap Mold
1/2 cup Dried Lavender
10 drops Lavender Essential Oil
Instructions
Remove soap base from container and cut into pieces.
Place in a microwave safe container and heat according to the package directions. Once the soap is melted, work quickly as it will begin to harden immediately around the edges of the bowl.
Add 10 drops of essential oil and stir to combine.
Sprinkle dried lavender petals into the soap mold.
Pour melted soap into the molds and add additional petals to the top, if desired.
Allow soap to rest for at least 45 minutes before moving.
When the soap is set, remove from the molds and store in a cool, dry place until ready to use or package for gifts.
Notes
If your soap hardens while trying to stir or pour, reheat in the microwave in 10 second intervals until melted.
If you would like to color your soap, use soap colorant and add drops when you add the essential oil drops. Stir to blend completely.
The instructions included are for Lavender Soap, but you can use any essential oil, dried fruit or spices that you would like. Have fun and be creative. Cinnamon and dried orange peel would be wonderful!
Recommended Products
As an Amazon Associate and member of other affiliate programs, I earn from qualifying purchases.
Silimar Posts:
By