Dry Shampoo is a lifesaver when you wake up late for work or you're trying to make your shampoo last a little while longer. Cans of dry shampoo spray are now available at most retailers. While they are really convenient, those cans are expensive and run out very quickly.
Enter dry shampoo powder! One batch of this dry shampoo will last months depending on your usage and hair type. Even better, it is made from ingredients I bet are already in your kitchen.
Ingredients
Baking Soda: Yes, that orange box sitting in your pantry can be used to absorb excess oil from your scalp and hair in a pinch.
Cornstarch: Yet another pantry ingredient, cornstarch also absorbs oil from your roots. It is a finer texture than baking soda and the combination of the two helps prevent your powder from clumping.
If you are allergic to corn, feel free to substitute arrowroot powder for cornstarch.
Cocoa Powder: This ingredient is specific for those with darker colored hair. It will work for brunettes and red-heads. The brown powder helps darken the dry shampoo so that it is not as obvious for those with darker hair.
There you have it. Two (or three) ingredients that are probably already in your pantry. Mix all the ingredients together and store them in an airtight container.
How to Use Dry Shampoo
To apply, I like to use a makeup brush. I simply load the makeup brush with some of the powder, tapping it back in the container to remove any excess powder. Then, I brush it on my roots. I start around my forehead hairline and make sure to get where I part my hair.
A little powder goes a long way. Remember that you can add more as needed, but it is difficult to brush out if you add too much powder.
Once you've brushed on the dry shampoo powder, let it sit for 2-3 minutes. This will give the ingredients time to absorb the oil from your scalp and roots. Then, all you have to do is brush your hair as usual. This will spread the powder throughout your hair so that it is no longer visible.
Dry shampoo can be used in place of a full wash up to two times. After that, it tends to build up in the hair. Check out my DIY Clarifying Shampoo for another budget (and eco) friendly alternative.
More DIY Recipes
DIY Dry Shampoo Recipe
Yield: 1/2 Cup
DIY Dry Shampoo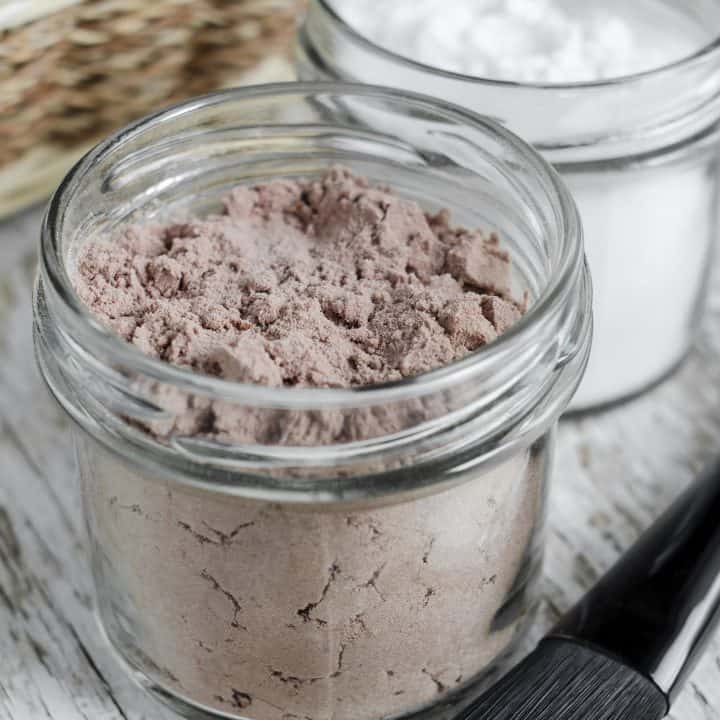 Store-bought Dry Shampoo is so expensive and runs out very quickly. This batch of DIY Dry Shampoo costs pennies and will last you for months.
Ingredients
1/4 cup Baking Soda
1/4 cup Cornstarch
1 Tbsp Cocoa Powder (for dark hair)
Instructions
Combine baking soda and cornstarch in a bowl. Add cocoa powder, if using for your hair color. Stir until fully incorporated.
Transfer to a jar or shaker with lid. Store in a dry place.
To Use:
Dip a makeup brush into the dry shampoo powder. Tap the brush to remove excess. Brush the powder onto your roots or areas that look oily.
Allow the powder to sit for 2 minutes.
Brush your hair to distribute the powder throughout your hair.
Notes
If using a shaker, shake the powder onto your hair very carefully. In this case, less is more. Too much powder will be noticeable. Allow to sit as above and brush as normal.
Your dry shampoo will last in a sealed container for up to a year. I keep my dry shampoo in a canning jar under my sink to keep it away from the steam of the shower.
Recommended Products
As an Amazon Associate and member of other affiliate programs, I earn from qualifying purchases.

By