Homemade bath gifts are thoughtful and really inexpensive to make. Make a batch of bath bombs or homemade soap for your loved ones this year for Mother's Day, Christmas or Birthday gifts. They will appreciate that you gave great care in making their present, plus they'll be able to use it over and over.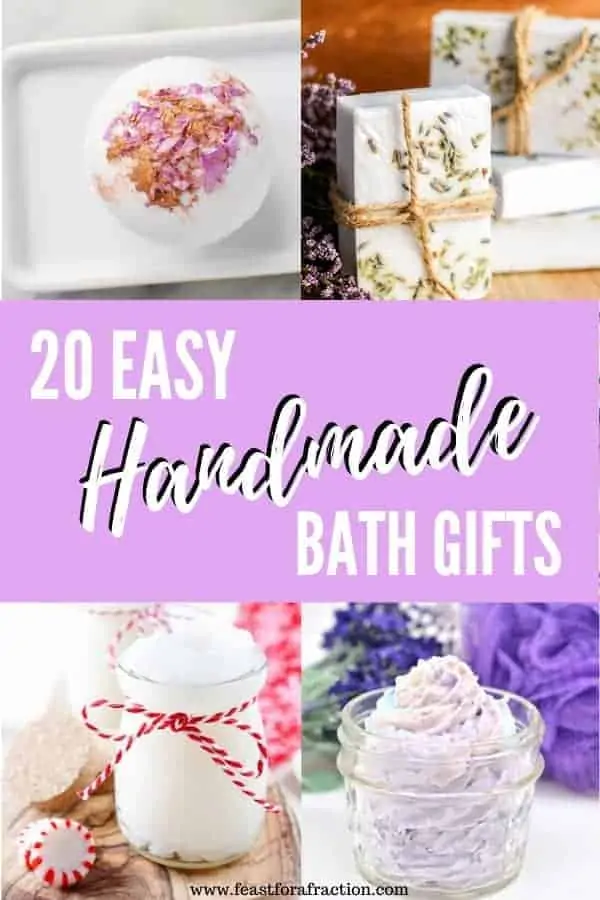 As an Amazon Affiliate, I earn from qualifying purchases.
Rather than spend a lot of money buying gifts this year, why not try making one of these bath gift recipes? Yes, you'll be saving money, but I believe that homemade gifts really are the best kind.
You'd also be surprised to learn that I bet most of you already have some basic DIY bath gift ingredients at home already.
Ingredients for Homemade Bath Gifts
These common household ingredients are the basic building blocks for homemade bath products and gifts:
Epsom Salt
Essential Oils
Olive Oil
Baking Soda
Granulated Sugar
Honey
Oatmeal
Salt
Helpful Equipment
Many of these recipes can be mixed in a bowl and stored in a mason jar, making them even more budget-friendly. For others, it is helpful to have a mold or container to make or store your homemade bath gifts.
These are some of my favorites that I personally use when making things like bath bombs, lip balm or homemade soap:
Lip Balm Containers – these are great for making lip balm, lip masks, and lipstick or other homemade makeup
Silicone Soap Molds – These soap molds are so handy because they are silicone. They hold their shape, the soap pops out easily and they are reusable. You can also use these molds for homemade lotion bars and they're also food grade so you can bake in them. Individual cakes anyone?
Bath Bomb Molds – These inexpensive molds are reusable and allow you to make 12 at a time. Side Note: I've also used them for homemade Christmas ornaments.
More DIY Recipes
Make sure to tag me on Instagram @feastforafraction if you try one of these recipes!
Easy Homemade Bath Gifts
Homemade gifts are the most meaningful to give and receive. Show your friends and family how much they mean to you by giving them a homemade gift. These DIY bath gifts are perfect for Easter, Mother's Day, Christmas and birthdays.

By