Make DIY Clove Mouthwash at home with just two ingredients. Not only is it effective and budget-friendly, it is zero waste because it is made and stored in a mason jar.
As an Amazon affiliate, I earn from qualifying purchases.
My life-long philosophy has been: Why pay for something when I can make it myself? Anyone else out there feel the same way? I've been looking into ways to make my own dental products to see if it can be another area to save money. Guess what? It is! This DIY Clove Mouthwash costs under $1 to make!
How is Clove Mouthwash Effective?
I'm sure we've all used whole cloves to stud an orange for holiday decorations. It smells amazing and adds to the warm feeling of the holidays. Cloves, however, pack a way more powerful punch than I have been giving them credit for.
Cloves have antiseptic, anti-fungal, antibacterial, analgesic and anti-inflammatory properties. What does that mean? Basically, cloves can reduce gum swelling and irritation, stimulate circulation, enhancing gum tissue health, help soothe toothache pain, fight bad breath and kill bacteria in the mouth.
Phew, like I said. They pack a punch. So, why not use whole dried cloves to brew some homemade, budget-friendly mouthwash! Healthline has a helpful article on even more benefits of cloves beyond dental care.
Flavor Additions
This recipe is for basic clove mouthwash. It has a tingly, spicy flavor similar to cinnamon. Feel free to add any of the following ingredients to your clove and water mixture and steep together.
Peppermint leaves
Cinnamon sticks
Orange Peel
Rosemary
How to Make Clove Mouthwash
Bring 8 ounces of water up to a boil. Pour it over the dried whole cloves in a mason jar.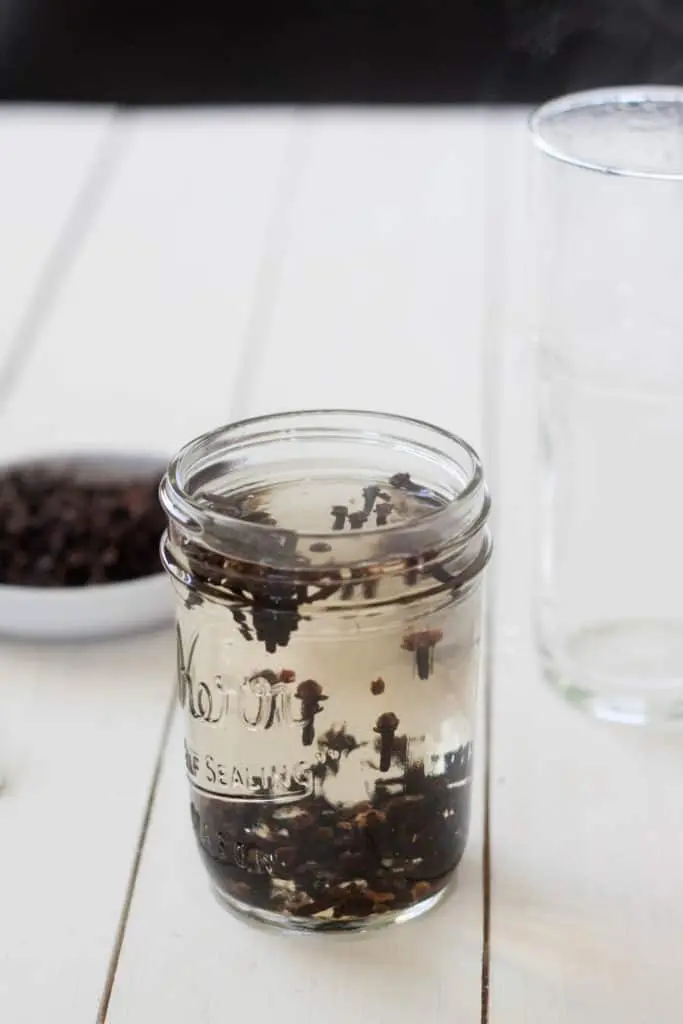 Allow the cloves to steep in the water until the water is completely cool.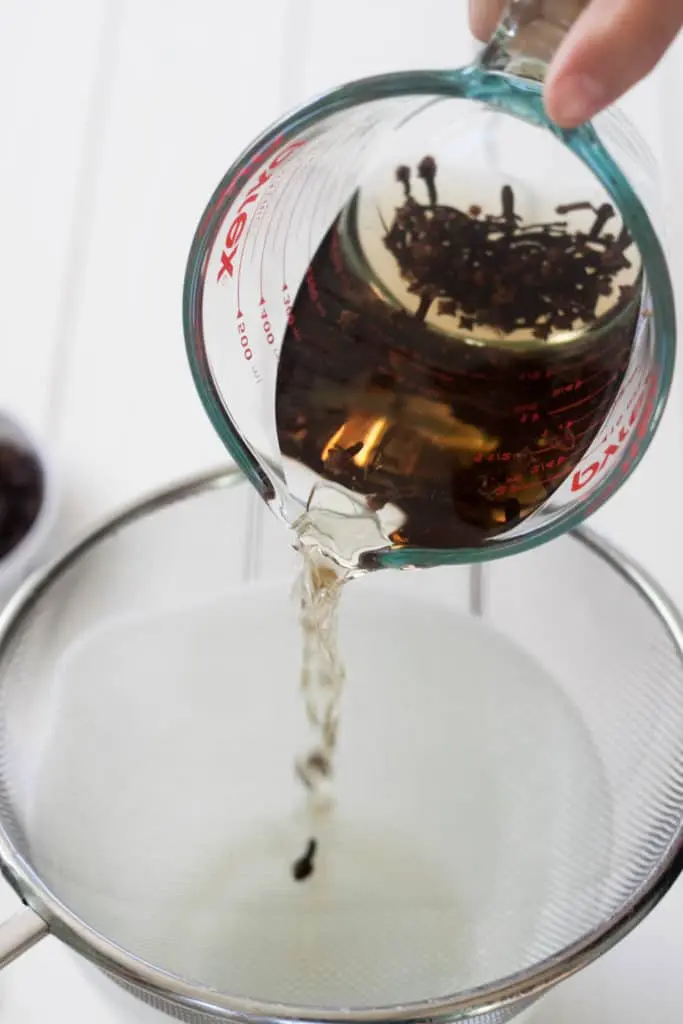 Strain out the cloves. That's it! You've got 8 ounces of Clove Mouthwash for the cost of a couple Tablespoons of cloves. It couldn't be easier, and it's a huge cost saver!
More DIY Recipes
DIY Clove Mouthwash Recipe
Yield: 1 cup
DIY Clove Mouthwash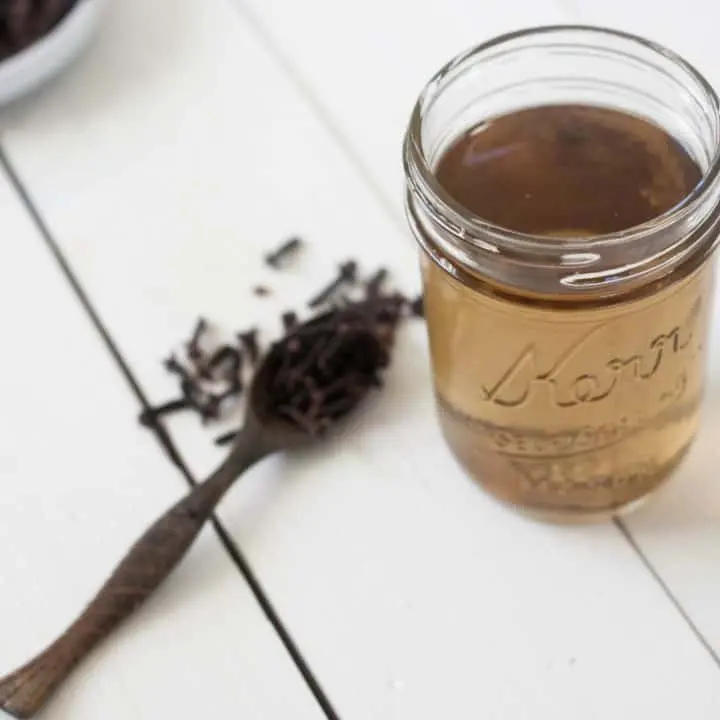 Make your own effective, frugal mouthwash with just two ingredients. It costs pennies to make and is zero waste.
Instructions
Bring water to a boil in a small saucepan.
Place whole cloves in a heat-resistant container, such as a mason jar.
Pour the boiling water over the cloves.
Cover the container and allow the mixture to cool.
Strain the mouthwash and pour into a clean container with a lid.
Use as you would any mouthwash. Do not swallow.
Notes
Clove mouthwash contains no alcohol, so you won't experience the burn that you do with store-bought mouthwash.
Note: You can also make Clove Mouthwash using Clove essential oil. For this, mix 8 drops of Clove essential oil with filtered water and store in a glass jar. No need to boil the water because this uses clove oil rather than whole cloves.
Recommended Products
As an Amazon Associate and member of other affiliate programs, I earn from qualifying purchases.
Nutrition Information:
Yield:
16
Serving Size:
1 Amount Per Serving:

Calories:

0

Total Fat:

0g

Saturated Fat:

0g

Trans Fat:

0g

Unsaturated Fat:

0g

Cholesterol:

0mg

Sodium:

0mg

Carbohydrates:

0g

Fiber:

0g

Sugar:

0g

Protein:

0g

Don't forget to like Feast for a Fraction on Facebook for even more money-saving tips and DIY projects.

By