This DIY Clarifying Shampoo cleanses your hair without stripping the natural oils and without harsh chemicals or build-up. Mix up a batch and you'll not only see an improvement in your hair, you'll save money!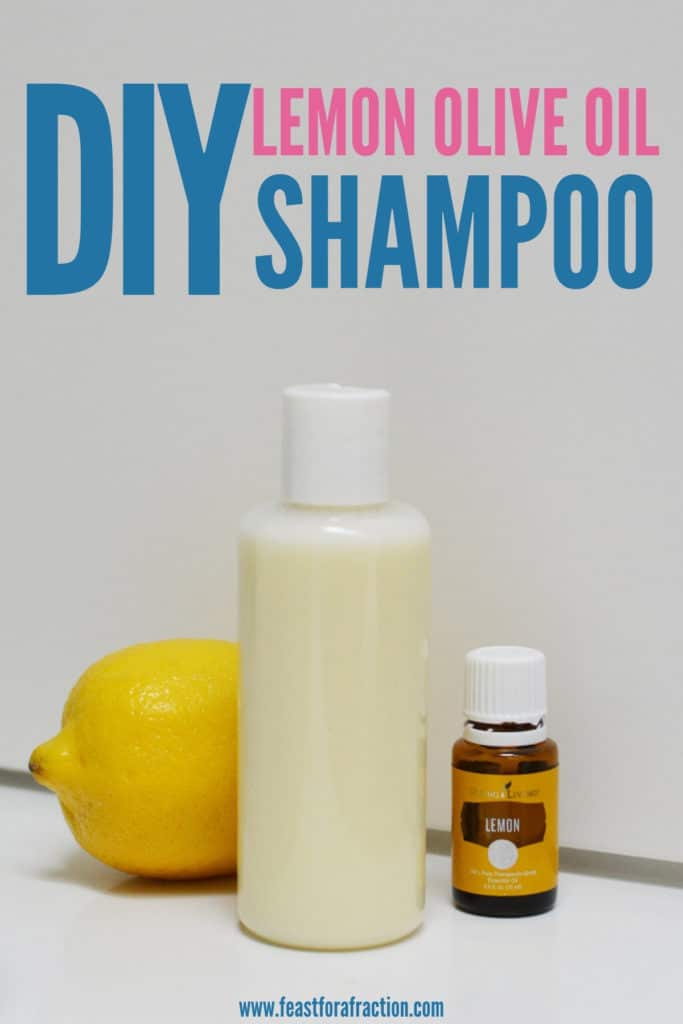 As an Amazon affiliate, I earn from qualifying purchases.
Why Make DIY Clarifying Shampoo
I'm always looking for ways to reduce my spending on personal care and beauty products. Making my own shampoo was one of my first real steps I took in making the leap to frugal living.
Yes, you can find coupons and rewards for purchasing name brand products and stay on a budget. But, even more than being budget-friendly, I love that this shampoo is made with real ingredients that cleanse your hair without stripping the natural oils.
Traditional shampoos contain ingredients that can be harsh on your skin, strip your hair of its natural oils and even cause hormone imbalance. By making our own we are able to eliminate the harmful ingredients, help our bodies adjust to a more natural balance… AND save money!
When making your own shampoo, you may notice that it is thinner and doesn't lather as much as regular shampoo. This is perfectly normal. It will work. I promise. You only need about quarter to half-dollar size portion depending on your hair length.
Also, it's important to keep in mind that it will take a little while for your hair to adjust to natural shampoo if you've been using traditional store-bought shampoo. Your body needs to readjust the pH and natural oil balances.
You'll find that with a natural shampoo, you can go longer between washes because your body doesn't overcompensate from over-washing and having the natural oils stripped.
The recipe below is a pretty basic recipe, so feel free to play with it. I love to use Tea Tree Oil or Peppermint Oil in place of the Lemon essential oil. Make sure to let me know what variation you try!
Ingredients
Water
Liquid Castile soap (like Dr. Bonner's)
Olive Oil
Lemon Juice (juice of 1 lemon)
Lemon Essential Oil
How to Make DIY Clarifying Shampoo
Combine all ingredients into a measuring cup with a pour spout.
Pour into a shampoo bottle or other container.
Shake well to combine. Use as you would normal shampoo.
Bonus Tip: I recommend using an Apple Cider Vinegar rinse afterward in place of conditioner. Simply pour 1/2 cup Apple Cider Vinegar on your hair after shampooing and rinse.
More DIY Recipes
Yield: 10 ounces shampoo
DIY Clarifying Shampoo
DIY Clarifying Shampoo uses natural ingredients to cleanse your hair without stripping your hair of its natural oils. It's budget-friendly, effective and eco-friendly!
Ingredients
1/2 cup water
2 tsp olive oil
2 Tbsp lemon juice (juice of 1 lemon)
Instructions
Combine all ingredients in a measuring cup with a pour spout. Stir to combine.
Pour into a bottle with screw top lid. Shake to combine.
To Use:
Shake well before each use. Wet hair and use a quarter-size dollop of shampoo. It will not lather like traditional shampoo. Rinse as usual, and feel free to follow with an apple cider vinegar rinse instead of conditioner.
Notes
You can double this recipe and store in a 20 ounce bottle. Shake before each use to combine the ingredients. This recipe will last for up to 2 months.
Recommended Products
As an Amazon Associate and member of other affiliate programs, I earn from qualifying purchases.

Tag me on Instagram @feastforafraction if you make this.

By