Indulge in a plate of mouthwatering Instant Pot Spaghetti – a hassle-free twist on the classic Italian dish. This recipe guarantees perfectly al dente pasta bathed in a savory tomato meat sauce, all made effortlessly in your Instant Pot. Discover a new go-to dinner option that's both convenient and irresistibly delicious.
As an Amazon affiliate, I earn from qualifying purchases.
Spaghetti is a classic and comforting meal that so many families enjoy regularly. So, why not make it even easier and faster to prepare? Cooking the meat sauce and then boiling the water for the spaghetti in another pot can be such a hassle on a busy weeknight.
You can skip all the fuss by making it in the Instant Pot! Plus, you don't even have to worry about draining the spaghetti. You save time and have fewer dirty dishes.
The Instant Pot is a game-changing cooking appliance. The key here is to not stir. It's so hard to skip it until the end but you just have to have some faith, it will come out perfectly! I also recommend laying the spaghetti in a crisscross pattern to even further prevent it from sticking together.
For more Instant Pot pasta recipes, try our Instant Pot Chicken Spaghetti or Instant Pot Hamburger Helper.
Ingredients
Ground Turkey: I've called for ground turkey here, but you can use any ground meat that you like – beef, chicken, pork. I know ground turkey generally comes in a 20 ounce container, so feel free to use anywhere from 16-20 ounces.
Spaghetti: You'll need one box (16 ounces) of dried spaghetti noodles. Angel hair or other thinner pasta can be used, but you will need to reduce cooking time by 2 minutes.
Marinara Sauce: Use any variety and brand you prefer. I love roasted garlic or tomato and basil flavors for this recipe.
Water: This is to help cook the spaghetti. It will not make the sauce watery once it has finished cooking.
Olive Oil: I use this to saute the ground meat. Regular or extra virgin are good options.
Dried Onions: To save ourselves from any chopping, use dried minced onion. You can also use 1/2 teaspoon of onion powder instead of the dried.
Garlic Powder: Garlic tastes good in almost anything, especially Italian dishes.
Salt: Taste the sauce when it has finished cooking to determine whether or not you need more to suit your taste.
Equipment
Wooden Spoon or Meat Chopper
Pasta Fork
Liquid Measuring Cup
Measuring Spoons
How to Make Instant Pot Spaghetti and Meat Sauce
Start by setting your Instant Pot to saute. Pour in oil and allow it to heat. Add the ground beef and cook until it's fully cooked and browned. Then, stir in dried onions, garlic powder, and salt.
Turn off the Instant Pot and pour in 1 cup of water. Stir with the cooked meat mixture to make sure there aren't any burnt bits stuck to the bottom.
Break your spaghetti in half so it fits easily into the Instant Pot. Do not stir the noodles into the water and meat. Cover the spaghetti with another cup of water and the entire jar of marinara sauce. Once again, do not stir. Trust the process!
Next, close the lid and pressure cook on high for about 7 minutes. Quickly release the pressure once it has finished. Then, stir everything in the Instant Pot to make sure none of the spaghetti noodles are stuck together.
Close the lid and let the ingredients sit in the residual heat for about 5-10 minutes.
Now you can open it, add your garnishes, and serve!
Variations
As previously mentioned, you can use ground beef, turkey, chicken or pork in this recipe or substitute for diced mushrooms or meatless crumbles – or leave out the meat all together
Use any variety of prepared spaghetti or marinara sauce that you like – and feel free to get creative. I've made this with roasted red pepper sauce.
I'm a bit obsessed with briney flavors, so I like to add 1-2 Tablespoons of olives and/or capers and the brine from the capers to give this dish a "puttanesca" flavor.
Feel free to sneak in whatever veggies you like. Toss in a handful of spinach.
If you prefer fresh garlic and onions, feel free to use instead of dried/powdered. I'm all about easy (no chopping), but use whatever you enjoy best.
STAY IN TOUCH ON SOCIAL MEDIA – @ INSTAGRAM, @ FACEBOOK, @ PINTEREST
And don't forget to tag @feastforafraction if you try this recipe!
Frequently Asked Questions
Do I need to drain the pasta once it cooks in the Instant Pot?
No! That's the best part. We use just enough water to cook the pasta without watering down the sauce. No draining required.
Can I freeze Instant Pot Spaghetti?
Yes, spaghetti is one of my favorite options for meal prep or batch cooking because it actually tastes better on the second or third day. It can be stored in the fridge for up to 5 days or in the freezer for up to 2 months. Allow the food to cool before packaging for the fridge or freezer.
Can I make this without meat?
Yes, feel free to leave out the ground meat in this recipe for a tasty vegetarian spaghetti. You'd simply skip the browning step (or replace the meat for diced mushrooms) and add all the remaining ingredients to the pot in the order listed.
More Easy Dinner Recipes
Instant Pot Spaghetti Recipe
Yield: 8 servings
Instant Pot Spaghetti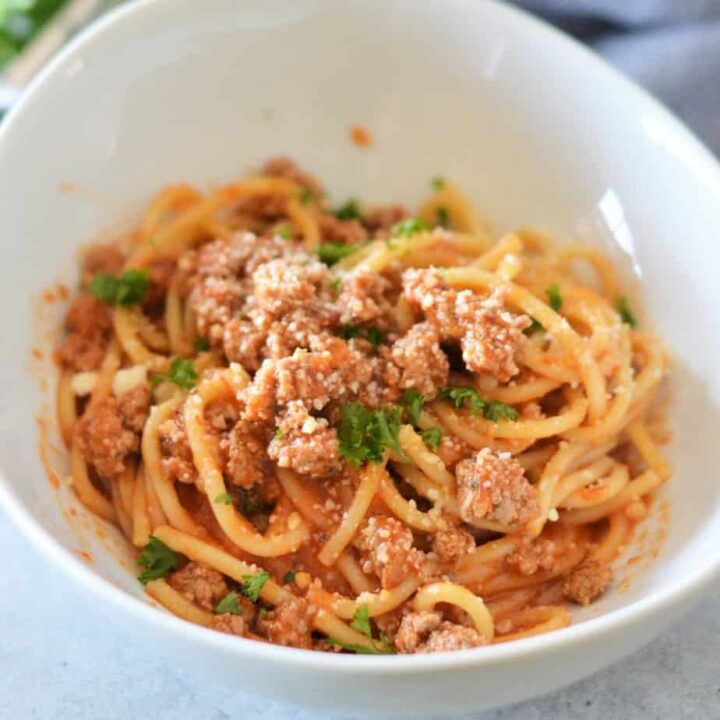 Deliciously quick and easy Instant Pot Spaghetti recipe - perfect for busy weeknights! Enjoy a hearty, homemade Italian meal with tender pasta and rich marinara sauce, all cooked to perfection in the Instant Pot. Get dinner on the table in no time with this family-friendly favorite.
Additional Time
5 minutes
Ingredients
1 Tablespoon oil
16 ounces ground turkey or beef
24 ounces cups water
1 Tablespoon minced dried onions
1 teaspoon garlic powder
1 teaspoon salt
16 ounces spaghetti noodles
24 ounces marinara sauce
Instructions
Turn the Instant Pot to saute. Begin to heat olive oil.
Add ground meat. Continue to saute until browned and crumbled.
Add dried onions, garlic powder and salt.
Turn off saute setting. Pour half (1/2) of the water into the pot and stir to make sure there is nothing stuck to the bottom of the pot.
Break spaghetti noodles in half and place on top of the ground meat. (Do not stir).
Pour remaining water on top of the noodles, followed by the marinara sauce. (Do not stir).
Close lid, cook on high pressure for 7 minutes.
Once cooking time is complete, quick release the pressure. Open and stir everything together, separating any noodles that may be stuck together.
Close the lid again, and let it sit for another 5 minutes.
Notes
Recipe Note: The layers of water, pasta and sauce are important to ensure that the pasta does not stick to the bottom of your Instant Pot pot. Take care to follow the recipe steps.
Variations: Feel free to use ground beef, chicken or pork in place of the group turkey. You can even leave the meat out or replace with diced mushrooms or meatless crumbles to make it vegetarian. Use your favorite pasta sauce. Feel free to stir in a handful of spinach or add 1-2 Tablespoons of olives or capers for an interesting twist.
Storing and Reheating: Once cooked and cooled, you can store your leftover spaghetti in the fridge for up to 5 days or freeze for up to 2 months. To reheat, remove the lid and cover with a paper towel and microwave until heated through, 2-2 1/2 minutes. From frozen, allow to thaw in the fridge overnight before reheating.
Recommended Products
As an Amazon Associate and member of other affiliate programs, I earn from qualifying purchases.
Nutrition Information:
Yield:
8
Serving Size:
1
Amount Per Serving:
Calories:

343
Total Fat:

9g
Saturated Fat:

4g
Trans Fat:

0g
Unsaturated Fat:

11g
Cholesterol:

71mg
Sodium:

757mg
Carbohydrates:

25g
Fiber:

3g
Sugar:

6g
Protein:

21g
Pin for Later
By