This Pineapple Upside Down fudge recipe is a fun twist on the treat giving you the flavor of Pineapple Upside Down cake in rich, luxurious fudge. The cherries and pineapple provide a tart balance to the sweet fudge. Just 5 ingredients and no baking required, you can easily make on the stove or in your slow cooker.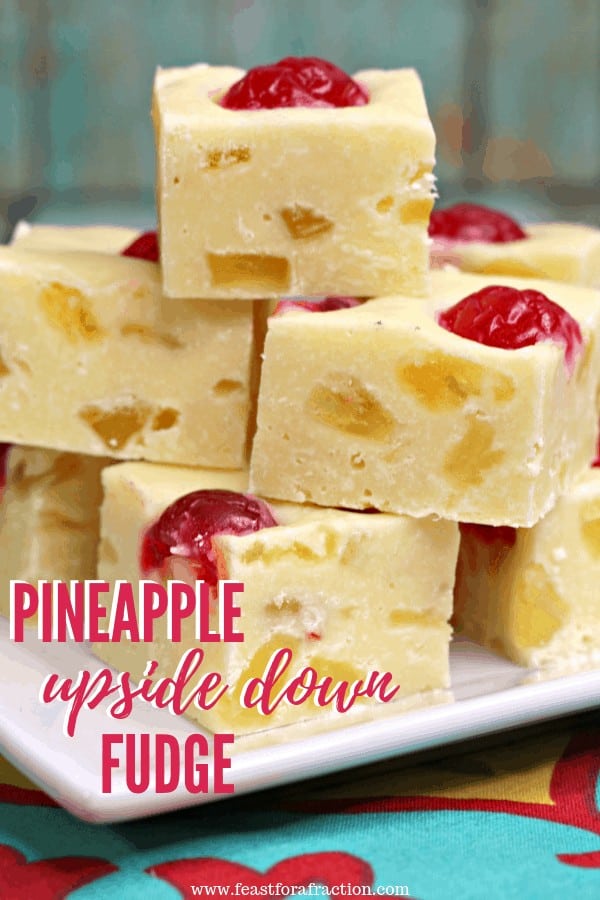 As an Amazon affiliate, I earn from qualifying purchases.
I love fudge, but I despise how expensive it is. I can totally agree that it is an art form and those who make it should be well-paid, but $12-14 per pound?!? Sorry, can't do it. Learning to make it yourself will save you major bucks. (Or even give you something to sell during the holidays to make some extra money!)
Fudge, in its most basic form, is sugar and liquid that has been heated to 235 degrees and cooled to 110 degrees before being poured into the baking dish to set. This allows tiny sugar crystals to form that give you a smooth texture, rather than a grainy fudge.
Making fudge can be a very tricky process requiring constant monitoring of your temperatures. By using sweetened condensed milk and sweetened chocolate chips, we eliminate the need to add granulated sugar and monitor the temperature so closely.
You'll still want to heat the mixture gently, but you won't need to check the temperature of the mixture. Make sure to stir regularly while it is melting, though, so that the mixture doesn't burn on the bottom.
While researching the history of fudge and helpful tips, I found this handy resource: Secrets to Making No-Fail Fudge at Home
Ingredients
Cake Mix: I use yellow cake mix for this recipe, but you can absolutely use pineapple or white cake mix. You'll need 1/2 cup of mix, and you can use the rest of the cake mix to make these small batch cupcakes.
Sweetened Condensed Milk: Found in the baking aisle of your grocery store, sweetened condensed milk comes in a 14 ounce can.
White Chocolate Chips: Go for real white chocolate chips, not coating chocolate. You'll need an 11 ounce bag of chocolate chips.
Candied Pineapple: Also known as crystallized pineapple, you can find candied pineapple online or in the dried fruit section of your grocery store.
Maraschino Cherries: You'll want to make sure to get pitted maraschino cherries in a jar. Drain the liquid and cut the cherries in half.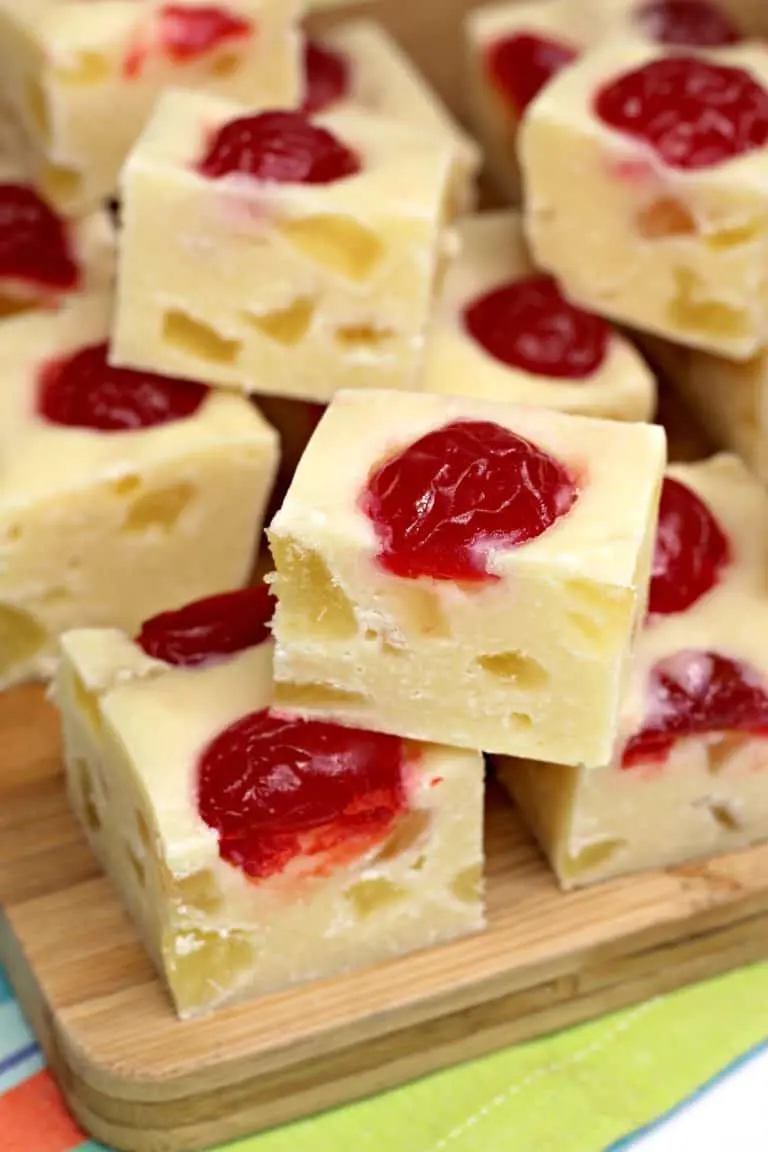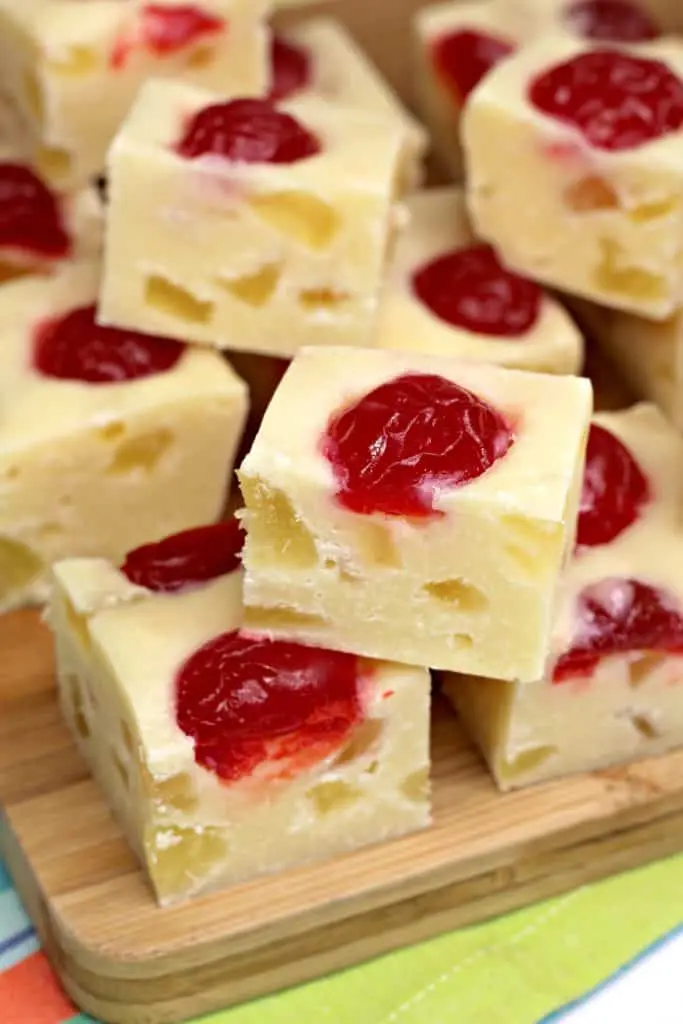 Equipment
Measuring Cup
Can Opener
Whisk
Rubber Scraper
Knife and Cutting Board
How to Make Pineapple Upside Down Fudge
Combine cake mix and sweetened condensed milk in a medium saucepan. Whisk to combine and heat over medium-low heat.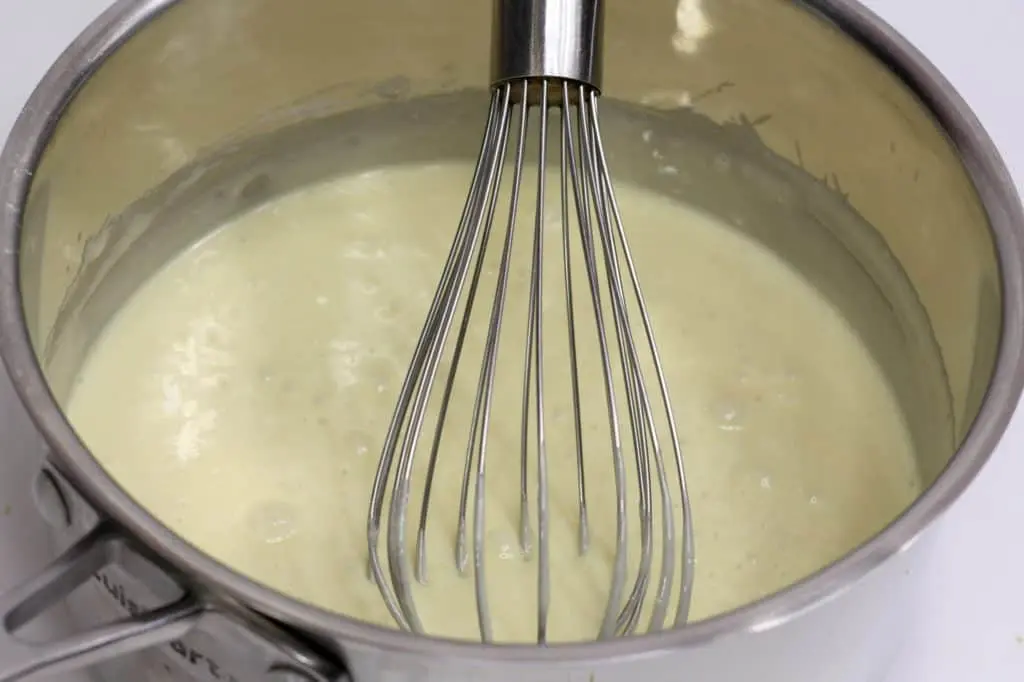 Stir in white chocolate chips and allow chips to melt in mixture, stirring occasionally.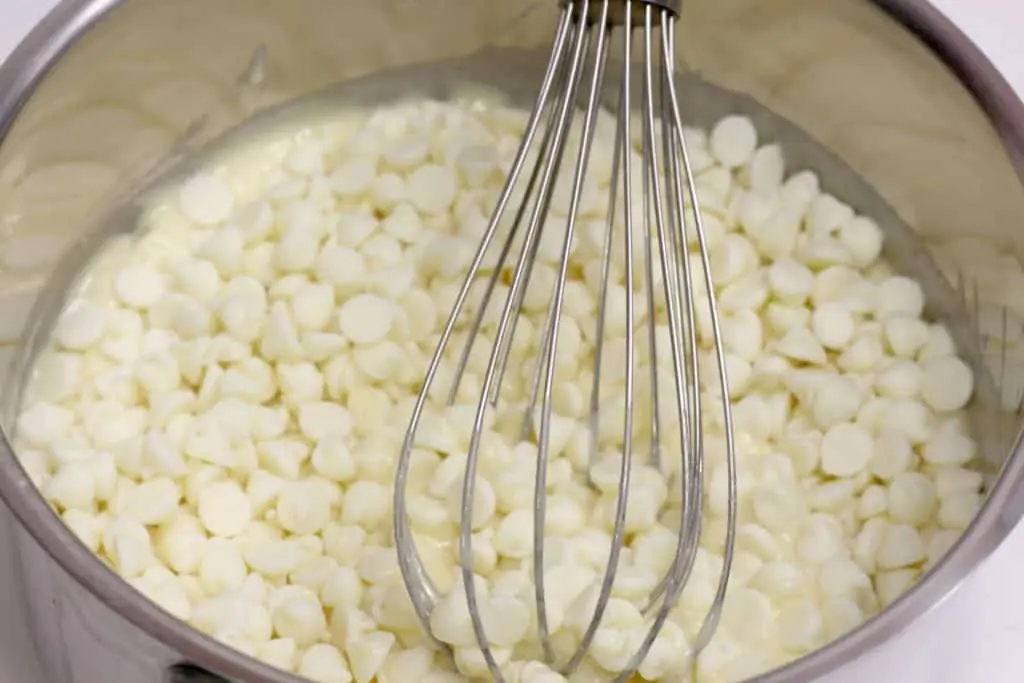 Once the white chocolate chips are melted and fully combined, fold in the chopped candied pineapple. Pour the mixture into a greased or parchment paper lined baking pan. Top with sliced cherry halves and allow to cool completely.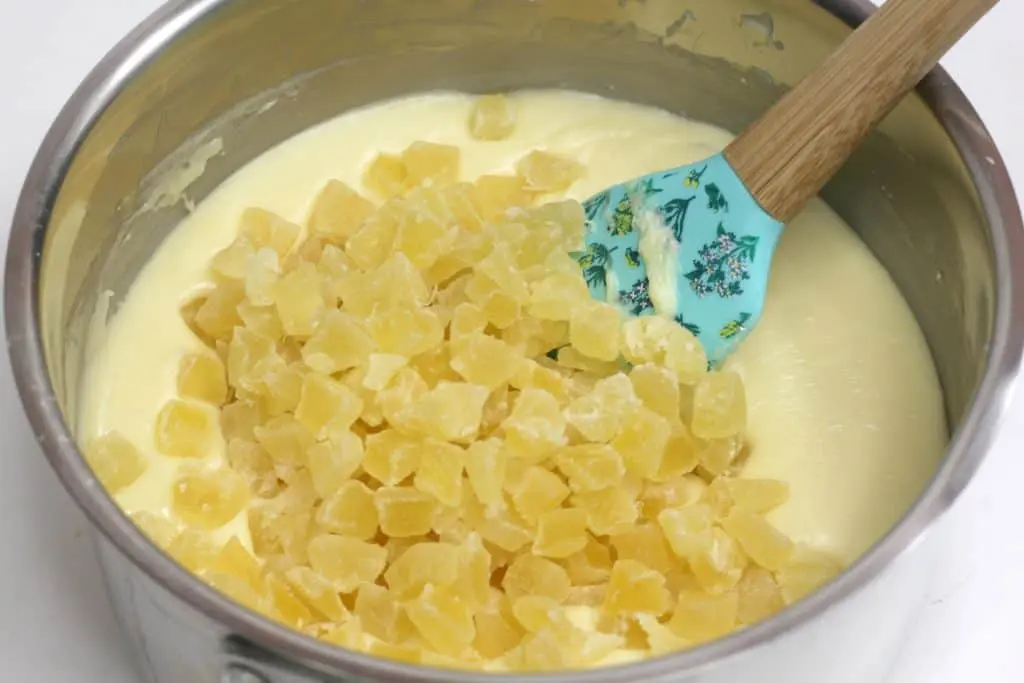 Once cooled, remove from pan and cut into 36 pieces. Store in a sealed, airtight container at room temperature for up to a week or freeze for up to 3 months.
Variations
The measurements of sweetened condensed milk and chocolate chips in this recipe are the standard ratio for any variety of fudge. You can use semi-sweet chocolate chips and stir in marshmallows and crushed graham crackers for a s'mores fudge or use strawberry cake mix and mix in freeze-dried strawberries. The possibilities are endless.
More Easy Dessert Recipes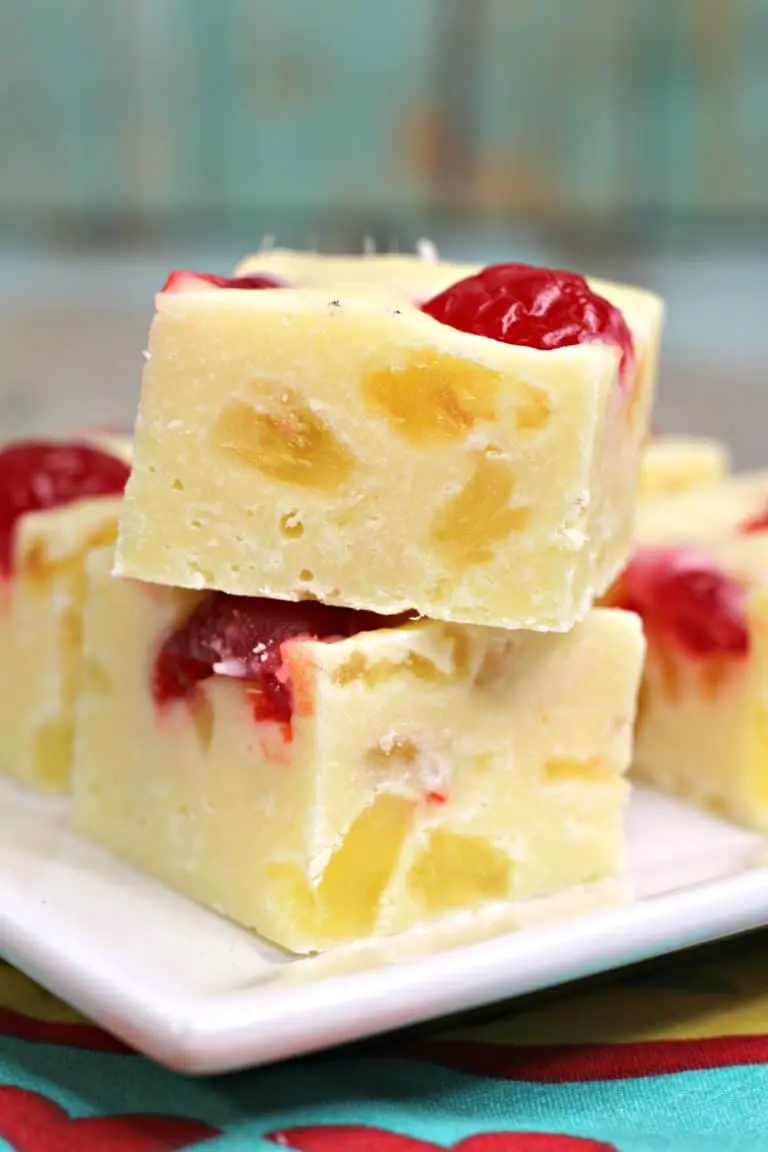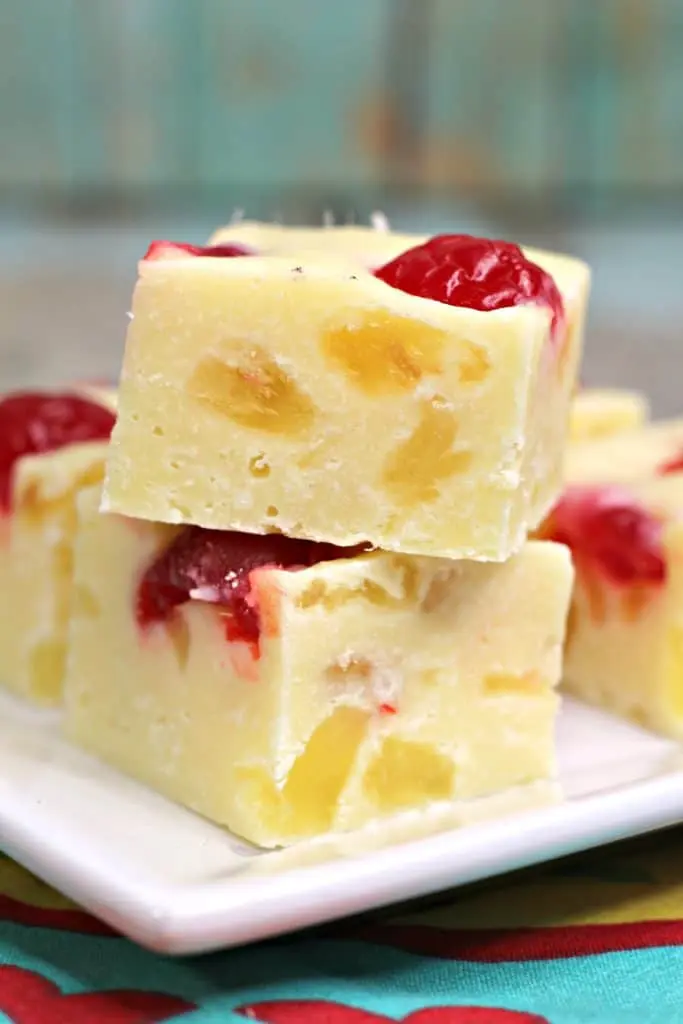 Pineapple Upside Down Fudge Recipe
Yield: 36 servings
Pineapple Upside Down Fudge
The flavor of pineapple upside down cake makes this fudge a deliciously interesting twist on the sweet treat.
Total Time
2 hours
20 minutes
Ingredients
14 oz can Sweetened Condensed Milk
1/2 cup Yellow Cake mix
2 1/2 cups White Chocolate Chips
18 Maraschino cherries, stems removed and cut in half
Instructions
Line a 9x9 baking dish with parchment paper. Spray with cooking spray, if desired
Combine the sweetened condensed milk, cake mix, and white chocolate chips into a medium saucepan
Cook over medium heat, whisking until the mixture is melted and smooth
Stir in the chopped candied pineapple
Pour fudge into the parchment-lined baking dish
Press the cherry halves into the fudge mixture. You can use a knife to swirl the cherries into the fudge or allow them to remain on top.
Allow to cool two hours in the fridge or overnight at room temperature before cutting into 36 pieces (approximately 1 1/2 inch pieces).
Notes
Slow Cooker Method: Stir together sweetened condensed milk, cake mix, and white chocolate chips in slow cooker. Heat on Low stirring occasionally for an hour or until all ingredients are melted and smooth. Remove from heat and stir in chopped candied pineapple. Pour fudge into a parchment-lined baking dish. Press cherry halves as instructed above. Cool and cut as above.
Recommended Products
As an Amazon Associate and member of other affiliate programs, I earn from qualifying purchases.
Nutrition Information:
Yield:
36
Serving Size:
1 Amount Per Serving:

Calories:

123

Total Fat:

5g

Saturated Fat:

3g

Trans Fat:

0g

Unsaturated Fat:

2g

Cholesterol:

8mg

Sodium:

42mg

Carbohydrates:

18g

Fiber:

0g

Sugar:

17g

Protein:

2g

If you're looking for more dessert recipes to try, make sure to check out my Recipes page.

By