Save time in the kitchen by making quick dinners using canned beans. They cost pennies and add a great source of protein to any dinner.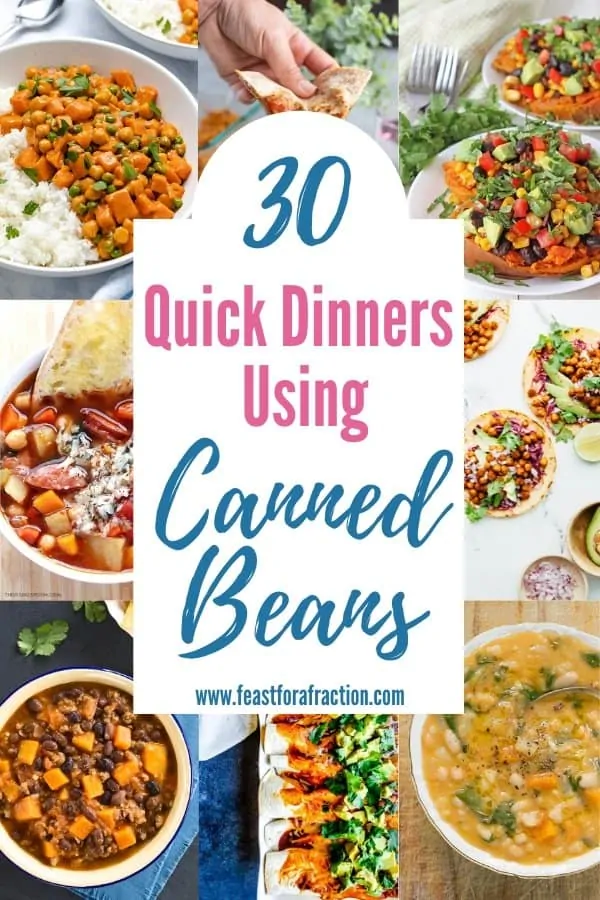 As an Amazon affiliate, I earn from qualifying purchases.
When it comes to making dinner, canned beans can be your best friend. Simply the can, drain and rinse, and you have a super frugal and easy base for dinner. Beans are also neutral in flavor, so they can take on whatever flavor you like.
What if I only have dried beans?
Cooking dried beans is so easy, but it does take time. Once you make a batch of dried beans, though, they freeze really well so you can portion into 2 cup portions and freezer for quick dinners.
My favorite way to cook dried beans is in the crock pot. This method takes 8 hours and is completely hands off. You don't even have to pre-soak the beans. Check out my post on how to cook dried black beans. This method works for all other kinds of beans, too.
What about the canned bean liquid?
Aquafaba is the liquid that we drain off of canned beans and it is liquid gold. My friend Meggan, from Cooking on Caffeine, is a magician with using aquafaba to make buttercream icing, meringues, even macaron cookies! She has a whole post dedicated to the wonders of aquafaba here.
More Pantry Posts
Dinner Recipes Using Canned Beans
Get a little help from the pantry by using canned beans as the base of your dinner. Not only are canned beans nutritious, they are quick and easy to use AND they are incredibly inexpensive. Yes, you can soak and cook dried beans for even more savings, but canned beans are the best when it comes to quick dinners.

By