No-Bake desserts are super easy to make and you don't have to worry about turning on the oven and heating up the house.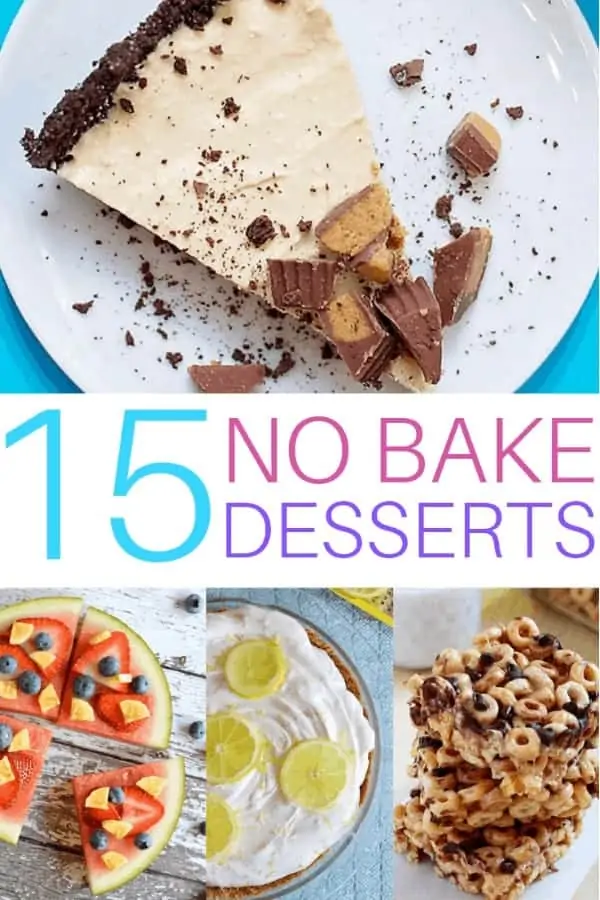 As an Amazon affiliate, I earn from qualifying purchases.
When the hustle of softball season rolls around, I don't have time to cook let alone add a dessert into the mix. We hit the drive-thru more often than I care to admit, but we also make use of the Crock-Pot. Don't be like me. Plan ahead. (Yes, easier said than done, I know!)
To help with the weekday burnout and last minute planning, I've rounded up 15 No-Bake Dessert recipes. These babies can be made on Sunday and keep in the fridge or in a sealed container all week!
What makes a recipe "No-Bake?"
Some will argue that a true no-bake dessert doesn't require any cooking at all. That's where your puddings and no-bake cheesecakes come in. I am of the opinion that no-bake means that it literally does not require baking, but you can still use the stove. Heating up a pan on the stove just doesn't seem as daunting as preheating the oven, baking and heating up the whole house.
What do you think? Drop me a comment below with your opinion and let me know your favorite no-bake dessert!
How to Store Your No-Bake Desserts
It is really important to keep your chilled or room temperature desserts covered. I have a special double-wall ice cream storage container that I use when I make ice cream or any other frozen treat.
You can also use a glass Pyrex container that comes with a lid. If you don't have covered dishes, plastic wrap will be your best friend. Make sure to press the plastic wrap onto the dessert so that it does not form a film while in the refrigerator.
More Dessert Recipes
15 Easy No-Bake Desserts
Check out these sweet treats that have absolutely no baking required! Perfect for those nights when you want a nice, cool dessert.

By