In less than 30 minutes, you can enjoy these Beef Enchilada Taquitos as an easy and delicious dinner any night of the week! Using store-bought or homemade enchilada sauce, taquitos (or flautas) are perfect even for the pickiest of eaters.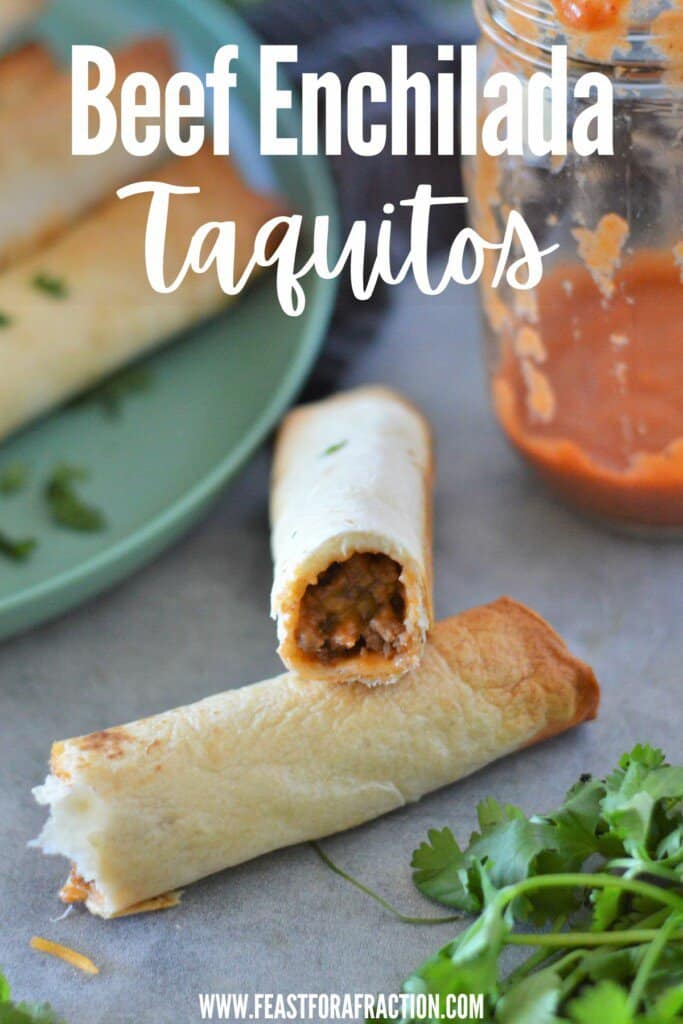 As an Amazon affiliate, I earn from qualifying purchases.
You only need 5 ingredients to make this tasty and affordable dinner. You can even bake ahead and freeze these enchilada flautas for easy meal prep!
This is a very versatile recipe. I make it with ground beef, cheese, and enchilada sauce but you can easily make it your own. Add some veggies or use a different protein – there are so many possibilities!
Ingredients
Ground Beef: I use 80% lean ground beef in these taquitos. You are welcome to use 73%/27% if you like. Make sure you drain the fat to keep this recipe from becoming overly greasy. Alternatively, ground turkey or chicken can be used as well.
Enchilada Sauce: I highly recommend that you try my recipe for Homemade Enchilada Sauce, but canned can also be used. You can even use green enchilada sauce for a different flavor.
Mexican Cheese: This can be any number of blends including taco or fiesta. They are usually a combination of Monterey jack, Colby jack, quesadilla cheese, etc. Any brand will do!
Mozzarella Cheese: Because you can never have too much cheese, top with shredded mozzarella or even queso fresco.
Flour Tortillas: You can use flour or corn, but I find that flour tortillas are much easier to roll.
Feel free to garnish your beef enchilada taquitos with chopped onions and cilantro.
Equipment
Large Skillet
Wooden Spoon or Meat Chopper (This tool makes it so much easier to crumble ground meat while it cooks!)
Large Baking Sheet
Non-Stick Spray
How to Make Ground Beef Taquitos
First, preheat your oven to 400 degrees F so it is heating up as you prepare your beef taquitos. Get your baking sheet ready by spraying it with non-stick spray. You can also line it with parchment paper if you prefer. Use a nonstick skillet so you don't have to add oil and brown your ground beef.
Once the beef is crumbled and fully cooked, drain any excess grease. Then, you can stir in the enchilada sauce and both types of shredded cheese. Remove the skillet from the heat so it can cool. You don't need the meat and cheese mixture to be completely cooled, just enough so it's easier to roll up the taquitos.
Spoon some of the beef mixture on a tortilla and roll it up. Add just enough to cover the middle, but not too much that it falls out when you're rolling it. Place it on the prepared baking sheet and repeat this process until all of the beef is used.
Spray the top of the tortillas with a little bit more of the cooking spray to help them crisp. Place the pan into the oven and bake for about 10-12 minutes. They are ready when they are golden and have crispy brown edges.
When the beef taquitos are removed from the oven, allow them to cool a little bit so it's easier to serve them. Garnish them with fresh cilantro if you like.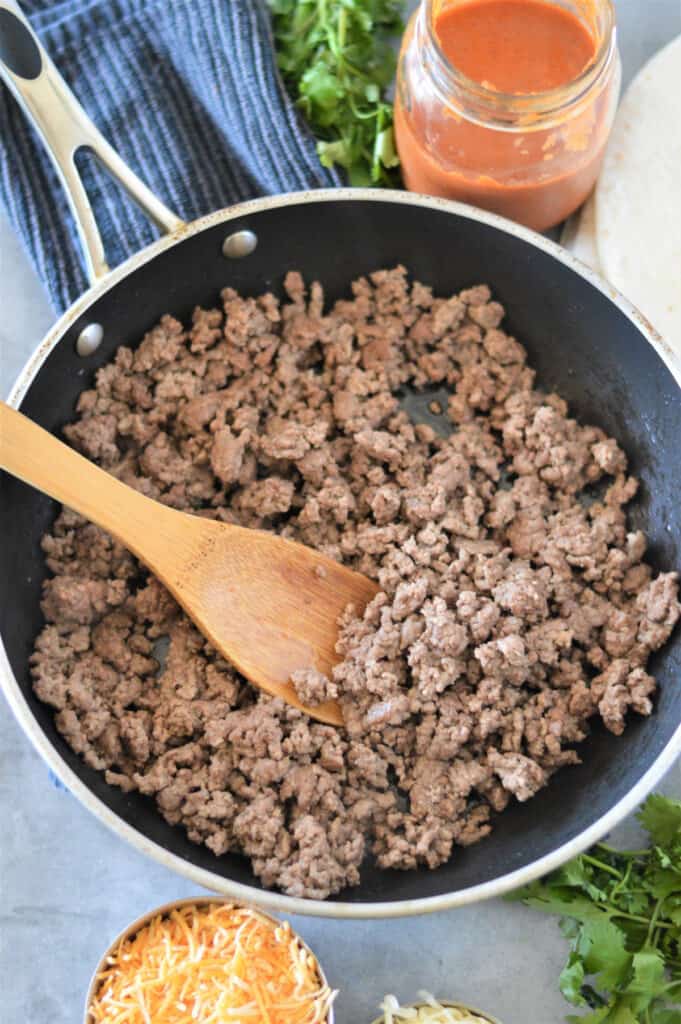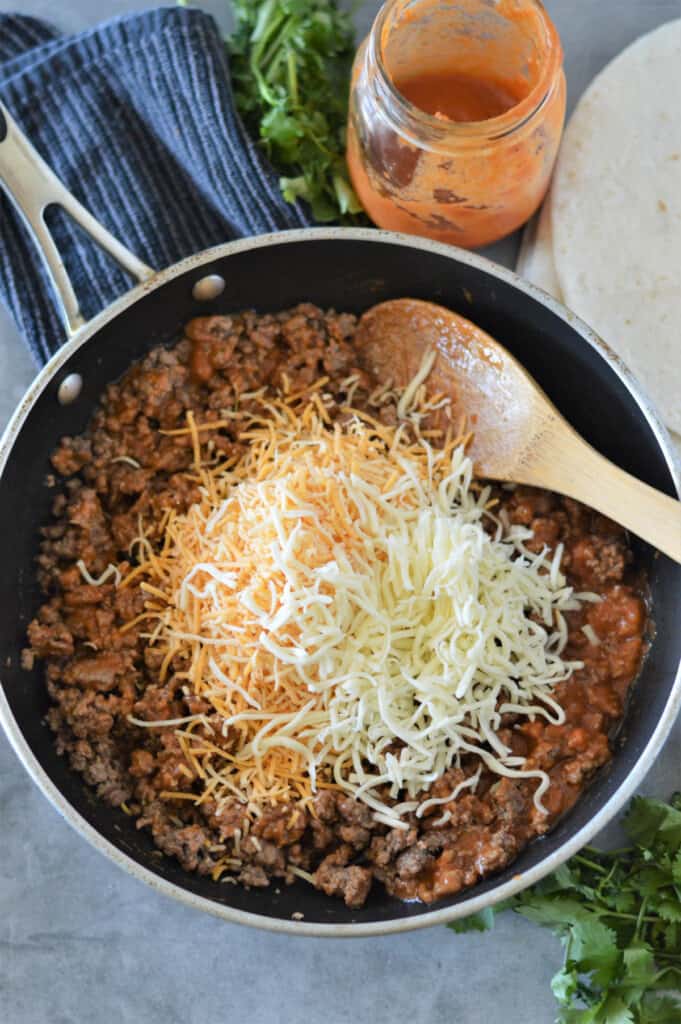 Recommended Toppings
extra enchilada sauce
sour cream
diced red onion
sliced black olives
avocado
sliced pickled jalapeños
Variations
You can switch up the filling of the taquitos if you wish. Here are some suggestions.
Use ground turkey, ground chicken, or even ground pork in place of ground beef.
Add black beans to the meat mixture or spread refried beans on the tortillas as an extra layer of flavor and texture.
Use a green enchilada sauce instead of red.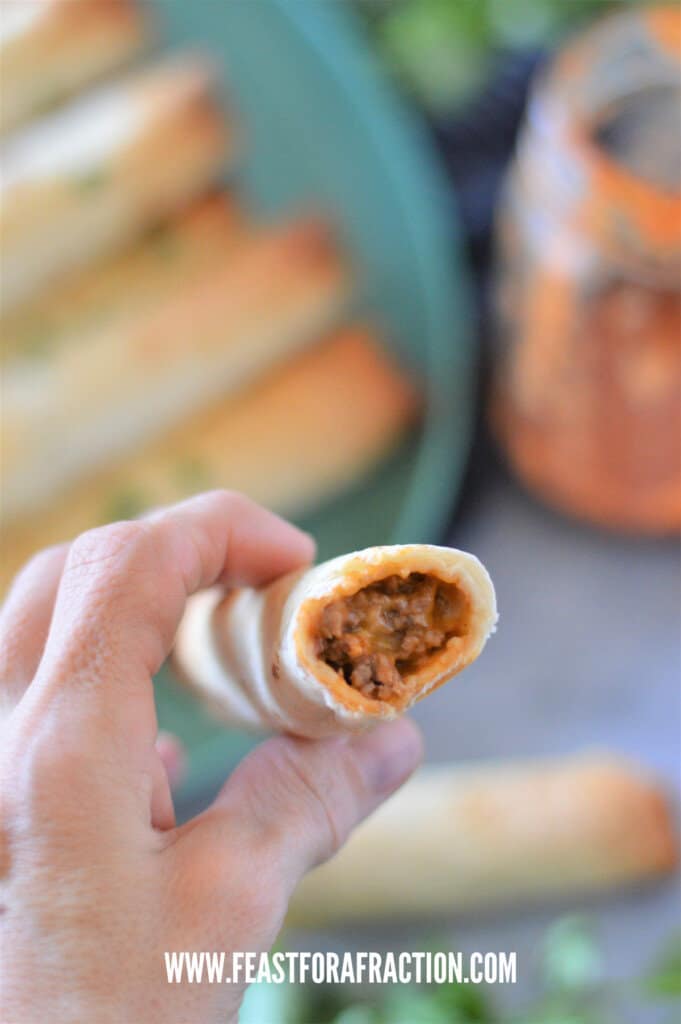 More Easy Dinner Recipes
Beef Enchilada Taquitos Recipe
Yield: 6 servings
Beef Enchilada Taquitos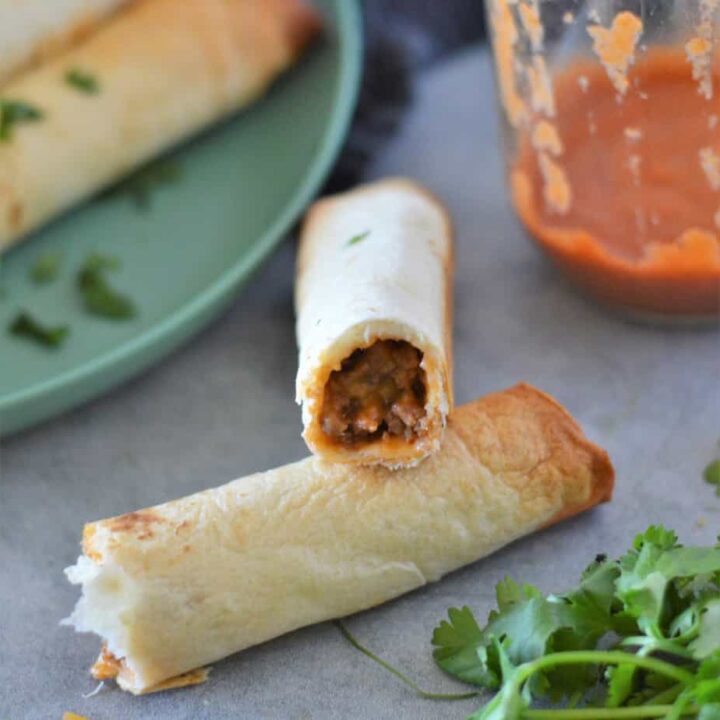 In less than 30 minutes, you can enjoy these Beef Enchilada Taquitos - also known as "Lazy Enchiladas" as an easy and delicious dinner any night of the week! It's cheesy and delicious making it perfect for even the pickiest eaters.
Ingredients
1 lb ground beef
1 cup enchilada sauce
1 cup shredded Mexican cheese
½ cup shredded Mozzarella cheese
10-12 medium flour tortillas
Optional: fresh cilantro
Instructions
Preheat your oven to 400 degrees F.
In a large skillet begin to cook the ground beef.
Once the beef is browned and crumbled, drain the excess grease. Then stir in enchilada sauce and shredded cheese. (recipe for Homemade Enchilada Sauce)
Remove from heat and let cool slightly. (This is so the meat is easier to handle when you are rolling up the taquitos).
Spray a large baking sheet with non-stick spray.
Spoon the beef mixture onto a tortilla and roll up. Place the taquito on your baking sheet, and continue with remaining tortillas.
Spray the top of the tortillas with additional cooking spray.
Bake for approximately 10-12 minutes, or until the tortillas are golden brown and edges are crispy.
Remove and let cool slightly before serving. Garnish with fresh cilantro, if desired.
Serve with additional enchilada sauce and sour cream as desired.
STAY IN TOUCH ON SOCIAL MEDIA – @ INSTAGRAM, @ FACEBOOK, @ PINTEREST
And don't forget to tag @feastforafraction if you try this recipe!

By