Make dinner a breeze with these super easy 3-ingredient dinner recipes. From pasta and sheet pan dinners to crock pot meals, get delicious dinner on the table without any hassle. And they're budget-friendly, too!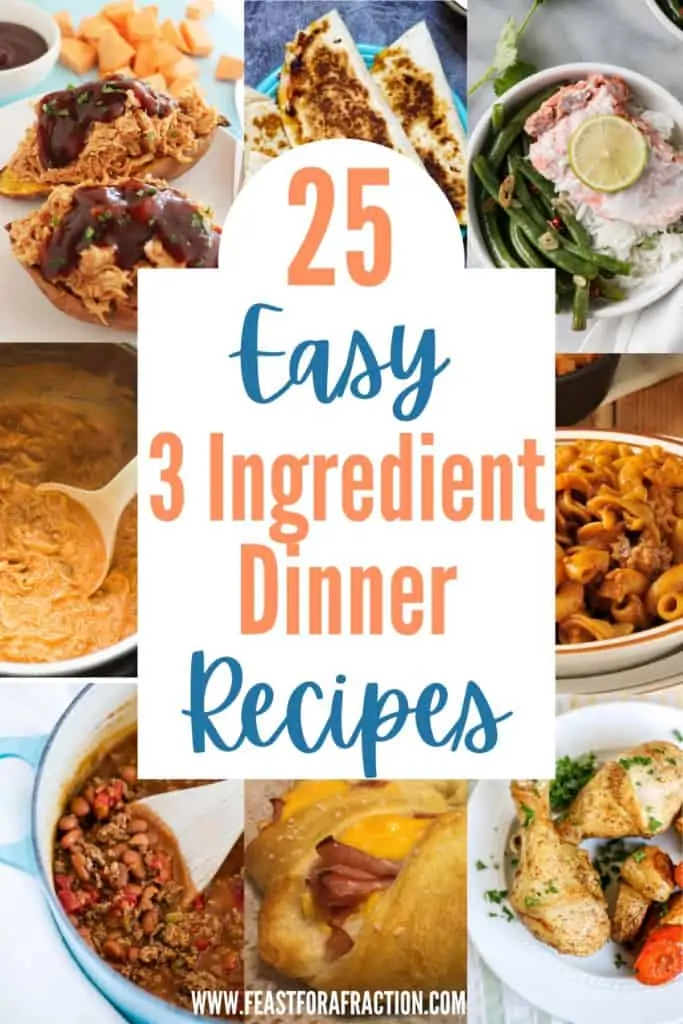 As an Amazon affiliate, I earn from qualifying purchases.
There is nothing worse than coming home from a long day at work just to wrack your brain over what to make for dinner. Sometimes you just want something super simple that doesn't involve any chopping or lots of clean up.
Enter 3-Ingredient dinners! These easy dinner recipes all use just 3 budget-friendly ingredients so that you can feed the family quickly, easily and affordably.
Stock Up on Pantry Staples
I will say having a well-stocked pantry is a blessing when it comes to deciding what to make for dinner. If you've got the basics on hand, you can whip up a quick 3-ingredient dinner in a breeze. If you have dried pasta and jarred sauce in the pantry, pair it with cheese or ground meat for a super quick, easy dinner that is still filling.
I have a couple resources that will help you know what you have in the pantry and freezer at all times and how to stock your pantry on a budget!
Tools to Make Dinnertime a Breeze
Another way to make cooking dinner even easier is to have a few kitchen appliances that make it really easy to set and forget. My first recommendation is a good crock pot. There are some fancy ones out there, but really you just need a reliable one that you can turn on before you leave in the morning and dinner is ready when you get home.
This crock pot is what I have had for years and it is still going strong! If you want the ability to delay cooking, check out this digital crock pot. A 6-quart crock pot will work for most families. If you are feeding more than 8 people, though, you'll want to go with a 7 or 8-quart.
My other favorite kitchen appliance is an Instant Pot or electric pressure cooker. It cooks food in half the time that it would have to bake in the oven. And yes, you can even cook pasta in it!
More Easy Dinner Recipes
3-Ingredient Dinner Recipes
Super Easy 3 Ingredient Dinner Recipes
Dinner doesn't have to be complicated. On busy nights, you just want to get food on the table and the family fed! These 3 Ingredient Dinner recipes will have you in and out of the kitchen in a flash (and they're budget-friendly, too!)

By