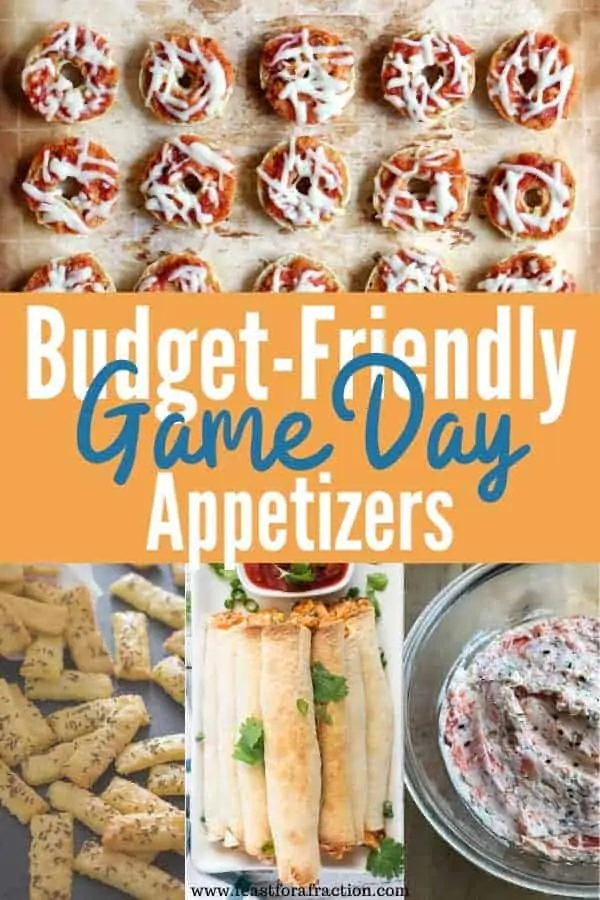 Hosting a Super Bowl party doesn't have to break the bank. These budget-friendly Game Day appetizers will feed a crowd and save you enough to splurge on fancy beer. 😉
From homemade crackers, chicken flautas, and allergy-friendly bagel bites to dips and crock pot appetizers, we've got a range of recipes for whatever you're craving and they'll fit any budget.
How to Plan for a Game Day Party
When hosting any kind of party, it is important to know about how many people you are expecting. This way, you can plan your food budget to make sure that you don't spend an arm and a leg feeding everyone.
The trick for calculating appetizers for any party is:
1-2 pieces per person per hour bite size snacks
1-2 ounces of dip per person
1-2 drinks per person per hour (this could be one beer, one glass of wine, one can of soda or one bottle of water)
How to Keep it Budget-Friendly
For parties where you won't have a sit-down meal, one of the best ideas for keeping food costs low is to make your own veggie and cheese tray.
Whole carrots are incredibly affordable, and even baby carrots are still worth the time it will save you to peel and cut. Choose two to three vegetables and make a dip out of sour cream and ranch seasoning.
To fill out the veggie tray, cube some Colby-Jack cheddar cheese. You will save so much money by cutting up the cheese yourself. Finish it off with some crackers.
If you're up for putting together a few appetizers or really want to show off, try these Budget-Friendly Game Day Appetizers. Drop me a comment with your favorite.
Don't forget to come join the conversation in our Facebook Group and follow us on Instagram!
Budget-Friendly Game Day Appetizers
Budget-Friendly Game Day Appetizers
Super Bowl or any Sunday Game Day is the best excuse to get together with your friends for good food and a little team rivalry. That doesn't mean that you have a spend an arm and a leg to make all of that yummy food. Turn your event into a potluck and have everyone bring a dish, or try one of these super budget-friendly appetizers that will still impress your guests. No matter who you and your guests are root for, these delicious and budget-friendly game day appetizers will be a hit.
If you like this, you'll love…
Easy Holiday Appetizers on a Budget

Best Cookbooks for Eating on a Budget

By